How to Curate Content for Your Social Media Pages to Boost Engagement and Save Time
Posted in :
Content Curation
,
SMM
,
Social Media Tips
on By
Vasudha Veeranna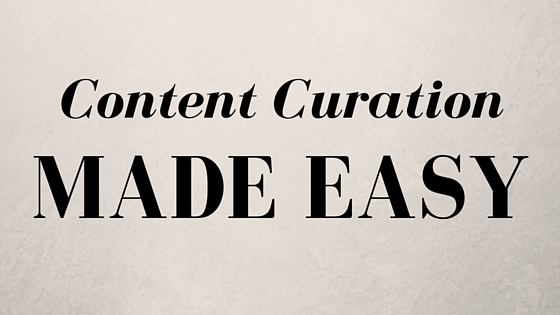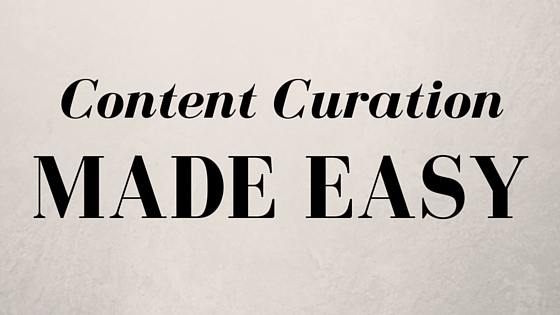 Social media marketers today almost unanimously agree on the significance of content curation. Brands and businesses have realized that continuously creating original content is challenging, in terms of both, the creative capacity it demands and the time it requires. Content curation, on the other hand, comes with several advantages, including its ability to help you establish thought leadership within a niche.
However, curating content for social sharing is only the means to an end – that is engagement. Irrespective of the amount of content you curate and share, your business will reap little benefit from all the effort unless your audience likes, re-shares or comments on your posts. And if you've been managing a few social media pages you probably know that engagement can sometimes be as elusive as the pot of gold at the end of the rainbow.
What content drives engagement?
Understanding your audience is of paramount importance in social media marketing, as it is in any other marketing tactic. The New York Times Customer Insight Group conducted a study to understand why people share content online. The three-phase study identified five key motivating factors for sharing:
– To entertain, or share valuable information
– To define their personality
– To establish relationships
– To feel involved in the world around them (self-fulfilment)
– To spread awareness about brands/causes
Your audience will engage with you only if your content adds some value to them. Also, remember that your audience is more likely to share your content if it also adds value to those who they share it with. When curating content think from the readers' point of view – what does the content do for them? By increasing engagement, you will not only increase traffic to your website but will also eventually attract more followers to your page.
4 Ingenious Ways to Curate Content
1. Use content discovery tools and news aggregators
Running manual searches for interesting content on a regular basis is an extremely time-consuming process. Content discovery tools help you save both time and effort in gathering relevant content for your social media pages. Here are three such tools you should try:
DrumUp is a smart content curation and social media management tool that used sophisticated Natural Language Processing and machine learning algorithms to discover fresh and relevant content for your social media pages. The tool also lets you edit posts for recommended content and schedule them for sharing on Facebook, Twitter, and LinkedIn. You can even add custom posts along with images to the queue of scheduled posts. It also lets you connect your blog feed to your social accounts and store interesting posts to a custom content library.
Feedly is a powerful RSS reader that lets you follow specific sources, including your favorite web publications and blogs. While it doesn't really help you manage social media accounts, you can still share stories through the tool on Facebook, Twitter, LikedIn, and Google+. Recently, Feedly also announced a new feature, which integrates the tool with Google Now to give you access to your preferred content sources at a place and time that is convenient to you.
Flipboard is an intelligent content aggregation tool that brings you content from a wide variety of sources, including what others share on social media. The tool is particularly popular for its pleasant GUI. Flipboard presents content in a magazine-format, making it extremely easy for you to browse through the recommendations. The recommendations are offered for all content formats including videos and podcasts.
2. Subscribe to industry-leading newsletters and RSS feeds of authoritative blogs
Newsletters and RSS feeds are a great source of trending content. Both forms of subscription will deliver content right to your inbox, saving you the hassle of having to rely on a search engine. Some tools also let you connect your favorite RSS feeds to directly to your Twitter account. While doing so will save you the trouble of having tweet out those blogs individually, it leaves no scope to make any changes within the Tweet itself.
3. Use Twitter lists
Twitter lists are great in helping you do two things – curating influencers' content and maintaining relationships with them. Lists help you separate tweets of select people from the massive sea of content on Twitter. By curating influencer content, you can not only stay up to date with what they're doing, but demonstrate your goodwill by sharing their content. You can also add your favorite content sources to lists and retweet them from there. Retweets generally garner more engagement than regular, fresh tweets.
4. Conduct surveys or interviews
Surveys and interviews are helpful in getting your audience involved in your content. It's a good idea to base your surveys around topics that are already trending in your industry. This way, you'll be sharing content on subjects in which there already is some amount of interest. As a result, your audience will be more receptive to the findings of your survey. When publishing interviews, ensure that your interviewee holds sufficient expertise in the topic of discussion. Having an expert or a group of experts for an interview will not only help ensure the quality of your content but will also render credibility to your efforts.
5. Get influencers involved
Influencer marketing has gained much traction in recent times, and with good reason. Influencers on social media can deliver the same results as word-of-mouth marketing, but at a much, much larger scale. To identify influencers in your niche consider the 3 Rs – Reach, Relevance, and Resonance. The influencers you choose to reach out to must have a large following, and be interested in your industry/product/service, with a history of discussing topics relevant to your audience in particular
Things to Keep in Mind When Curating Content
1. Share content that's relevant to your audience and your brand
Before you set a page and begin sharing content on social media carry out an exercise to identify your audiences' interests and understand how that ties in with your business' offerings. This will help you understand the scope of content you can cover. For example, say you offer social media marketing services for small and medium enterprises. There's no point sharing social media case studies of multi-national brands with your audience because they wouldn't have the budget or the manpower to carry out such large-scale campaigns. In essence, such content carries no value for your audience.
2. Create a schedule, and make sure you stick to it
Consistency is another important element of social media marketing. With the amount of noise across social platforms, businesses often find it difficult to catch the attention of their followers, an erratic sharing schedule will only amplify this problem. Scheduling your posts in advance with the help of social media scheduling tools will ensure that your social accounts continue to buzz with engaging content even when you need to be away. When scheduling posts in advance just remember to optimize your time of posting.
3. Use content to trigger conversations
Content curation lets you use existing material that aligns with your objective and add your insights to make it more meaningful for your audience. Alternatively, you could also share a piece of content that says something you disagree with, telling your audience why you think differently. In both cases, curated content serves as a great conversation starter. To keep the conversation going, remember to reply to all comments on your posts.
The different types of content you can curate
As a brand, the content you curate will affect your social media marketing outcome. If you hit the nail on the head, you could have a positive landslide of results, but if you end up at the other end of that spectrum, your could lose part of your following. So what you share matters.
As a company, here are 10 kinds of content that you can share to your advantage (for strategic reasons):
1) Blogs penned down by your company
2) Company news, mentions of the company in news
3) Promotional content – brand updates, promotional offers, event information,teasers of upcoming products
4) Interesting ideas related to your industry – videos, blogs, infographics, quotes
5) Photographs of workshops, training sessions and other such company events
6) Work previously done for customers
7) Photographs, success stories and happy experiences of customers
8) Your employees' achievements
9) Community work done by your company
10) Industry news –  Tools like DrumUp let you integrate news and RSS feeds for content recommendations
Outstanding examples of content curation
If you changed your view of content curation, you would have more options of content to curate and a diverse and interesting social media page. Jay Baer and Rand Fishkin do this particularly well. You could look at their Twitter pages for inspiration.
Curate what makes your page look great. Don't limit yourself to blog post sharing. Take interesting bits of information from different places and share them with your audience. Before we go into the details, remember to always attribute the source.
1. Curate studies as quick social posts
Micro-blogging is popular because it delivers information in quick shots. How many studies have you come across when reading? All of them are probably not as important, but you could summarize the ones that are on super-useful and quick tweets. Busy audience members will thank you for it.

2. Curate screenshots to illustrate content
Visual representation changes the way you see something. Even with data, reading a number and seeing it are very different things. Instead of plainly sharing something, you could add the perfect screen-shot to illustrate what you're sharing.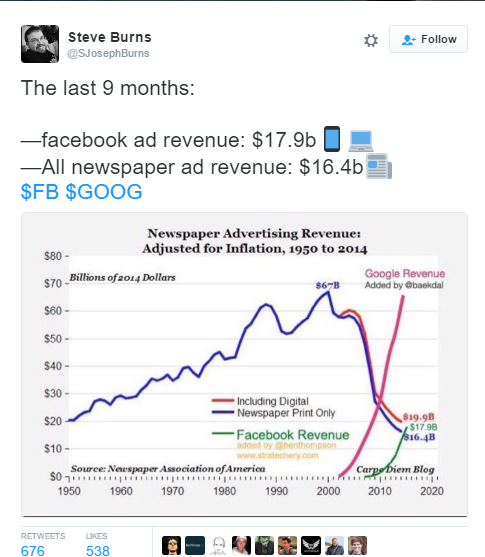 3. Curate the latest news
People are fundamentally drawn towards the new and the now. By sharing the latest news, you could be the one to break it to your audience. That's one way to position yourself as a go-to source for information in your industry. You could use a content curation software that allows RSS integration to collect information from top news sites.

4. Curate content published by top sites in your niche
Every industry has top sites that command massive readerships. You can catch the attention of their readers by helping them promote their content. You can also attract attention from people in your industry by sharing high-quality content created by those sites.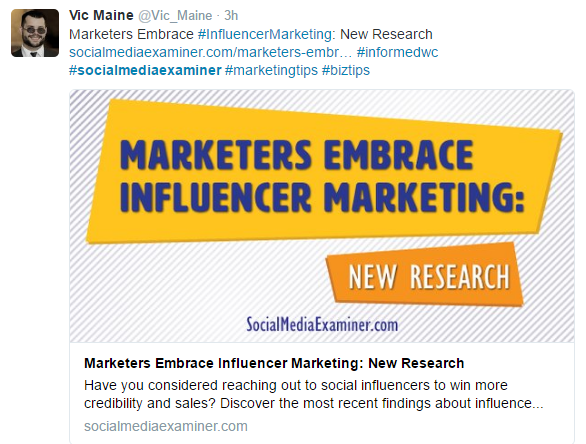 5. Curate powerful quotes on simple covers
Everyone loves a nice quote. It is one of my favorite ways to start the day. You can easily curate a powerful and relevant quote on a simple background for your audience.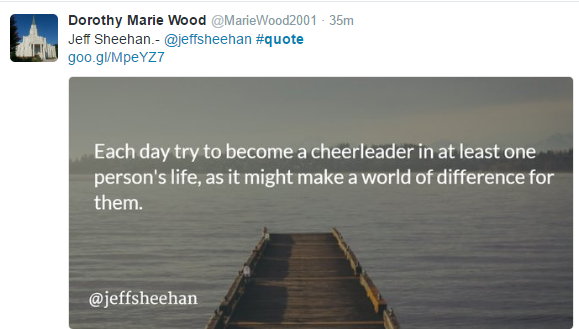 6. Curate GIFs
Animation elevates your content, which is why GIFs, screencasts and videos should be on your content calendar. GIFs can be better than videos in some ways. If your audience is on a social media app on their mobile phones, viewing a GIF can be a better experience for them than having to load an entire video. You can use fun GIFs to connect with people, but GIFs can be useful too.
By the way, you can quickly add GIFs to your scheduled posts on DrumUp.
You guys, I've discovered a SERP black hole! I'm on #200 suggested PAA for this SERP?! Has anyone else seen an infinite PAA SERP before? pic.twitter.com/YgZDVWdWJ9

— Britney Muller (@BritneyMuller) November 23, 2016
7. Curate opinions of experts and influencers
An interview series generally performs well because it offers readers multiple points of view and insights. An interview can also act as opportunity for your brand to get acquainted and build relationships with influencers in your industry. Take a look at the interviews we have curated on our blog.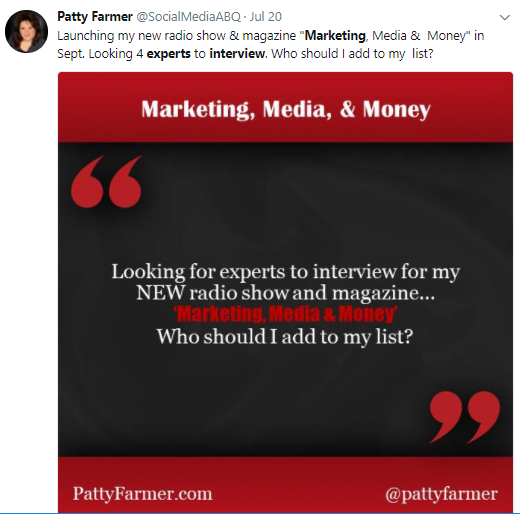 Wrapping up
Content curation can prove to be a powerful tactic in driving social media engagement. It is beyond aggregation in the sense that you must make the content your own by adding your comments on it. Curating content well in advance and scheduling them out on social media will streamline your content marketing and social media marketing efforts, while also letting you focus more on other core business activities.
Note: This article was originally published on Nov 13, 2015 and has since been updated with a new section.