7 Brilliant Social Media Campaigns that You Need to Learn From Now (and the RockStars Behind Them)
Posted in :
Content Marketing
,
Others
,
Social Media Tips
on By
Disha Dinesh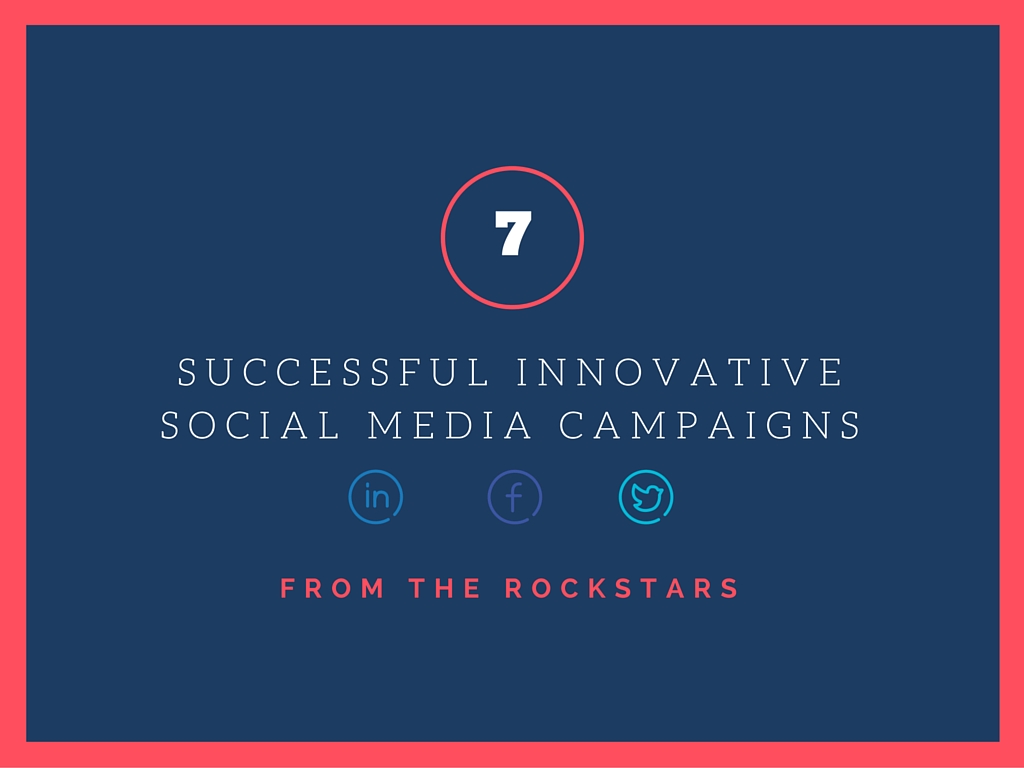 Do you have a social media campaign marked on your marketing planner? Are you out of cool new ideas to try? To inspire you, we've rounded up a bunch of brilliant and successful social media campaigns run by rockstars in the social media marketing industry.
Every campaign is a cycle of three phases – planning, execution, and analysis. The planning phase is by far the most important because it is during this stage that you'll have to draw up plans for the entire cycle. If your campaign is based on a weak premise, it'll probably fall through and that would be a disaster because you just cannot fix a campaign halfway through a cycle, you just wouldn't find the time. Avoid that scenario with a strong start, on the back of a strong campaign idea.
In the last few years, customer-centric, visually appealing and inventive social media campaigns have begun to take precedence over promotional broadcasting. Brands have started investing in engaging customers on their owned media by offering them fresh, unique and useful content – a kick-ass way of converting views into buys and loyalty. Here are 10 awesome and unique approaches to social media campaigns.
Tee teaser contests
Qwertee is a limited edition T-shirt manufacturer that sells unique T-shirts created on a daily basis. Their social media marketing strategy reflects their cool and quirky product feel.
In their current series of Facebook campaigns, Qwertee has a consistent contest share template, and it works every single time. Each of the posts in this series has100s of Facebook reactions, shares, and comments. It's interesting to note that this smart campaign works both as a contest and a clever sales booster. So while Qwertee is giving away free stuff, they are also making a compelling sales pitch to their audience.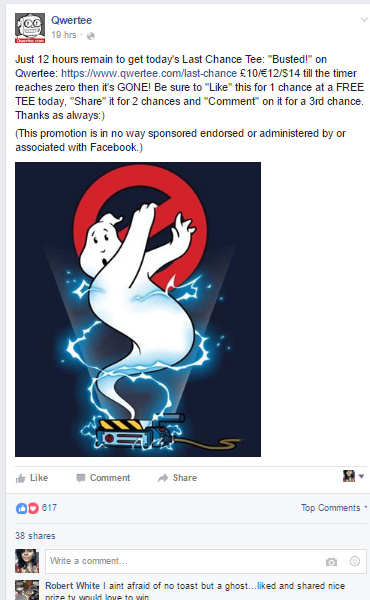 The campaign series shares have – a great image of the product, creative wordplay around the name of the product (like "busted" for Ghost Busters) and clearly defined contest rules.
The Rules: "Be sure to "Like/+1" this for 1 chance at a FREE TEE today, "Share" it for 2 chances and "Comment" on it for a 3rd chance."
If you are on a social platform, there are a hundred different ways you can use it to design your own really cool marketing method. You don't have to do contests like everyone else, use a Facebook contest app or even pay for ads to get results. You don't have to be boxed in by limited options, this campaign seems to say with its disclaimer, "This promotion is in no way sponsored endorsed or administered by or associated with Facebook". Create your own contest format, set your own rules and design a template that gets the best response out of your audience.
Happy them, happy you
As social media strategists, you definitely appreciate the value of a business' happy customers. Happy customers are good for the soul, and also for business. Recurring orders and sales based on recommendations – two things that are driven by satisfied customers, form a good part of most businesses. Invest in keeping customers happy.
That's exactly what KLM airlines did. For an entire week, KLM set up shop in Amsterdam Schipol Airport to monitor thousands of unhappy tweets from air travelers. Everything from lost visas to sleepless waits at the airport– KLM hit the most dissatisfying areas of air travel head-on and wholeheartedly came to the rescue. This left a lasting impression on people who received personal care from the crew and even generated over 36 million responses on social. The campaign was called #HappyToHelp, and presented two brilliant opportunities – means to help competitors' customers exactly where they were unhappy and a way to build bonds with potential customers.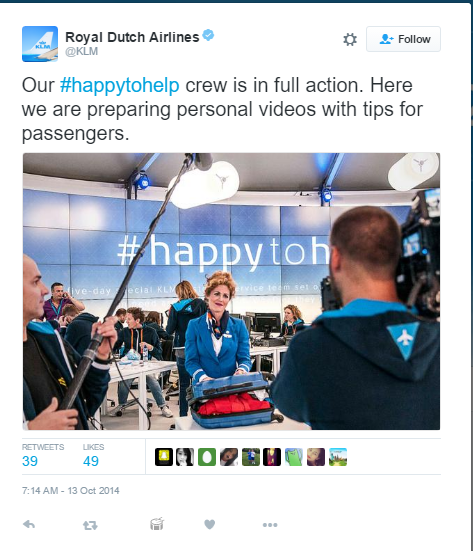 A lot of brands these days use social media to handle customer care – because it is quicker and demands lesser of their resources. Again, like I've said in the first campaign example, don't do things the way everyone does them. Instead of simply using social to solve your customers' issues (which you should ideally already be doing), you could also use it to solve potential customers' problems.
Connect with Colonel Sanders
It's amusing how far some brands like to venture into the experimental zone, Kentucky Fried Chicken for instance. Colonel Harland Sanders, founder of the fast food chain, who would be over a 100 years old now if he were alive, maintains a presence on LinkedIn!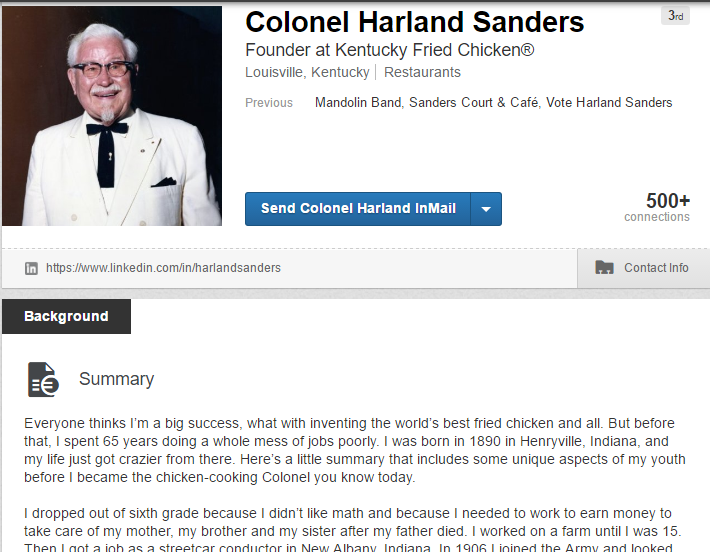 The profile takes you back all the way to 1906 when the Colonel was born and tells his tale with some humor. The story describes his childhood, how he hated math and struggled to support his family at an early age. It's inspirational how he admits that while the world sees him as a huge success, he's had to go through "a whole mess of jobs."
Under LnkedIn's 'Jobs held' you see "Goat milker", "Captain", "Band leader" and more, but the coolest part is how KFC prompted fans to connect with the Colonel and endorse him for skills like "Chicken fryin", "Lawyerin" and professionalism. The campaign was a fair success, with Colonel Sanders making over 500 connections on LinkedIn and getting many endorsements.
It's really hard to create an identity for a brand, as you probably know from experience. Popularizing mascots and the face of your business is certainly not as easy as it may seem. Not all identities catch on like Colonel Sanders. But doing something so different and unexpected could certainly help you position your brand's identity better. Attempt to narrate your story like no one else has, that's where both the challenge and the reward lie.
Why you shouldn't smoke
Your mind is wired to shut out messages like these, messages that condone your habits. Be it coffee 3 times a day or an alcohol addiction, if your mind has a strong subconscious connect with something, shaking that connect can be a real hard task. So how did Ogilvy manage to truly impact smokers in Thailand?
They applied the "Inside-out reflection" method. To prompt real change in behavior, the message you send has to be carried by the right messenger, and who better a messenger to a person than himself? So the idea of inside-out reflection in this case is to get smokers to admit to themselves that smoking is a problem and to actively seek out solutions.
To create that effect, the agency directed a video wherein they got children to walk up to smoking adults and ask for a light. The adults refused to light cigarettes for the children and most of them even went on to warn the kids against the dangers of smoking.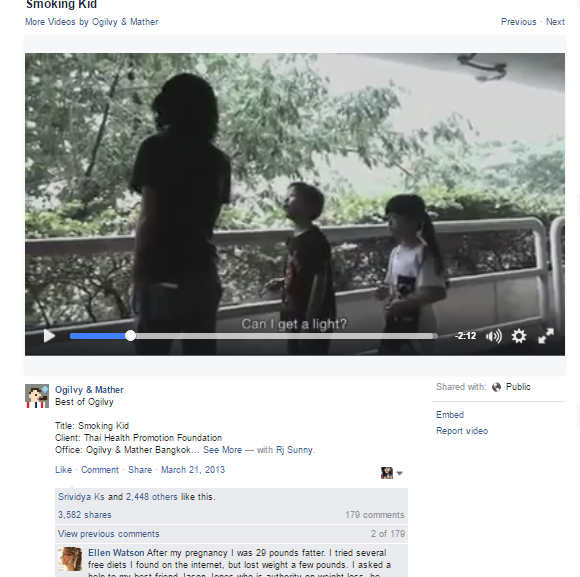 The children were then instructed to hand those adults a piece of paper with the words, "You care about me but not about yourself?"
Children were chosen as a medium to carry the message because everyone trusts children and lowers their defenses around them. The entire sequence was designed to build up to self-realization, a behavioral influencer like none other in the world of marketing.
The campaign turned out to be very successful, Thailand saw a marked drop in smoking post campaign execution.
If you want to get someone to do something, you've to make them realize why it is great for them.
When they do the talking
When they do the talking you listen. The best conversationalists are great listeners. Your relationship with your customers is in simplicity just a conversation that you need to keep going. What most marketing teams forget to do is leverage the side of the conversations generated by the audience.
Pictures, text, and videos of your customers featuring products of yours can be strong marketing assets. Crowd sourced content is a powerful influencer of buying decisions and showing your products in action also makes it easier for people to believe in them.
For instance, Nest, a company that makes thermostats, smoke alarms, and home security cameras launched a campaign that was called #Nestcam. This series of posts shared via Twitter and Google Plus featured videos shot by Nest cam users. Some of the videos shared were generated by security cameras and showed the product in action, helping earn viewers' trust. Nest also added some humor to the videos to make them entertaining. This campaign, which was quite successful, was picked up by marketers everywhere for inspiration.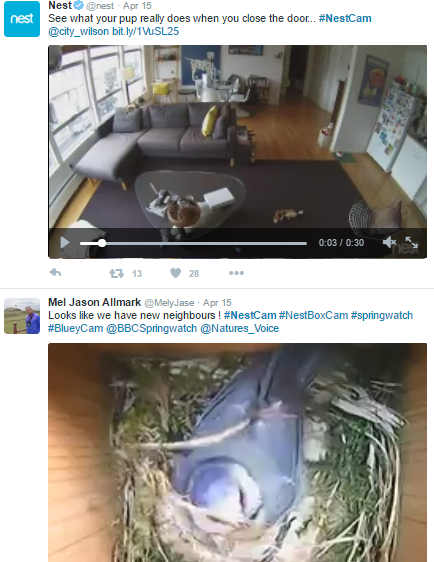 Figure out a way to encourage your audience to showcase your product in action, and you've instantly got content that can boost your marketing efforts.
Cookie jar secrets
One brilliant way of increasing your sales is to simply create a situation that would make people want to buy your product. Oreo does this brilliantly. Every now and then Oreo shares delicious recipes on social, all of which have one ingredient in common – no prizes for guessing what that is!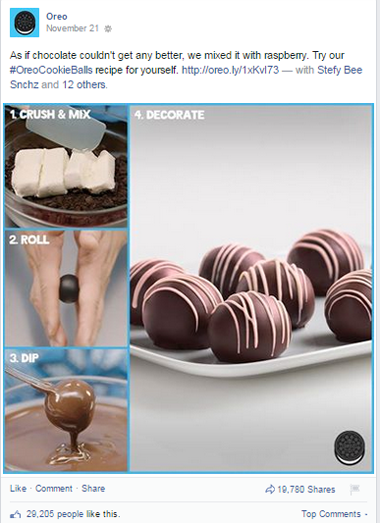 This strategy is pretty straightforward and highly effective. To make and taste Oreo's recipes, people have to buy the main ingredient – Oreo cookies. The more they like the recipe, the more they'll buy, and the wider the recipe spreads on social media, the higher the sales numbers reach! The recipe almost becomes a unique product in itself (if it is original and it is yours). Essentially you're giving the recipe away for free and thereby adding value to your audience. While implementing campaigns like these, don't forget to add stunning images and cool hashtags to your campaigns.
Context is everything. How can you create a powerful context for your product? Answer that question and you'll have a highly effective strategy for your next social media campaign.
Are you in?
On reaching 300,000 followers on LinkedIn, L'Oreal celebrated the event in a unique way, by launching their "Are you in?" campaign. The 'In' in that phrase also refers to LinkedIn as participating in the campaign involved syncing LinkedIn profiles with L'Oŕeal's makeshift "Are you in" website.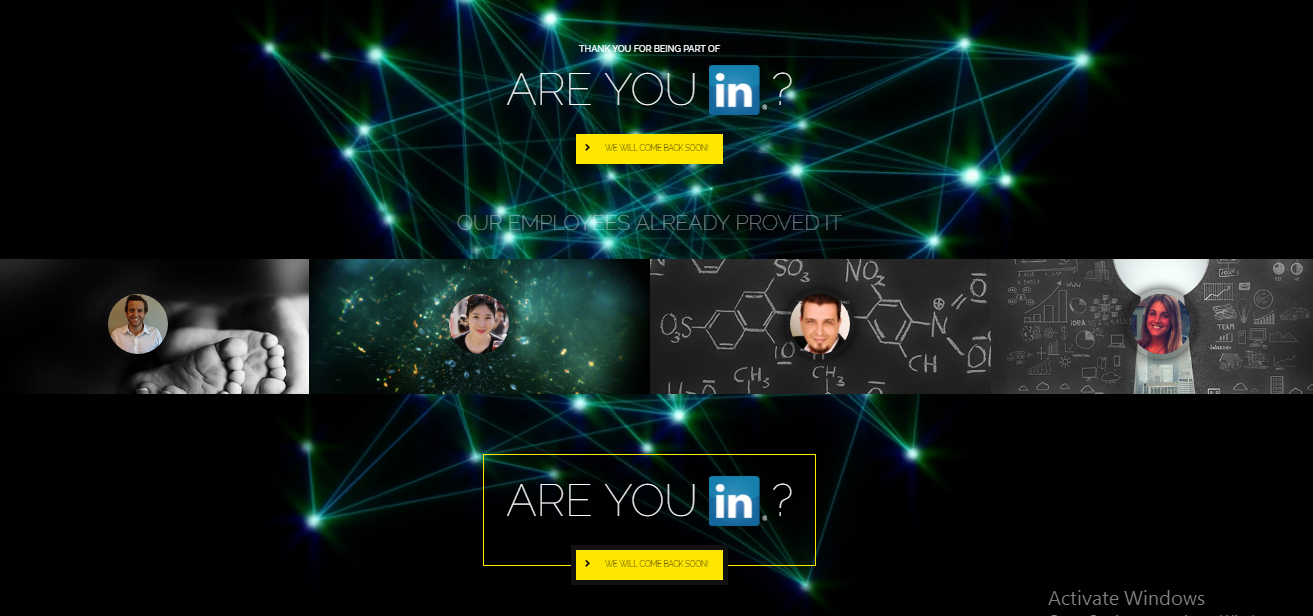 The campaign was effective in opening up the brand to an entire community of job seekers on LinkedIn, and L'Oŕeal's goal was to share with those people the essence of working for them.
The participants could pick one of 12 "IN" words ranging from "INternational" to "INviting" and "Intense". The brand also gave people place to explain why they picked the word they picked.
The details entered would then be plugged into a shareable image with the participant's LinkedIn profile photo, their "In" word and why they chose that word.
For example, mine would have read, "I am In", "Disha Dinesh" (under my profile photo) and "Because I'm INvolved". And I would have been able to share this image on Facebook, Twitter, and LinkedIn. The ten best images were also shared by L'Oŕeal on their social media sites.
A disruptive campaign idea like this one tends to create a lot of buzz. It ensures that you stay at the top of your audience's mind. It doesn't matter whether they're looking for jobs with you or not, the idea is to position yourself favorably in your followers' minds. Besides, the data that L'Oŕeal would have gathered during the campaign – like who chose which IN and why they chose it – would be a valuable insight into their followers' behavior patterns. These findings could be used while creating or sharing content in the future.
Remember to always analyze the data you get back from campaigns. Noting which ideas people respond to better and incorporating them into subsequent campaigns can help you optimize your returns.
To out-do your competition you've got to do something they've never done. While it is a great idea to draw inspiration from successful campaigns, add your flavor to it and mold it to perfectly fit your unique needs. There's nothing more fun than conceptualizing something new, so don't forget to have fun, because sometimes, that is where the best stuff comes from.