5 Content Discovery Tools that Simplify Content Marketing Greatly
Posted in :
Content Curation
,
Content Marketing
,
Social Media Tips
on By
Disha Dinesh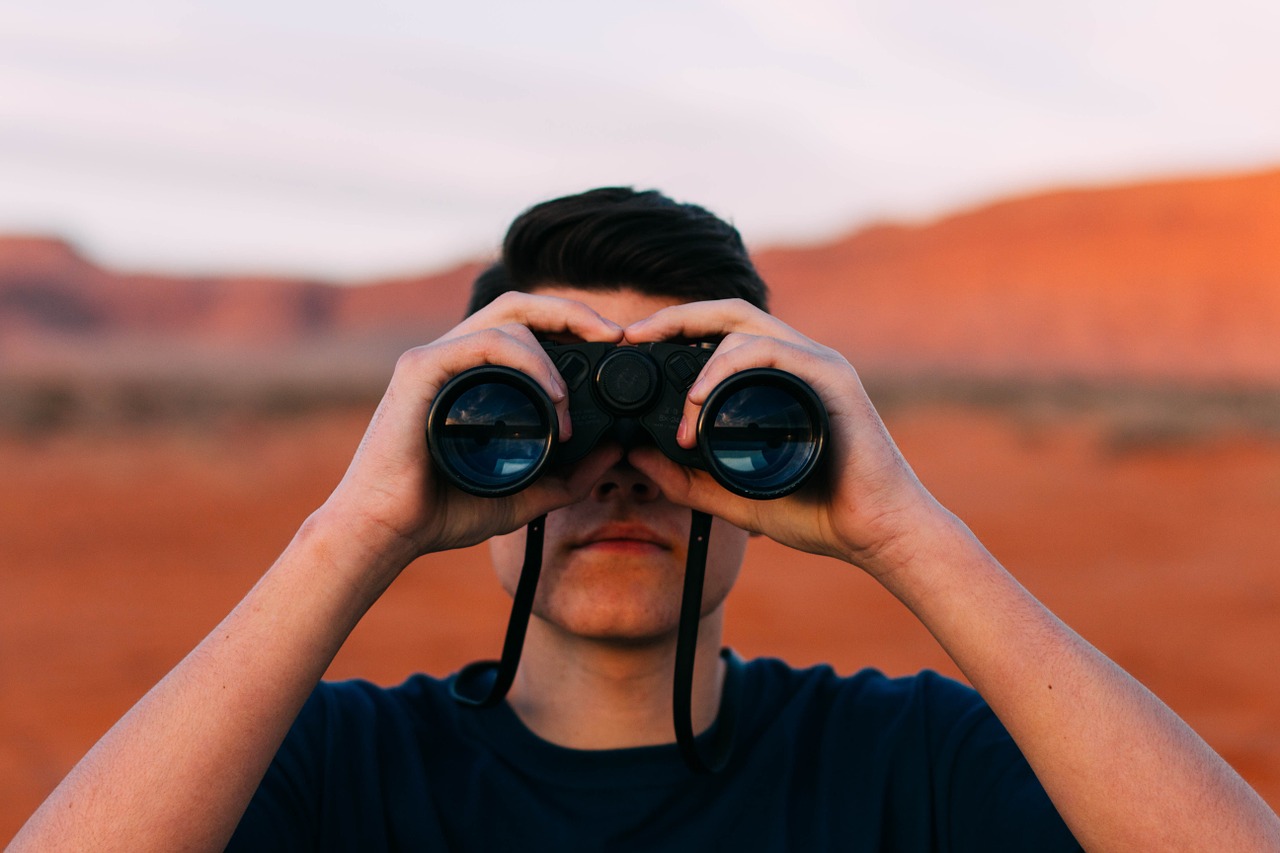 The need for content discovery solutions
The need for content discovery platforms is only going to increase with the rising volumes of content on the internet.
And the volumes are definitely on the up-trend, and on a steep predicted incline.
Mark Zuckerberg called it in 2008, proclaiming that the content produced each year would be twice the volume of the content produced the previous year.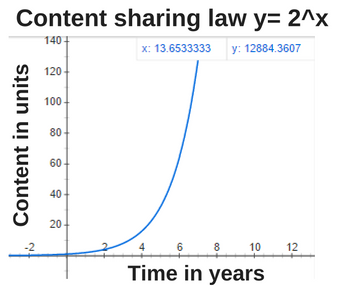 Two-thirds through 2016, we seem to be in agreement with that prediction. Everything that you can conceive has probably been implemented elsewhere in the world.
Which is why
1. The ability to discover and share relevant content is becoming more valuable than creating content
2. Assisting your social followers in navigating that content is becoming an invaluable skill to have
The good news? You don't have to invent ideas anymore.
The tough news? You have to grasp all of it, play the role of a filter, and provide your audience access to all the relevant, comprehensive and useful information in your niche.
The best news? There are apps that can help.

The benefits of employing content discovery apps
1. Developing a unique value proposition for your brand's social media pages
If your company is the first to break important news or is the go-to destination for the best content in your niche, you can expect people to follow you intentionally on social media.
2. An advantage in building a loyal following on social media
With a unique value proposition that doesn't demand much effort on your part, you can focus on personally interacting with the people who follow your page, and building valuable relationships with them.
3. Consistency in your content output and social media engagement efforts
Most content marketers spend an awful lot of time creating content to consistently touch base with their social media followers to keep them engaged and on the page. Using an app to manage content discovery saves you valuable time on this endeavor.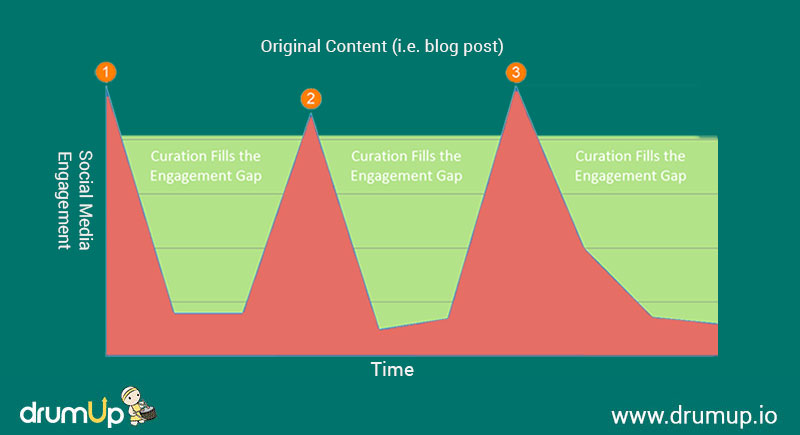 4. Saved time and effort
This benefit is pretty self-explanatory. With the right content discovery apps you can save as much as 90% of the time you spend everyday on content.
5. Easy knowledge updates for yourself and your colleagues
With content curation apps you could gather and share important industry developments and must-knows with your colleagues with ease.
6. Building authority as an industry expert on social media
You can become a thought leader by staying updated on industry developments and forming well-thought out opinions on them to share with other professionals in your industry on social media.
7. Inspiration for content creation
By exposing yourself to ideas in content created by other people, you could stock up on ideas to use when creating content for your brand.
8. Social media SEO
The content that you share does reflect in searches made on social media. By intentionally curating and posting the right kind of content you can develop a strong presence for your business on social media.
9. Exposure to industry leaders to follow and connect with
By using a content curation app, you needn't hunt for upcoming industry leaders yourself. You could identify them by content curated and follow content created by them all on the same platform. You could also use a curation app to keep track of content created by your competitors.
10. Prediction of trends and buzz worthy topics
If a lot of the content curated by an app in any given theme is beginning to follow a patten, you will have identified a trend.
Let us delve into the apps themselves and explore how they can simply your content marketing efforts.

5 Free Content Discovery Tools for Content Marketing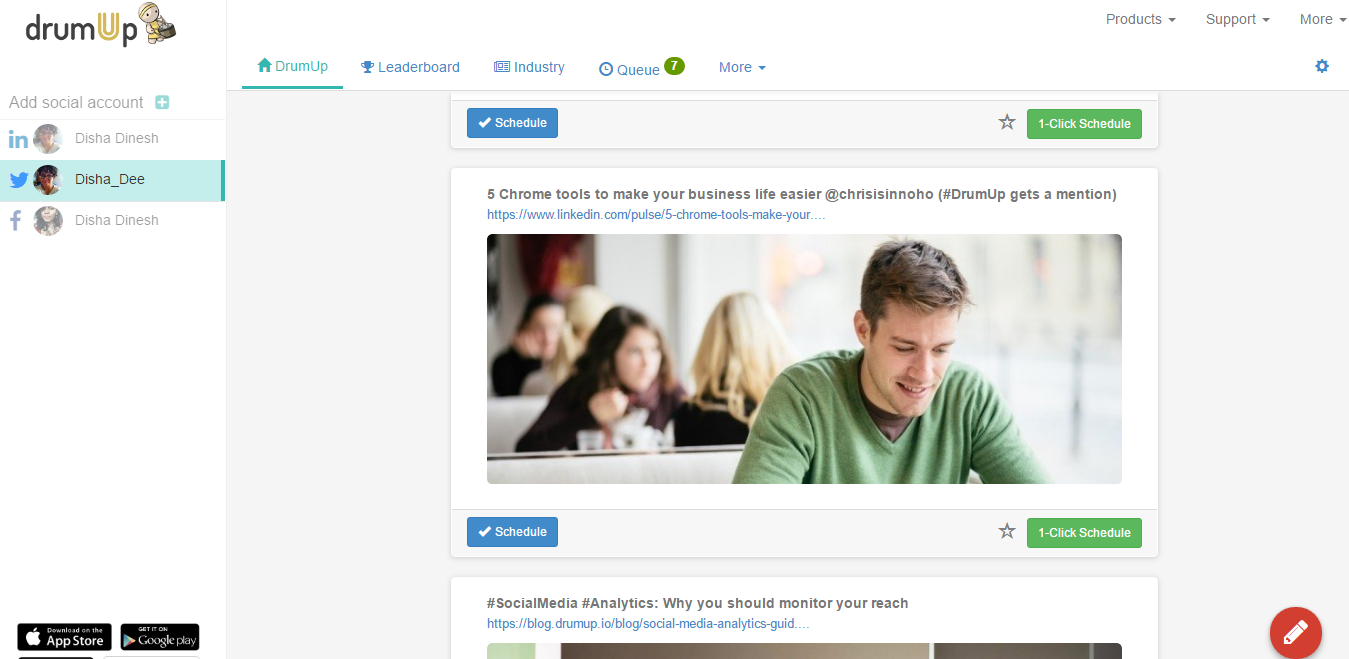 Please note: This screen shot includes the employee advocacy module.
Features:
What most people don't know about DrumUp is that it focuses on discovering the freshest content from any given source. The app's content recommendations stream refreshes on a daily basis and adds content that has just been published on a website or blog.
Consistently being the first to share a great article on social media could position you as a trend-setter, a valuable crowd perception to have.
Another useful feature that DrumUp has is the content library where you can store articles that you may want to share at a later or more relevant time for better effect.
Further, all the content on the recommendations stream or in the content library can be scheduled to your Facebook, Twitter and LinkedIn accounts right out of where you find them on the app which is valuable time saved.
How you can use it to simplify content marketing:
The first action post sign-up on DrumUp is the selection of themes. Very carefully, select the keywords that match your industry the best.
Next, when the app prompts you to select a time zone, choose the one that matches the time zone with most of your target audience. Doing so will set the app to schedule all of your content according to the chosen time zone.
Interestingly, the keyword and time zone settings are unique to each account that you add. So if you are a digital marketing agency handling multiple clients in different industries with audiences in different time zones, this app will simplify your work by a large extent.
Once you have customized setting as required explore the 'feeds' tab. Add RSS feeds of all your favorite blogs – Forbes, Content Marketing Institute, Jeff Bullas (my favorites) or whatever your choices are. You could even select 'auto-post' if you trust the blog and want to be the first to share every post published on it.
Finally, store the articles that you like to your content library and schedule them out of there on a busy day when you have no time to spare for anything else.
Features:
The best part about Feedly is that is has plug ins for an entire host of browsers unlike DrumUp that only has one for Chrome. From your browser you can easily navigate to the magazine where your news has been aggregated.
The news can be customized to themes, your preferences or RSS feeds that you add to the app.
A simple but interesting feature is the customization of the appearance. Themes, colors and organization of articles on the Feedly dashboard are each customizable as per your preferences so you have everything exactly where you want it.
The app also lets you follow people on the internet and set alerts for keywords of interest to you. If you follow channels on Youtube you could integrate them to your Feedly dashboard for ease of access.
Finally, Feedly also lets you create an online collection of articles in categories so you can refer to them when necessary.
How you can use it to simplify content marketing:
First set your keyword preferences, add your RSS blog feeds and customize your dashboard for ease of use.
Next, choose between title view, magazine view, card view or full articles as required. Feedly is perfect for professionals who need to keep up with their industries on a regular basis. Once you are done reading the articles you can mark them as 'read'.
If you work with a team, you can opt for the team version with multiple log ins to the same account, or 'share collections' with your colleagues for them to read or share as they like.
The most interesting use-case is probably Feedly's latest IFTTT integration. So you can now access a few of IFTTT's recipes and share content to Twitter, Pinterest and Facebook. For scheduling, you could integrate Feedly with Buffer or Hootsuite.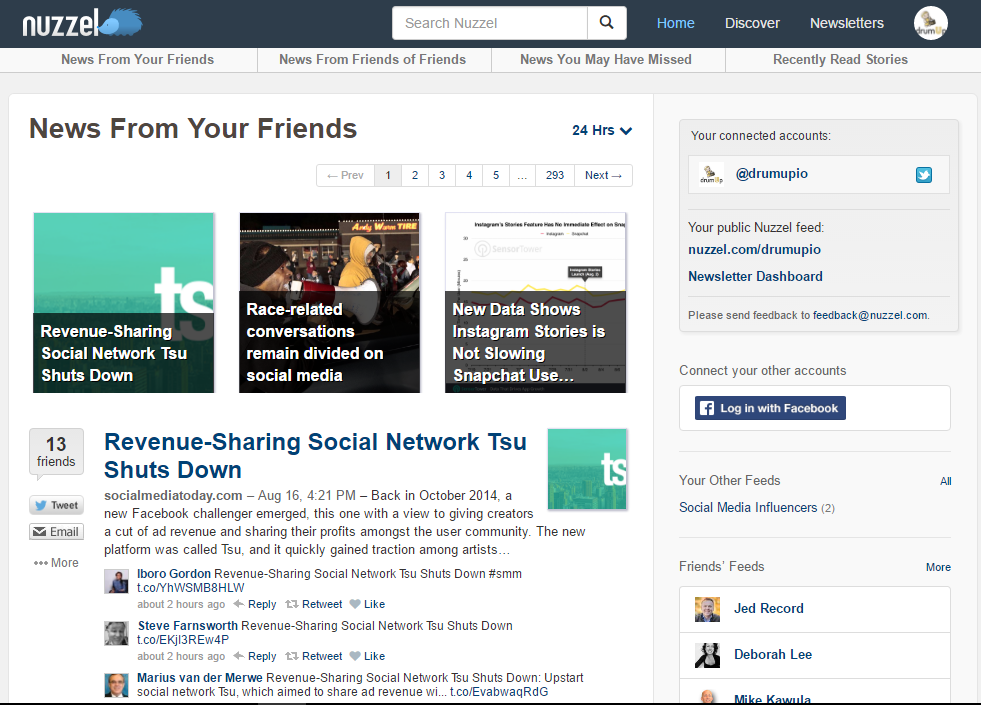 Features:
This tool gives you a reason to follow your followers. On Twitter, for instance, Nuzzel browses through tweets of the people you follow and displays the popular content that they have read.
In essence, Nuzzel gives you insights on what your audience is reading (in link format) and so what you should be sharing on your social media profiles.
The app takes it to another level by letting you see what your followers' followers have engaged with most on social media. So if your brand is followed by influencers, and they are in turn followed by a large number of people relevant to your niche and belonging to your target market, Nuzzel gives you invaluable insights on what to share.
Nuzzel also collects stories shared by the people you follow and your friends and then send it to you via email.
How you can use it to simplify content marketing:
Follow your target audience on Twitter, and then log in to Nuzzel on a regular basis for insights. The app will read their activity and the activity of the people who follow them (who are also very likely to belong to your target audience) and present to you the most popular links.
Ever stuck on what to write on your blog?
Browse your Nuzzel digest and write something similar to the content that is has surfaced. Since you know that your followers and their followers are likely to enjoy that content, you can be fairly certain of its success on social media.
Features:
Google alerts has a simple but powerful function: sending keyword based alerts to your email in-box. The alerts can be tailored by source, how often you want to receive them, and the return volume.
The sources could be news, videos, books, blogs, comments or a combination of each of them.
How you can use it to simplify content marketing:
The value of Google Alerts is hugely underrated. Google being the biggest search tool out there has access to information like no other tool would. The simple keyword alerts set on Google are sufficient to monitor all facets of any industry.
Seven things you can monitor with Google Alerts:
1. Your brand
2. Your competitors
3. Your niche
4. Questions in your niche
5. Blogs you can write for
6. Your blog posts' distribution
7. Potential customers by region, age or interest
You could keywords for each of those categories to simplify targeting for your content marketing efforts.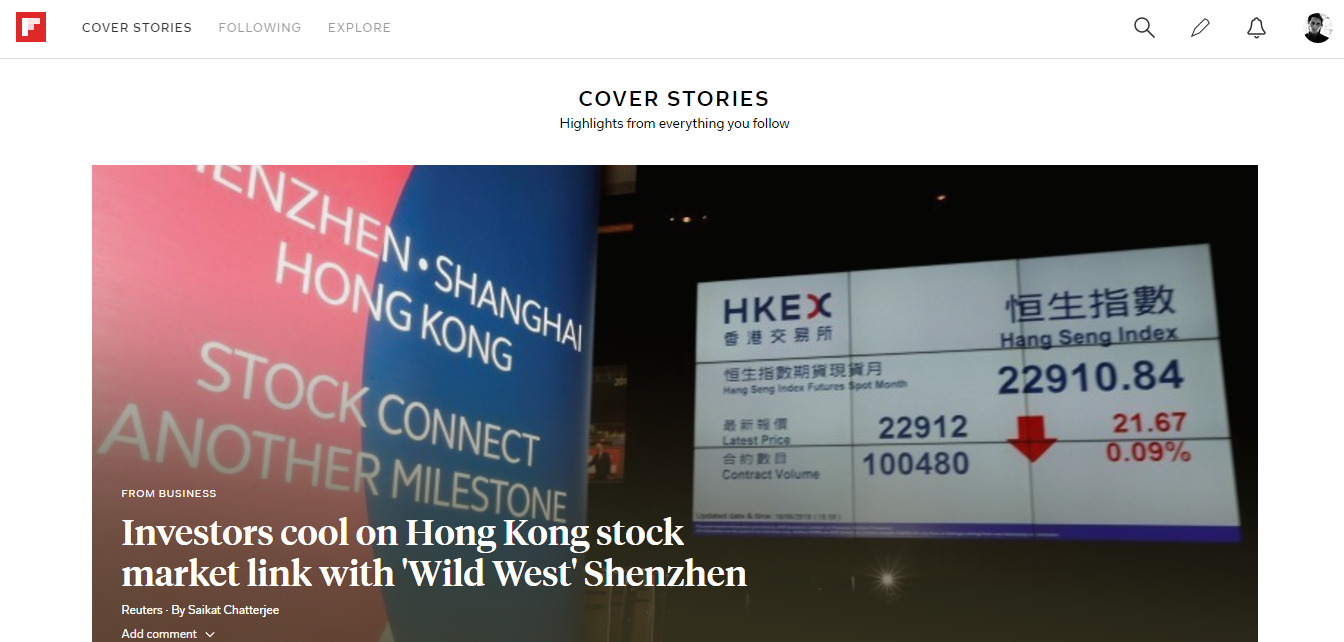 Features:
Flipboard notes your geographical location and tailors your theme suggestions right from the start. Using the app you could follow multiple themes on the same account (for instance – business, technology, sports, music and more.
As a user of the app you could follow both work related and casual interests or hobbies all on the same account.
From the assortment of content recommendations on the first page you can select the articles you like to make a 'magazine' of your own.
By clicking on the 'like' button you convey to the app your preferences so it can display more of the genre or source that you like on your main page.
The third interactive button on your Flipboard is the share button through which you can share to an email address, a Facebook or Twitter account.
How you can use it to simplify content marketing:
Like on the other content curation apps mentioned, the first thing you do when you sign up for Flipboard is to select a minimum of five themes to follow. Restrict your choices to areas that are closely related to your niche to keep your search results specific.
Sparingly use the like button to fine-tune suggestions to meet your taste. From the 'following' page you can directly comment on an article that is of interest to you.
When hunting for topic ideas for your blog, Filpboard can prove to be a very useful tool. The news aggregator is particularly powerful, especially for the local news. So if you run a business that caters to local residents you ca follow the news and tailor your content to suit it when required.
The four things to remember when using a content discovery solution for content marketing:
1. Keep a look out for growing trends
2. Fine tune recommendations as far as possible to perfectly fit your niche
3. Automate processes when possible and makes sense
4. Create a content reserve online to draw from on a rainy day
Do you have a favorite content discovery app? Have you used a content discovery app in a different way for content marketing? Leave your answers as comments, and we just might include it on our next blog post.
Featured image via pixabay.com