Top Alternatives to Swayy, Buffer Daily and Buffer Suggestions
Posted in :
Content Curation
,
News & Trends
,
SMM
,
Social Media Tips
on By
Vasudha Veeranna
Several research surveys conducted over the past couple of years have shown that content curation is one of the biggest challenges faced by content marketers. A survey conducted by DrumUp revealed that content curation is a major painpoint in social media management. With the number of social media platforms steadily on the rise, it's becoming all the more difficult for marketers to ensure that they consistently share unique and engaging content across multiple accounts.
Buffer shutters its content suggestions
Content discovery and curation tools make social sharing much more effective as they not only help you find great content, but also help you save time and effort in the process. When Buffer, a popular social media management tool, decided to retire its Content Suggestions feature in phases, at the end of August 2015, its customers were disappointed. Although Buffer's transparency in the matter was appreciated, it forced users to seek alternatives to fill the gap in their workflow.


Swayy shuts down after acquisition by SimilarWeb
Just a few days after Buffer made news, Tech Crunch reported SimilarWeb's takeover of Swayy. Since SimilarWeb's expertise was focused more on website and mobile app analytics, the take over created a lack for a good content creation tool.
Prismatic closes shop with news app on Android, iOS and Web
Towards the end of December 2015, leading news reading app Prismatic shut down operations. With content curation giants leaving the industry, and the problem continuing to manifest, the social media management community is left with a gap in the content curation and navigation area.
Discover, curate and share great content
DrumUp
DrumUp is a content discovery, curation and scheduling tool, allows you to manage multiple social accounts through a central dashboard. The tool uses advanced Natural Language Processing and machine learning algorithms to recommend the most fresh and relevant content for your audience. The content suggestions are based on keyword inputs that are set for each account. It also allows you to connect your blog feed to your social accounts to ensure that they get shared automatically, as and when you publish posts. DrumUp is available as a web app, as well as an Android app.
DrumUp is also available as a Chrome Extension, which helps you discover and share content from anywhere on the web, even as you're browsing. You don't have to worry about bookmarking interesting articles anymore. The extension lets you share any webpage you're on instantly and also lets you schedule it for sharing later. If you don't want to schedule the article you could even store it in DrumUp's content library for later use. It also recommends other articles you may find interesting.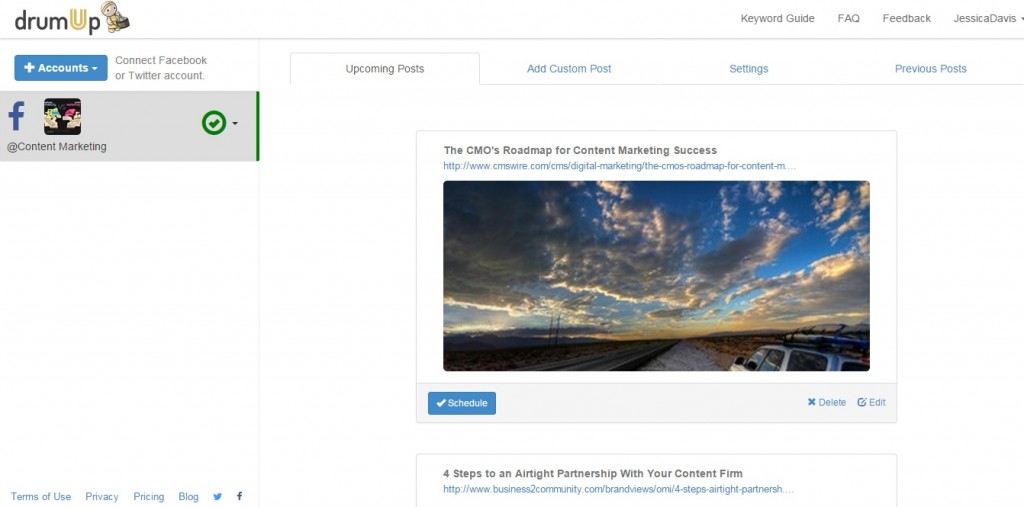 Feedly
Feedly is a free RSS reader that lets you follow your favorite blogs and news sources. It lets you organize your feeds by topic and also allows you to share individual stories you may find interesting to Facebook, Twitter and LinkedIn. However, it does not offer any social media management features such as content scheduling. Topics on Feedly are classified by Hashtags, which allows relevant articles to be discovered easily. Its content recommendations are pulled from authoritative sites, ensuring their quality.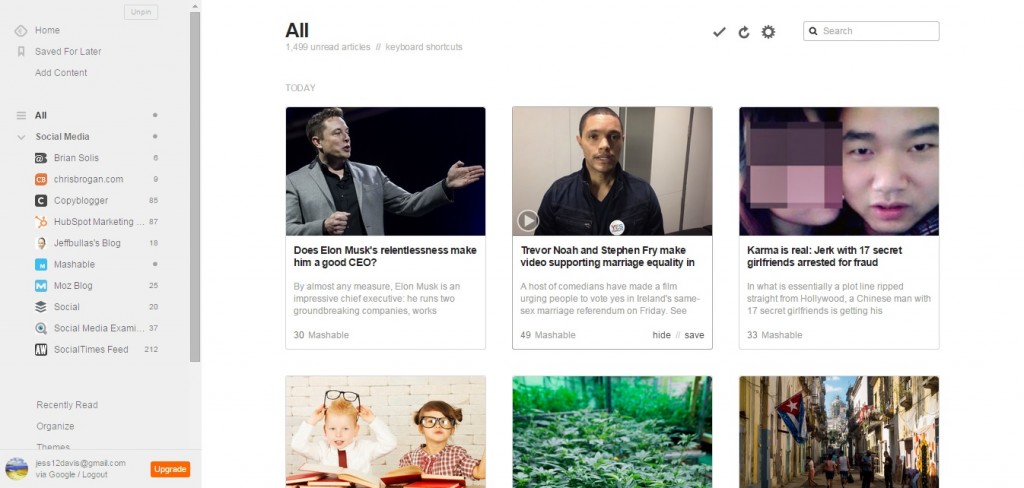 Flipboard
Flipboard is a great news-reading platform. Not only does it help you discover and track topics of interest, but it also boasts a great user interface and design. Like Feedly, Flipboard too lacks social media management capabilities, and you can only share posts to Facebook and Twitter individually. Similar to a digital magazine in terms of its look and feel, Flipboard is a good place to discover interesting content in different formats, including video and podcast.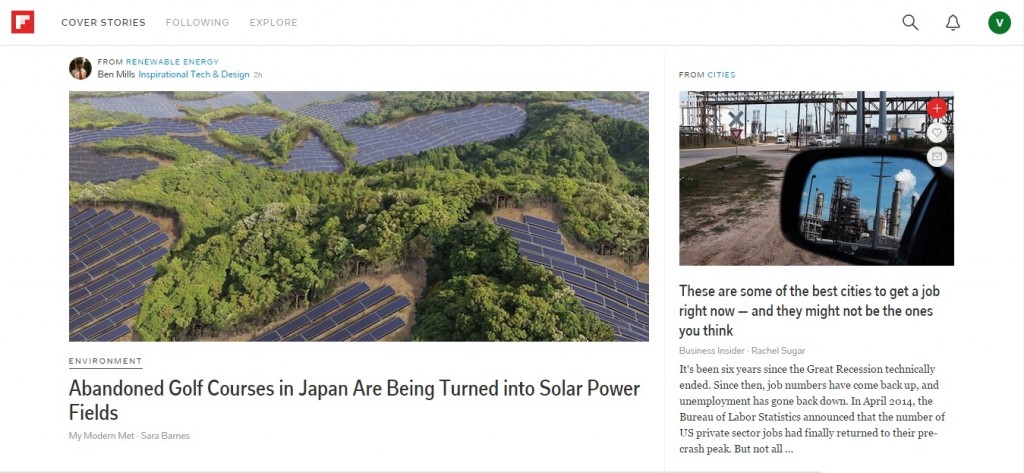 Google Alerts
Google Alerts may not be as popular as some other content discovery tools, however it can prove to be an extremely powerful addition to you content discovery toolkit. It lets you track any topic of interest, and is also a great way to stay informed about industry trends. It's also an extremely useful tool in tracking mentions of your own brand on the web. It even serves the purpose of competitor intelligence, allowing you to track mentions of your competitors as well.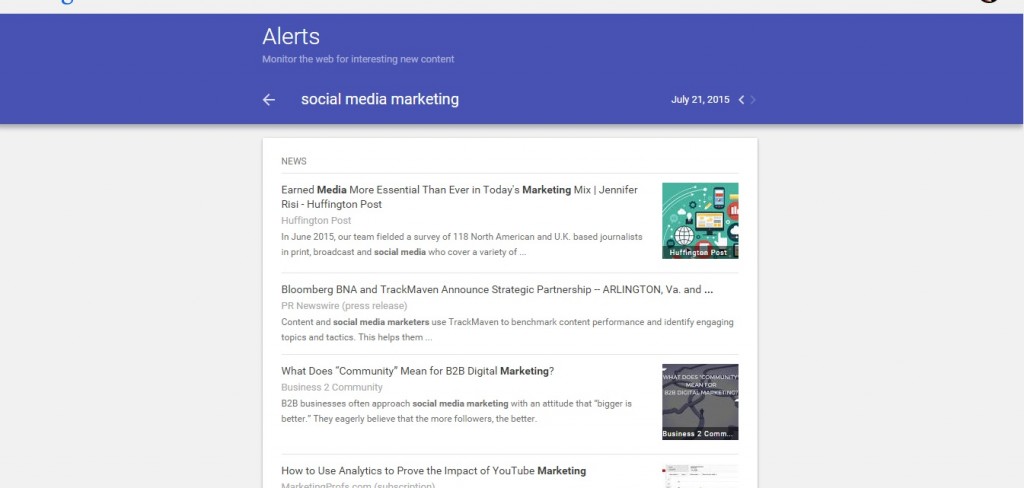 Have you found a better alternative to Buffer/Swayy for content discovery? Share your suggestions in the comments section below.
Note: This article was originally published on July 22, 2015 and has been updated since with more recent information.