The Right and Wrong Times to Post on Social Media
Posted in :
Content Curation
,
Others
,
Social Media Tips
on By
Guest Author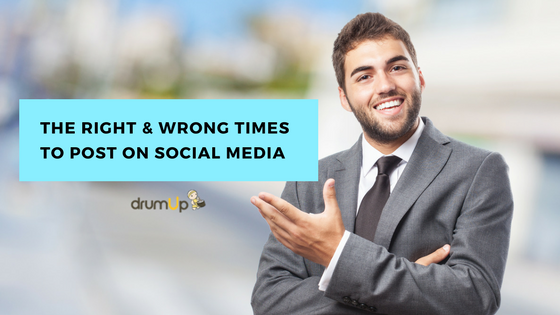 Social Media has revolutionized the way companies do business. From small local stores to big corporate houses, all types of businesses have recognized the importance of social media in marketing. In fact, social media marketing has become such an integral part of a company's marketing activity that businesses just cannot do away with it.
The success of social media marketing depends on a bunch of factors, among which are content quality and relevance and time of posting. The time you choose for publishing content on social media will decide how many of your followers see the content, engage with it and maybe even convert.
The best time to publish posts on Facebook
Over the years, different agencies have attempted to pinpoint the best time to post on social media and have arrived at contradicting answers.
According to Hootsuite, 12 noon – 3 pm on working days is the right time to post on Facebook. People use Facebook as a means to get through the afternoon slump, and that is when the engagement rate is maximum. There is a lower engagement rate during the weekend probably because people are busy with other personal work. Early morning and late nights are the worst time to post as people are not online.
But as per the data collected by CoSchedule, 9-10 am, 11 am – noon and 4 pm are the right time to post on Facebook.
A majority of the other sites like Elle & Co, Sureplay, Fast Company and Huffington post consider 1-3 pm as the right time to post as their data has a most of the social network's audience online during this time.
Thus, in practice, it may seem best to start posting from 1-3 pm on weekdays and observe the trend. But you may be missing out a whole lot of engagement by simply following posting best practices and trends.
So, how do you decide the time to publish your social media content?
Don't follow trends or go by anybody's experience. Set-up your own experiment and use hard data (from analytics tools) to make your decision.
1. Setting-up a when to publish your social media content experiment
Step 1 – Create a test post. It can be anything.
Step 2 – Design a test box that covers all potential time periods for posting. Here's mine, take a peak.
Step 3 – Schedule the post to go out on each test schedule period. You could use a social media management tool like DrumUp that also has an in-built social media analytics module.
Step 4 – Measure engagement for each schedule and identify your high engagement time schedules.
Step 5 – Repeat the experiment every quarter to confirm results.
2. Using social media analytics to determine your best time to publish on social media
There are many ways you can access social media analytics and engagement metrics to determine the effectiveness of your social media posts. That's because both social media platforms themselves and third-party tools like ours offer insights into social media post performance.
You can refer to Facebook, Twitter and LinkedIn analytics available on your social media accounts, or you can use third-party social media analytics tools to access analytics.
List your social media posts with the most engagement (you can use DrumUp's drop-down filter to do this effortlessly), and observe when and on which days they were posted. Those are your go times.
Using either method, the goal is to figure out the time with maximum engagement and take it as the right time to post on Facebook.
The same techniques apply to other social media platforms such as Twitter, LinkedIn and Instagram. However, you can't figure out the best times to post on one social media platform and expect the formula to work across other social media platforms.
The best times to tweet
The peculiarity of twitter posts is their short lifespan. According to a study conducted by Wiselytics, the average time span of a tweet is 24 minutes. Thus, in order to maximize twitter engagement, it is advisable to post at least 2-3 times a day.
According to a study conducted by Hootsuite, 3pm from Monday to Friday is the right time to post on Twitter.
But Kissmetrics which points out that 5pm on weekdays is the right time has a completely contradictory view.
According to Huffington post, apart from 5pm, 12pm and 6pm are also great times to post on Twitter.
Since tweets have a very short life span, in practice it is best to tweet 2-3 time between 12 pm and 5 pm.
Twitter Analytics can provide you information about your audience behavior. Study your analytics properly, and you can schedule your tweets accordingly.
Social media management apps like DrumUp come in handy when you have to schedule multiple posts per day. You can spend 15-20 mins a week and schedule enough tweets for the entire week using the app.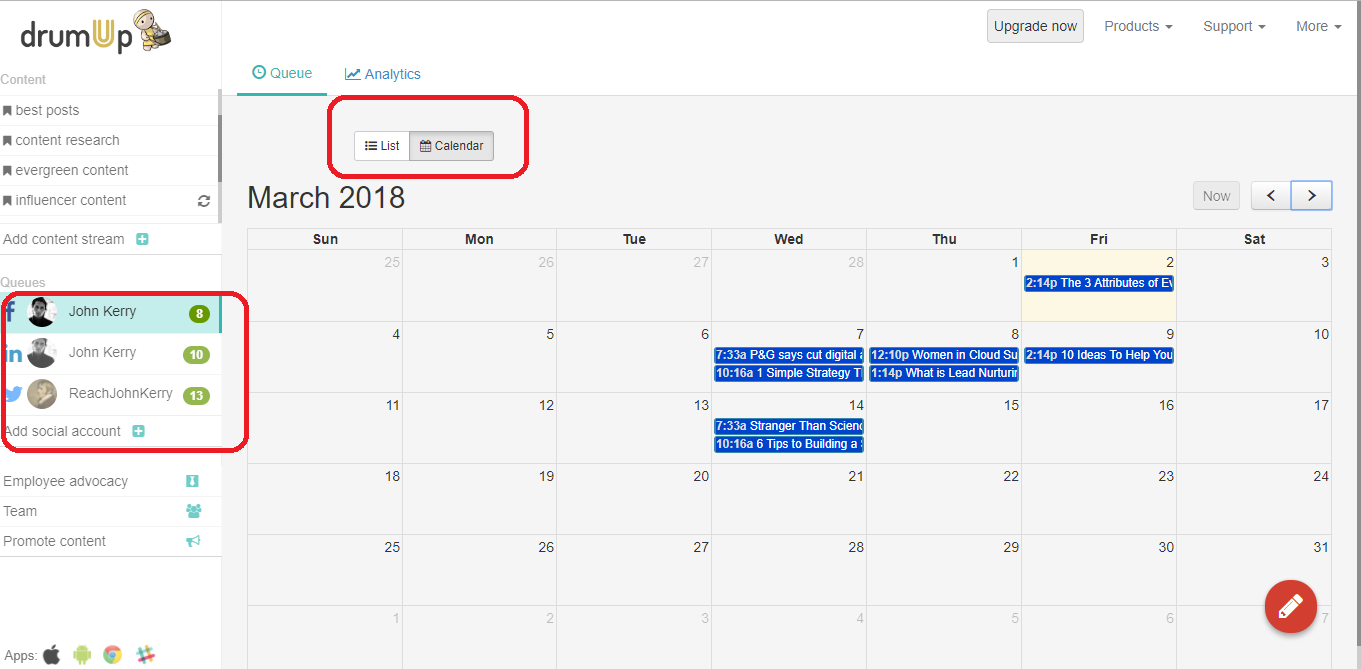 The best times to post on Instagram
The peculiarity of Instagram is that it is a purely mobile based app. Thus, people tend to be online throughout the day, with sporadic bursts of activity. The right time to post in such an environment could actually be when few other people are posting.
According to a study conducted by Latergramme, the best time to post is around 5pm. This is the time when a majority of people are online after work, but only few people are posting content. Thus, the chances of your post appearing in a user's newsfeed are very high.
But CoSchedule's study provides a totally contradictory view that says 2pm on Tuesday is the right time to post on Instagram whereas other major studies conducted have agreed that weekdays are the right days to post on Instagram.
In reality, the right time to post depends on the audience you are targeting.
Instagram Insights provide a clear picture of the time and days when engagement rate is high for your content and audience. You can use these insights and analytics from social media analytics apps to confirm the best time for you to publish on Instagram.
You can also set-up an experiment like the one we discussed when talking about Facebook for Instagram.
The life span of an Instagram post is about 4 hours after it's publishing, after which the post gets buried in users' news feeds. Thus, it is best to avoid late night publishing as the engagement rate will probably be very low.
The best time to post on LinkedIn
Linkedin, being a purely professional social media network, has users who are most active around midweek, from Tuesdays to Thursdays. It's best to publish on LinkedIn when people are most engaged workwise.
According to CoSchedule the best time to publish on the social network is noon, during lunch break, and 5pm towards the end of office hours as people are likely to login during this time. The least favorable time is between 7 pm, and 6 am.
One interesting thing to note here is that there is no contradictory views related to time for LinkedIn posting. Since LinkedIn is a purely professional network majority of the social media sites consider business hours as the right time to post on LinkedIn.
Regardless, to accurately decide the right time to post on LinkedIn, you should follow the same strategies we discussed for Facebook – set-up an experiment and use LinkedIn analytics to make the decision.
The best time to publish on Pinterest
Pinterest has the oddest best times for publishing when compared to other social media, and it's probably because of the type of content shared. The majority of the people who use Pinterest are women in 25-44 age group and the type of content shared is mostly lifestyle related. Thus, the best days to post on Pinterest is during the weekend from Friday to Saturday when users are relaxed and are in the mood to browse the lifestyle related content.
According to CoSchedule and Elle & Co, the right time to post is 8-11 pm on Saturday. However, HubSpot is of the opinion that 2-4am and 2-4pm on any day are also good times for pinning posts.
The least favorable time to post on Pinterest is Sunday through Friday when users will probably be busy with work and would be least interested in checking lifestyle related content.
Pinterest analytics is the right tool to figure out the correct time to post for your business. Try posting on different times and observe the trend. Select the time and day that provides the maximum engagement as the right time to post.
Once you have the best times to post on social media platforms, you can create "Custom schedules" on DrumUp.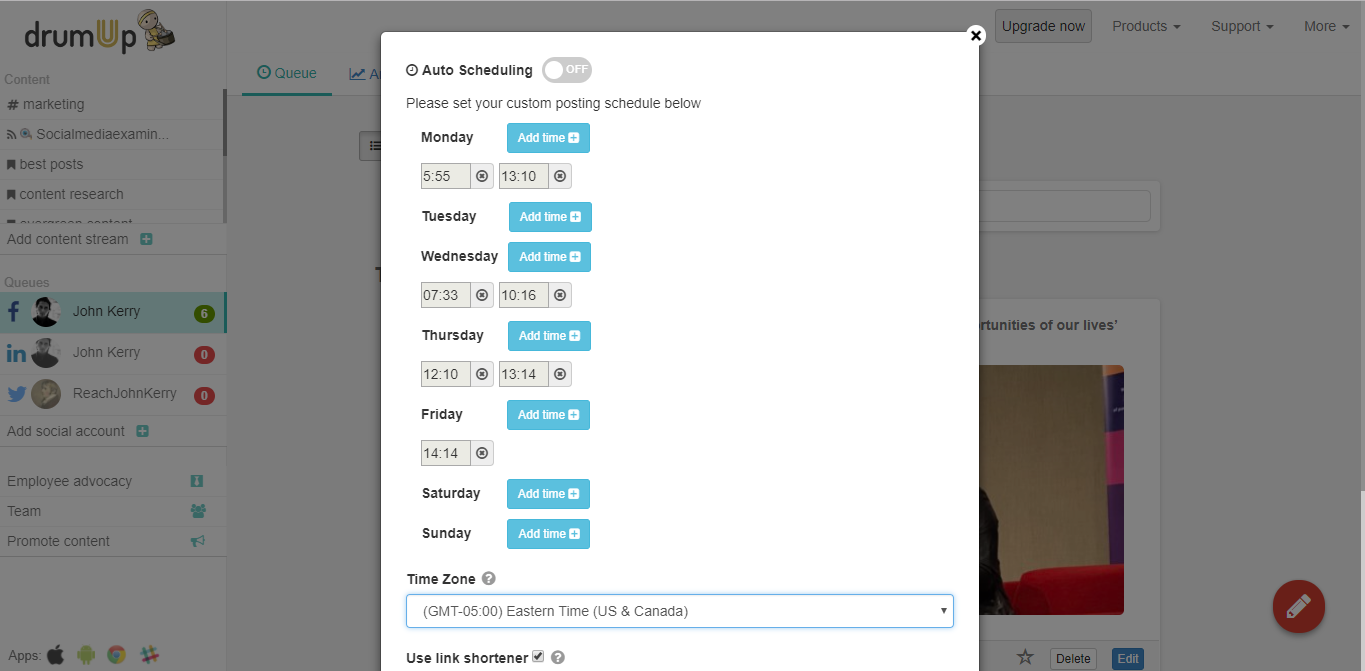 Once you have done that, you can easily 1-click schedule content to automatically fill the schedules that you have created.
Wrap
When it comes to social media posting, there is no right or wrong time to post. The answer to that question depends on your unique target audience, their behavior, locations and time zones.
A careful analysis of social media engagement data from each social media channel and experimentation across social media channels can help you zero in on the right times and days to post.
Author bio: Sunitha is a freelance content writer with specialized experience in creating blog content for a diverse portfolio of clients. Most of her writing revolves around social media and content marketing. When she's not writing, she likes to pursue her hobby of jewelry making.
Feature image by @Asierromero via Freepik.com