10 Top Content Marketing Trends for 2017
Posted in :
Others
on By
Disha Dinesh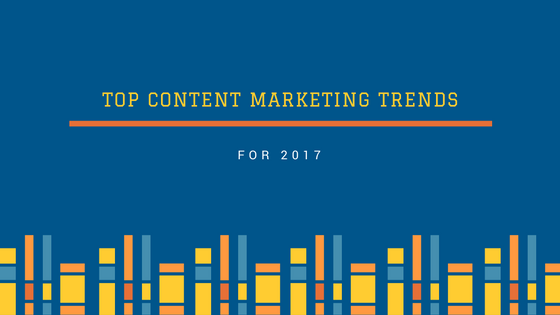 With 2017 just a few days away, companies have begun charting their marketing plans. Content continues to be crucial but isn't about who can produce the highest volumes anymore, it is about who can adapt to the diversity of multiple platforms and engage their audience across them.
The competition for audience attention has led to the emergence of content marketing niches like native advertising and personalized content marketing. Technology has also evolved to enable these developments, offering marketers the ability to be present on multiple fronts and target their specific audience. This is a list of the top 10 content marketing trends for 2017.
1. Immersive/interactive content will trend
Consumers are overwhelmed by generic and promotional content being created by brands. Click-bait is passe and today's audience can smell promotions from miles away. This and increased competition on content platforms has led leading brands and marketers to seek innovative, new ways to connect with their audience. Market leaders have begun to move to "immersive" content. 2017 will be all about how you push the boundaries and create experiences for your audience.
Facebook and YouTube now support 360° video uploads, and brands have already begun to use it. Star Wars ran a 360°promo for Rogue One, Pepsi created an augmented reality commercial and even Airbnb jumped on board the "immersive" trend with its Van Gogh inspired room listing.
The simplest way to ride this trend is by building a Facebook Live or Twitter Periscope strategy. You can have tutorials for your audience, or quick and entertaining videos about topics that they are interested in, using any social network's live streaming feature.
2. Ad aversion will cause marketers to invest in native advertising
Ad block usage is perilously rising, and may reach a point of no return. Marketers relying heavily on paid advertisement will need alternatives to earn the exposure and brand recognition that they desire Native advertising will become an important avenue for content marketing.
Several solutions already exist in the native ad space, including content marketing and distribution platforms, and DrumUp. You can promote your content on DrumUp and have it suggested to interested influencers and other community members. Alternatively, you can use a content distribution platform like Outbrain to place your content strategically on the internet, or a content amplification community like ViralContentBee where your content will get shared in exchange for sharing others' content.
3. Brands will invest in influencer content marketing
Gone are the days when brands built their own communities to run marketing campaigns and nurture potential consumers. In today's busy space, brands are taping niche communities that already have their prospects as members. In essence, an influencer's following can be seen as a niche community and the influencer as a medium.
In a survey conducted by Chute, the influencer marketing platform, 66% marketers said that social media influencers were active participants in their marketing strategy this year. The trend will continue into 2017 and as long as the information explosion is a concern. You can use influencer marketing platforms to reach out to and activate the right influencers for your business. Alternatively, you can also include employee advocates in your content marketing plan.
4. Content amplification through customer and employee advocates
Customers and employees can be effective advocates if they are connect to your target audience. They are referred to as micro-influencers and are essentially influencers who don't necessarily have large followings but can drive the results that you need.
In addition to having them promote your content, you can also encourage advocates to create the content for you, making it more authentic and possibly more effective. DrumUp's employee advocacy program lets employees "Suggest content" so they can share with their colleagues blogs they may have written or content that they find interesting. Several global giants like IBM have invested in developing employee bloggers to enable them to powerfully represent the company on the internet.
5. Email marketing will become popular again
People check their phones all the time, and email notifications are still a great way to reach them. Email was never dead, and only proclaimed to be so. Many large brands still run important campaigns on email and enjoy excellent results.
With "noise" on social networks, marketers will utilize supplementary media to reach their target marketers, and email will be one of those media. Most companies already have regular newsletters and they don't seem to be going anywhere. In fact, most websites you visit probably have trip-wires in place to collect, no prizes for guessing, your email address. You should continue to use this tactic in 2017 too, for lead nurturing if not for anything else.
6. Videos & visual marketing will rule
The importance of visual marketing is apparent, as audiences are consuming and interacting with more and more video content. Unfortunately, some brands believe only in the "viral" video strategy and don't see the value in a consistent video and visual marketing effort.
According to eMarketer, American adults spend 5.5 hours watching videos each day. This statistic alone should convince you of the need to make video a more regular marketing activity. Visuals, as a whole, are also known to receive more engagement and enable better retention in memory, so they can help you stay on top of your target audience's minds for a longer period of time.
7. "Mobile first" content will become a niche
According to Statista over half of the world's population will be active on mobile in 2017. It isn't enough to make your website responsive, the idea is to tailor your entire marketing strategy, including content, to focus on the mobile space.
Your content needs to be easy to read and navigate on mobile devices. If it isn't, your audience is likely to quickly exit the page, increasing your bounce rate in the process. The social share buttons, for instance, should be placed as much towards the top as possible on your page. You should also steer clear of large file sizes of videos and visual content because your audience may not be able to access it on their mobile data packs.
8. Virtual/augmented reality will take off
According to Pokemon Go, their users have collectively walked 4.6 billion kilometres playing the game. The world is clearly ready for virtual and augmented reality. Currently, the gaming industry may have monopoly over the space, but Facebook (with Oculus Rift in tow), may invade the space anytime now. The company has been sitting on Rift for two years, but 2017 maybe the year when we finally see something disruptive in the virtual-social space. As content marketers, you need to be prepared for when this happens.
In 2016, businesses all over the world quickly incorporated Pokemon Go in their marketing strategies when it began to trend. Restaurants used Pokemon lures to attract customers and businesses created Pokemon themed content for SEO benefits. It would be a good idea to keep your eye on this space for trends to ride in 2017.
9. Social/cultural cause based marketing will trend
Ever since Twitter announced that businesses could promote trends, there has been an increase in the instances of brands using social/cause based marketing.
Causes are important to consumers, and your participation in them will give you and your audience common goals and help you connect with them better. You can align causes to purchase of one of your products, like Starbucks did for World AIDS Day. For every hand crafted beverage sold in the US, they committed 10 cents to the global funds to fight AIDS. You can initiate a cause based campaign by tying up with an NGO and enabling your audience to support the cause they care about. It is also a great way to show that you care.
10. Live and expiring content will trend
Consumers are increasingly tuned into the digital world, and the desire to connect with brands in it has increased. 50% of mobile traffic can be credited to online video consumption, according to this post.
The digital space has seen a drastic invasion of live-video streaming, supported by advancements of social media platforms. More people and brands are now creating and engaging with live video content. Facebook Live, Periscope, Blab, Snapchat and other such platforms are making it easy for brands to host tutorials, launch events, tours, product manuals and other content. Platforms like Snapchat and Instagram are also promoting expiring posts and stories. This will transform how brands connect with their audience.
Summarizing the top 10 content marketing trends for 2017 –
1. Immersive/interactive content will trend
2. Ad aversion will cause marketers to invest in native advertising
3. Brands will invest in influencer content marketing
4. Content amplification through customer and employee advocacy
5. Email marketing will become popular again
6. Video & visual marketing will rule
7. "Mobile first" content will become a niche
8. Virtual/augmented reality will take off
9. Social/cultural cause based marketing
10. Live and expiring content will trend