Why Your Brand Needs a Visual Content Strategy – And How To Create One
Posted in :
Content Marketing
on By
Guest Author
Did you know that visuals increase people's willingness to read content by over 80%?
As the world around us becomes more and more saturated with brands using content marketing, there is a need to find ways to stand out.
Visual content marketing can make that happen for a brand. If your brand is still not considering visual content into the marketing strategy, whether on social media or email newsletters, it is time to re-think the whole plan again.
It is time for your brand to visualize the benefits of using stunning images and visuals to increase your brand's reach and pump up sales.
Why brands need a visual content strategy
Graphics can not only drive brand awareness, but they can also increase traffic and help improve business.
But just posting random visual content on social media isn't a solution. Brands need to create a consistent experience for their customers which is based on specific targets and future plans.
And that is where visual content strategy comes into picture. Without a definite strategy, your brand might see some short-term success, but a long-term success can only be possible with a well-defined visual content strategy.
For instance, Grammarly, an online grammar checker tool uses visual content on its Facebook page to connect with all the Grammar nerds out there.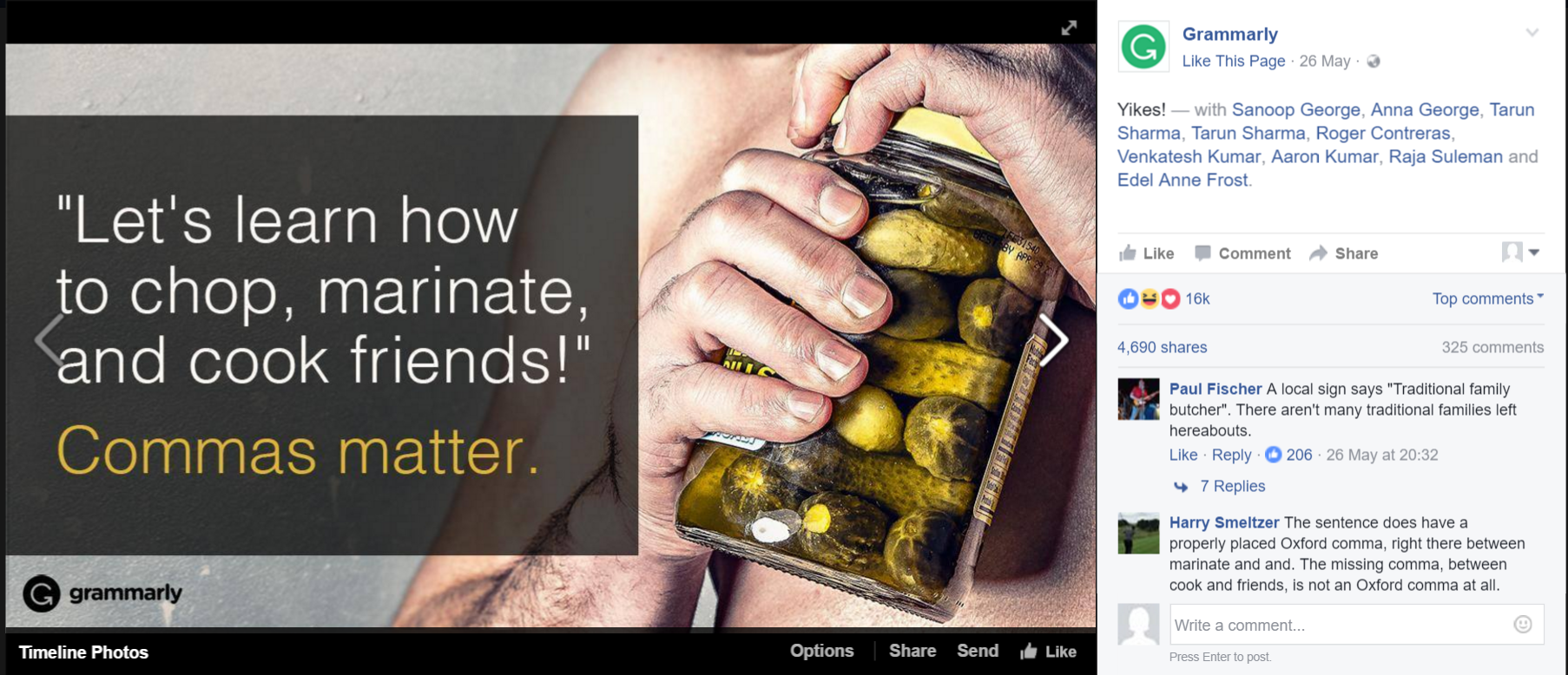 Coca Cola on the other hand, uses its Tumblr page to share GIFs about the brand's trending hashtags, right from #ShareACoke to #TastetheFeeling. Coke also maintains a consistency in all its images with the signature red colour.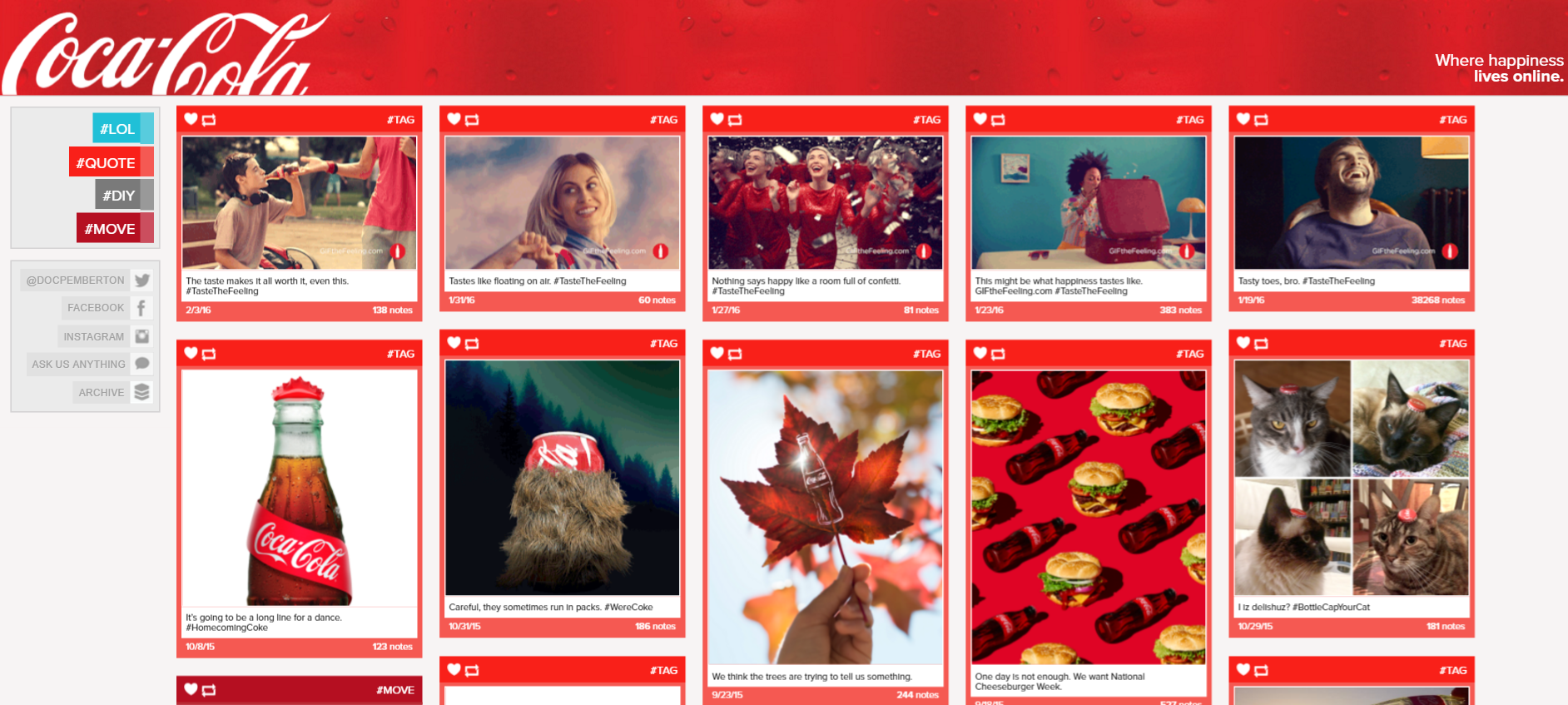 How to create a visual content strategy
1.
Finalize a goal for the visual content
The first question you need to tackle is – Why do you want to create visual content for your brand's marketing strategy and what do you want to achieve with it?
Do you want to:
Increase traffic

Pump up sales

Increase brand awareness
Whatever the reason is, you need to put up specific goals before moving ahead. So just thinking, "we will try and increase 'some' traffic" isn't a good way to start. A better way would be to try and increase traffic by 20%.
2. Keep statistics in mind
Analyse the previous visual content that the brand was sharing and how much it helped or did not help the brand. Also, pay attention to the type of content which is getting way more traction than the others.
And this shouldn't be a one time thing, perform a weekly analysis on the go and adapt accordingly.
For instance, Elle.com uses Pinterest Web analytics to understand what topics do better among their audience. The brand found out that beauty tips and how-to's are some of the most popular topics among their followers, and they have largely increased visual content for those.
As a result, Pinterest is now the biggest referrer of Elle.com with 70% of the total traffic coming from the image pinning platform.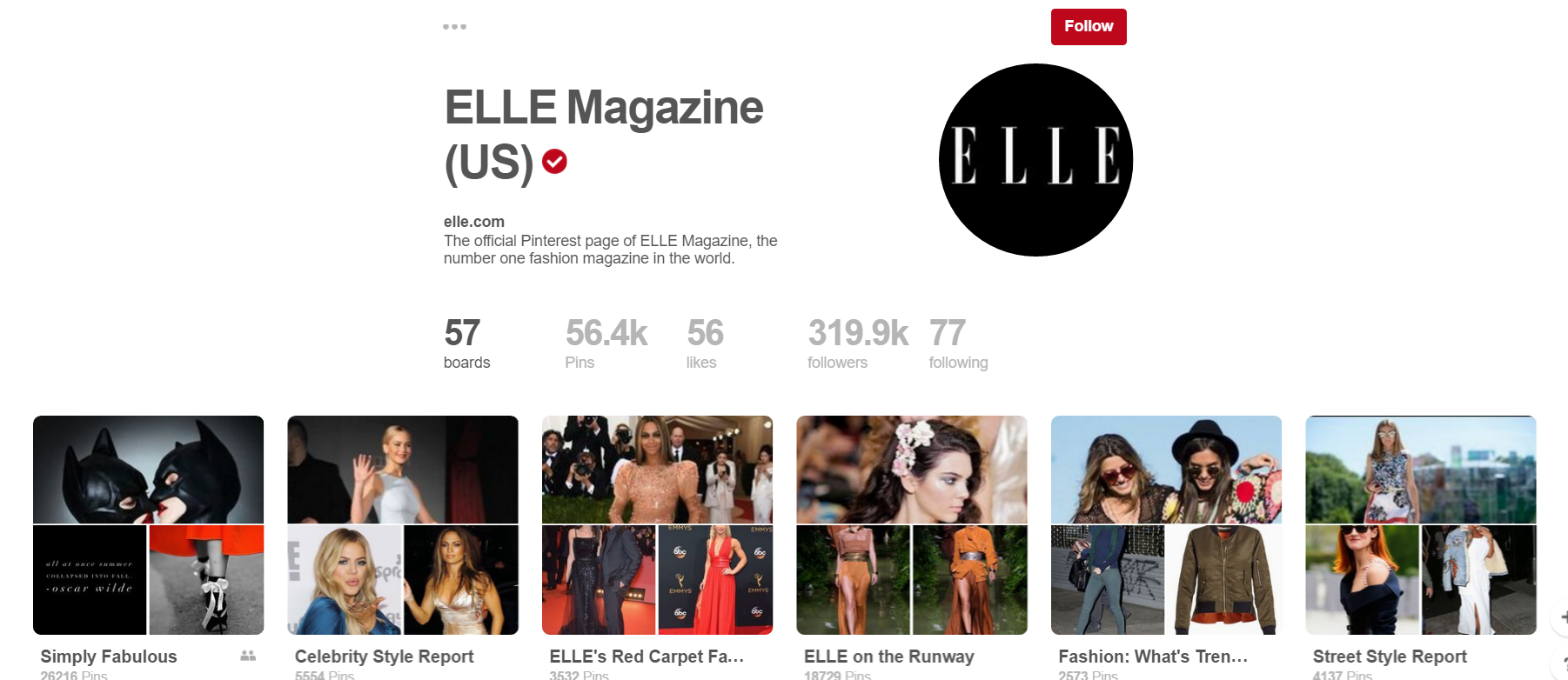 3.
Incorporate the brand's logo effortlessly
Whether your brand is a well established one or at the cusp of a break-out, it's important to have a logo that is synonymous with all your brand values. It is also equally important to feature your brand's logo throughout your visual content to make the users more familiar and accustomed with it.
If you are a small brand on a tight budget, then you should definitely try Canva where you can easily design professional looking logos in just a few minutes. Since you can save the logo in both PNG and JPG format, it makes it easier to incorporate the logo into other social media images.
See how cleverly Target incorporates their famous red bull's eye logo into their Facebook cover photo.
Slack, on the other hand, takes a different turn by transforming their signature mesh logo into sock sloths.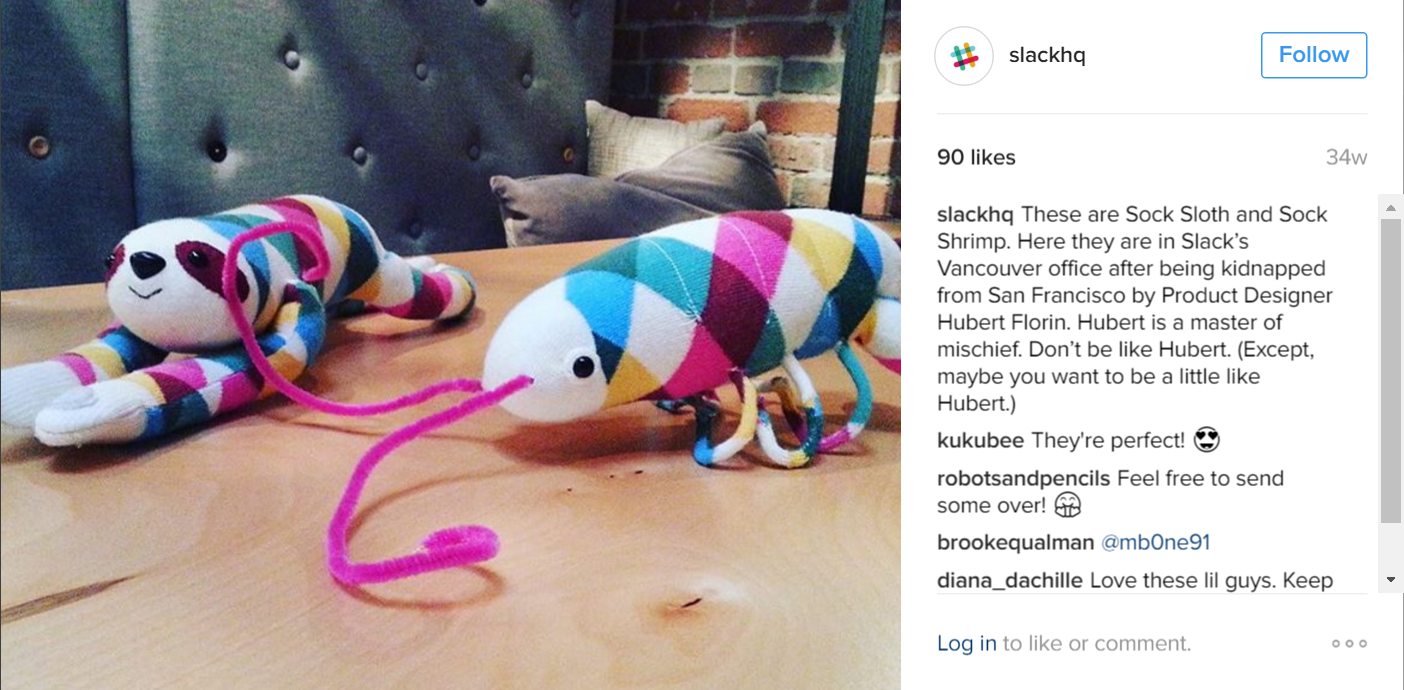 4.
Don't overwhelm users with too much advertising – give them space
Posting over and over again about how great your products or services are, can get pretty boring for your followers. After all, nobody likes blatant advertising. That is why it is better to give a break to your followers by posting funny memes or pictures. But when you curate images for that, make sure they are related to your brand.
General Electrics, for instance, put their own spin to Ryan Gosling's viral meme "Hey Girl" by substituting Gosling with Thomas Edison.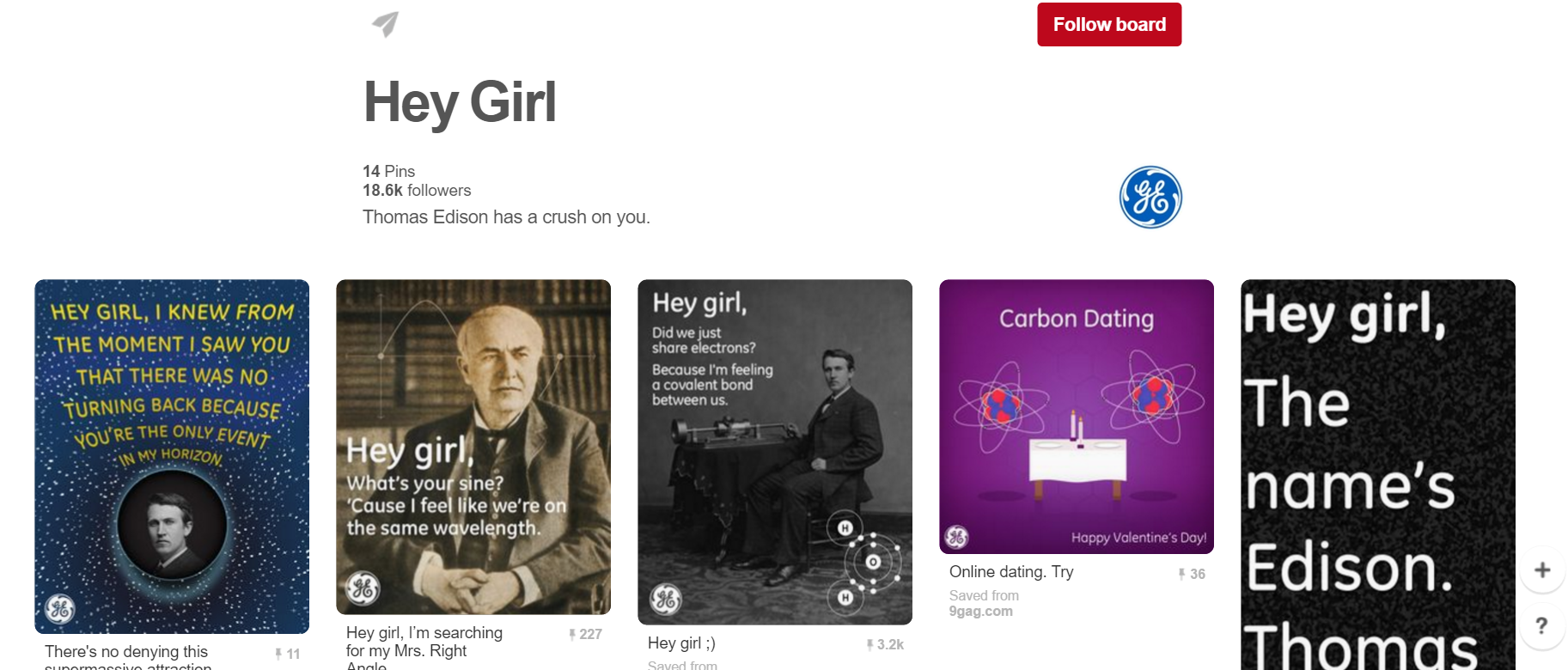 5. Use only high-quality images
High quality images are incredibly important when it comes to visual content for your brand. Candid phone shots should be rarely used, and that too for Instagram. Apart from that, it is always great to stick to stock images.
6.
Use the right and consistent hashtags
Using consistent hashtags personalized for your brand gives your followers a chance to follow the hashtags, and incorporate it in their own posts.
Obviously, it's extremely important to make the hashtags fun and relevant to the brand.
Charmin, a toilet paper brand, has a popular hashtag on Twitter – #TweetFromTheSeat. Twitterverse uses the hashtag even when they aren't talking about Charmin, and that is because this hashtag is fun and relatable at the same time.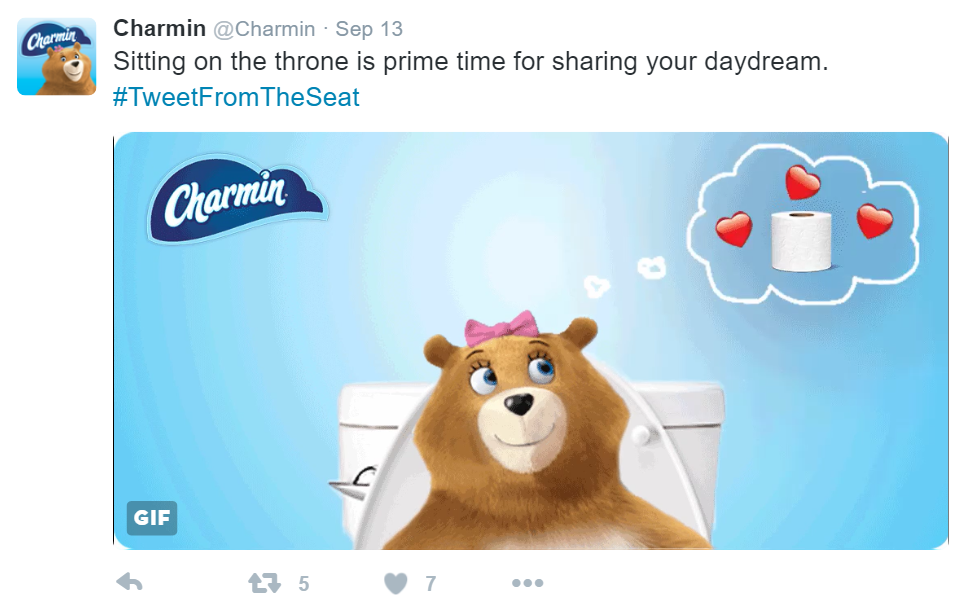 Evernote, on the other hand, is a productivity tool which is mostly used by professionals, so the brand likes to stick with a more simple hashtag – #EvernoteCommunity.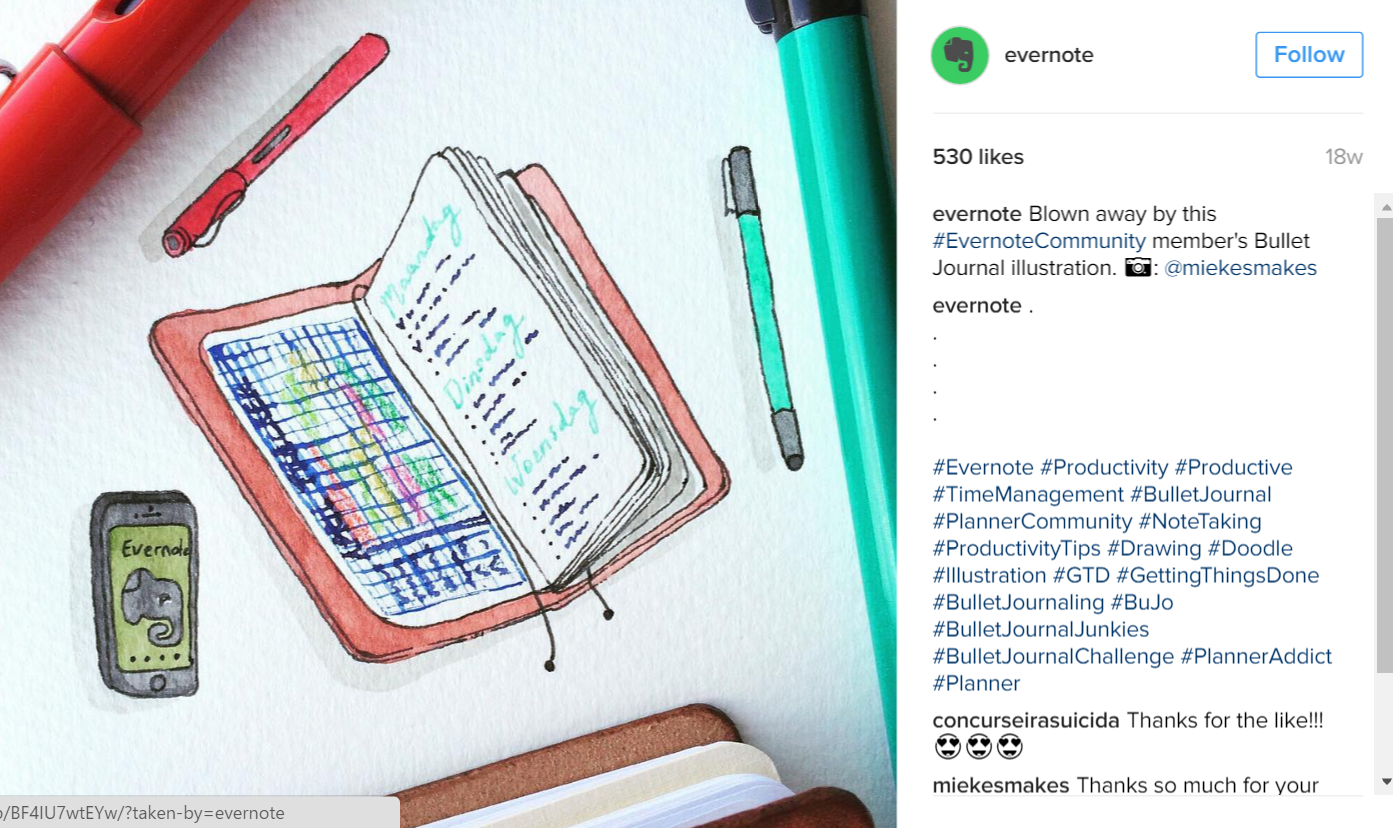 7. Add video content as well
Facebook, Twitter, and Instagram, all of them allow video content now, and there is no reason for your brand to not include videos in your visual content strategy.
Oreo regularly posts video content on all their major social media channels and the videos do get a higher engagement rate than the other posts.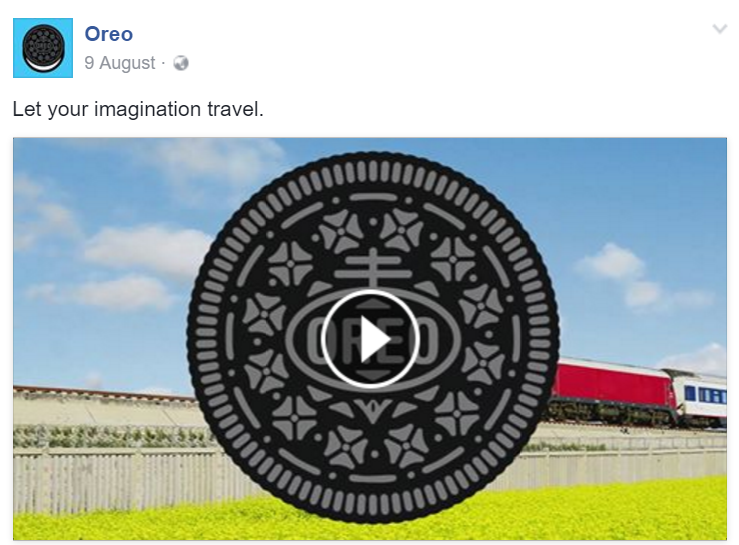 8. Put your own spin to trending hashtags
While it is important for brands to create their own unique hashtags, using a trending hashtag helps brands get more traffic and views on their page. By putting your own spin to the trends, your brand will get more exposure, and still stay relevant for all the existing followers.
For instance,  Whole Foods regularly posts photos for all the trending food hashtags like #NationalVegetarianDay and #NationalTacoDay.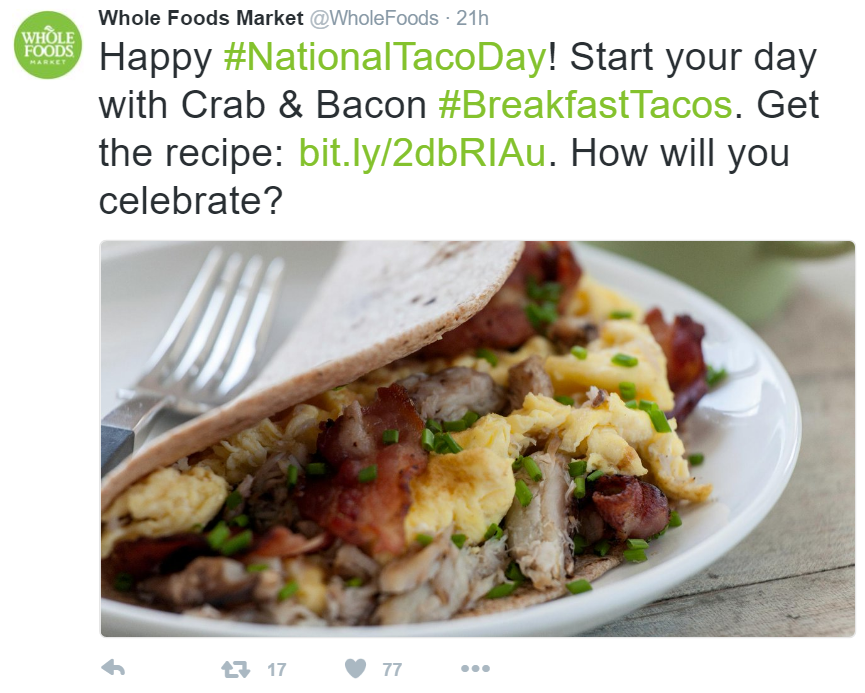 9.
Take infographics into consideration
Infographics are a great way to kick start a visual content strategy because they are very closely related to content (facts) that a brand already has. Not to mention, putting an infographic together is easy and quick.
Zendesk, a company that provides other businesses with customer service software and support ticket system, uses their Pinterest page to share customer service related infographics, which are all linked back to Zendesk's official website.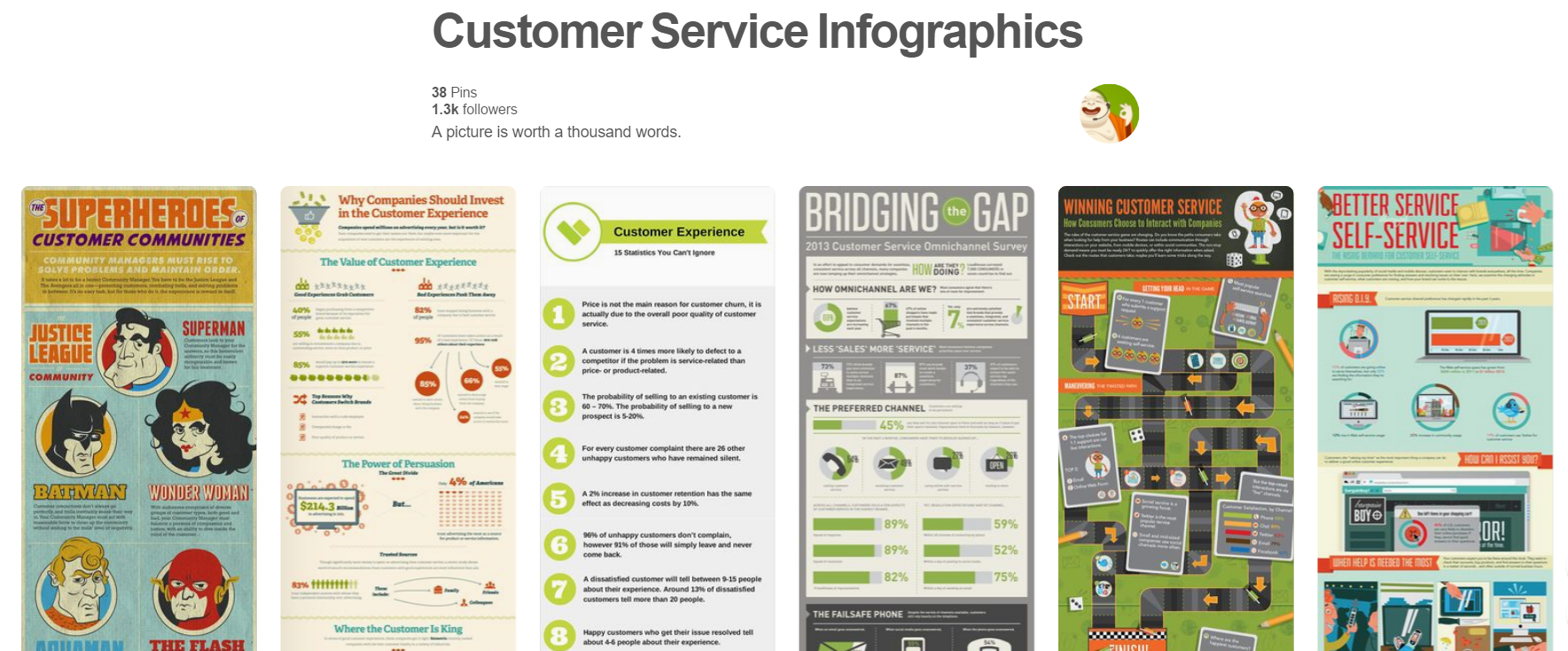 10. Find the right schedule
As you start sharing visual content, whether through social media or newsletters, you might notice that posts shared at a particular time do way better than others. This is the peak time for your brand when the maximum of the followers are online, and you should always put a post up during this time.
Over to you
A visual content strategy is a must-have if you want your brand to get through to the target audience, or grow brand awareness.
Always remember to analyse weekly right so that you can make the correct modifications and derive the right conclusions.
Author bio: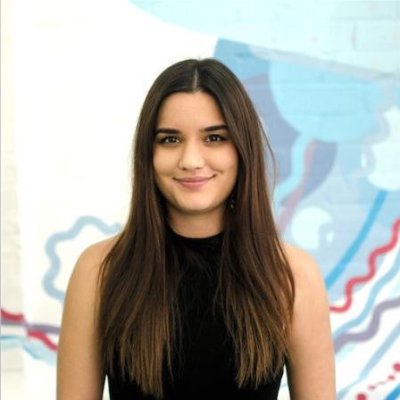 Anna Guerrero is growth marketer and content expert at Canva. She writes extensively about visual content strategy and marketing.