15 Ingenious Growth Hacks for SaaS StartUps (& Examples to Illustrate Them)
Posted in :
Content Marketing
,
Others
on By
Disha Dinesh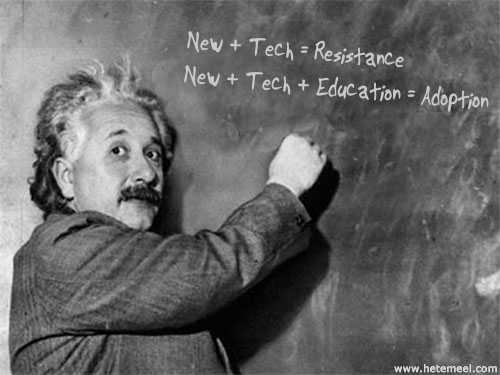 Hacking growth is an exhilarating experience. Fashioning elegant and efficient solutions off of problems that the market fast balls at you is empowering and liberating. Not to mention the years of time and effort it saves you in growing a business the traditional way.
Besides, this is age of the individual, the unique. The blue sheep that refuses to walk with the herd. To wildly disrupt the world, in today's times, we all know that upstream and quick is the way to go. All you need is the right set of tools and tactics to hack your growth.
15 Growth Hacks to Catapult Your SaaS Ahead of Growth Expectations
1. Social media advocacy of your product by your team, advisers and extended network
In 2016, Statista counts the number of TV users (TV owning households) at 117 million, and number of social media users at 2.4 billion. There's no question as to where a SaaS start-up should focus their communication efforts.
However, over 50 million businesses are now represented on social media, and to be heard through all that noise, your message has to be amplified. What most businesses don't realize is that they have social media users on their side – their colleagues, stakeholders, friends and family. With enough activity you not only reach a wider audience and enjoy the 'talking about this status', but you create a stronger impact. With the right employee advocacy platform (like the one that DrumUp offers), you can invite your advocates, share strategic content with them and begin conquering your market through social media.
SpinGo did it and saw a 500% increase in engagement on LinkedIn and a 200% increase in engagement on Facebook.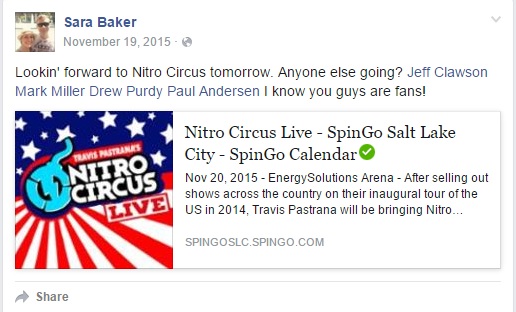 Adobe did it and discovered that one of their employees ended up generating more revenue for Photoshop than their official Twitter account (with over 470K followers).
2. Get product feedback from digital communities, influencers and pro-bloggers
Have you used Reddit? If you have, you've noticed its sharp and honest freedom. This is precisely what a SaaS product requires pre-launch. Get honest feedback from Redditors by posting on the right sub-reddits, and on other communities that make sense.
Refer to a top 100 influencers list specific to your niche and offer free subscriptions to them all. Request them for feedback and official reviews/testimonials. Extend the same offer to professional bloggers and journalists. There's nothing more powerful than an honest request for help and opinions. Don't be surprised if they feature you on their blogs and you earn some traffic off of the exercise.
When doing an exercise like this one, it is good to simultaneously create a database of everyone you reach out to, under the right tags, so you can keep in touch with them and build great professional relationships.
3. Design email capture mechanisms for your website and blog
I recently attended a webinar conducted by Neil Patel that had an entire section focused on conversions through website "trip-wires". Simply offer your audience something tempting in exchange for their email address. Spend enough time on deciding what to offer – because it has to have real value and be available at a low price (or for free). You can even offer a combination of things in a sequence that makes sense.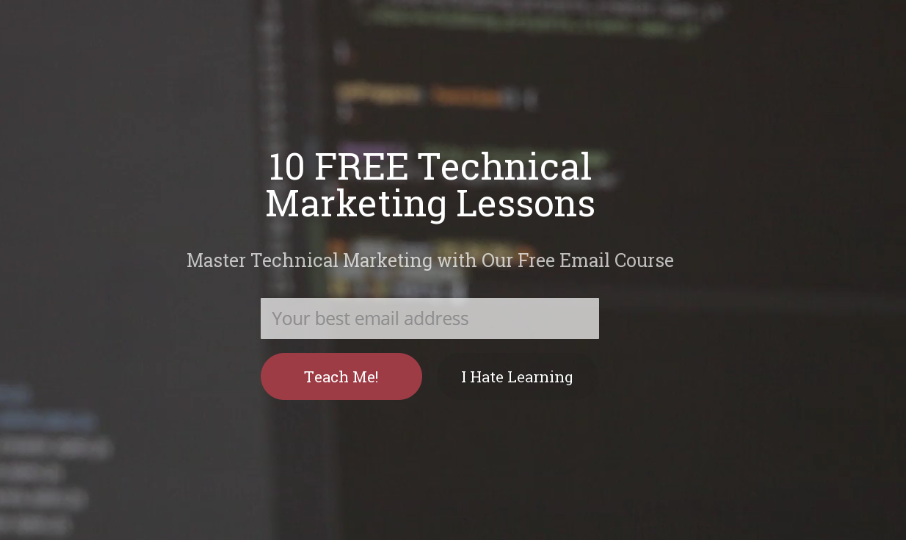 Store every email you capture in an organized database. You can go one further and categorize people by what they clicked on or what interested them to target your email marketing campaigns better.
Oh, and this is obvious, keep in touch with them, just as often as it makes sense, and only when you have something of true value to offer. Also enable social plug-ins or write copy to convert your email leads into social media followers. You could even prompt site visitors to share something on social media.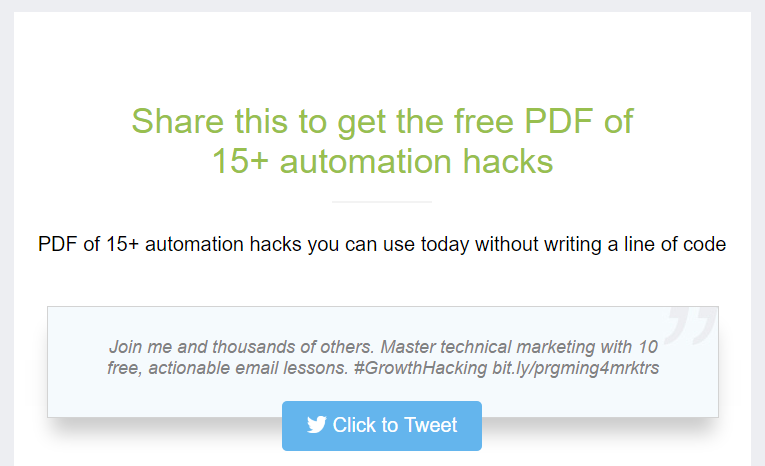 4. Design email templates and automate them on a schedule
What you do with the email addresses that you capture will determine your conversions. By designing a basic set of email templates and automating your email work flow, you'll be able to keep in touch with your audience without having to create content every time you have to.
Understand your sales funnel and the steps in your audience's journey. For each step, outline the content that will help your audience and keep the leads warm. Once you have your outlines, you simply have to flesh them out to complete email formats and set the emails on a schedule using an email marketing app like MailChimp or SendGrid.
You work doesn't end there. You have to monitor each wave of emails, analyze your click rates and refine your content for the best effect. Remember, your content is what will win or lose you your customer. Here is a great example of a conversion optimized email created by Litmus.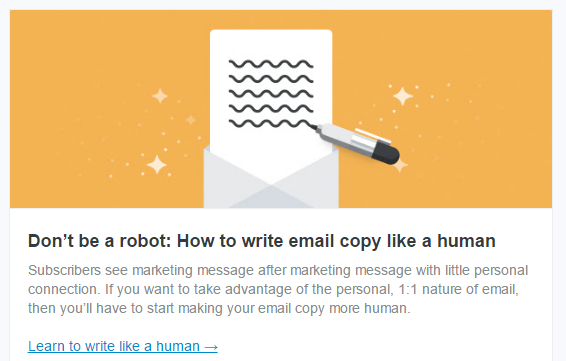 5. Raise the roof with your social media activity
You have got to be unique. This can't be said enough, and we'll go into it further along the post. But remember to put some thought into your content marketing strategy for social media.
Any brand's hygienic routine for social media should be – post value and post frequently. State Bicycle Company, one of Facebook's rock-star brands, attributes its follower growth to posting frequently. Here's a sample of the type of content they post –
But of course, if you're a SaaS company and a start-up, like we are, you can't invest in a full time social media team. But that's absolutely alright because we can help. Using DrumUp, you can curate content that is just-out-of-the-oven and relevant to your niche for your fans. You can be the one who breaks the news by automating posting from top news sites using our RSS feeds posting feature. If you want to maximize the reach of a promotional post, you can store it in DrumUp's content library and set it on repeat schedules whenever you feel necessary.
Save a post to the content library for later use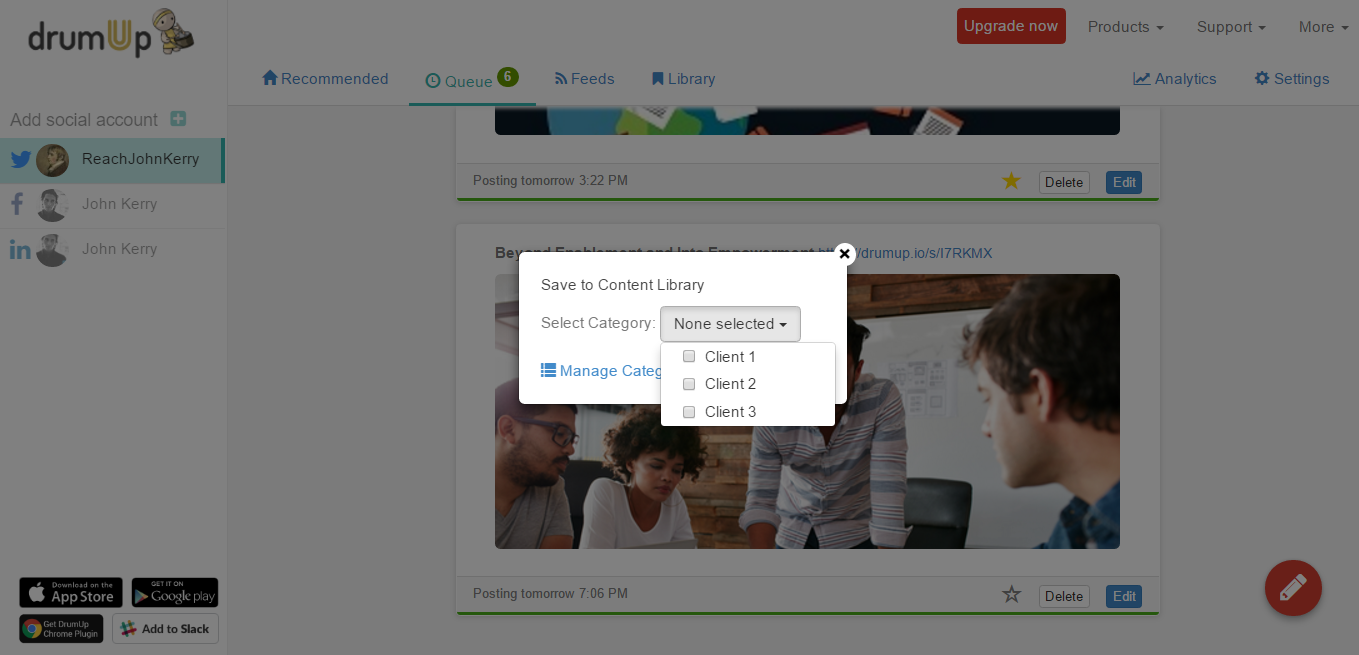 Set a post on a repeat schedule for maximum exposure and impact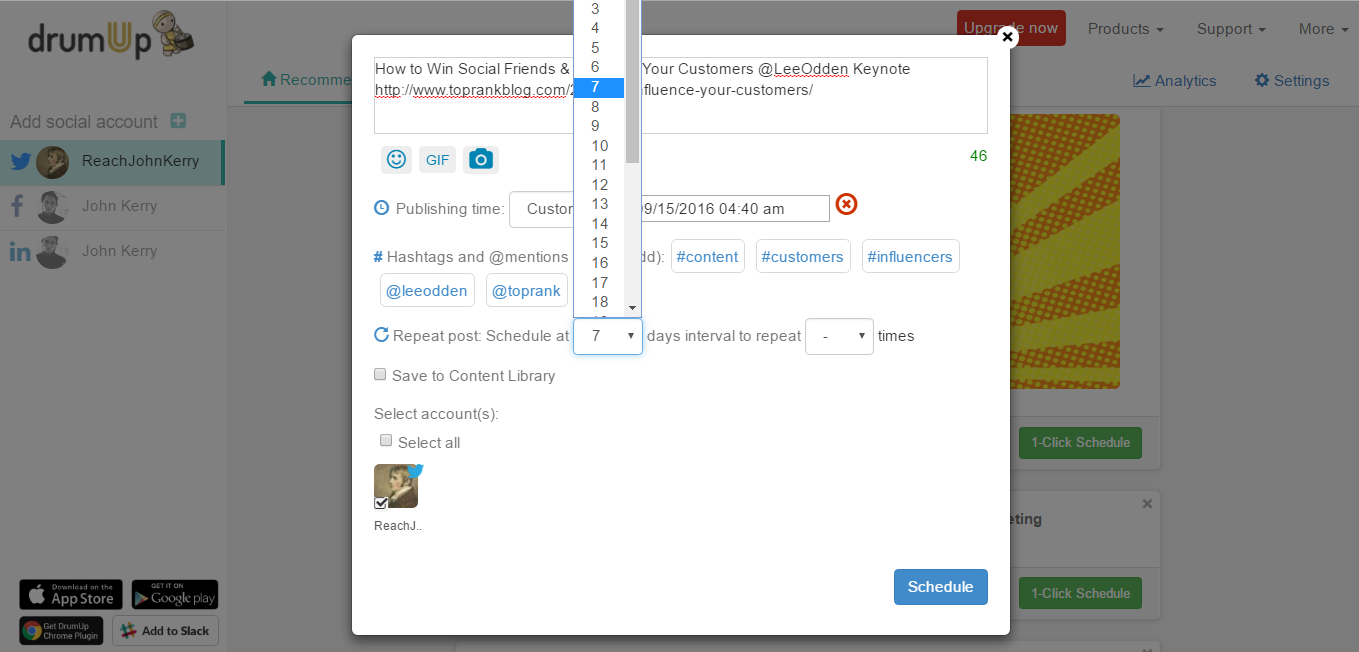 There are so many ways to increase your traffic. The way you schedule tweets can ascertain your social media success.
6. Create PR and guest posting hit-lists and target them strategically
What are the top 100 news sites you need to be seen on? Which blogs do you have to be a part of? Create a list and get cracking. You may have to send 20 emails to get one hit, but the results justify the effort. Getting featured on one article earns you visibility that is well worth a few hours of work.
When crafting your email pitches, remember to address what's important to the person you're writing to. If it's a blog, suggest topics that are a good fit for them and would appeal to their readers. If it's a journalist share with them a unique angle or story that they'd want to cover.
You could go out-of-the-box and create a PR spectacle.
Keep reaching out to people periodically with enough time in-between, and you'll make great headway. Always attempt to offer them something they'd want in return so both parties benefit from the exchange.
7. Personally connect with your first wave of users
Winning your first group of customers over is as important as it is challenging. You'll want to be as personally involved in this effort as you possibly can. Not only will you receive invaluable product feedback from these users, but you'll have the opportunity to develop that first wave of strong advocates for you app.
You could conduct a detailed survey, or face-time with them, or have a quick Skype call. Remember to keep the lines open at all times to your initial customers, because they can make your rise in the market so much easier.
Ensure that your website has room for feedback and it is easy for users to give.
If you want reviews pre-launch, there are sites that do that for you, like Erli Bird.
8. Feature influencers and industry professionals on your blog
Driving change in an already established industry takes a substantial amount of effort. By involving people who already have clout, you're quickly reaching audiences and making an impact. Including experts and influencers also works another benefit – your users/fans get access to top-notch industry content and you make that possible.
Expert round-ups are incredible effective, but they demand just as much effort. If you're making that effort to reach-out to the giants, ensure that you make an impression. Create a strong context for them to participate and leave the conversation open-ended so you can keep in touch.
Of the most popular influencer/expert inclusion formats are interview series or quote round-ups.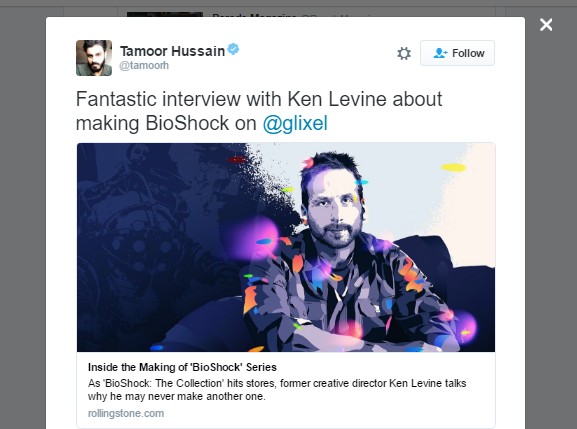 9. Partner with complementary apps to combine alternative perspectives and extend visibility
When starting your company, you would have surveyed the market. In doing so you would have discovered competitors and companies with similar products targeting the same audience as you would be. What about companies with different products targeting the same audience?
There's no better way to take something to market than do it with a partner organization. Not only do you have double the visibility, but two forces backing you, and the reputation of two brands to back your messages.
This isn't affiliate marketing that I'm referring to, but an a content marketing partnership. The most popular example of this category is a co-created guide, or co-authored article.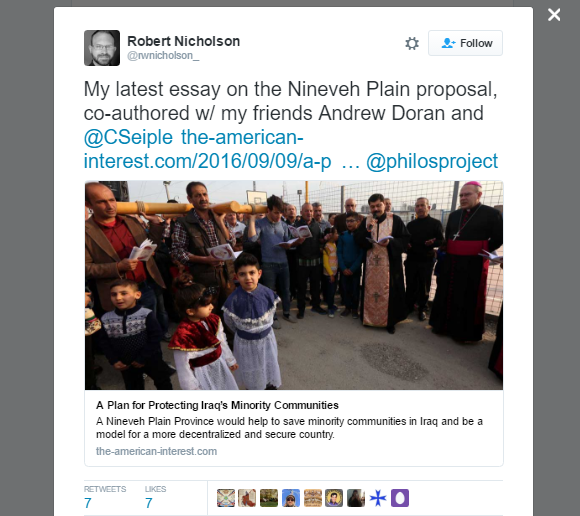 10. Optimize your website, blog and social media pages for search
Ranking in organic search is one of the most sustainable ways of being discovered and discovering the right conversations to be a part of. SEO should ideally begin on Day 1, when you're drawing up the plans for your website, blog and social media pages. Using Google's keyword planner and other such resources, you can identify the keywords that you should be going after. The trick is to know which ones to chase – not the ones with tough-contenders, but ones that you could potentially rank for over time.
Once you have listed your keywords, make sure to share them with your team and begin link-building. Associate the same keywords with the same link in only in places that make sense, because the Panda knows all. Don't ignore social media because social platforms have their own search engines as well, and people's search behaviors don't vary dramatically from Google to social media when it comes to searching information.
SEO on social media profiles is also very important. Use the right descriptions for the right audience on the right platform to pull them towards you (what they're likely to search for, and ad copy rolled into one).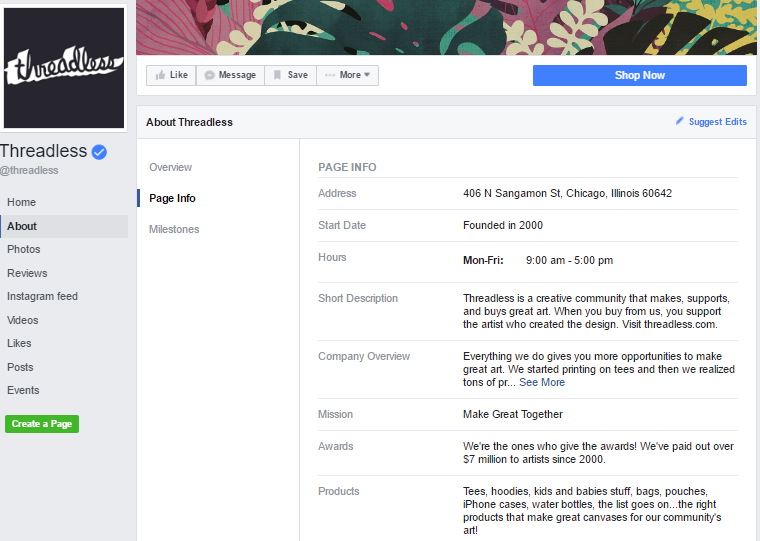 11. Analyze metrics to create and refine your content strategy
We've written two article recently that are very relevant to this subhead, so you should check out the social media analytics guide and an article on what to track to improve conversions.
If you're looking for an analytics tool, you could refer to our top 55 analytics tools list.
The idea is simple. Using Google Analytics, and engagement data from analytics tools like DrumUp, you can identify popular landing pages on your blog and popular posts on your social pages. Narrow down on which element is working by running a few A/B tests, and apply the content that works to increase traffic to your blog and social media pages.
Here is an overview of what you should track – referrals, social media engagement, user sentiment, reach and website traffic.
12. Create a compelling referral program
Driving sign-ups is part of a fairly long cycle. If you're investing in guiding your customers through that much of the journey, you should maximize on the benefits of that effort. Introduce a referral program to your audience to encourage them to introduce their friends to your product.
When implementing referral programs there are a few things you should take care of – make the process easy to complete, no more than one or two clicks, schedule the referral email or notification after your customer has had enough time to explore your tool, and make the incentive for the referrals exciting enough. DropBox grew exponentially and fast because of its referral program. The company offered people a lot of extra space in exchange for referrals.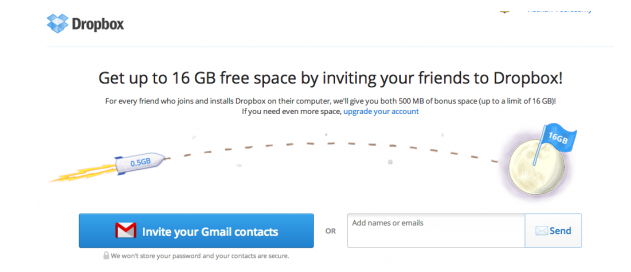 There's no set way to create your referral program, you can go all out on the creative front to really connect with your audience.
13. Keep your ears open for interesting conversations
Considering the entire social media landscape, no matter how niche your business, there exist people who talk about your industry and people who would buy your product. It is only a matter of how you find them and reach out to them.
First, it is important to simplify your social media goals and document them. What are your targets? More visibility? Branding? Leads? Keep your goals in mind when setting up keywords on Google Alerts or TalkWalker Alerts.
Your brand name, keywords in your niche, the names of your competitors, your brand + wish, your brand + help are a few good ones to start with. Some conversations are great PR opportunities in disguise.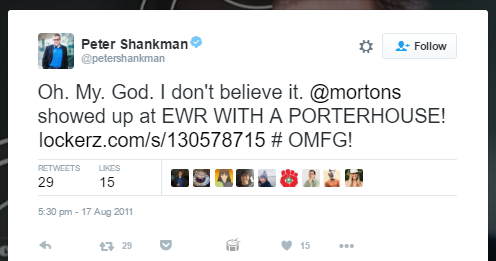 14. Embrace your flagship feature
What makes you unique? This maybe obvious, but most companies still miss out on the massive push that their USP (Unique Selling Point) can give them.
Exclusivity is extra-appealing to people. Everyone wants to be different, to belong to those that stand out any way possible. Give your audience that and you'll become irresistible.
LinkedIn is a brilliant example of this concept. Where other social media platforms focused on features and feel, LinkedIn advertized themselves as being the largest professional network in the world. Hang on to something that bold and exclusive, and people will come to you rather than it being the other way around. What is the one thing that you do better than everyone else?
15. Be available to users, always
Always. A good business is a conversation between a company and its customers that only begins and never ends. You have to keep that line open, help them use your product and guide them when they're stuck. Especially as a SaaS product, you have to be available in the event that someone needs troubleshooting or discovers a bug.
There are fun ways to create product guides – SlideShare, blog posts or videos. Go one further and tell your users how they can use your product to gain an edge over competitors. But always be availabl eto them, no matter what the situation. You'll be surprised what you can learn from your audience – ideas for new features or content to help other users. The possibilities are endless when you keep your lines open.
Help Scout is a great example for excellent customer service.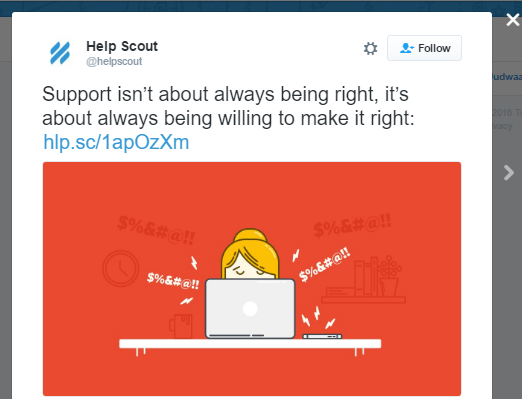 The basic schematic for SaaS success is simple – roll-out, observe and refine. Do this quick, fail, learn and keep going. That's how you'll get where you want to be.