A Quick Guide to Using DrumUp's Latest Features
Posted in :
DrumUp Resources
on By
Disha Dinesh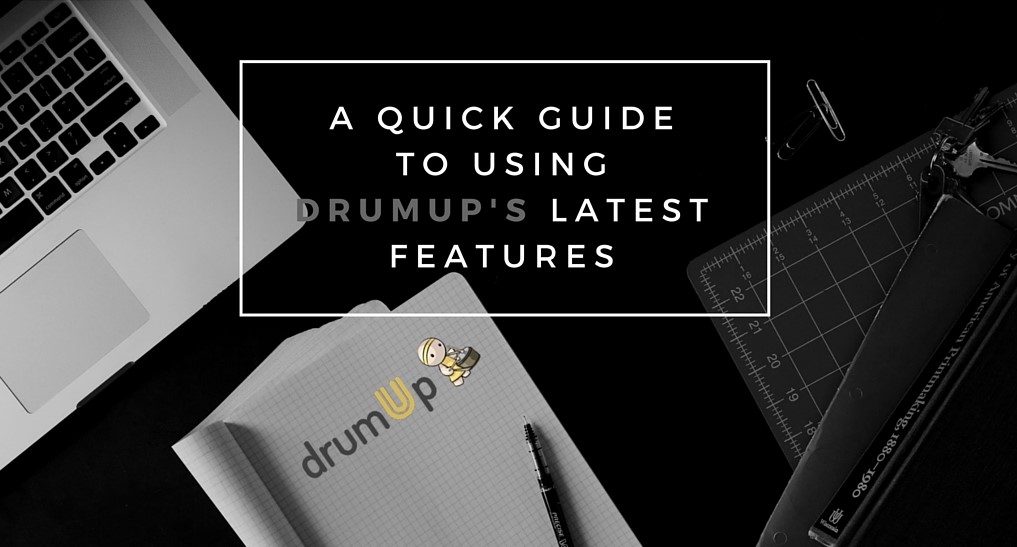 While you've been busy chasing your targets on social media, we've been working hard on creating new features for you to meet your goals easily. Here is a simple guide on everything that's new on DrumUp and how to leverage it to amplify your voice on social media and save time on social management.
Index
Feature #1 Content Library
Feature #2 Queue Calendar
Feature #3 Slack Intergration
Feature #4 Analytics
Feature #5 DrumUp Employee Advocacy Platform
Feature #6 Common Edit/Delete
Feature #7 URL shortener
Feature #1 Content Library: Create a content reserve for future use with DrumUp's library
Use-cases of the feature
1. Store your promotions (or promotions for different brands), ever green content and seasons greetings in categories for convenient reuse
2. Never lose an amazing social media post to forgetfulness or lack of time
3. Build a formidable back-up resource for a rainy day
4. Create quick drafts of content you intend to use at a later time
5. Design your own easily accessible digital collection of content
How to use the feature
You can save a post to the content library using the star symbol below your content recommendations, feed posts or from your queue: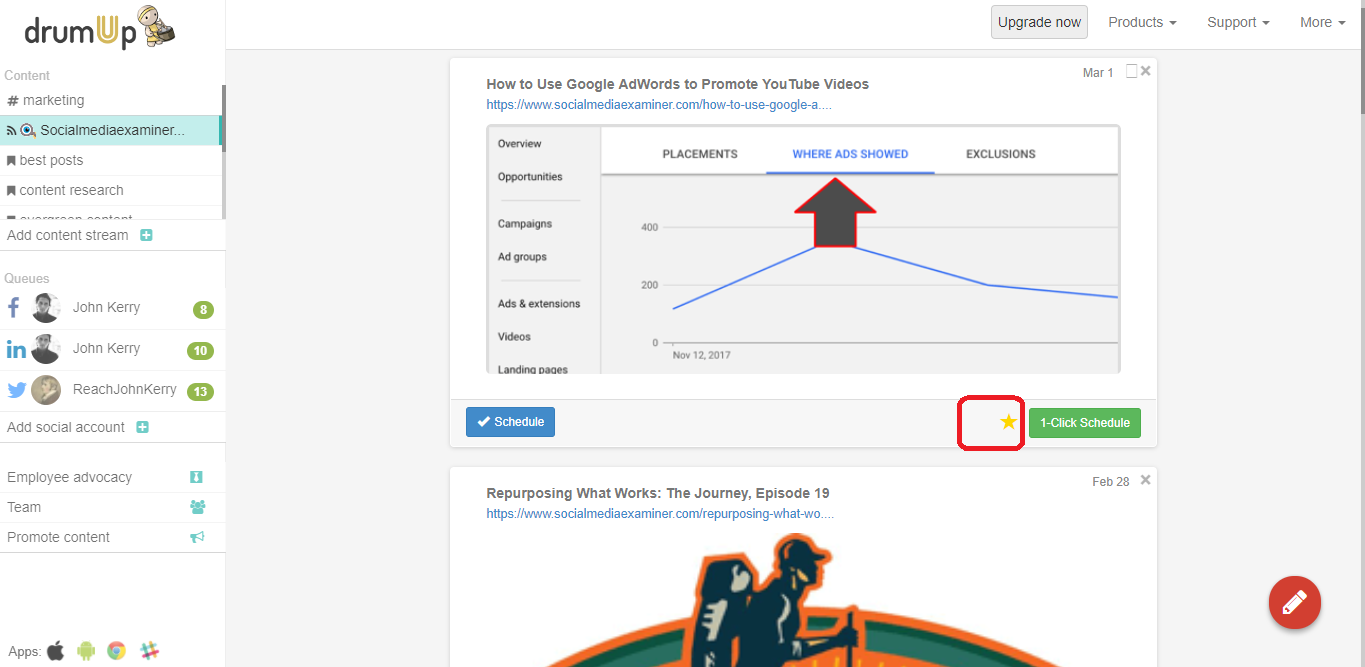 Saving a post to the library
1. Select the category you want to save the post to and click "Save"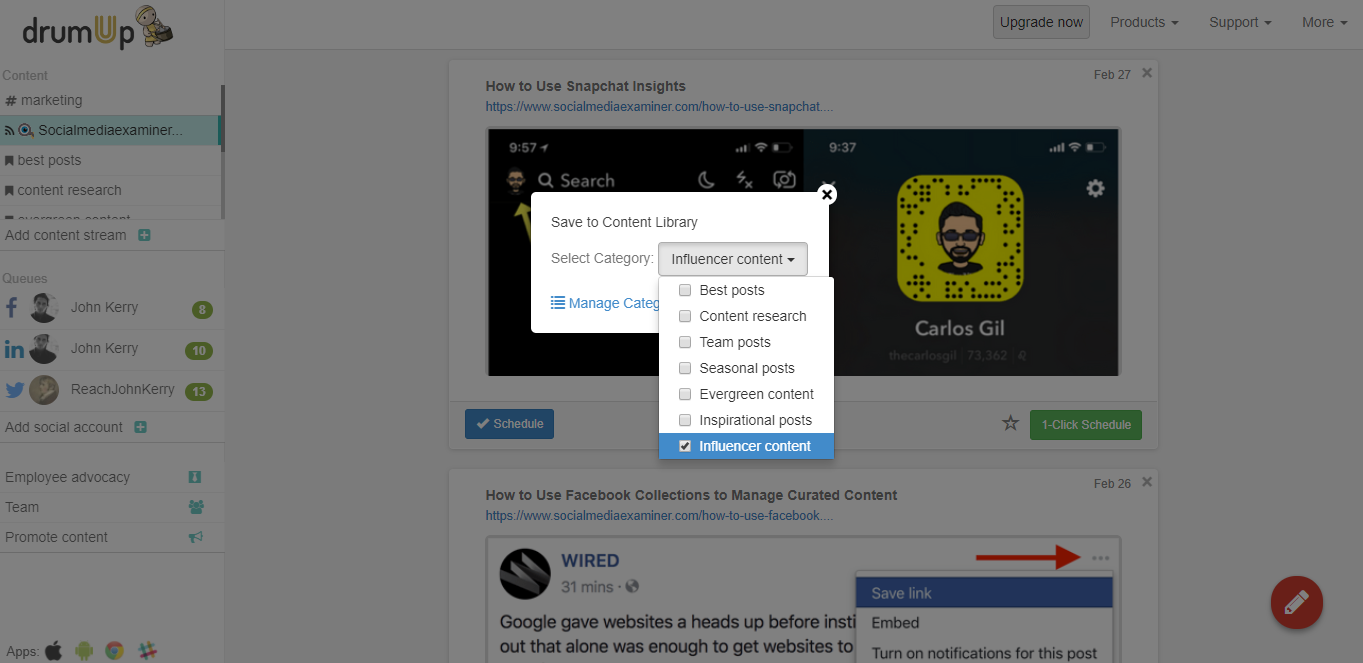 2. You can also save a custom post while creating it. All you have to do is check the box that says "Save to Content Library" and select the appropriate category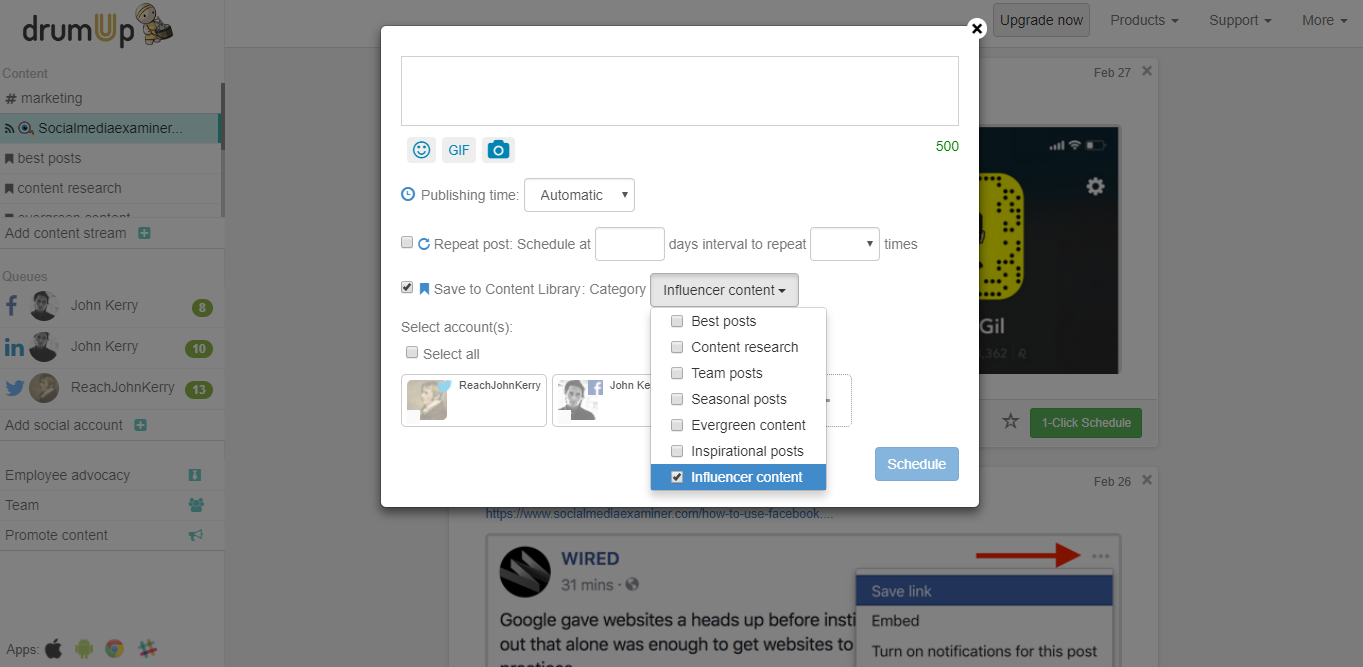 3. A post can also be saved to the "Library" pill under the "Content" tab. Click on "Add post" and fill in the text section, select a category and add an image before clicking on "Save".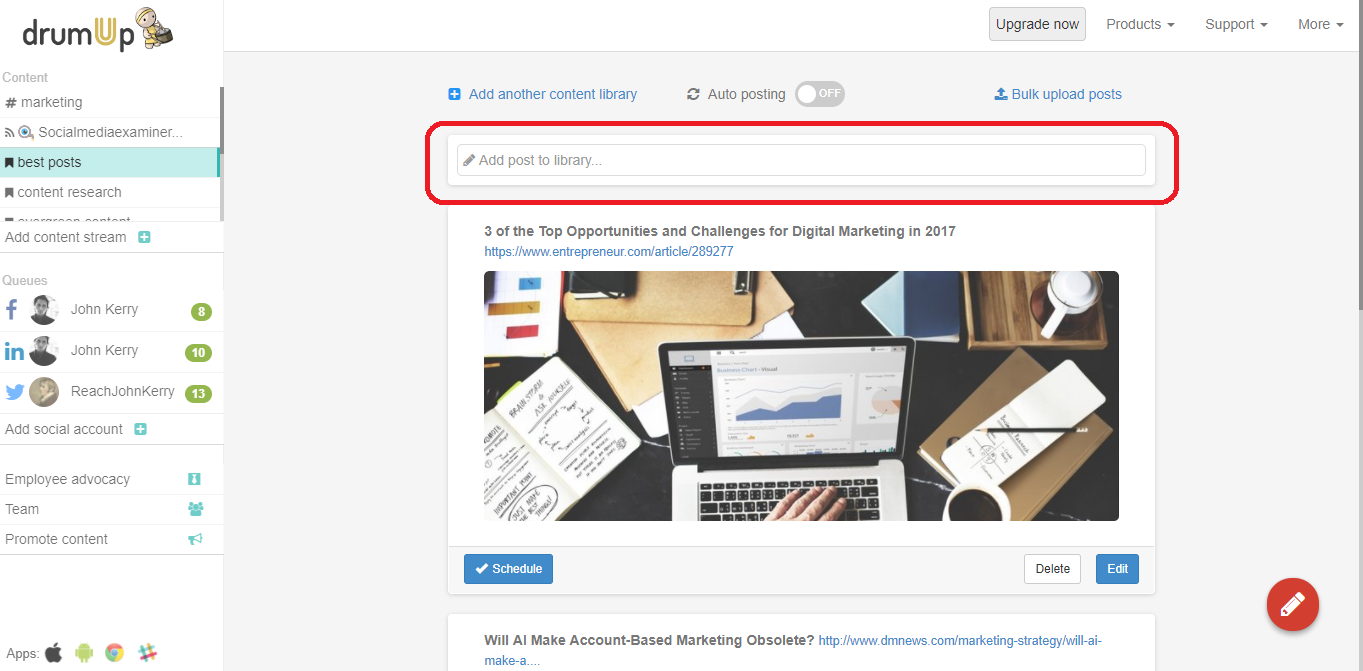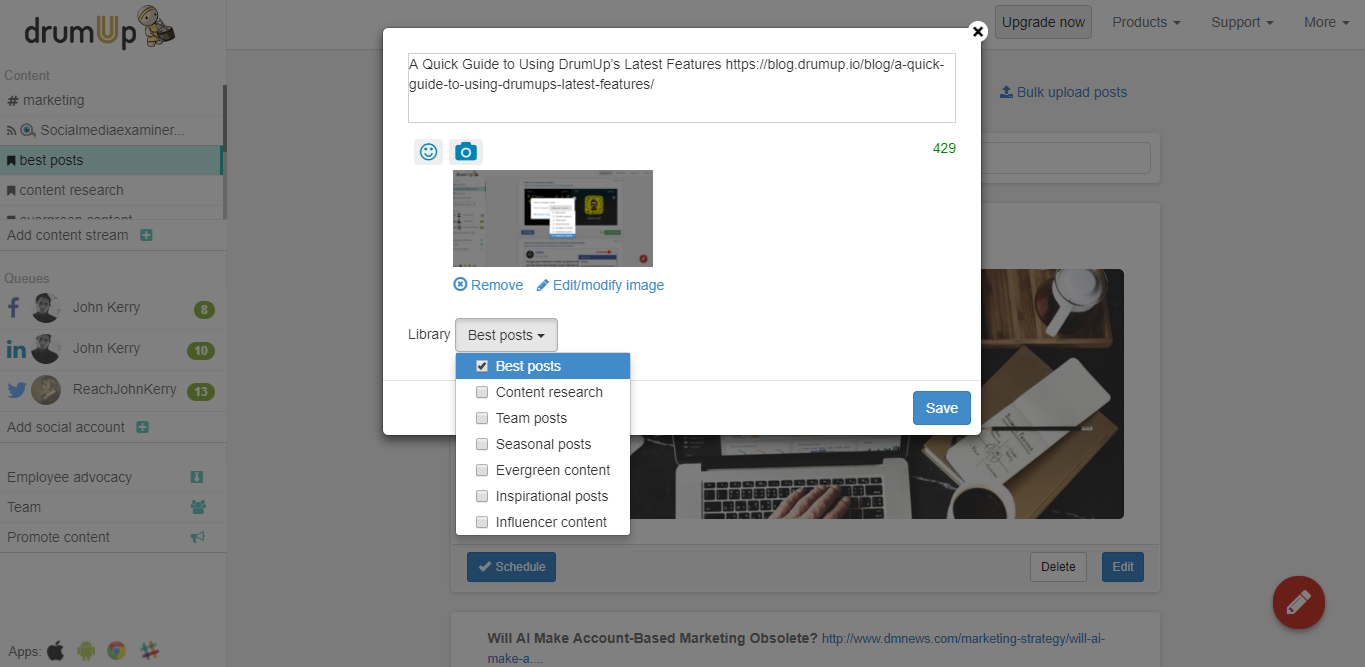 Creating and managing categories
1. To create or manage a new category, go to the "Library" pill under the "Content" tab and click on "Manage Categories". From here you can add, edit and delete categories.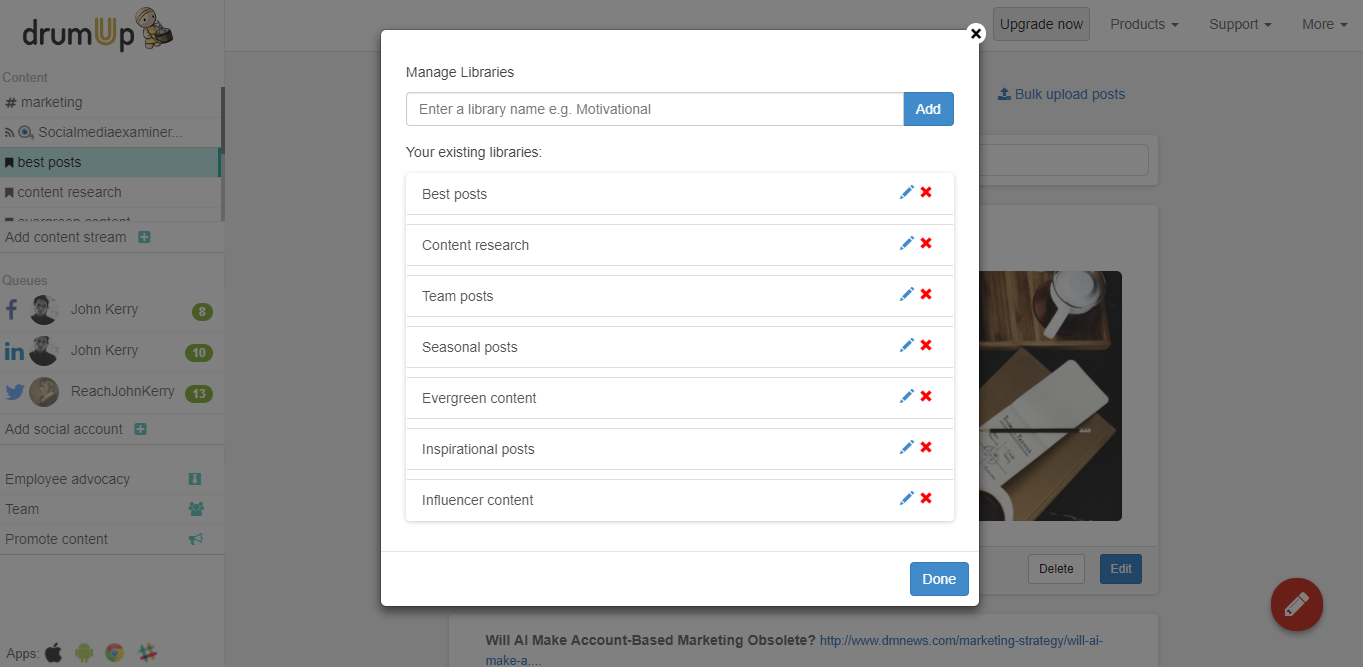 Using posts from the library
1. All saved posts are available under the "Library" pill in the "Content" tab.
2. You can schedule posts, as well as edit/delete them here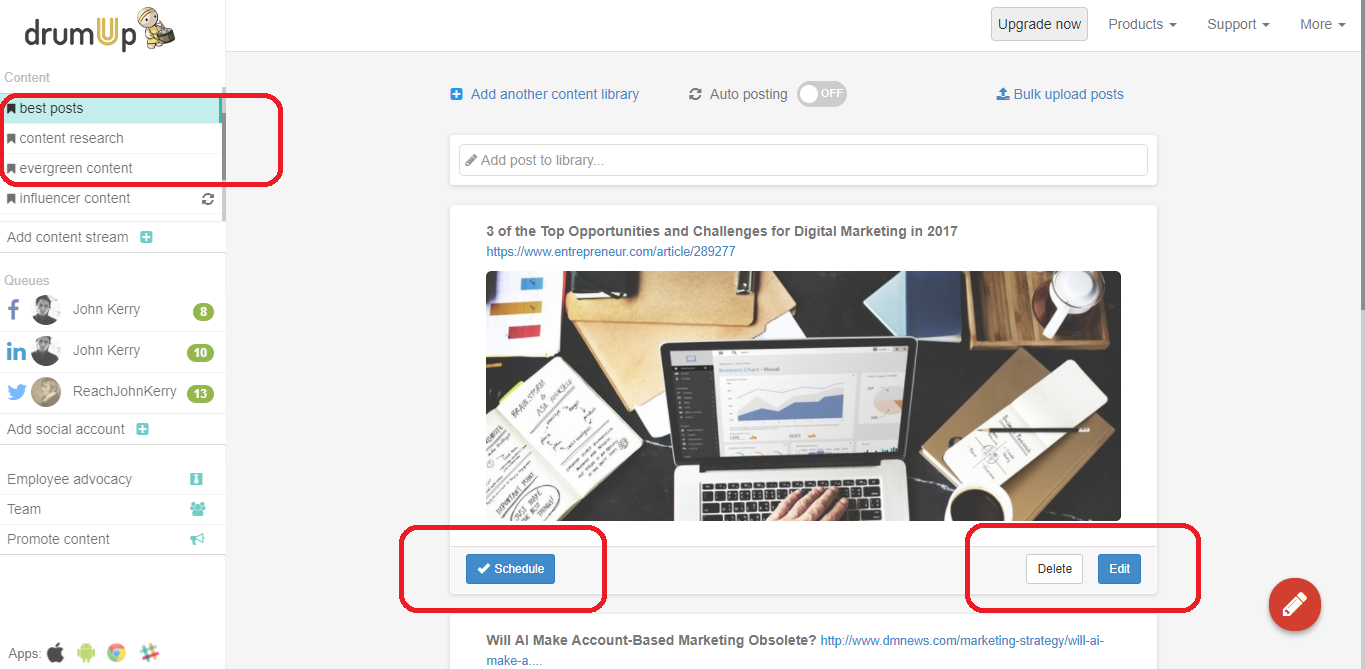 Feature #2 Queue Calendar: View your scheduled content in calendar format with DrumUp's queue calendar
Use-cases of the feature
1. View the distribution of your scheduled content for each social account across days in a calendar format
2. Use calendar to edit and move around posts
How to use the feature
1. Click on any social media account and choose "Calendar" for the calendar view.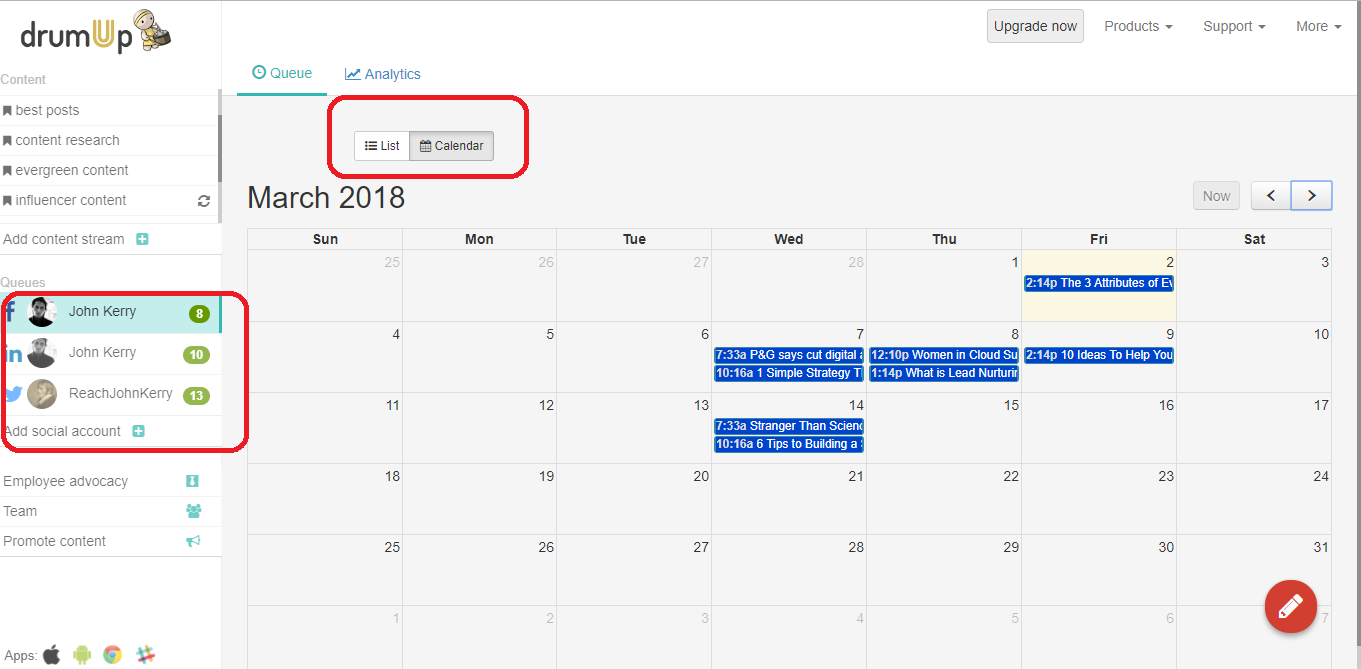 2. Click any post you want to edit/delete or save to the library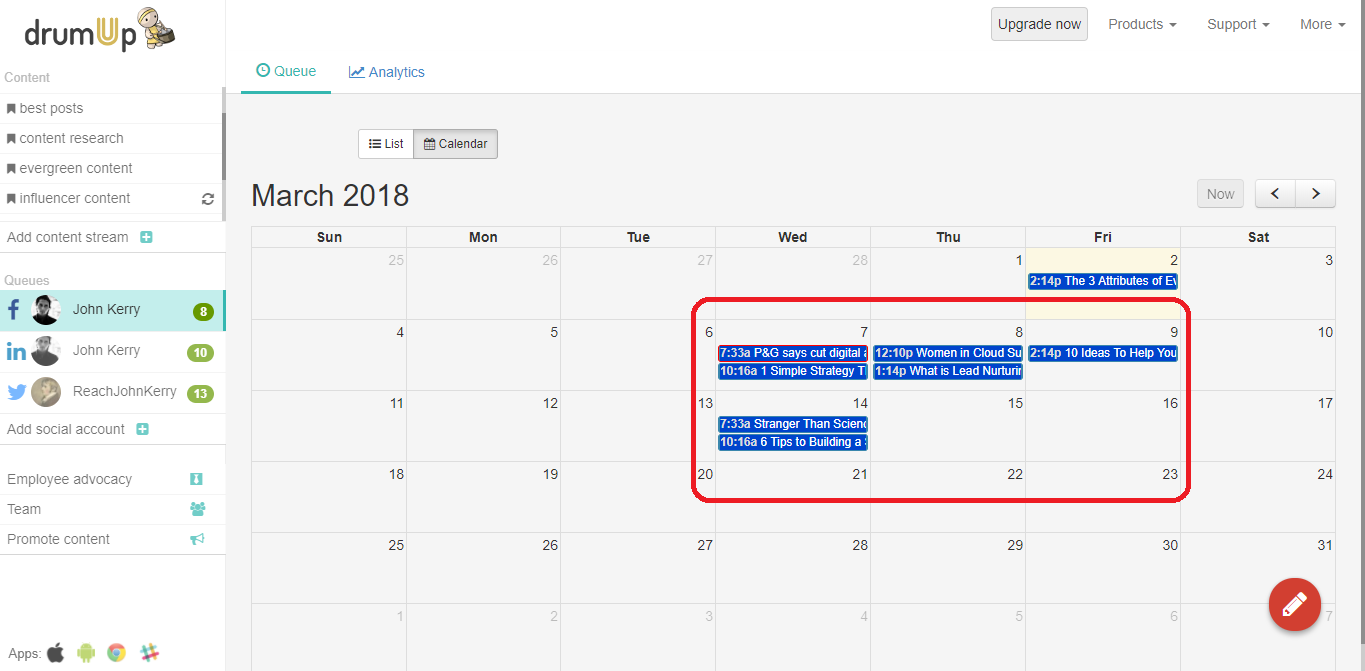 3. The edit option will give you all the regular content and schedule editing options
4. Select the forward/backward arrows to navigate between months
Feature #3 Slack Intergration: Receive content recommendations via Slack channels with Slack integration
Use-cases of the feature
1. Get Slack notifications for content recommendations instead of accessing them on the DrumUp dashboard
2. Share content with your team mates by integrating DrumUp with a Slack team channel
3. Control the recommendations you receive on your Slack channel by choosing which social account feeds to connect
4. Schedule the content recommendations as posts from within your Slack channel
How to use the feature
(You will, of course, require an account on Slack)
1. Click on the "Add to Slack" option on the bottom left of your DrumUp dashboard or go to https://drumup.io/add-slack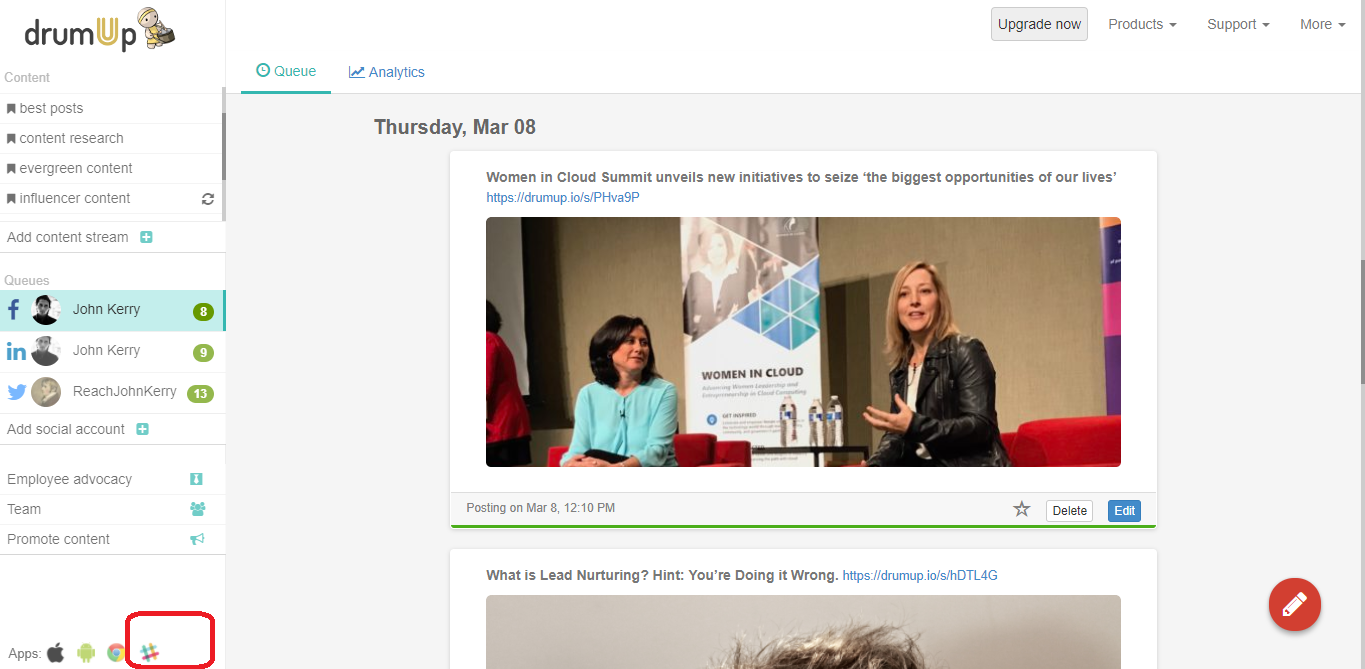 2. Click "Add to Slack" button on this page and follow instructions as indicated
3. Select the channel via which you would like to receive DrumUp recommendations and click on "Authorize"
4. Choose the social accounts for which you would like to receive DrumUp recommendations (Yes, you could choose all of them) and hit "Submit"
5. You will get content recommendations once a day on your selected Slack channel. You can schedule these content suggestions to your social accounts through DrumUp by clicking on the "Schedule" link besides each suggestion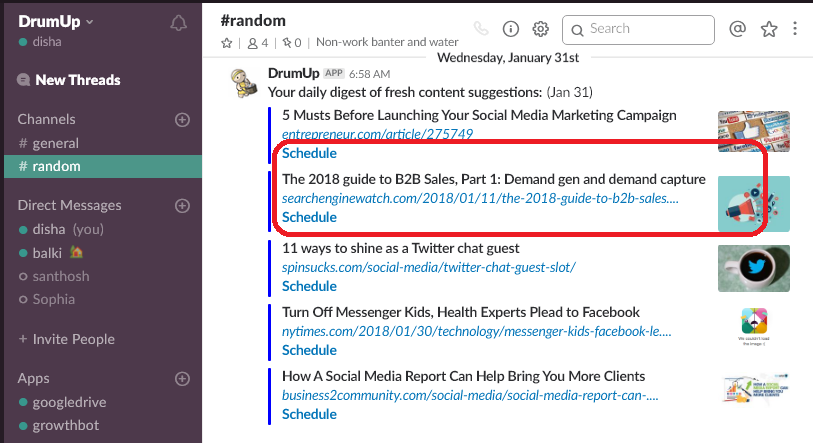 Feature #4 Analytics: Analyze social media engagement with DrumUp's analytics module
You can access analytics for all your social media accounts from the analytics tab. The analytics section gives you engagement data (shares, retweets, comments and likes) for all posts published on your social account, even the ones you haven't posted out of DrumUp.
Use-cases of the feature
1. Analyze social media posts by publish date and by engagement
2. Compare your social activity levels to engagement levels
3. Study engagement levels over time intervals of your choice
4. Filter engagement data for posts by keywords
How to use the feature
1. Click on the "Analytics" tab on your DrumUp dashboard for the social account you want to see analytics for
2. You can use a bunch of data filtering options: date range, data arrangement by publish date or engagement, content filtering by keywords)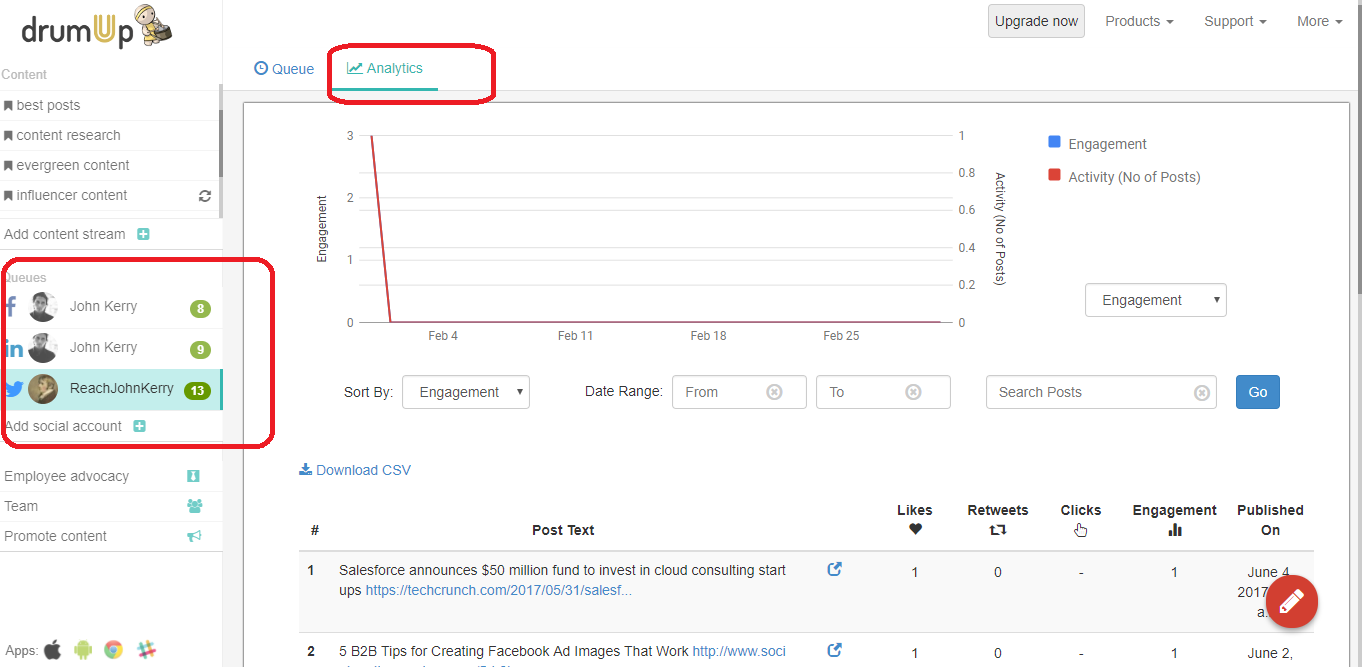 Note: Analytics is available to users of DrumUp Pro and above.
Feature #5 DrumUp Employee Advocacy Platform: Amplify your brand content by turning your employees into social ambassadors
Use-cases of the feature
1. Improve brand visibility and credibility by inviting employees to share content
2. Curate content to a common stream accessible to employees
3. Boost employee engagement with inbuilt gamification and advocate leader board communications
4. Manage your complete employe advocacy program administration
5. Measure your program's performance with advanced analytics
How to use the feature
Request for more info or a trial run for here or through our contact page.
Feature #6 Common Edit/Delete: Edit/delete posts across your social accounts
Use-case of the feature
Save time by editing/deleting multiple instances of the same post across queues of your social accounts in one go
How to use the feature
1. Click on the "Edit" option on any instance of a scheduled post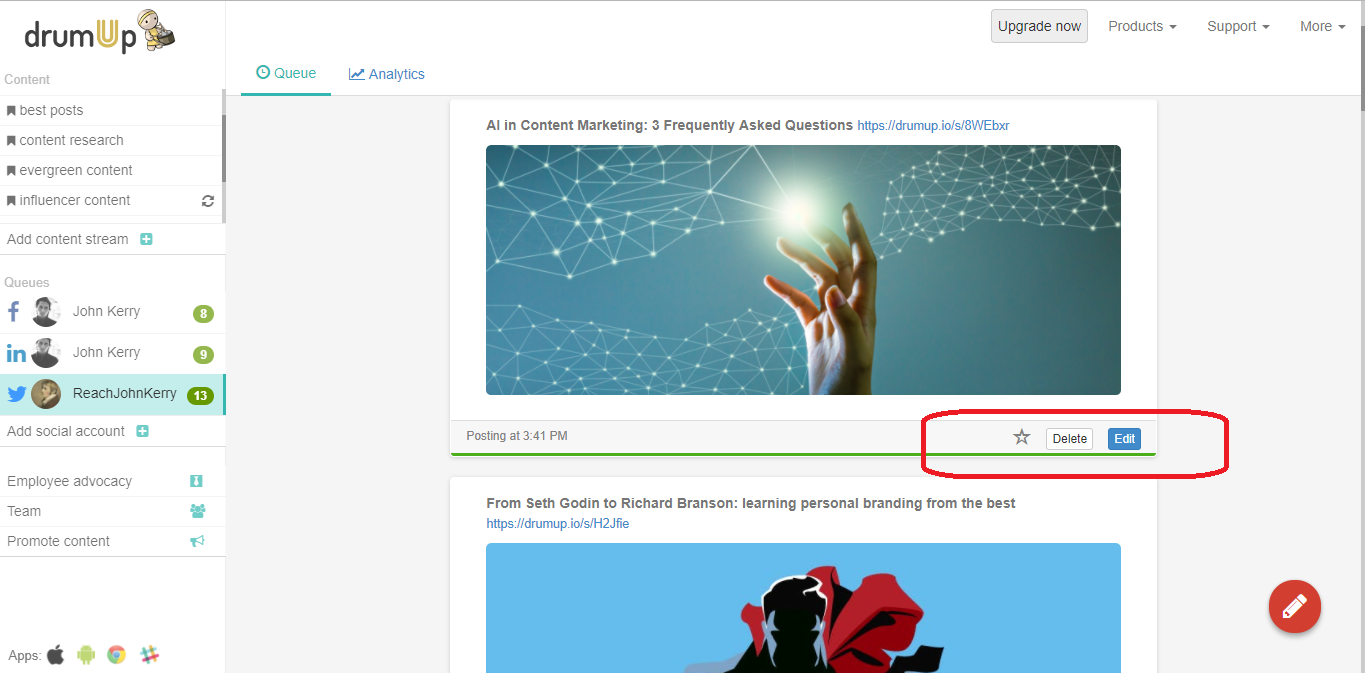 2. Make changes to the schedule, text or image
3. Hit "Save". A pop-up appears asking you if you would like the changes saved to all instances of that post.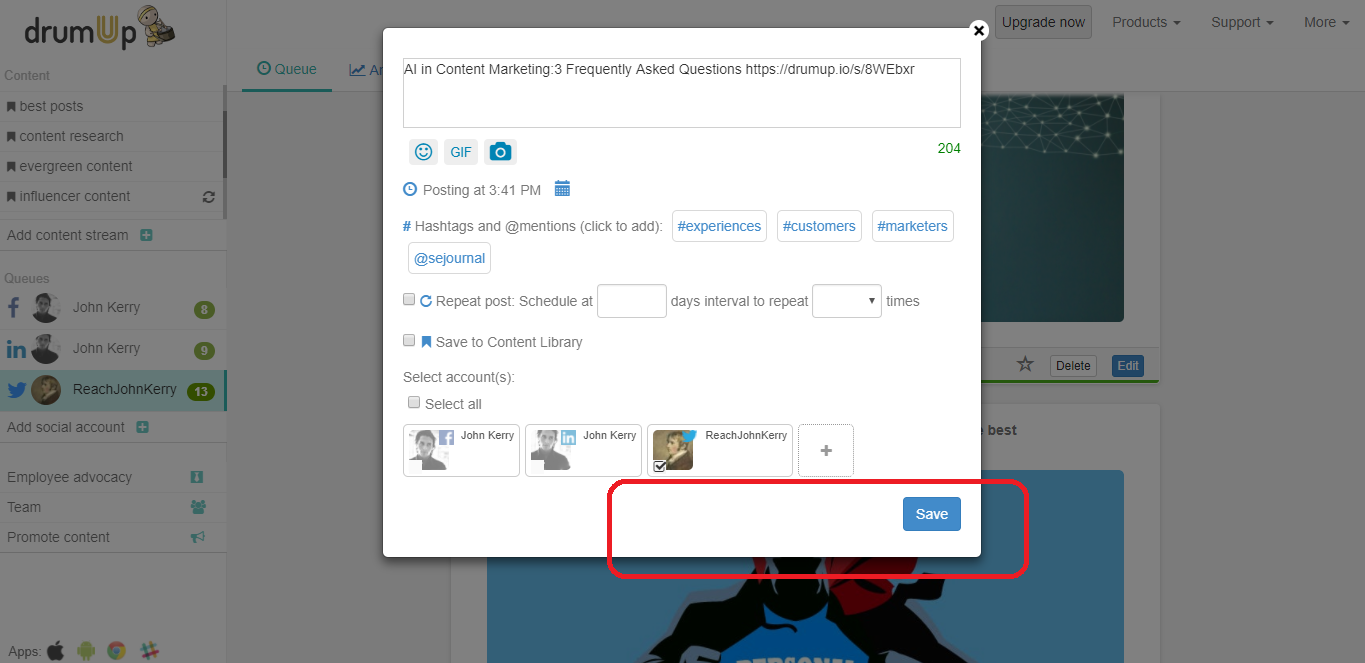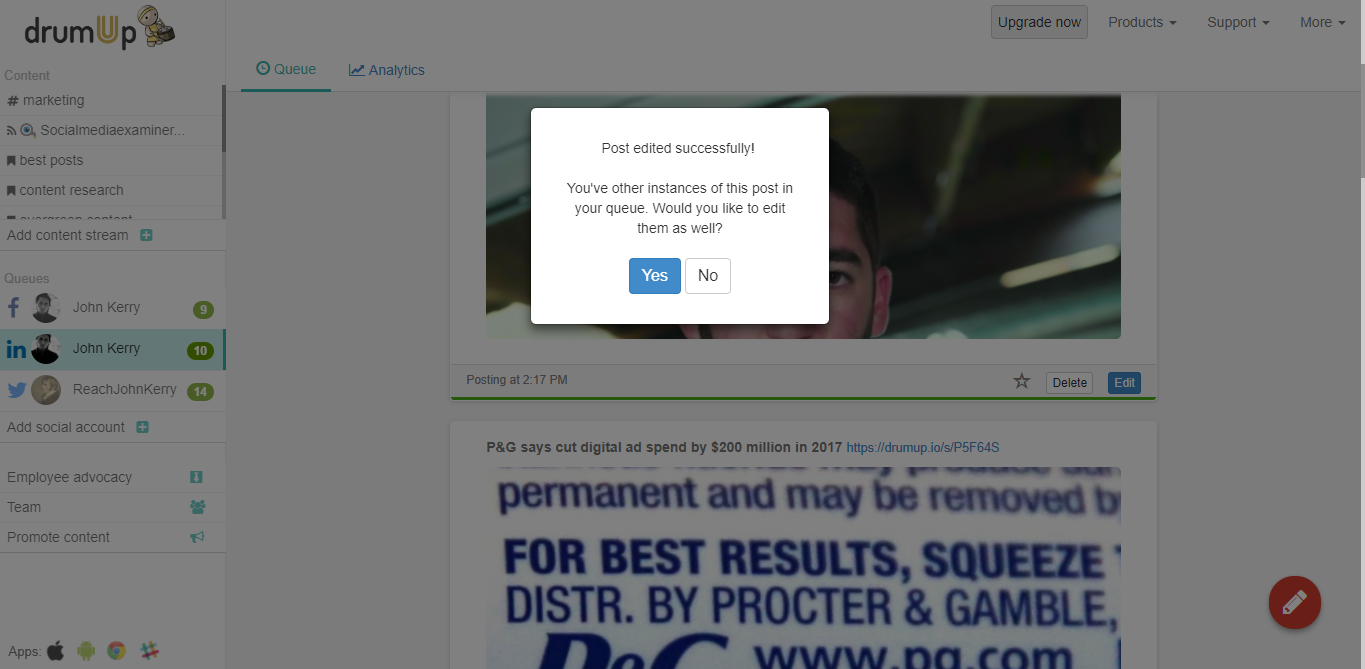 4. Click on "Yes" or "No" based on your requirements
Feature #7 URL shortener:  Post content that  appears less cluttered and messy
All posts scheduled out of DrumUp are conveniently fitted with shortened links, is you enable the URL shortener – it's all in your control.
To enable the URL shortener, click on the Settings icon that appears when you hover over any social media account, and check the URL shortener box.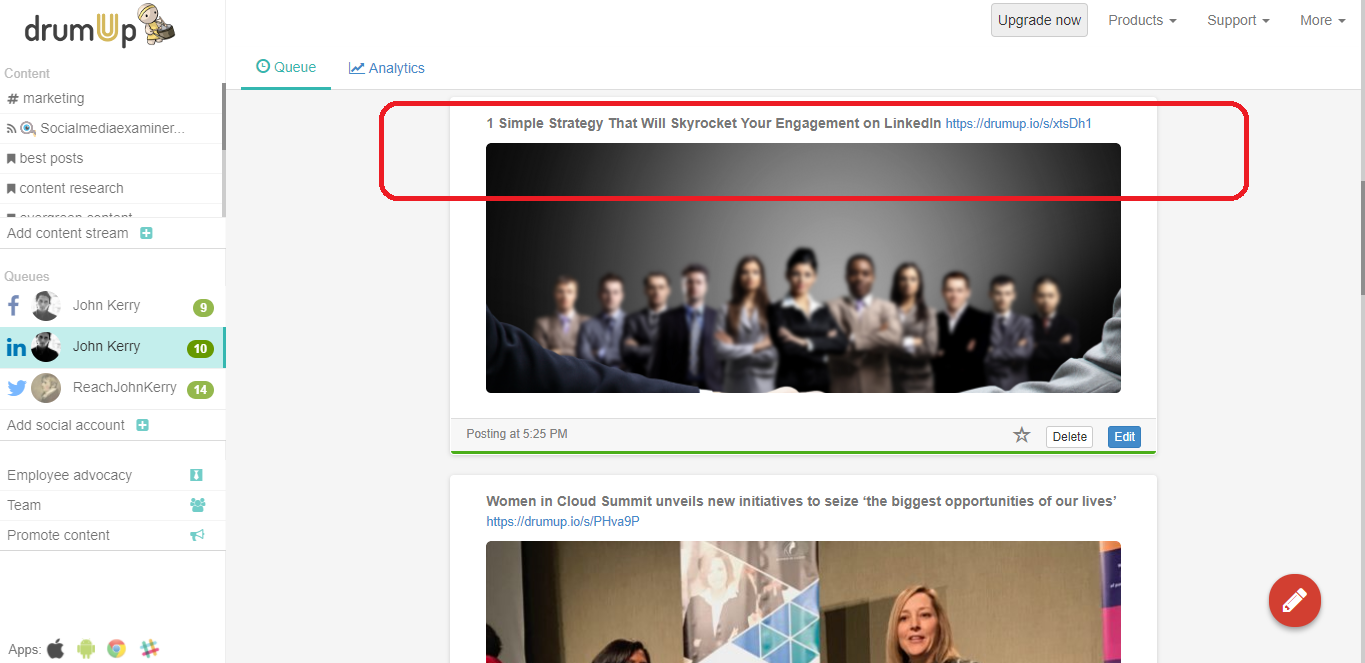 Each of DrumUp's latest features has been designed to simplify your job as business, marketing and social media managers. We're constantly working at giving you more, and helping you maximize your social marketing potential. If you have any suggestions for features, please write to us and we will do our best to make them available to you. That's all for now, go ahead and take the new features for a spin!