Collaborative Social Media Management with DrumUp's Team Feature
Posted in :
DrumUp Resources
on By
Disha Dinesh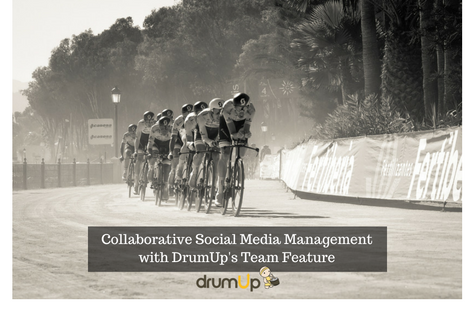 If you work for a large organization or a digital marketing agency managing multiple social media accounts, then multiple people would be managing those accounts. With a team of social media managers, you need to have a team feature to manage your content. DrumUp does that now.
Using the platform, you can invite team members and let them manage your content on different social media pages.

Accessing the team feature
Click on the "Team" tab on the top-right corner of your DrumUp dashboard to access the team feature.

Inviting team members
Click on "Add users". A pop-up asking you to invite team members will appear. Invite one or more team members by typing in their email addresses separated by commas.

Granting access to team members
You can provide invited team members access to specific social media pages by clicking on "Edit access rights". If they haven't accepted your invite, you will see "Pending" against their email address, otherwise a join date.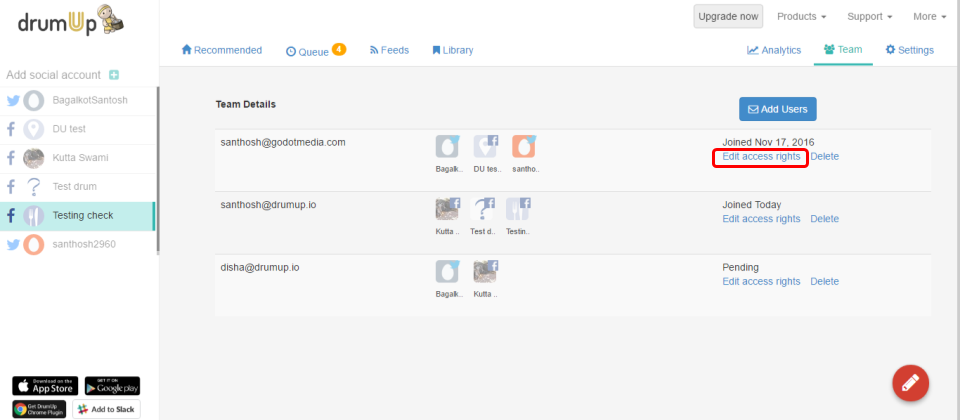 Once you have clicked on "Edit access rights", a pop-up will appear with a list of social media pages. "Full access" gives access and "No access" means the person won't have access to that social media account.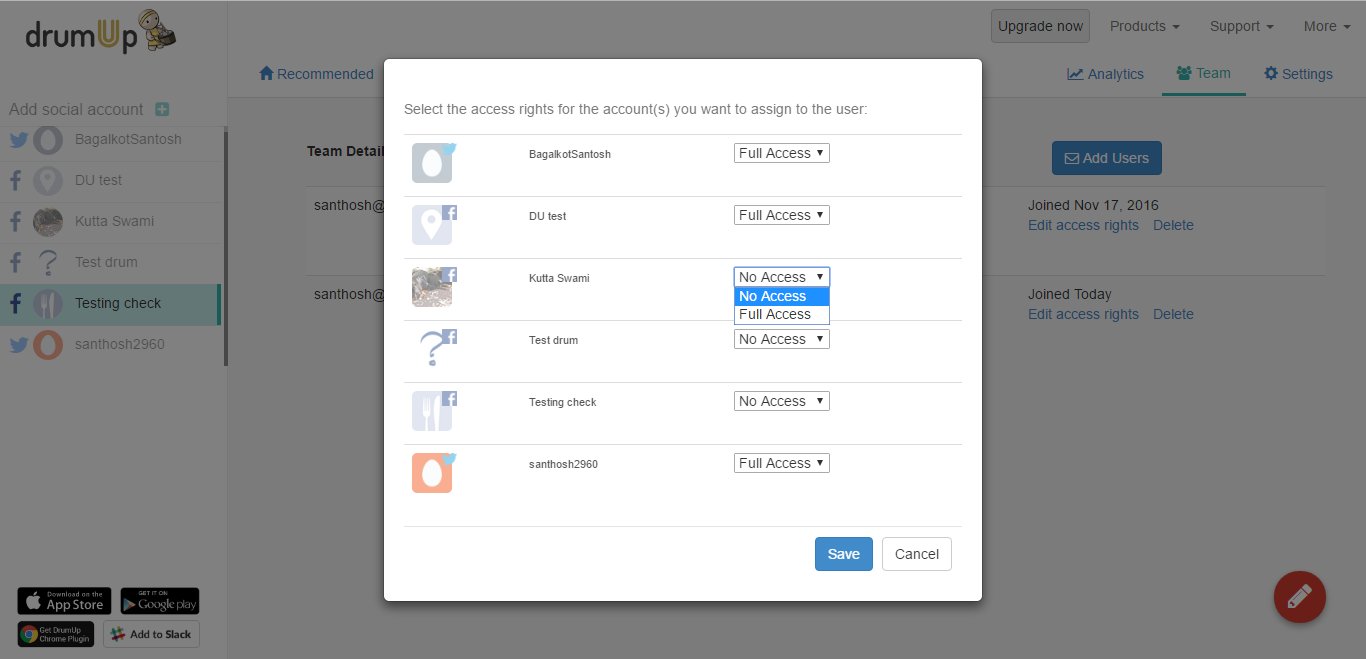 To remove a team member from the platform click on "Delete".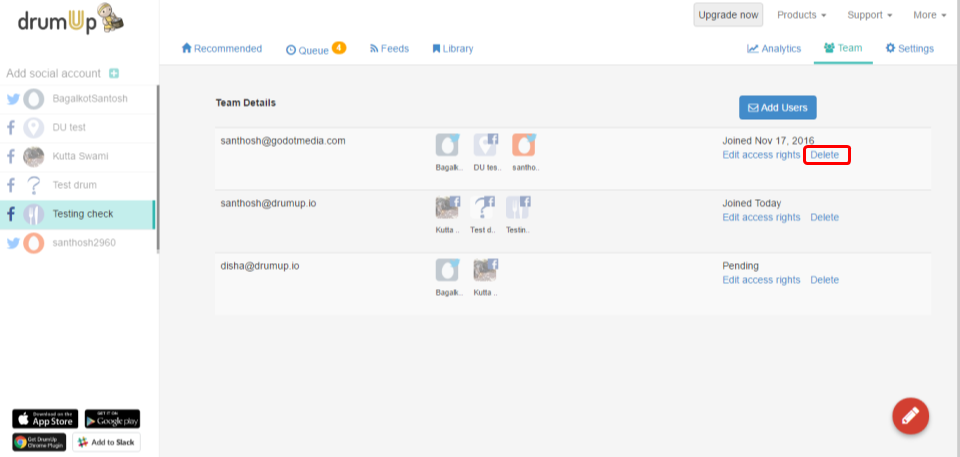 Note: All the content can be edited by the admin of the account.

Team member sign-up
The invited team member will receive an email. He/she can click on the blue button from the email to sign-up to DrumUp.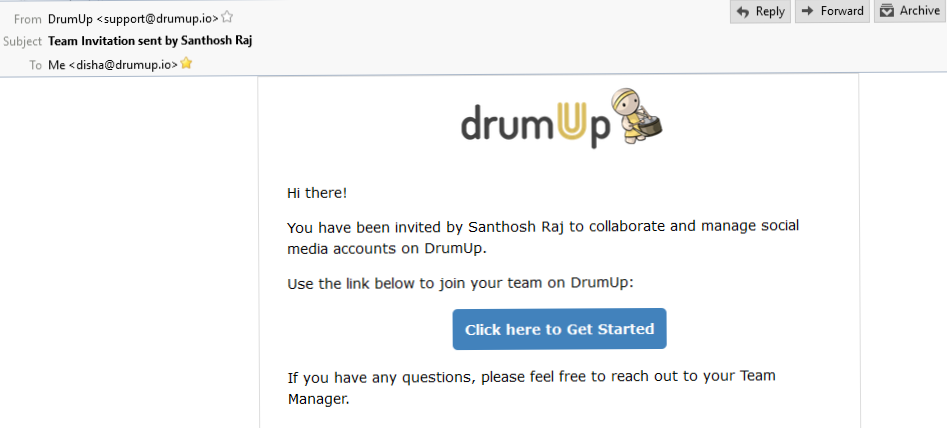 On accepting the invite, your team member will be able to see a list of social media pages.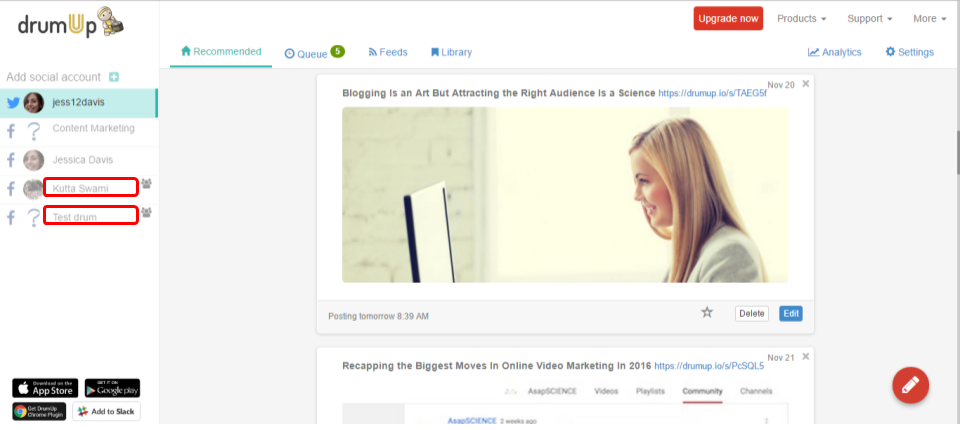 Use cases:
1) If you work for a digital marketing agency that handles hundreds of social media pages, this feature is for you. You can delegate social media pages to your team and review their work from the admin account.
2) If you work with a large organization with multiple social media pages being managed by different people, this feature is for you. You can review and manage their work from one platform and ensure brand consistency.
The team feature is our latest addition. Stay tuned to the DrumUp blog for more updates. If you have feedback or feature requests feel free to write in (support@drumup.io), if you'd like to try out the new feature sign-up or log-in.
Featured image via Flickr.com