A Quick Guide to All that's New on DrumUp
Posted in :
DrumUp Resources
,
Social Media Tips
on By
Vasudha Veeranna
If you've been following our Monthly Newsletter, you'll already know that we've been hard at work the last few months adding new features to DrumUp. In the course of doing so we've made some significant changes to how it looks and functions. And we'd like to re-introduce you to your new, and improved virtual social media manager.
Take a peek.
1. Choose between 1-click Schedule and advanced Schedule
Based on the amount of effort you want to spend on managing your social accounts, you can choose between the easy 1-Click Schedule and advanced Schedule options. In both cases, you'll still be able to edit every post you schedule.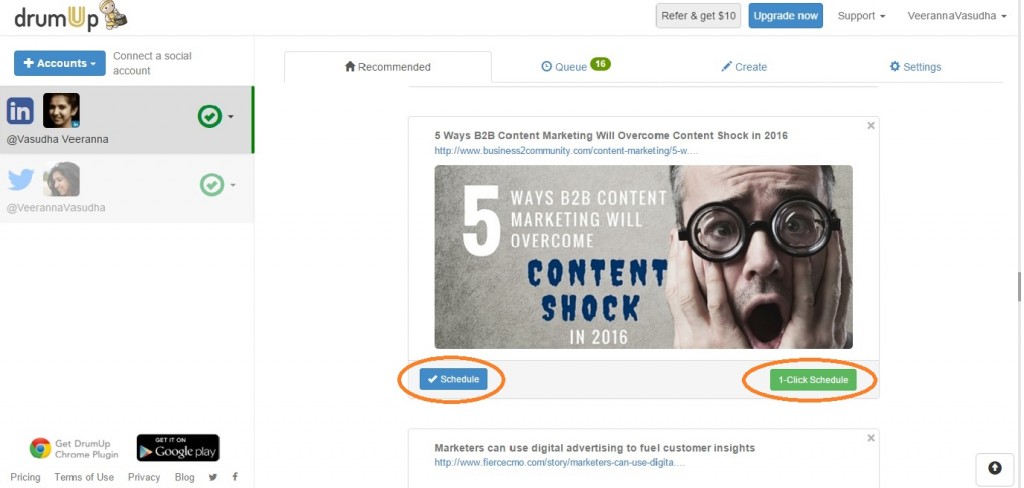 While the former will directly queue post to be published, the latter will give you more options when scheduling a suggested piece of content. For one, you can opt for the Automatic Publishing Time, which is arrived at by DrumUp's algorithms, or set a Custom Publishing Time.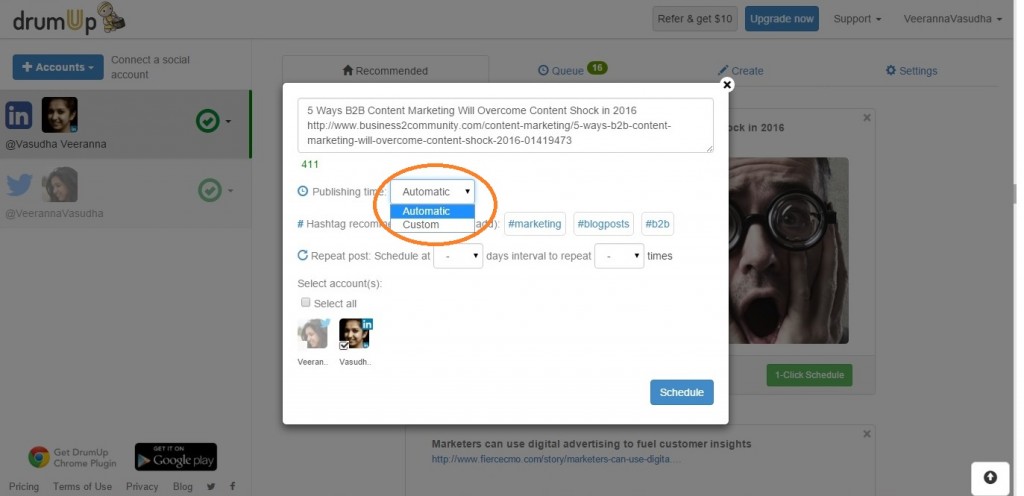 Every content suggestion also comes with recommended hashtags when you opt for the advanced Schedule option, making your posts all the more powerful.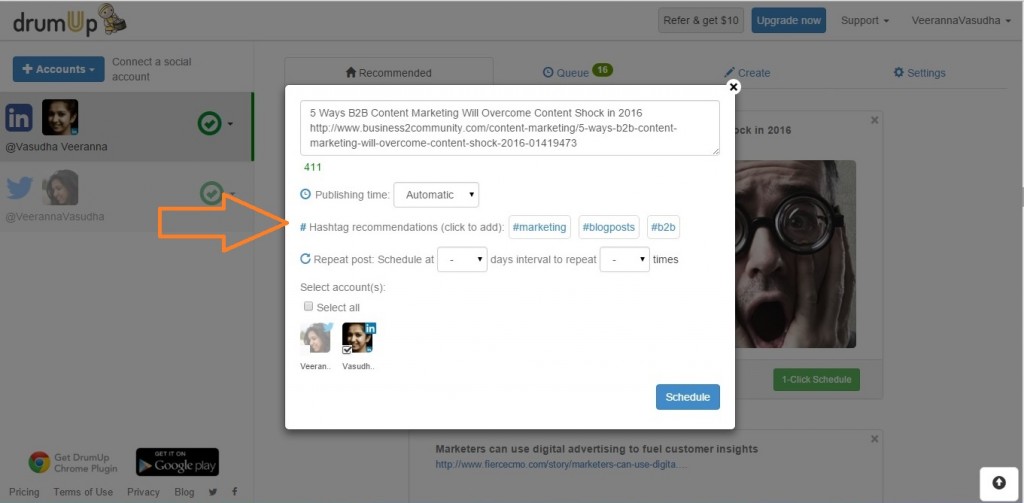 You can also improve reach and engagement by recycling each post to be published multiple times. The Repeat Post option lets you do this by setting a pattern – you can quickly choose the number of days after which you want the post to be re-published as well as the number times you want to do this. For instance, if you choose 5 and 3 on the two drop-down lists respectively, then that particular post will be published 3 times at 5-day intervals.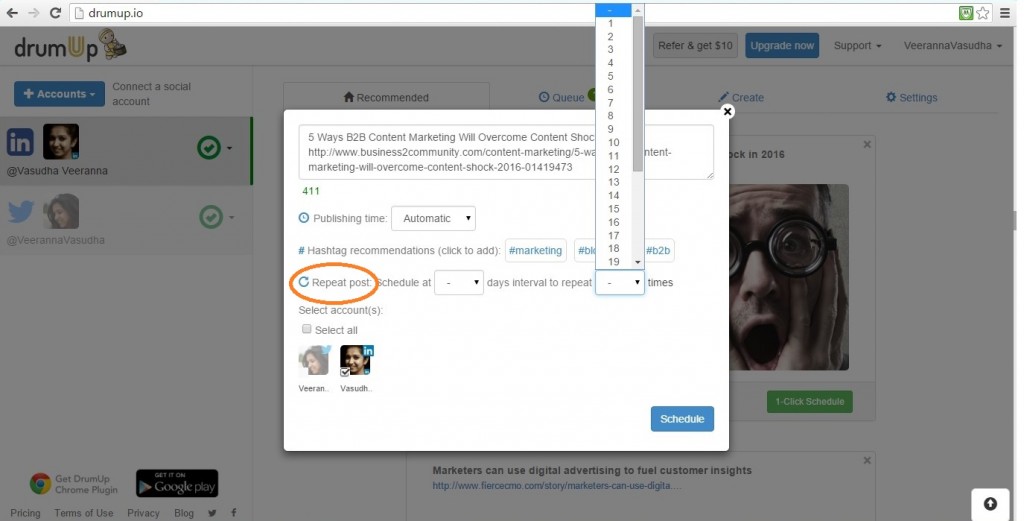 If you're managing multiple accounts, the Select All button lets you update the Schedule settings across all accounts at one go.
2. Better visual organization of scheduled posts with advanced editing options
You'll also see all your Queued posts segregated by date and day for better organization. Compared to our earlier version, you can now easily see how many posts you've got queued for a specific day.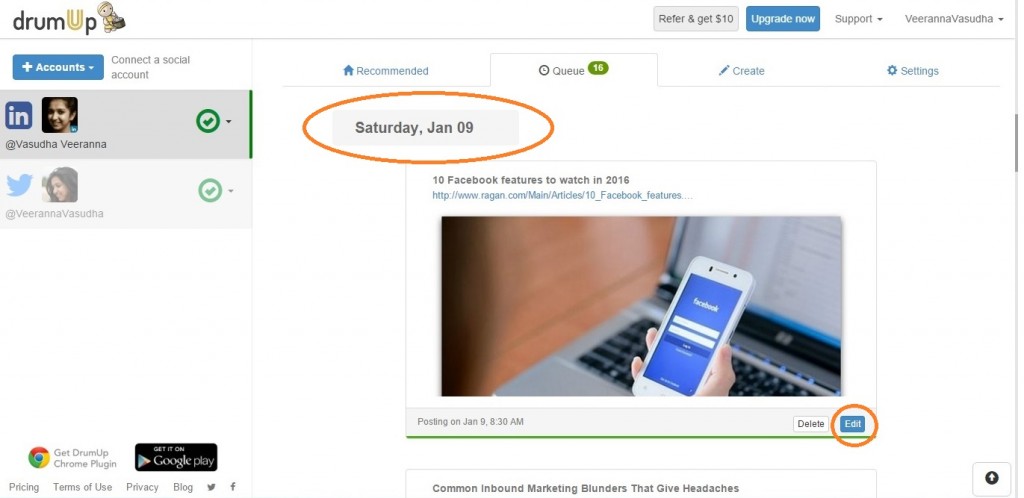 You also have advanced Edit options, just like on the Recommended posts tab, which allow you to not only change the date, day and time of publishing, but also let you add/remove hashtags and reset the number of days and number of times you'd like a post to be republished.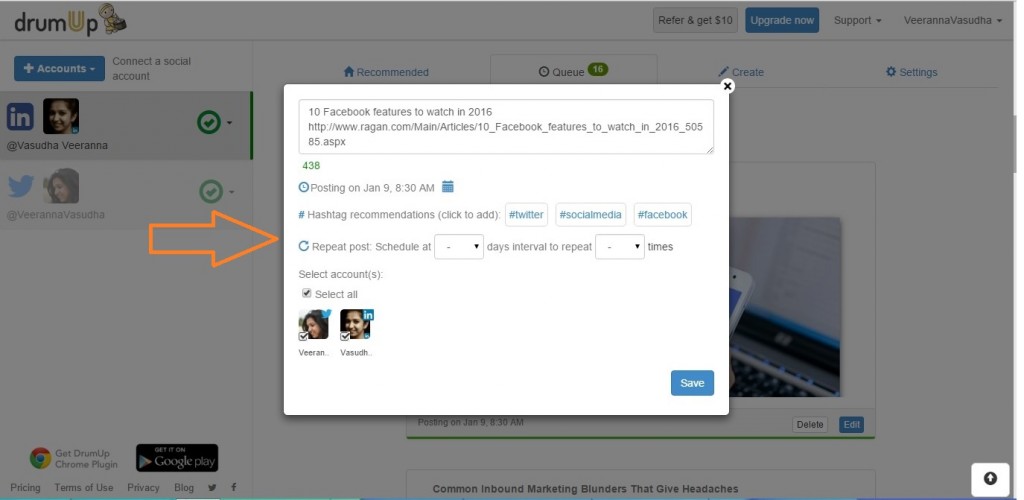 3. Get the most out of every custom post you create with Repeat Post
The Repeat Post option is also available on the Create post tab, effectively allowing you to improve the shelf-life of every custom post you create. The Select All button on this tab lets you schedule a custom post to all your accounts at one go. If you'd like the post to be scheduled only on a few select accounts, you can still choose those accounts individually by clicking on the respective check boxes.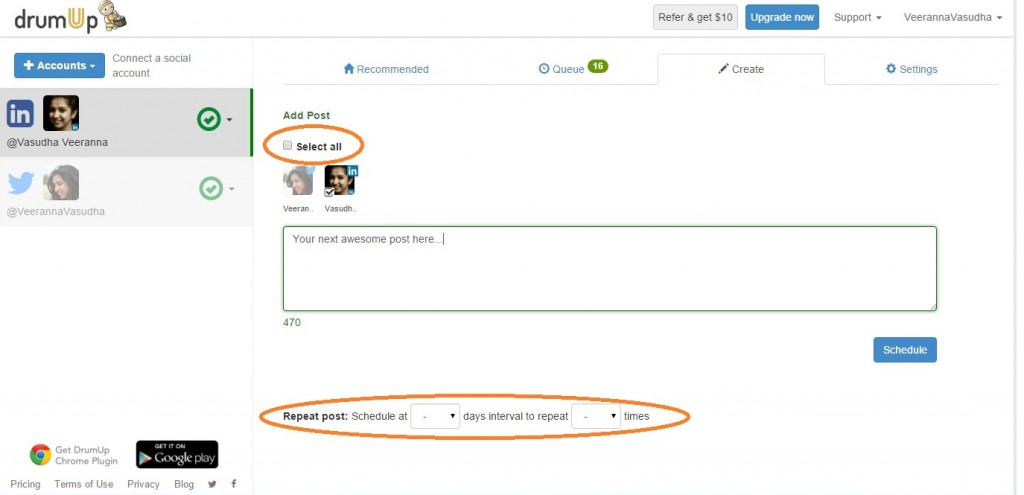 4. More specific content suggestions with exact keyword match
We've also improved how Keywords work with exact keyword match. Just update your keyword settings, to include those for which you want DrumUp to find exact matches by enclosing them in double quotes. Here's an example of how that works.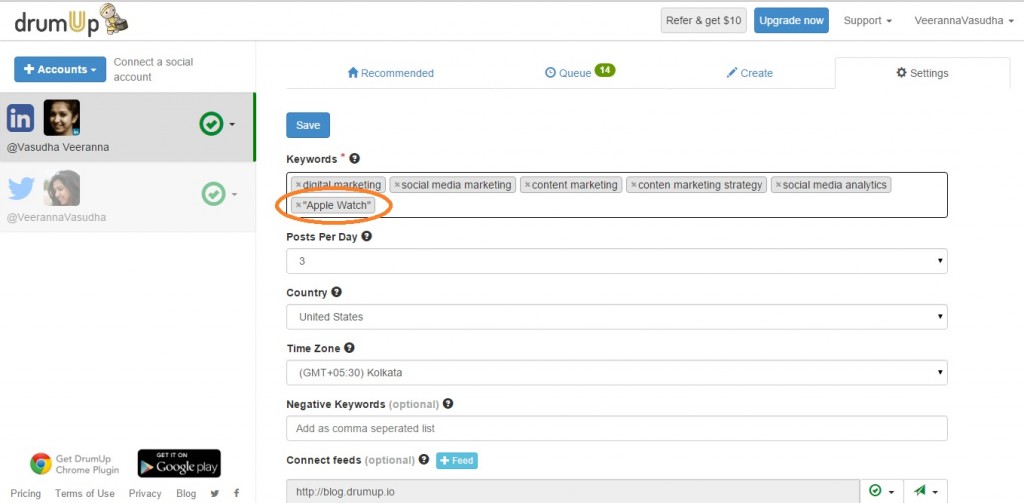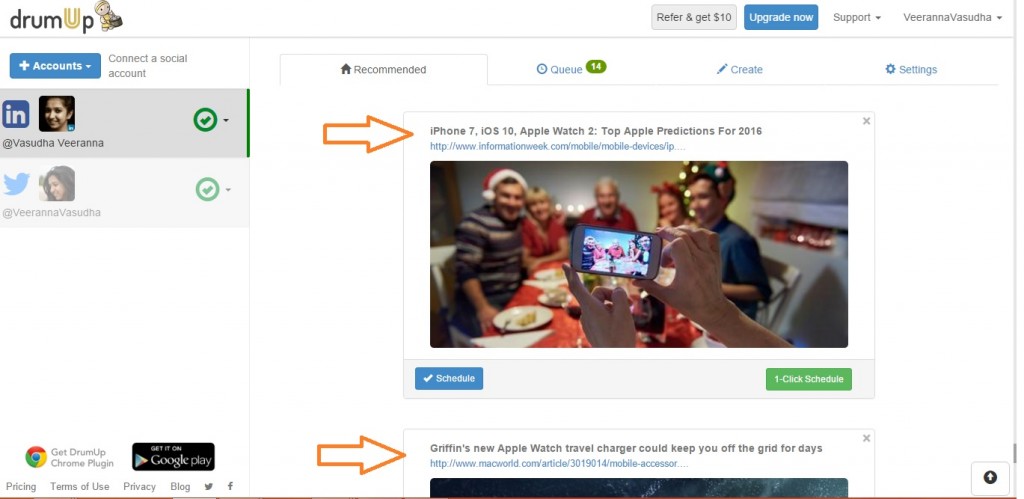 Remember to click on Save each time you update any field on the Settings tab. You can also refer to our Keyword Guide to learn more about optimizing your keyword settings for improved content suggestions.
5. More targeted posts with hashtag recommendations
Hashtags are a sure-fire way of getting posts noticed by those who looking for related content. The new advanced Schedule feature comes with hashtag recommendations , allowing you to create more targeted posts. Our algorithms recommend the best suited hashtags for every piece of content you'd like to share. You can also add your own custom hashtags when you may want to override suggested hashtags.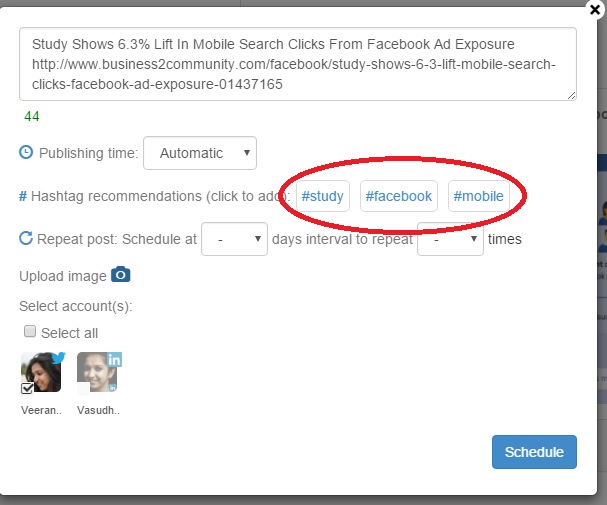 6. Add and manage multiple feeds
If you've been following a few feeds, DrumUp now gives you a great way to manage them. Rather than having to use regular RSS readers, filter content, and share posts individually, you can now simply add all your favorite feeds to DrumUp. This way you can monitor and schedule posts from your best feeds through a single dashboard. DrumUp also gives you the option of auto-posting all content from a feed, or selecting just the individual articles you'd like to share from each feed.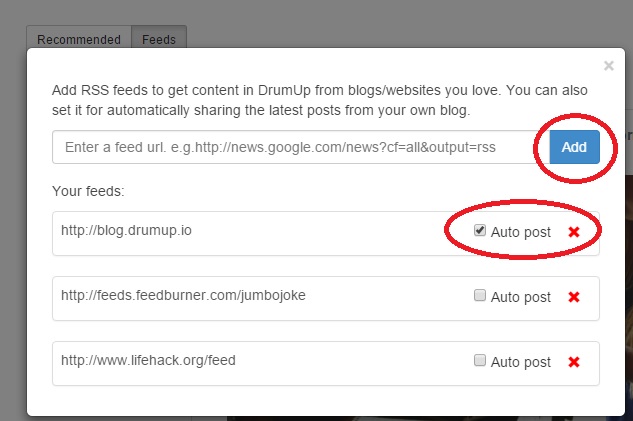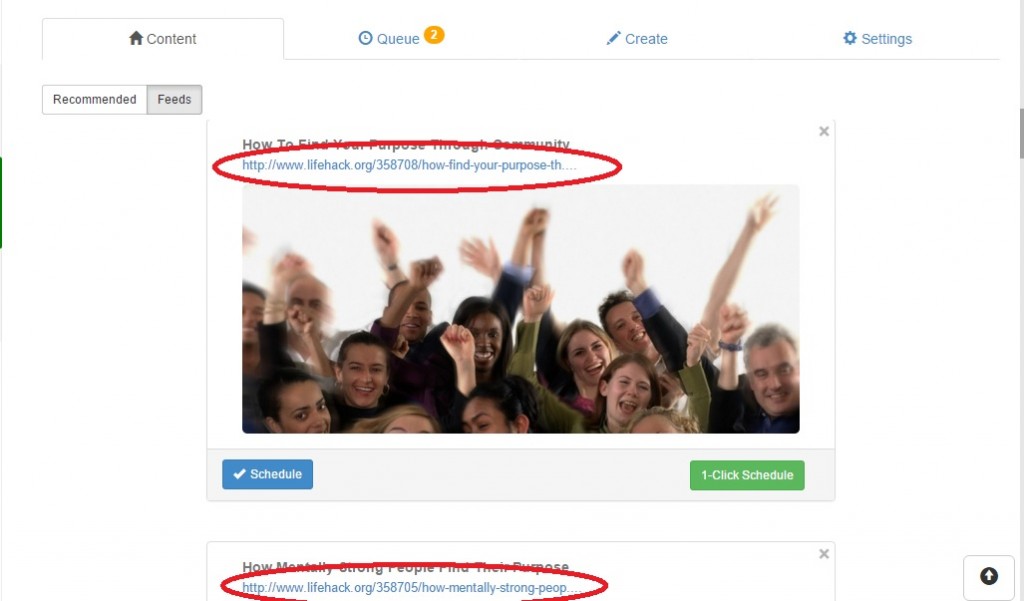 With all these changes DrumUp continues to be simple and easy to use, just like it has always been. With the recommended content refreshed daily, it makes for a great Buffer Suggestions alternative. If you have any questions feel free to write to us, we're here to help!
Editor's Note: This post was originally published on Jan 08,2016 and has been re-published to include new features.