8 Realistic New Year's Resolutions for Social Media Marketers in 2016
Posted in :
Social Media Tips
on By
Vasudha Veeranna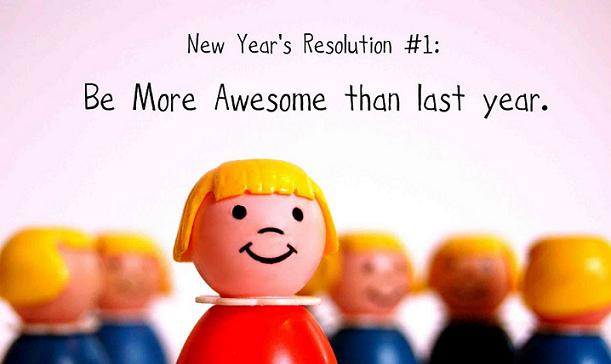 There's just something about New Year's resolutions. Despite the jokes about all those resolutions you don't keep up, you never tire of making new ones. It gives you hope for betterment, both personal and otherwise. It gives you a sense of ambition, and a potential accomplishment to look forward to.
So, here's the first, over-arching resolution for social media marketers in 2016:
#NY2016 Resolution 1: Be more awesome than last year
2015 was an exciting year in terms of social media with Facebook launching Instant Articles, Twitter releasing Moments and Snapchat introducing Discover. Although these developments came with challenges of their own, they gave social media marketers more avenues to share content and interact with their audiences. Along similar lines, 2016 is going to be a promising year – with the surge in real-time marketing, social commerce, and more targeted advertising, social media will continue to be an integral layer of the sales funnel. Whatever you've been doing on social media, do it better next year.
#NY2016 Resolution 2: Define your social mix
The New Year is a good time to reconsider your social mix. Assess the engagement levels across your social profiles and adjust the effort you invest in each of them accordingly. If 2015 was a great year for you on Twitter, find more ways of strengthening your presence there in 2016. If you're going to be growing your team over the next year you may also consider exploring platforms you haven't tried yet. The golden rule as always is to create and maintain just as many profiles as you can (actively).
#NY2016 Resolution 3: Leverage the unique features of each platform
Facebook, Twitter, LinkedIn, Instagram, Pinterest, Snapchat – name any social media platform and it's quickly evolving. Growing your following and building engagement across multiple platforms demands a well-developed strategy that takes into account the uniqueness of each platform. For instance, both Facebook and LinkedIn are giving users more ways to publish content natively, you should definitely be looking at these opportunities in 2016.
#NY2016 Resolution 4: Optimize your time with automation
Automation was perhaps one of the most debated subjects among social media managers in 2015. If you don't already have a virtual social media manager app, 2016 is the year to get one. From content discovery and scheduling to social listening and analytics, data and insights can drive your social media marketing efforts in the right direction, and help align them with your goals. Particularly for small businesses that are tight on resources, automation lets you focus on all the other aspects of your business while also leveraging the power of social media in reaching out to the right audience. We at DrumUp, will be working hard at making your life easier with great social media marketing and content marketing automation.
#NY2016 Resolution 5: Focus on relationship building
What's the point of social media if you aren't social? Commit to forging new relationships in 2016 by interacting consistently with customers, employees, influencers and peers. Be proactive in looking for opportunities to start a conversation. Remember, not every conversation needs to revolve around your product of service. Found a piece of content you think might interest a few specific people among your followers? Go ahead and @mention them when you share it. Liked a book or blog you just read? Show your appreciation for the author's work. Genuine conversations always earn good karma on social media.
#NY2016 Resolution 6: Repurpose existing content assets
Quality beats quantity when it comes to content. That's the reason why you should look beyond content creation in 2016. Spinning one blog after another will do little to help your credibility if you aren't adding any real value to your audience. Repurposing existing content assets will not only improve the shelf-life of each piece of content, but will also give you a breather every once in a while. Convert text to images, podcasts and video to enhance the reach and appeal of your content. Pull together insights from multiple pieces of content you may have already published to create one comprehensive resource.
#NY2016 Resolution 7: Explore more content formats, especially video
In a recent study by Regalix, 83 percent of the respondents said video was effective in meeting their content marketing goals. Interestingly, it was also found that most videos (79 percent of them) were distributed via social media. If you've been limiting yourself to textual content, 2016 is the year for you to experiment with new content formats. While creating content in other formats like visuals, audio and video is surely more challenging, it's going to be well worth the effort.
#NY2016 Resolution 8: Improve content distribution
There was a time when content creators, assured of the quality of the work they produce, didn't feel the pressure to promote or distribute it extensively. However, the amount of content being produced and shared is growing steadily, making it much harder for your content to get noticed out there. In fact, smart marketers are now spending more time on repurposing, distributing and re-distributing their content, than on its creation alone. In the coming year, the ROI on your social content marketing efforts will depend all the more on your distribution strategy, so make sure you have a sound one in place.
Social media is like the clock that never stops ticking, and we're all playing catch up. But as hard as it may seem, you should set your sight on getting ahead the coming year, and we hope these resolutions will help you do so.
Have a splendidly social 2016!
Image Source: Memesvault