The Anatomy of the 3 Best Social Media Campaigns
Posted in :
Small Business Tips
,
Social Media Tips
on By
Ashwini Pai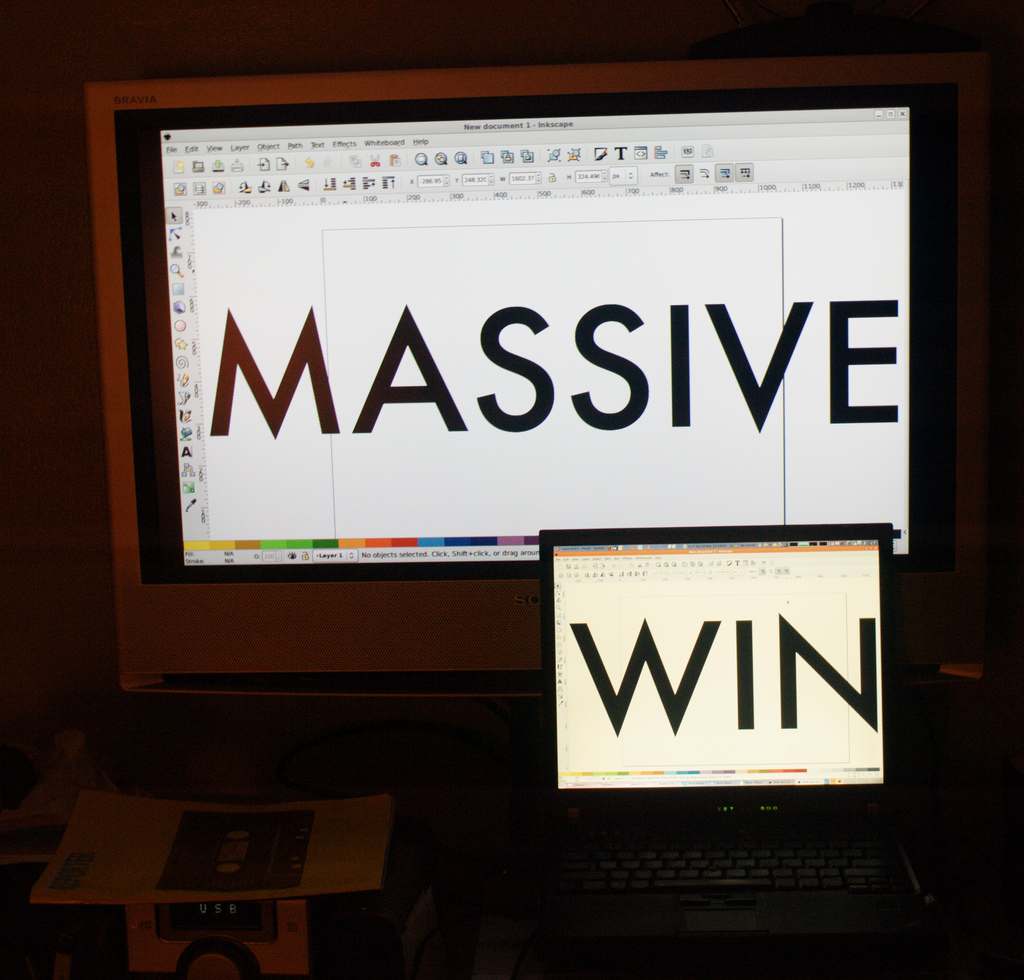 Some social media campaigns really resonate and connect with people in a meaningful way as opposed to being a passing fancy with no real impact on brand awareness or revenue. There are several instances of viral campaigns, most from the leading companies of our time, and others from lesser known brands with savvy social media managers at the helm. Here's a discussion of three, and the components that contributed to their success.
The Shelter Pet Project
What is it?
The Shelter Pet Project is a collaboration between the Humane Society of the United States, no-kill animal shelter Maddie's Fund, and the Ad Council. It aims to encourage the adoption of pets at animal shelters and rescue groups to lower euthanasia rates.
Last year, they embarked on a Facebook ad campaign to create awareness about shelter and rescue groups. The ads directed people to the Shelter Pet Project website, where they could search for pets available for adoption in their area.
What worked?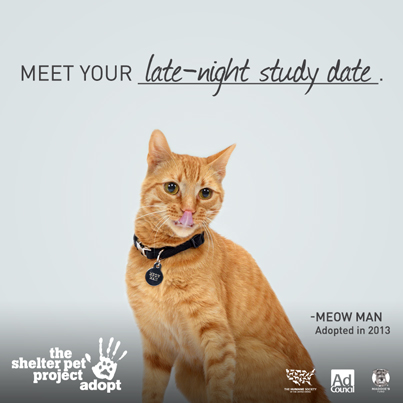 A creative approach : Internet users are often 'banner blind', consciously ignoring advertising clutter to get the information they seek, and rejecting the rest. Shelter Pet Project shone the spotlight on every individual dog or cat looking for a home at participating shelters. Ads featured each animal's unique features and 'special talent', making them more desirable, and helping people match their preferences more easily.
A targeted approach : The campaign researched audience segments to determine who was most likely to adopt a pet. It identified newly engaged or married couples as a key segment not only ready to adopt animals but also confused about where to go and how to go about it.
A stellar landing page : The landing page you send people to is as important as the Facebook ad. The Shelter Pet Project website combines humor and a simple search functionality. It also invites engagement by asking visitors to create a shareable graphic in a guided, step-by-step process.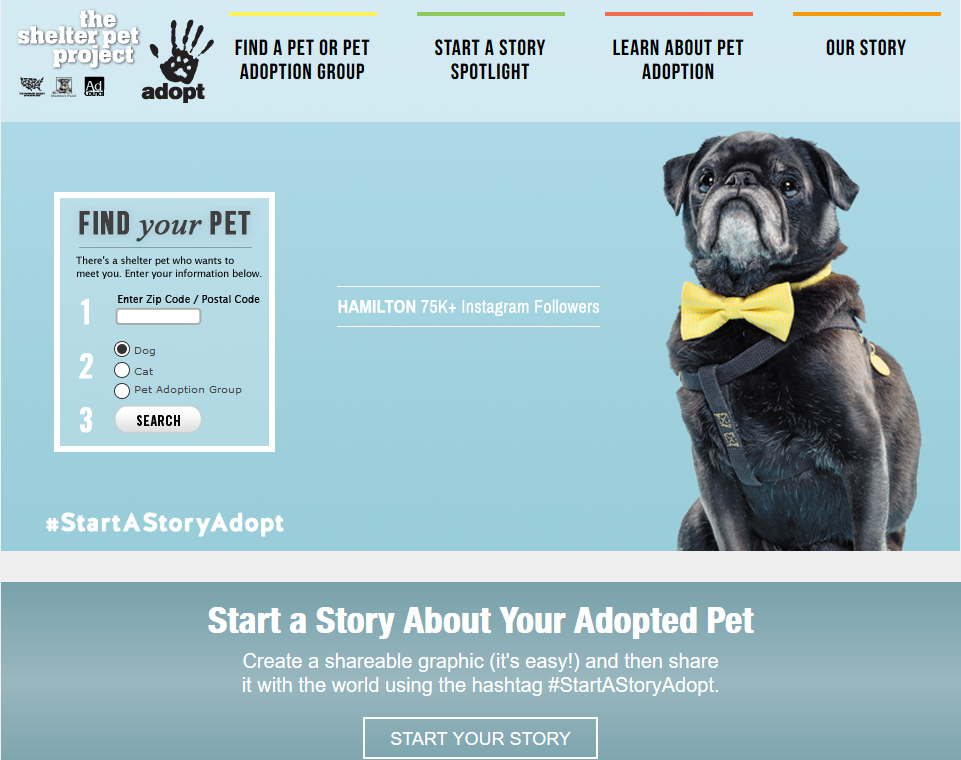 Results
Over the two month campaign duration between September and November, the ads generated 323,964 clicks to the website and reached 8,659,682 people. They also amassed 124,067 likes, 21,975 shares, and 4,610 comments. A Nielsen Brand effect study tracking the campaign found that ad recall had increased 15 per cent at the end of the campaign.
#AirWager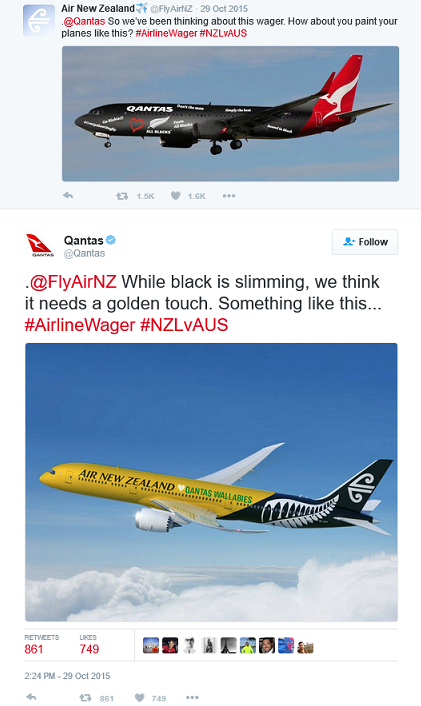 What is it?
A wager between rival airlines Qantas and Air New Zealand over the winner of the 2015 Rugby World Cup Final. The brands started the conversation on social media, and followers – most of whom were presumably rugby fans – caught on quickly, engaging in the back-and-forth between the two. The friendly exchange of words resulted in the #AirWager campaign. All of it – from the lead-up to the aftermath – played out enthusiastically on Twitter. Over Twitter, it was decided that the flight crew members of the losing team would wear rival jerseys to work.
What worked?
Capitalizing on the buzz : The Rugby World Cup is a popular sporting event, viewed by millions across the world, and particularly in Australasia, the British Isles, South Africa and France. Air New Zealand was the first to tweet the challenge by posting a digitally altered image of a Qantas plane painted in black with the slogan 'simply the best'. Qantas responded similarly and a bet was born. The timing of the bet was crucial as it, after all involved, engaging a rival brand. Here, Air New Zealand was quick to seize the opportunity.
Sportsmanship : Everyone loves to follow a bet between two competing brands, and more so if it involves a major sporting event. It was sporting of Qantas and Air New Zealand to follow through with the bet without letting it get ugly or offensive in any way. After the All Blacks' resounding victory, Qantas staff kept their end of the bet by donning New Zealand rugby jerseys to work for a day, which they posted to Twitter.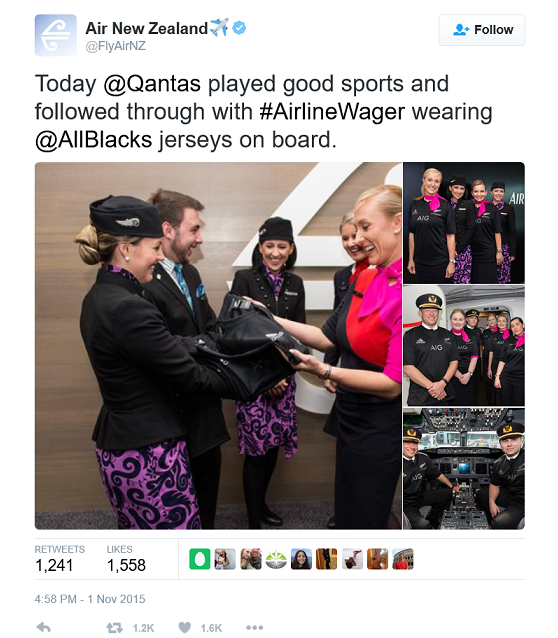 Results
Qantas won appreciation from not just Air New Zealand for their sporty attitude, but also garnered thousands of retweets with the #AirWager hashtag. The campaign ended up being a win-win for both airlines, and marked a stark contrast from the Burger King and McDonalds Twitter beef involving a similar challenge, which attracted criticism from fans.
Lay's Do Us a Flavor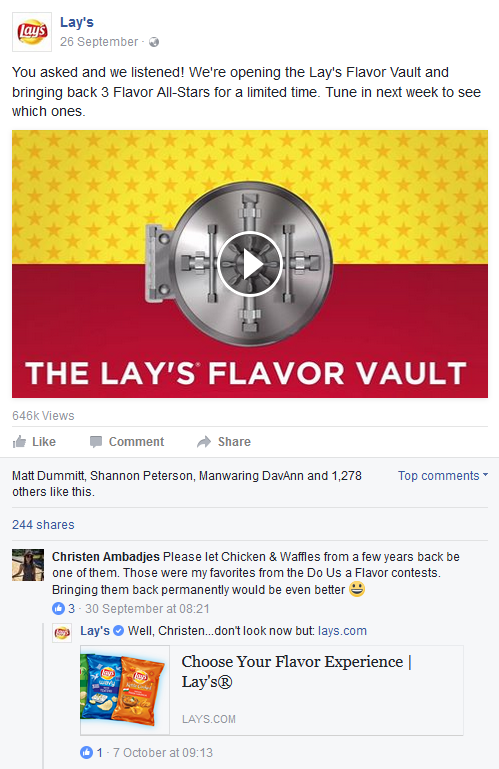 What is it?
Frito-Lay has been running its successful Do Us a Flavor campaign since 2012. The contest invites consumers to submit their ideas for a new chip flavor. The winning flavor receives a $1 million prize. Consumers get a chance to vote on new flavors. This year, the company also ran another flavor-based contest in parallel where participants stood the chance to win daily cash prizes.
What worked?
An opportunity to showcase creativity : The campaign is all about giving consumers what they want most by actively engaging them in the product development process. Lay's packaged it into a contest – one of the best Facebook marketing tips businesses can leverage – that challenged consumers to put their creativity and taste buds to the test. The modern consumer seeks out new food experiences, and the campaign took people on a flavor exploration journey by encouraging new and unconventional flavors.
A dash of cultural diversity : From Korean Barbecue and Fiery Roasted Habanero to Magic Masala and Bacon Poutine, the campaign is a smorgasbord of culturally diverse potato chip flavors. The chance to represent their country or heritage was another pull factor that made the campaign a huge success.
New experience/Novelty : Besides the chance to win attractive prizes, the campaign allowed consumers to redefine their experience by trying out new possibilities. It expanded Lay's reputation as the creator of deep-ridged potato chips to an innovative, consumer-focused brand selling exciting, creative and experimental snack flavors.
Results
When they first launched the campaign on Facebook, it received 4 million submissions, and contributed to a 12% increase in sales. Successive campaigns have continued attracting interest and participation.
In summary, an effective social media campaign may have one or more of the following attributes:
Audience engagement/participation
Rides the wave of latest trends or popular events
High-quality visuals
Evokes emotions
Aims to accomplish a specific goal
Targeted messaging
Image credit : Paul Fisher via Flickr