What is Missing From Your Facebook Page?
Posted in :
Small Business Tips
,
Social Media Tips
on By
Ashwini Pai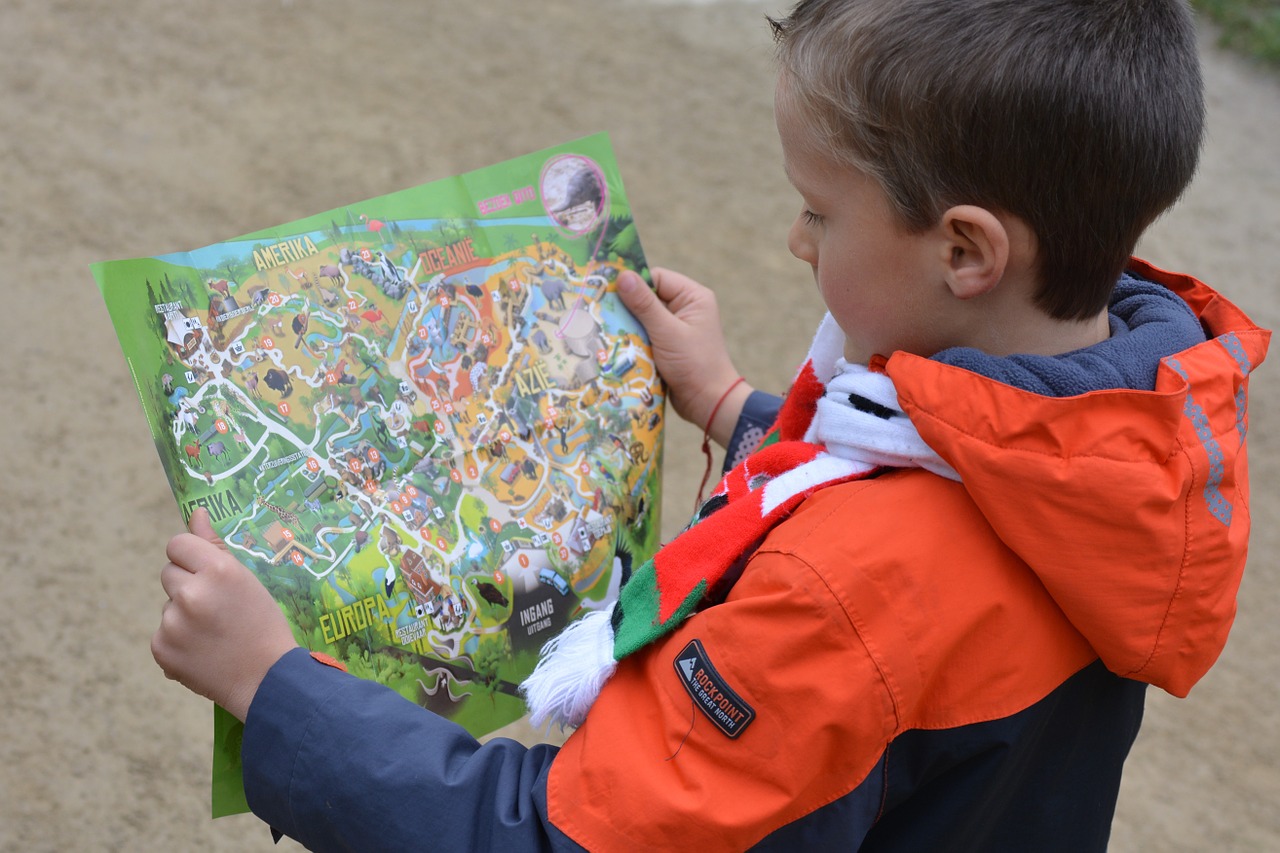 Do you look at your Facebook page with the sinking feeling that it isn't engaging enough? Now is a good time to revitalize it and capture new fans, more comments, and drive more Facebook traffic to your website. Start by examining if your FB page is missing these essential audience engagement elements.
1. Video
Video posts on Facebook attract more shares and deliver a higher organic reach over photo posts and all other types of content. The evolution of video viewership on the network has been swift, with users watching over a million hours with Samusung VR gear and about 8 billion video views served per day.
Capitalize on the potential of video as a Facebook marketing tool – which is only getting better with the addition of Live video effects, overlaid graphics and other cool features – to create stickiness and gain a captive audience.
Use Facebook's automated captioning tool to create captioned video ads
Make the most of continuously improving Facebook Live
Facebook currently allows only personal profile pictures to be set as a video. There have been calls to extend the feature to business pages; if Facebook follows though with requests, you could consider using video in yet another way. Watch out for updates on this feature.
2. A great cover photo
Your cover photo is the first thing that people see on your Facebook page. This space can be used creatively or strategically to convey what your brand is all about or inspire a call to action.


Create a high-quality cover photo keeping in mind the separate dimensions for desktop computers and smartphones. Your page's cover photo is displayed at 820×312 pixels on computers and 640×360 pixels on smartphones. For faster loading, create an sRGB JPG file; PNG format may work better for cover photos with your logo or text. Check out this article to get a better idea of ideal image sizes for Facebook and other social networks.
Consider these tools/solutions to create a visually striking and memorable Facebook cover photo:
3. Personality
Facebook is a potent place to gain a deeper understanding of people's personalities. There are a number of interesting studies on how our personal Facebook pages reflect aspects of our personality that may not be apparent from offline interpersonal interactions. In the business context, Facebook is a vital customer engagement channel you can leverage to reinforce your brand personality and values.
You may have already defined your brand personality, but are you projecting it onto your Facebook page? Does your audience recognize you as a peppy, fun and youth-oriented brand or are they most likely to describe you as sincere and sentimental? Maybe you're rebellious, contemporary and highly original or perhaps you want to appear family-oriented and wholesome yet unique and imaginative. Let your Facebook page communicate who you are; try to pepper the page with your personality as much as you can.
Fundraising site CrowdRise tells you that you 'if you don't give back, no one will like you'. Their 'decent humans' concept – which they are promoting through the #DecentHumans hashtag and a relevant cover photo – is blunt yet persuasive.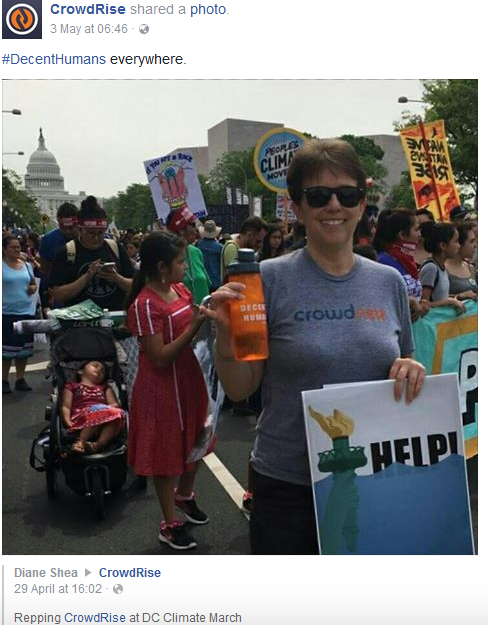 Duluth Trading Company has a gift for humor and creativity in spades; their personality could be a strong reason for their 300k+ Facebook likes. The clothing and accessories company's posts are extremely engaging, many attracting hundreds of shares and several comments from an active community.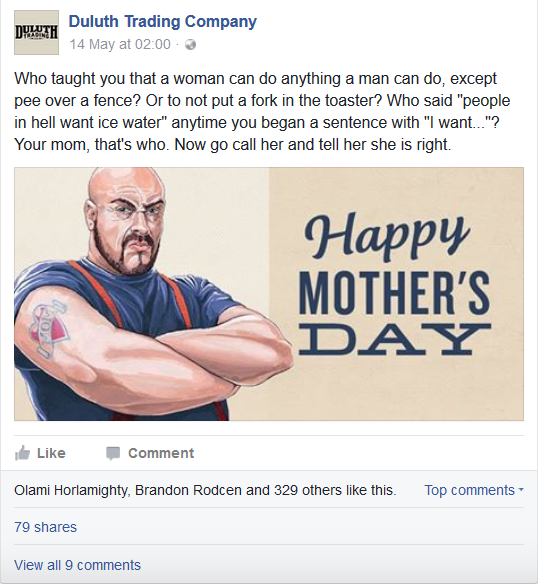 While the tendency to create a make-believe image is a dark side of marketing that can win over people and build an enviable brand reputation, it can also go very wrong if not managed consistently well. For small businesses, the safe approach is to convey a genuine brand that is what it is – after all, the ultimate goal is to gain trust and convert that into revenue opportunity and customer loyalty.
4. Good UX
Users appreciate convenience and quick customer service on Facebook. If you are promoting a limited period discount offer on the channel, a 'Shop Now' button can send users directly to your product/services page. It is one among the call-to-action buttons offered by Facebook – the button is not activated by default when you create your FB page; you need to edit the button to make it functional. You can use this feature to encourage users to use your app, watch your video, contact you/send you a message, book your service, or play your game.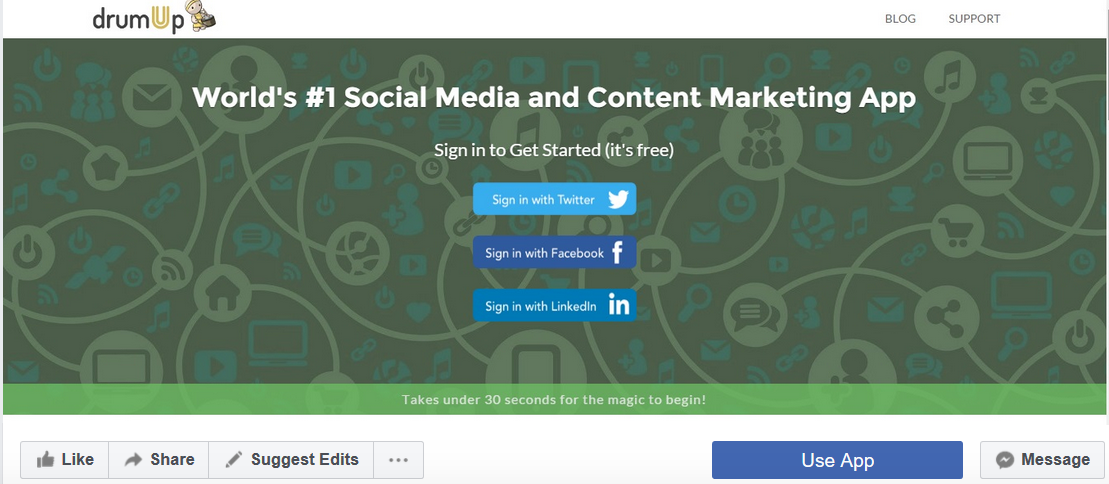 Intrepid Travels enables users to search for tours, read reviews and book tours directly from their Facebook page.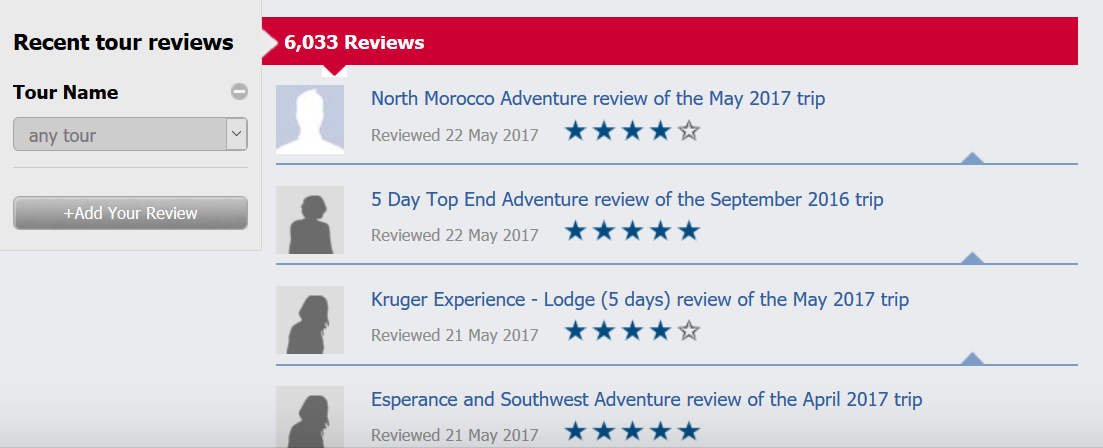 Making users feel heard and understood is a big part of UX. Determine if you are getting these basic engagement best practices right:
Are you replying to all inquiries?

How promptly and consistently are you responding to comments?

Are offers clearly articulated and linked out to appropriate pages?

Do you follow a complaint resolution procedure?

Are you using the right tone to reply to different message (e.g. heartfelt versus humorous/cheeky)
5. Questions
Question posts are irresistible to many users, especially if they are interesting and attractively framed. An added benefit is the opportunity to learn a bit more about users' preferences and attitudes. Here are some questions you can ask:
Opinions on any relevant topic

Fill in the blanks

Ask for tips

'Choose your favorite photo'

Crowdsource ideas

Get feedback on your product/service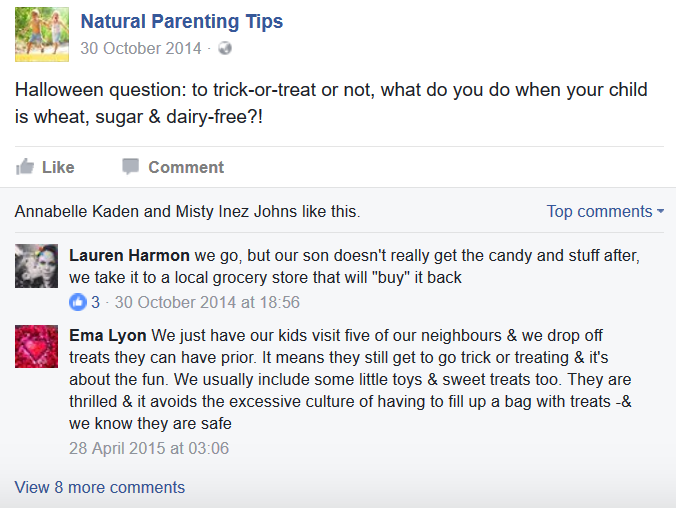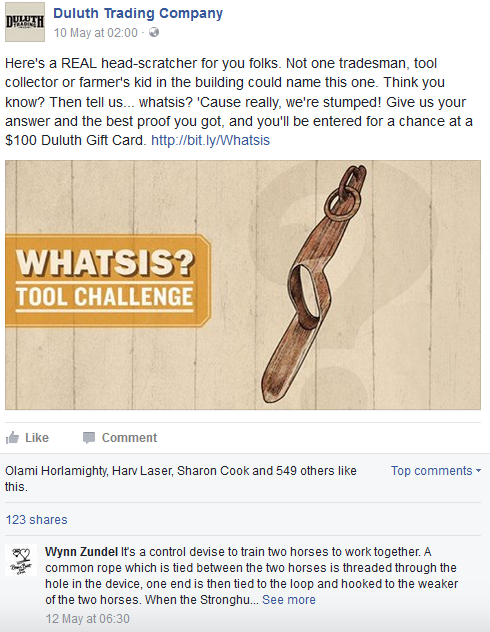 Tip : Facebook's 'Save' button is a bookmarking feature that allows users to save posts to read later, and sends reminders to view the items they have saved, from any device. For users, this feature is a way to find posts they find interesting earlier and read them during their free time. For businesses and marketers, the 'saved' links support their Facebook analytics efforts, offering insights into what is resonating with users and what isn't. Look at the number of 'saved' articles to guide your content strategy and boost engagement.
Image Credit : Pixabay