19 Free Facebook Marketing Tools to Increase Organic Reach
Posted in :
Content Marketing
,
Social Media Marketing Resources
on By
Disha Dinesh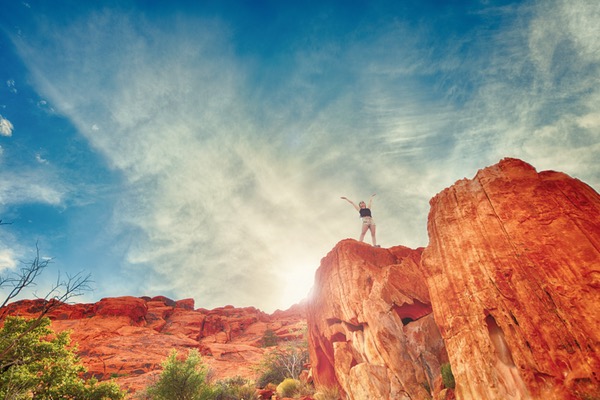 Facebook is unparalleled as a marketing platform. With a global reach of 1.86 billion MAU (Monthly Active Users), free-for-use Facebook brand pages and an advertising platform that runs on troves of invaluable data, to say the platform has a lot to offer is an understatement.
Last year, however, many studies revealed that organic content reach on the social media network was plummeting.
In 2014, the VP of Advertising Technology at Facebook, Brian Boland, explained why organic content reach had been declining – because of rising volumes of posts and no space on users' feeds.
Regardless, he affirmed that brands could still reach people organically, by creating high-quality and relevant content that entertained them and made them think.
Which tools do you use to manage your Facebook marketing activities?
Could there be a way to enjoy the efficiency and effectiveness that come with using tools, at no cost?
The tools on this list include everything that you might need to succeed at marketing on Facebook – from content suggestions, to scheduling, analytics and campaign management.
Enjoy your free of cost marketing stack and feel free to write to us about your experience with them or more suggestions for the list!
Here is the complete list now, before we explore each tool in more detail.
DrumUp
Canva
HubSpot's Blog Topic Generator
Content Idea Generator
Facebook's Audience Insights
SimplyMeasured
Hotjar
Wolfram Alpha
Fanpage Karma
ShortStack
Likealyzer
SumoMe
SocialMention
Tabsite
Campaign URL Builder
Google Analytics
Piktochart
GIPHY
Hemingway

Headline Analyzer
Survey Anyplace
#1 DrumUp for Content Suggestions & Social Media Scheduling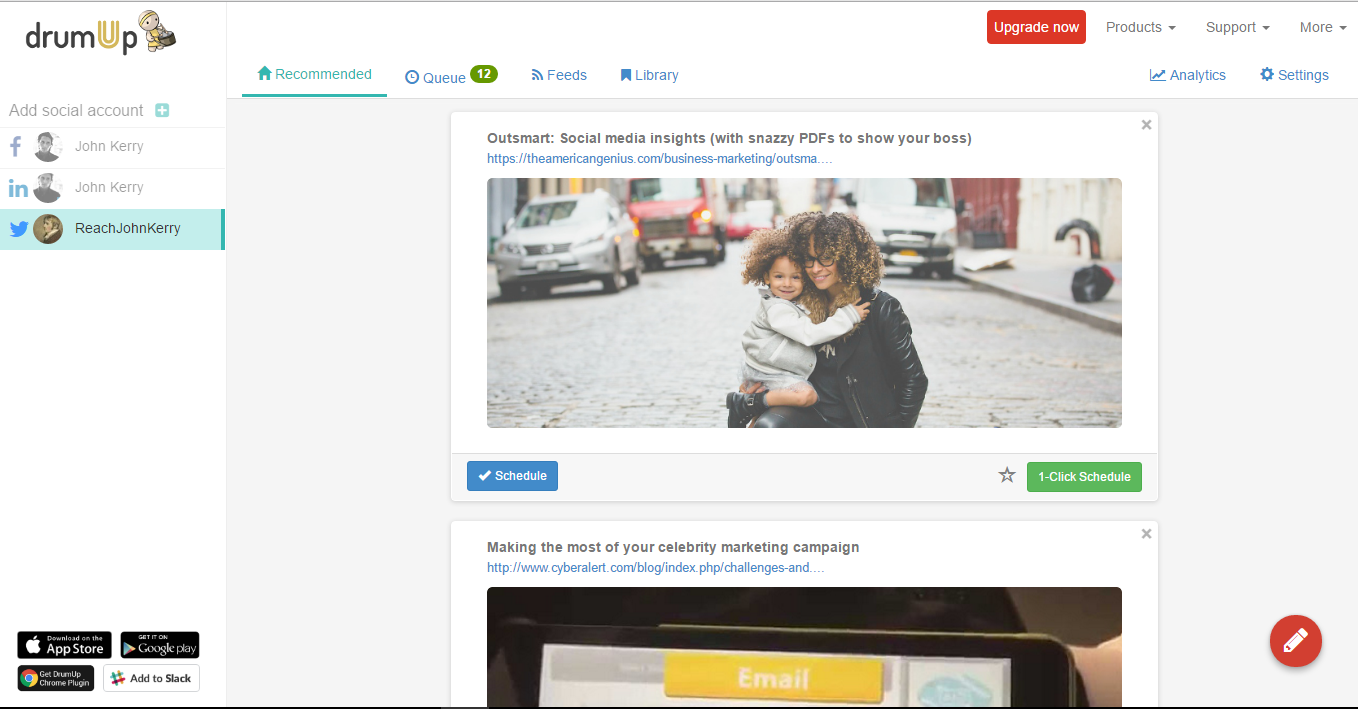 You can attach the Facebook account with access to your Facebook page on DrumUp, and schedule 3 posts per day for weeks in advance in one go. That way, you'll stay ahead of schedule and find time for real-time engagement with your audience.
You can also source content suggestions or stories to share on your Facebook page by setting up keywords that best define your niche during sign up.
By consistently sharing relevant content, you can increase your exposure and attract a niche community of fans.
#2 Canva for Graphic Design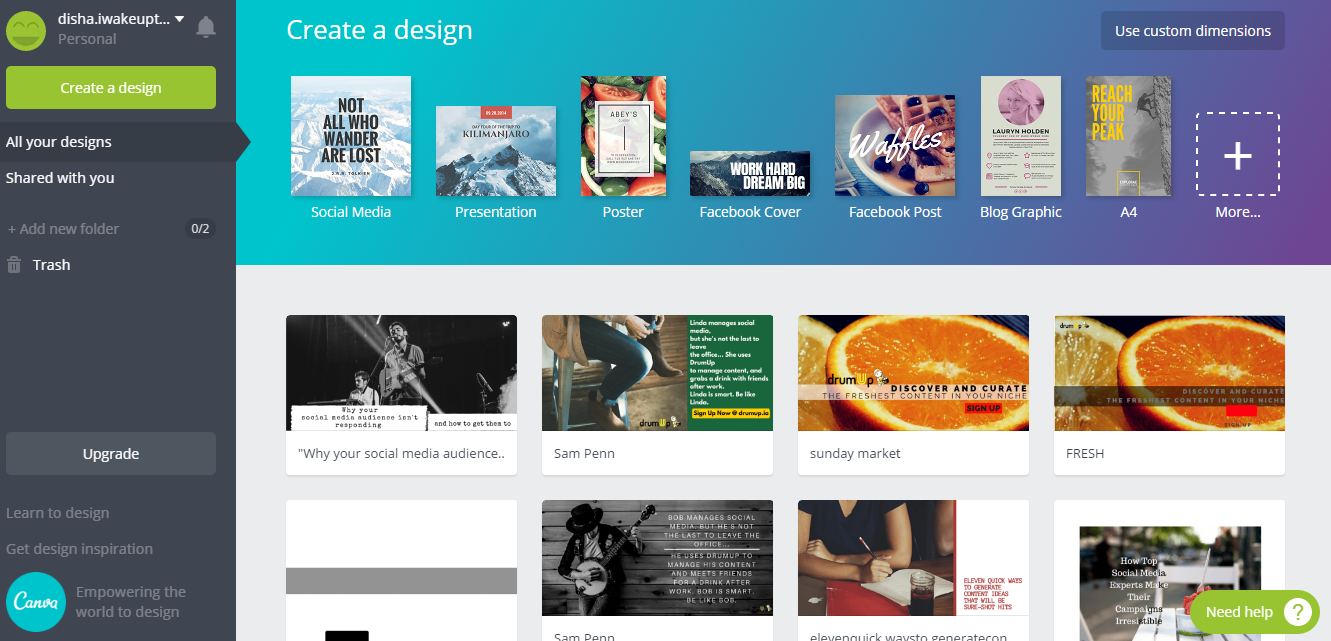 You can create a bunch of multi-purpose graphics (simple posts to infographics) using Canva's stock templates. Canva stocks Facebook post and cover sized canvases so your images are optimized.
You can upload your brand's logo and include it on every image for branding, and add a hyperlink on the post and directly share it to your Facebook page from the app.
Images based posts get 120% more engagement than sans-image posts on Facebook, according a Wishpond study. By creating great images for your post, you can get more shares and increase organic reach.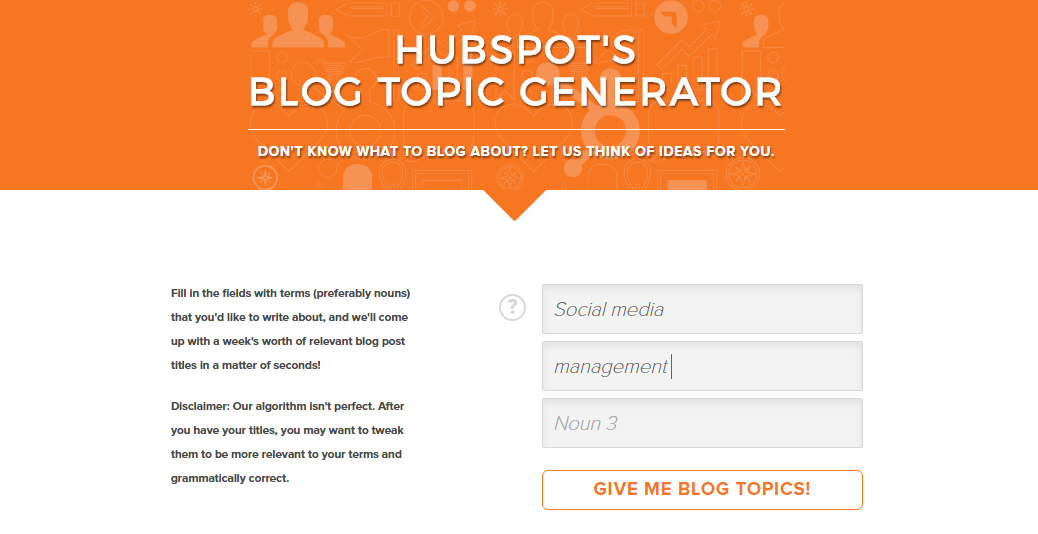 Idea block? You can use HubSpot's Blog Topic Generator to get your creative juices flowing. All you have to do is supply the tool with three nouns and sit back as it suggests great topics for you to use.
Portent's Content Idea Generator spews more wacky and way-out-there ideas that could inspire something crazy and unique for your blog.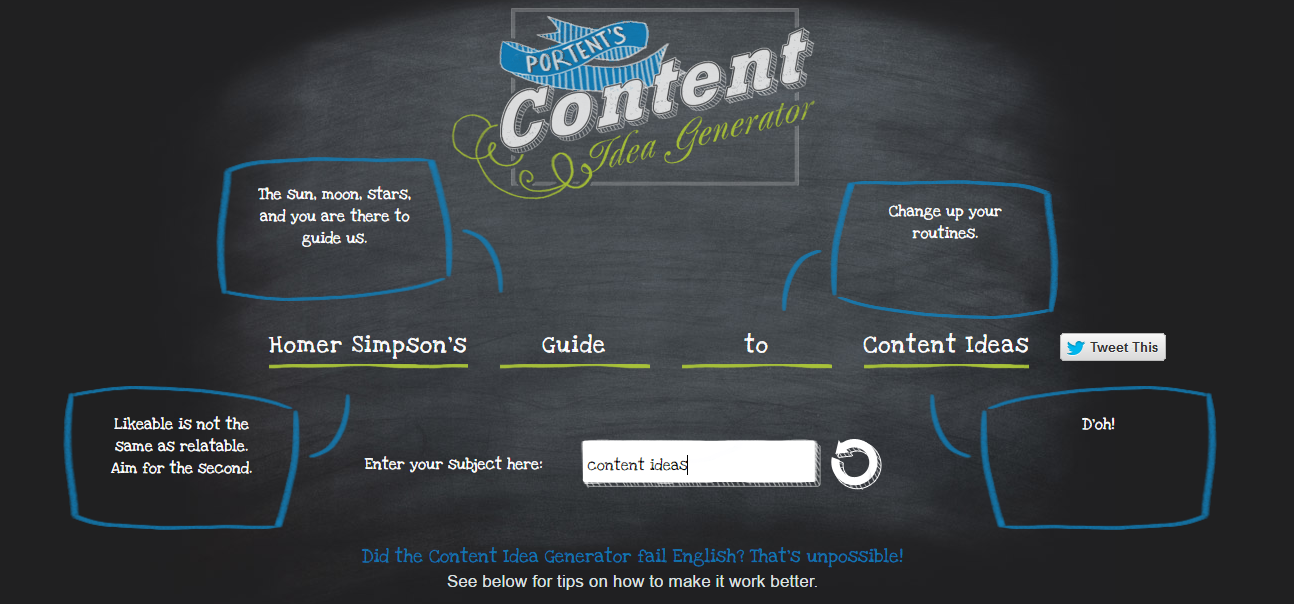 Posts that are titled better attract more attention on social networks and get more engagement. You can improve your overall engagement and reach by consistently writing fresh and compelling headlines.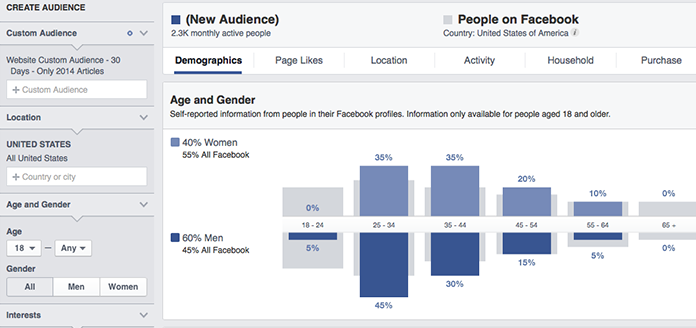 The more you know about your audience, they better you can craft your messages for them. Facebook's Audience Insights gives you information about your target audience – demographics, location and language, likes, Facebook usage and behavior and even purchase activity.
You can use these insights to create more compelling messaging to reach more of your desired audience.
Note: Audience Insights take current and potential prospects into consideration, while Page Insights only refer to the engagement on your page.
#6 SimplyMeasured for Content & Competitive Analytics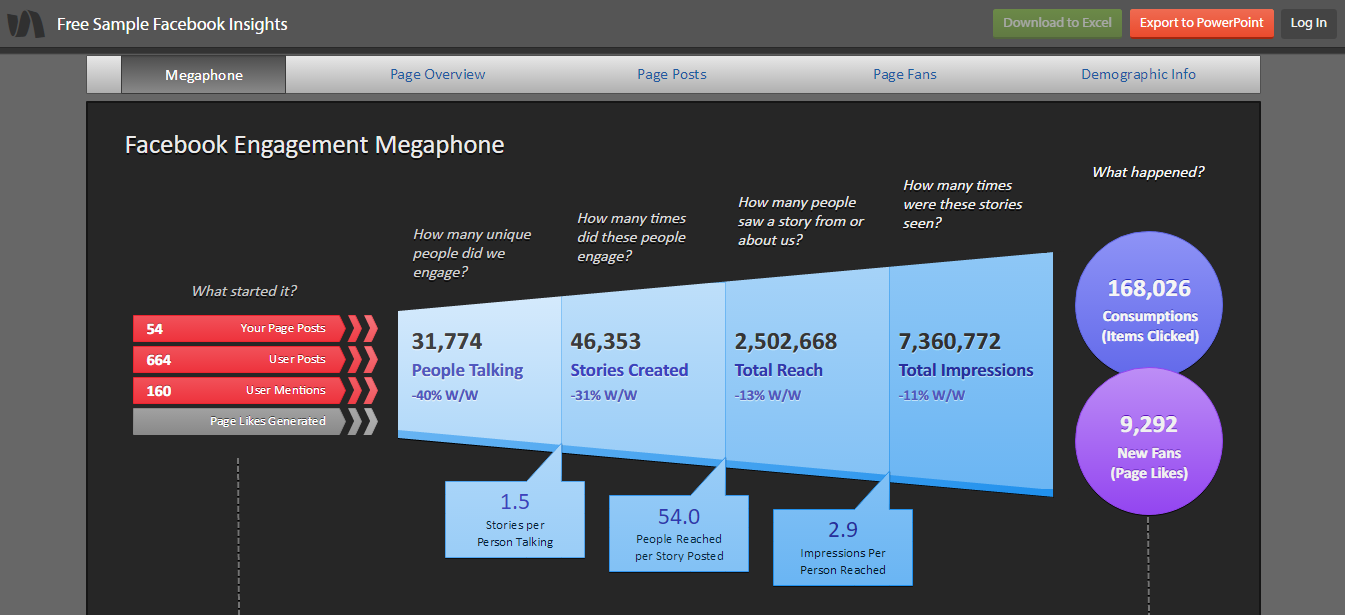 You can get free reports of Fan Page Performance, Competitive Analysis, Insights and Content Analysis on SimplyMeasured.
While the free reports don't go back very far (they only cover two weeks' data) and apply to pages with <250,000 likes, the tool is useful for small businesses and startups that want quick reports for reference when creating their content strategy for the next few weeks.
Content and competitive insights can tell you how to create better content to reach more people.
#7 Hotjar for Website Optimization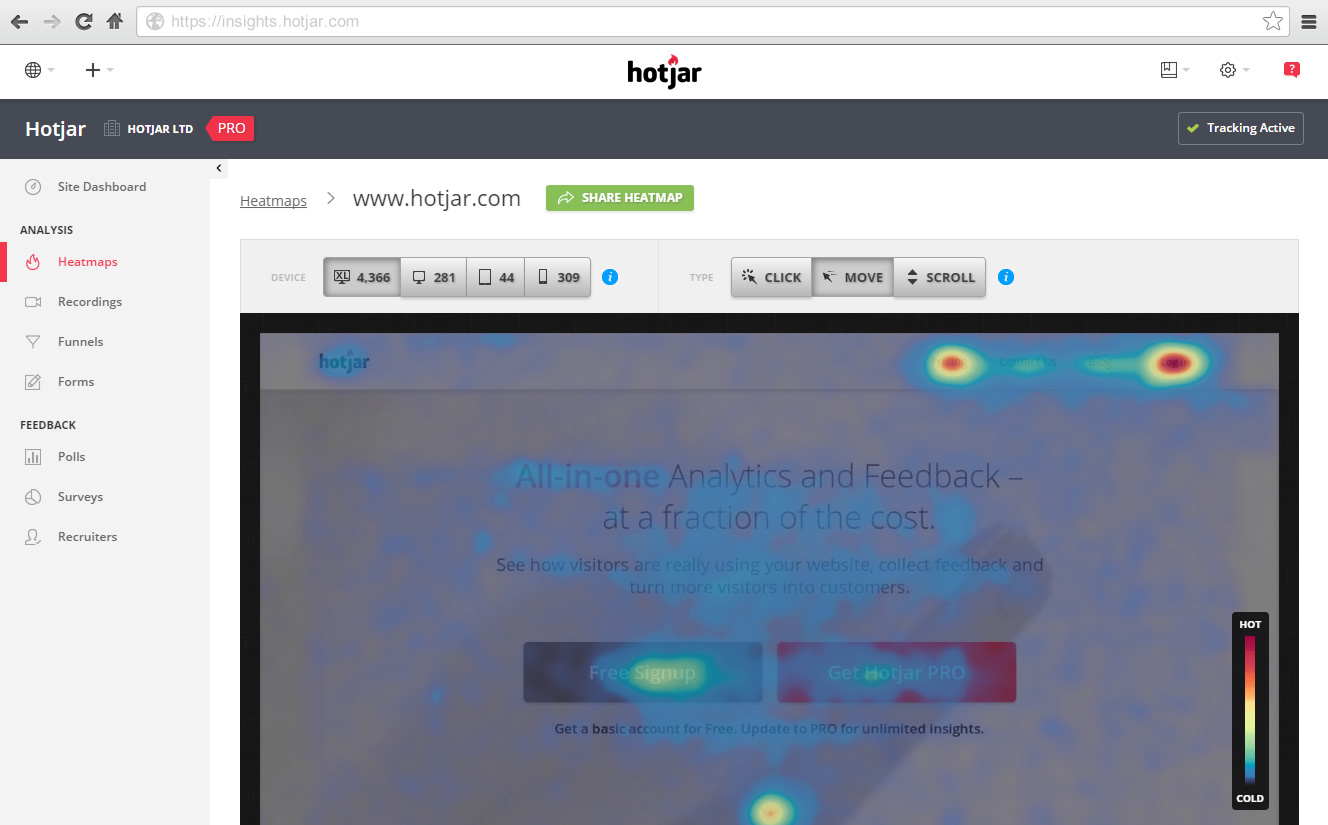 Website optimization is a crucial part of social media marketing when conversion is a priority. One of the reasons why your social media traffic isn't converting could be because you haven't accounted for website optimization.
Hotjar's free account is for websites with <2000 page views a day, and lets you record 3 heatmaps, visitor recordings and conversion funnels.
Heatmaps will tell you what your users interact with most, visitor recordings and conversion funnels will tell you what you need to change to increase conversions.
#8 Wolfram Alpha for Network & Influence Analytics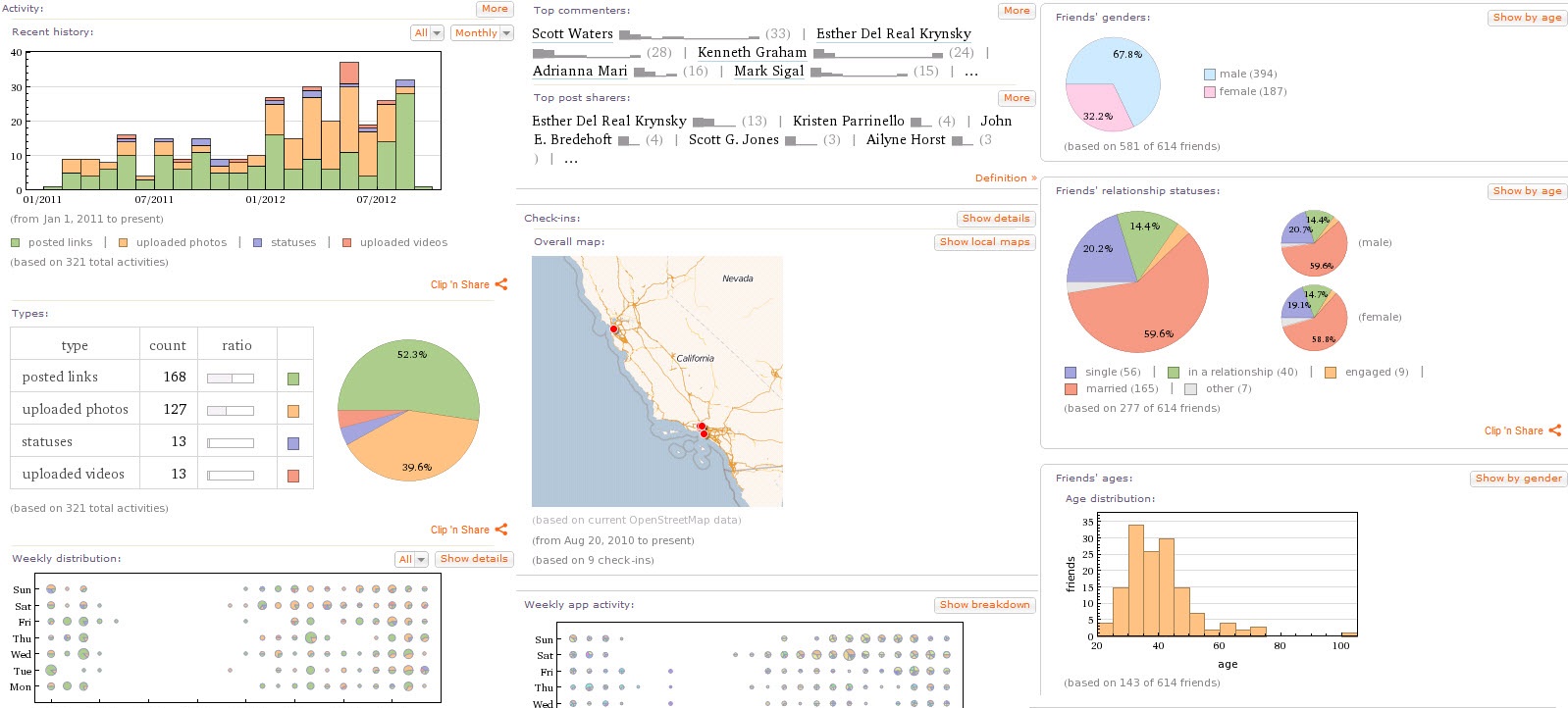 Wolfram Alpha analyzes your friends on Facebook and identifies the clusters that they belong to. It also tells you how popular your friends are, what the global reach of your network is and identifies your friends who are gateways between clusters.
Recently Facebook restricted its API for data requests, so your Wolfram Alpha reports can only pull insights from people who have authorized their app on their profiles.
Regardless, the app is free and it does provide keen insights that you can use to make your marketing more effective.
You can use insights about your network clusters to curate content more relevant to them.
#9 Fanpage Karma for Competitive Analysis & Facebook monitoring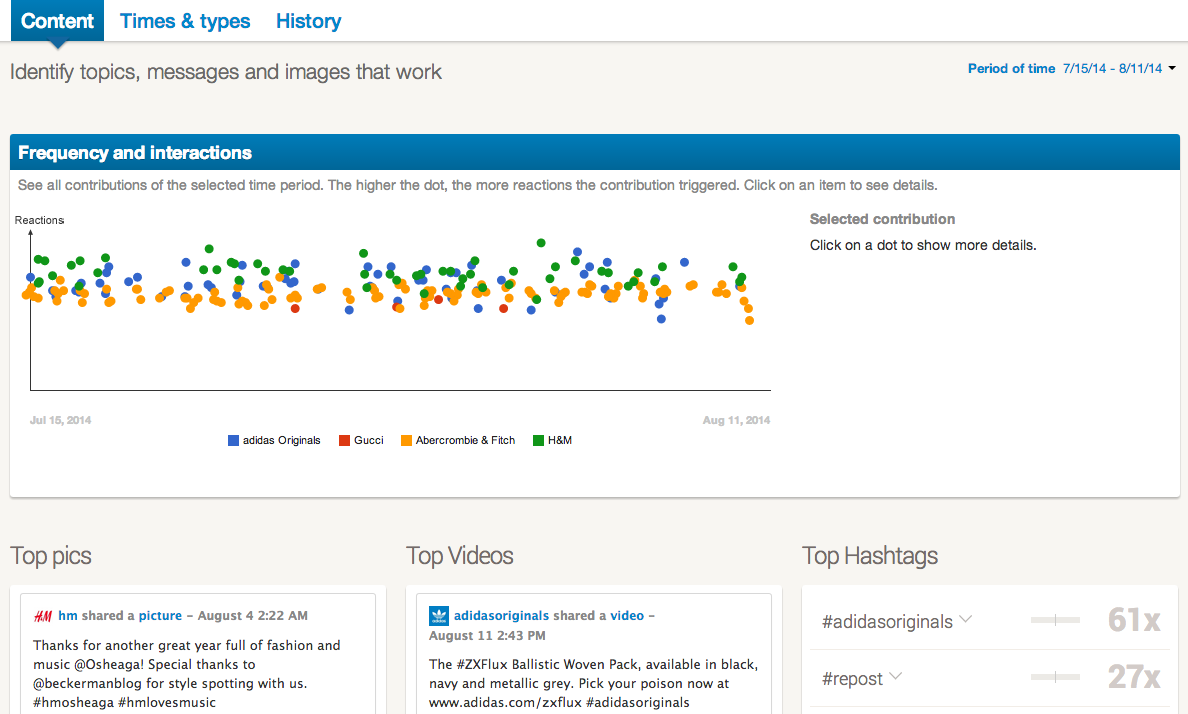 Fanpage Karma is an interesting app that compares two Facebook Fan Pages. You can insert the URL of two pages and watch as the tool breaks down the overview and page score.
Alternatively, you can access detailed reports about one page – page content, influencers, timing, fan engagement, bench-marking, and more.
The better you time your content, the more engagement and reach you receive. You can also work with influencers to increase content reach.
#10 ShortStack for Facebook Campaigns & Forms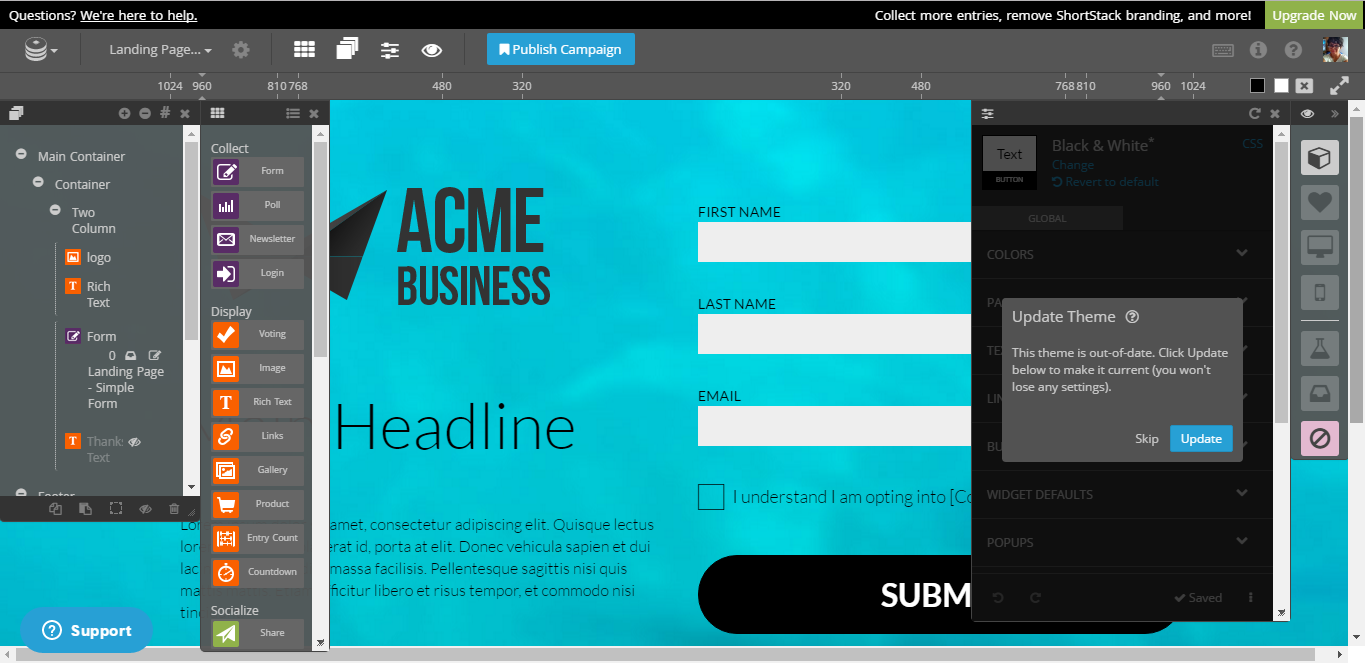 A form building app, ShortStack has lots of options for interactive campaigns that you can post to your Facebook page.
You can create one using a template and go live through the app. You can also build campaigns from scratch, customizing it to your preferences. The ShortStack branding is automatically added to your campaign in the free version of the tool.
Campaigns have a definite beginning and end, and a set theme. They can act as experiments of sorts to help you identify the best ways to engage your audience.
#11 Likealyzer for Facebook Page Health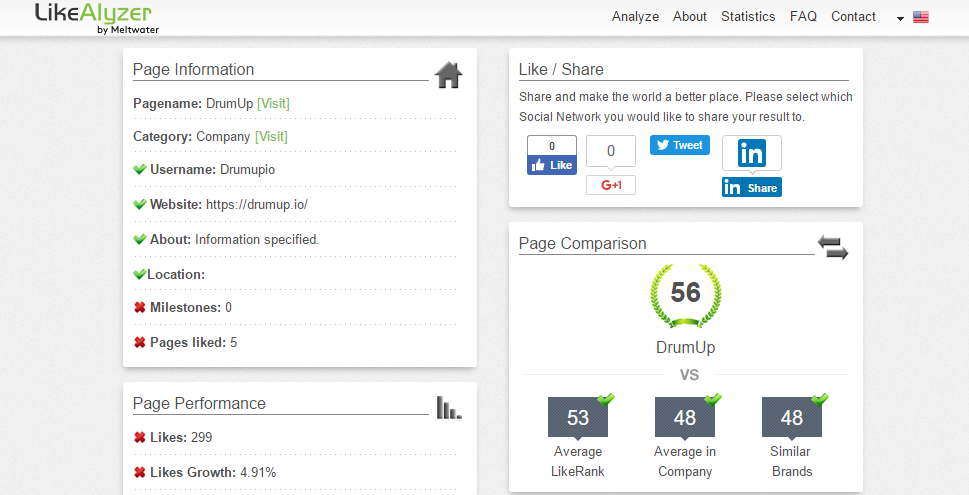 You can submit your Facebook Page to Likealyzer for an overall score to assess the health of your page. The app scrutinizes your posts, the engagement on it and suggests improvements that you can make to increase page health.
Basic elements like post timing, post length, engagement on posts and comments are considered before suggestions are given.
You can use the suggestions to optimize your posts and reach more of your target groups.
#12 SumoMe for Page Sharing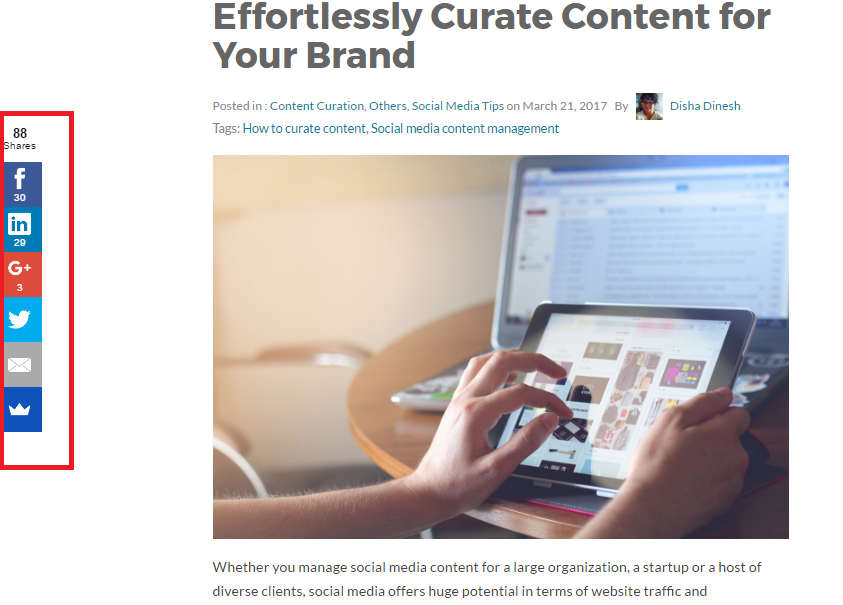 SumoMe allows you to add share plugins that also double up as share counters on your blog. The share counters are social proof to encourage people who visit your website to share your posts.
The share plugin makes sharing convenient for visitors, so if they are logged in to their social accounts on that browser, the plugin will auto-generate text and simplify sharing.
The plugin also lets visitors share to social media communities like LinkedIn groups.
#13 SocialMention for Real-time Monitoring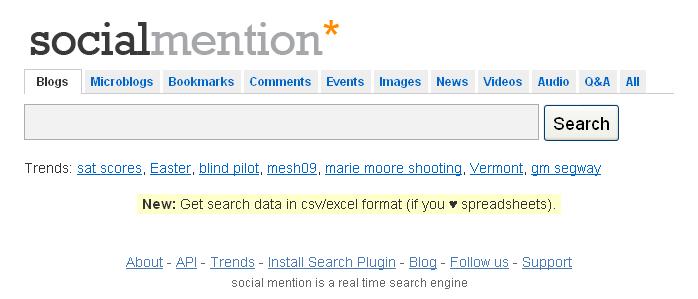 Participating in conversations is an important part of building an engaged community on social networks. SocialMention lets you find mentions of certain keywords real-time on social networks.
You can also get daily digests of mentions from the tool.
You can also use the tool to quickly check your current social standing. "Strength" will tell you the likelihood of your brand being discussed and "Sentiment" will tell you the ratio of positive to negative mentions of you on social networks.
Overall, the tool gives you a picture of the health of your brand on social media. You could use it as a gauge to measure the impact of your customer service.
#14 Tabsite for Facebook Contests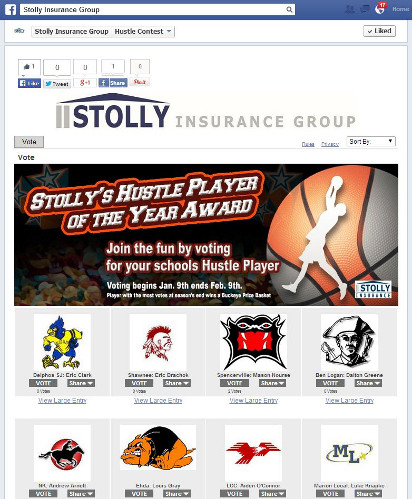 Tabsite lets you create interactive contests to post on your timeline for free. You can run contests that require liking, commenting or sharing a picture, and manage them using the tool.
Post running your contest, you can use the tool to pick a random winner based on any criteria, or export data to external files for your use (if you run photograph, comment or share your story based contests).
Like and share contests are a great way to increase engagement and reach.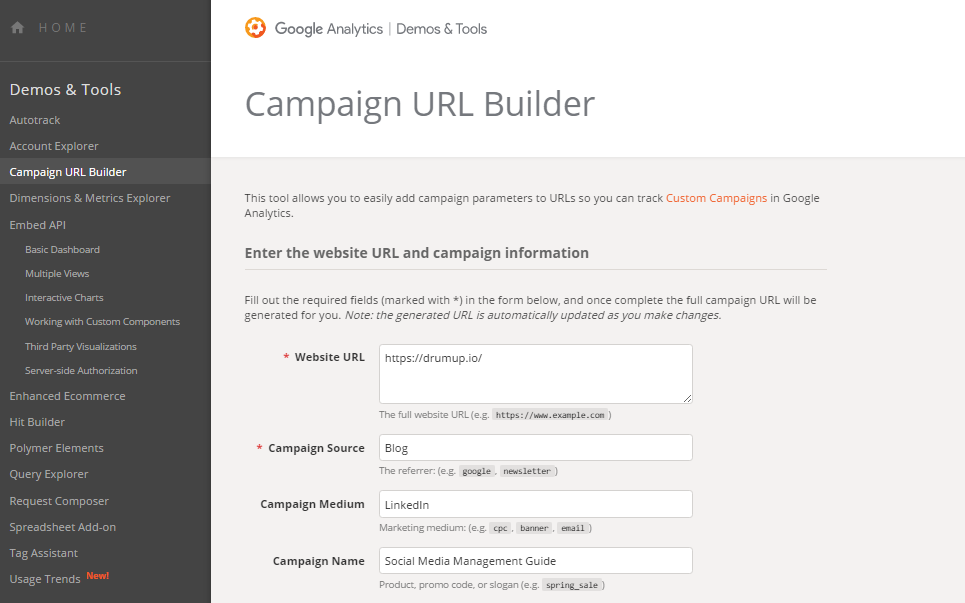 If you are using multiple platforms to market your brand, you might not be able to isolate your success to particular platforms.
Using custom URLs for each platform, you can track your referrals, attribute them correctly and optimize your efforts to increase referrals.
#16 Google Analytics for Referral Analysis & Content Refining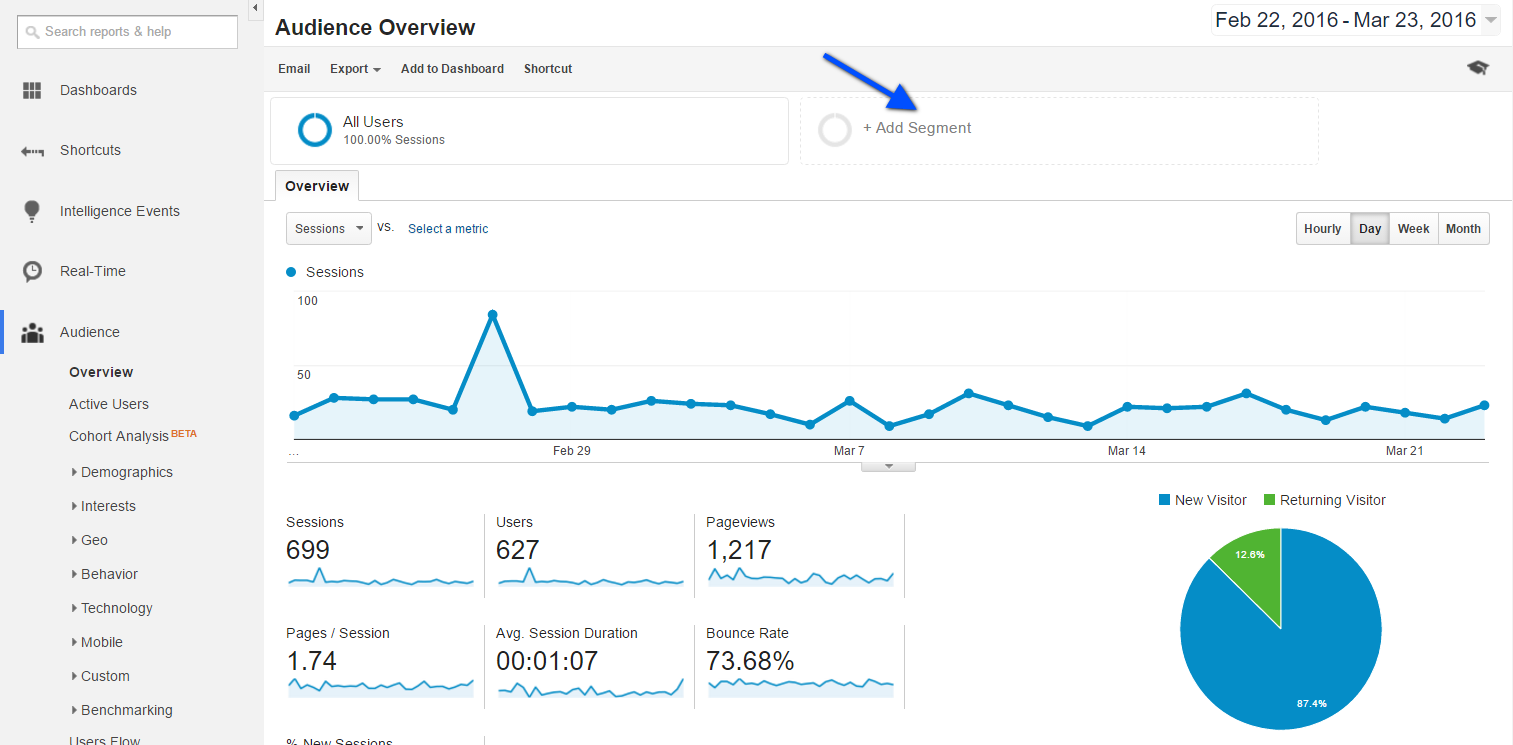 You can use Google Analytics in conjunction with custom URLs (exclusively for Facebook posts) to understand the effectiveness of your content.
Your referral traffic will tell you what has worked and hasn't, so you can build on that information and create a Facebook marketing strategy that works.
#17 Piktochart for Infographic Design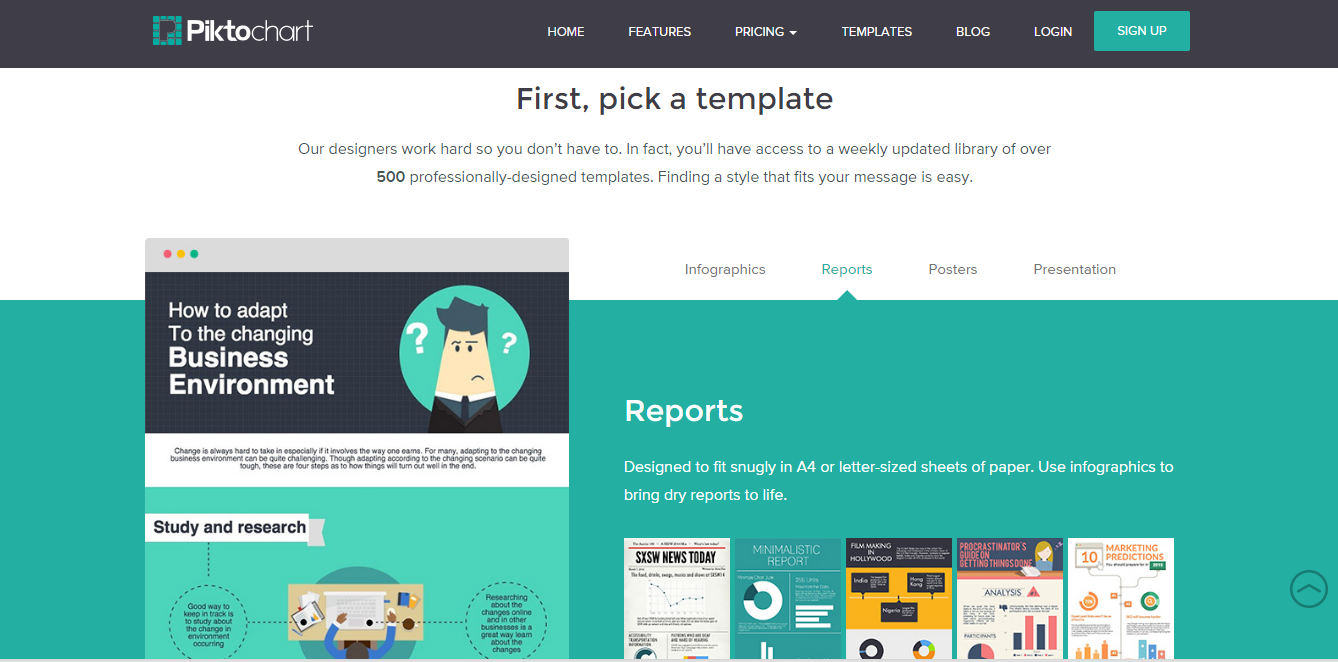 Infographics receive 3X more engagement than other types of content on social networks (Source: HubSpot).
Piktochart has pre-created infographic templates that you can edit and use with ease. The stock icons, images and graphs make it easy for you to create one from scratch as well, if required.
#18 GIPHY for GIFs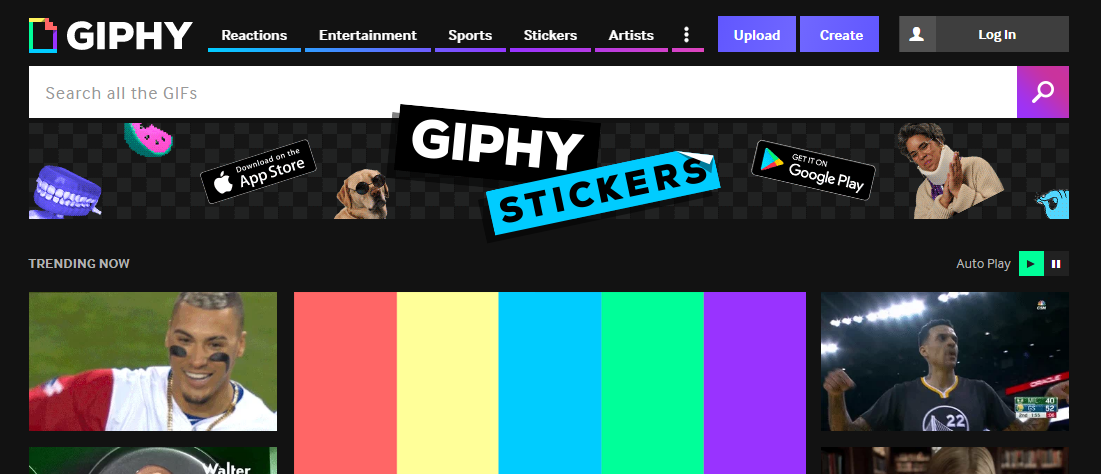 GIFs can help you animate your Facebook Page and engage your fans. You can create GIFs for your brand, or use something from GIPHY in the right context.
GIFs have the potential to go viral, given the right setting. At the very least, they can provide relief and lighten the mood on your social accounts.
Side note: You can source GIFs from GIPHY through your DrumUp account on a paid plan.
#19 Hemingway for Copy Editing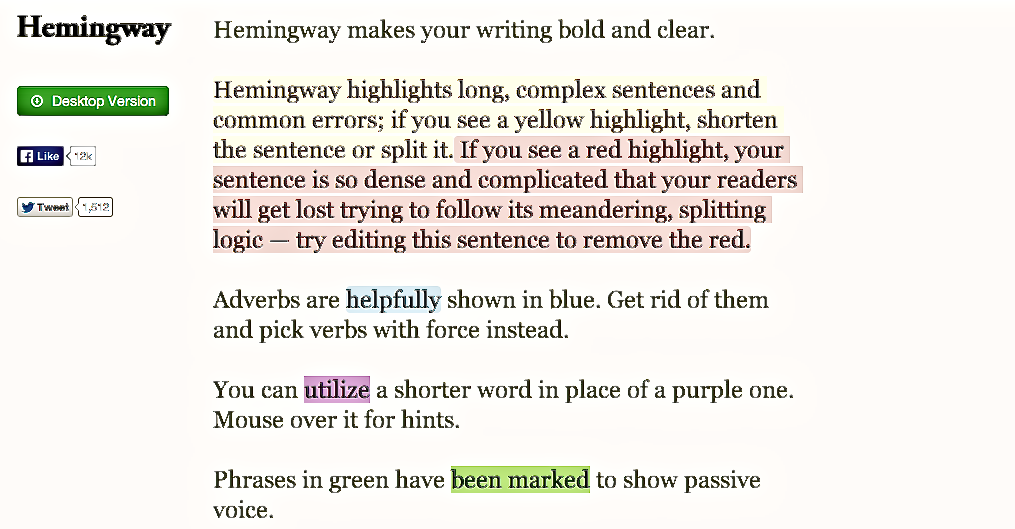 The attention span of people on Facebook is low, and you can potentially lose engagement and interaction over dense and unclear writing.
Hemingway highlights long-winding sentences, redundant adverbs and other edits that you can use to make your writing clean and easy to absorb.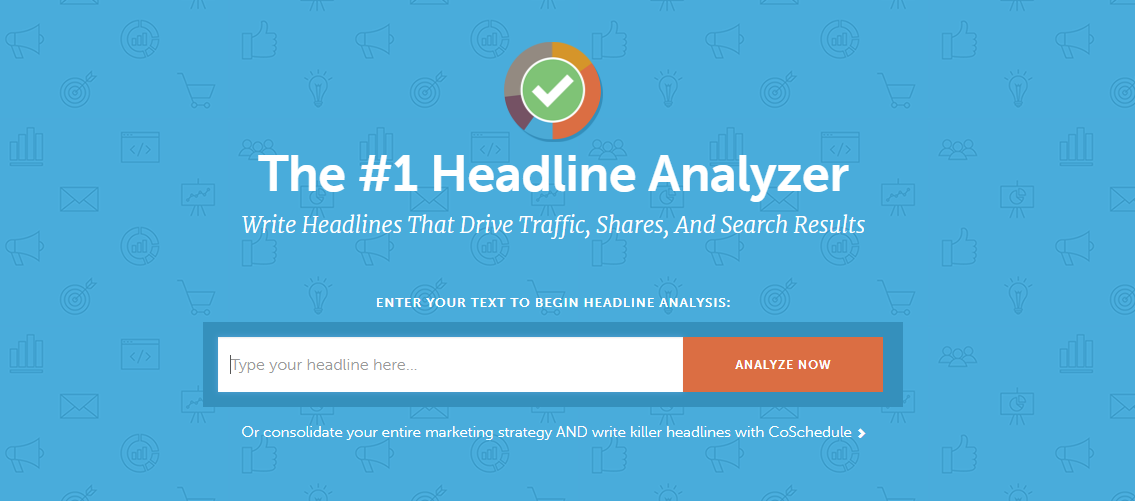 The copy you use on Facebook posts is obviously very important. You can measure the effectiveness of your copy by typing it into a tool such as this one for suggestions.
Based on versions of social media posts that drive traffic, shares and search hits, this tool assess as suggests options that you can try to improve your performance on social media.
#21 Survey Anyplace to create engaging quizzes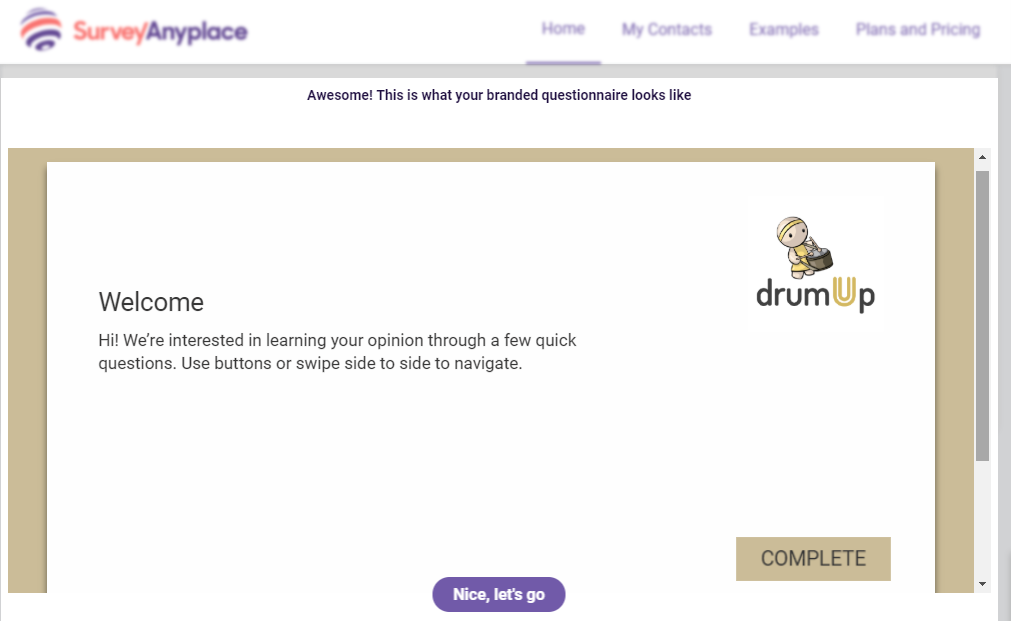 The quiz format is very popular on Facebook and is a great way to engage with your target audience. With Survey Anyplace, you can also give your audience an opportunity to engage with your brand via branded forms and content.
The survey maker has beautiful templates and design for you to play around with, so you can get the most out of the quiz that you create.
Note: This post was first published on Mar 23, 2017 and has since been updated.
Image credits: 
Feature image by StokPic via Pexels.com