Top 3 Tips on Social Media Marketing Strategy for eCommerce Businesses (with a Killer List of Tools to Use)
Posted in :
SMM
,
Social Media Tips
on By
Vasudha Veeranna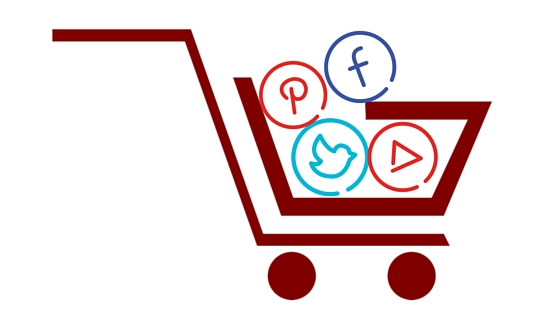 According to an infographic published on Adweek, 74 percent of consumers said a business' social media posts influence their purchase decision. And 47 percent of them said Facebook was their top social influence. These numbers clearly indicate the significance of social media for businesses. Here are three tips to help you leverage social media for your eCommerce platform.
Tip #1: Determine the best platform(s) for your business
A study of 37 million social media visits by Shopify found Facebook to be the most dominant source of purchases. Facebook also showed the highest conversion rate at 1.85 percent. While most businesses use Facebook as their primary social outlet, they prefer to spread their marketing efforts across multiple social networks to widen their reach. eCommerce businesses also supplement their social media marketing efforts with email marketing and PPC marketing on search engines.
Building a presence on multiple social platforms is largely a good practice, but just be wary of spreading yourself too thin. You'd rather be on fewer platforms and focus on driving better engagement on them, than try to establish yourself on too many of them without deriving much value from any. Before you zero-in on them, study industry trends to identify the best platforms for your niche.
#Tip 2: Use social listening to understand audience preferences
Social media gives you a chance to feel the pulse of the market like never before. But it's always buzzing with activity and it can be hard to stay tuned-in all the time – hard, yet important. Social listening opens doors to new opportunities to connect with your audience, catch issues early on, improve real-time customer service and align product offerings.
Social listening also makes it easier to identify brand advocates and strengthen relationships with them. It even helps create more targeted marketing campaigns. Insights from social listening can have a significant impact on key business decisions too. In all, social listening is a key element to improving customer experience and business results.
#Tip 3: Integrate social with other marketing efforts
Search, social and mobile are giving marketers an ever-increasing number of options through which they can reach out to existing and potential customers. And the increase in the number of communication touch-points a customer has with brands makes integration all the more important in ensuring effectiveness of marketing campaigns. Coherence is a significant element of all marketing communications, including social media. When you integrate your offline, and other online marketing efforts with social, make sure to maintain consistency on messaging.
Unlike television and radio, where you only get tiny time-slots to catch the attention of your audience, social media allows for much greater, and more sustained exposure. You should take advantage of this and back your offline content with more activity on social. For instance, you could create custom campaign hashtags, use them in mainstream advertising. If executed correctly, your audience will likely pick up on the hashtag and use it in their social media posts giving you an opportunity to gather user-generated content more easily.
The Ultimate Social Media Marketing Toolkit for eCommerce
Helps curate content for social media through customized content suggestions.
Simplifies social media management with easy scheduling for multiple accounts
Allows you to connect blog feeds to each social account for immediate sharing
Other cool features include hashtag recommendations, repeat post schedules and library to manage/save posts
Makes social media management easy on the go through an Android app and iOS app
Allows real-time content discovery through a Chrome extension that recommends content even as you browse the web.
Great marketing intelligence tool for competitor research, monitoring and analysis.
Creates market landscapes allowing you to add your own business and the competitors you wish to monitor.
For each competitor you're monitoring, the tool gives you details such as audience size, posting frequency and engagement levels.
Let's you compare Twitter bios, LinkedIn Summaries, Facebook descriptions and so on for better understanding of how your competitors are positioning themselves.
Allows you to monitor keywords, meta tags, meta descriptions, backlinks and more.
Helps optimize your Twitter strategy by analyzing your followers and their Twitter usage patterns
Represents all insight visually for easy understanding
Serves five basic functions, which include searching Twitter bios, comparing Twitter users, Analyzing followers, tracking followers and sorting followers.
Since it lets you filter Twitter user bios by location and the number of followers, it's also a great tool to identify influencers within your industry.
You can also use the tool to determine the times at which your followers are most active and share content at these time for improved engagement.
Monitors your online presence, including social media to notify you each time your brand or a related keyword is mentioned.
Let's you view the social media post or other content where you've been mentioned within the app itself.
The tool learns your preferences and stops giving alerts for websites that you delete from the alerts.
Also simplifies task management since it lets you share mentions and assign related tasks to team members.
Let's you filter the sources of your mentions in case you'd like to focus on some specific ones.
You can create multiple Facebook Ads with ease, and test hundreds of ads in a few minutes.
Provides analytics tools to help you keep track of your campaign.
Suggests actionable tips daily to help your campaign achieve better results.
You can sync your Facebook Ad account with CRM to sync leads, contacts and audiences.
The tool analyzes your company's presence on Facebook.
Reviews your Facebook page and gives feedback for relevant sections.
Recommends actions after analyzing 4 different metrics- presence, dialogue, action and information.
Helps you open up dialogue with your audience.
Provides daily statistics about your company's page or any other pages that you're interested in. This allows you to compare your efforts with more popular pages and measure your progress.
If you're running an eCommerce portal share your experience with me – how has social media worked out for you? What do you think are the biggest challenges in leveraging social media? What other tools would you recommend? I'd love to hear!
Note: This article was originally published on Oct 22, 2015 and has been updated since with more recent information.