Social Media Marketing Lessons You Can Learn From Taylor Swift
Posted in :
Social Media Tips
on By
Apurva Jog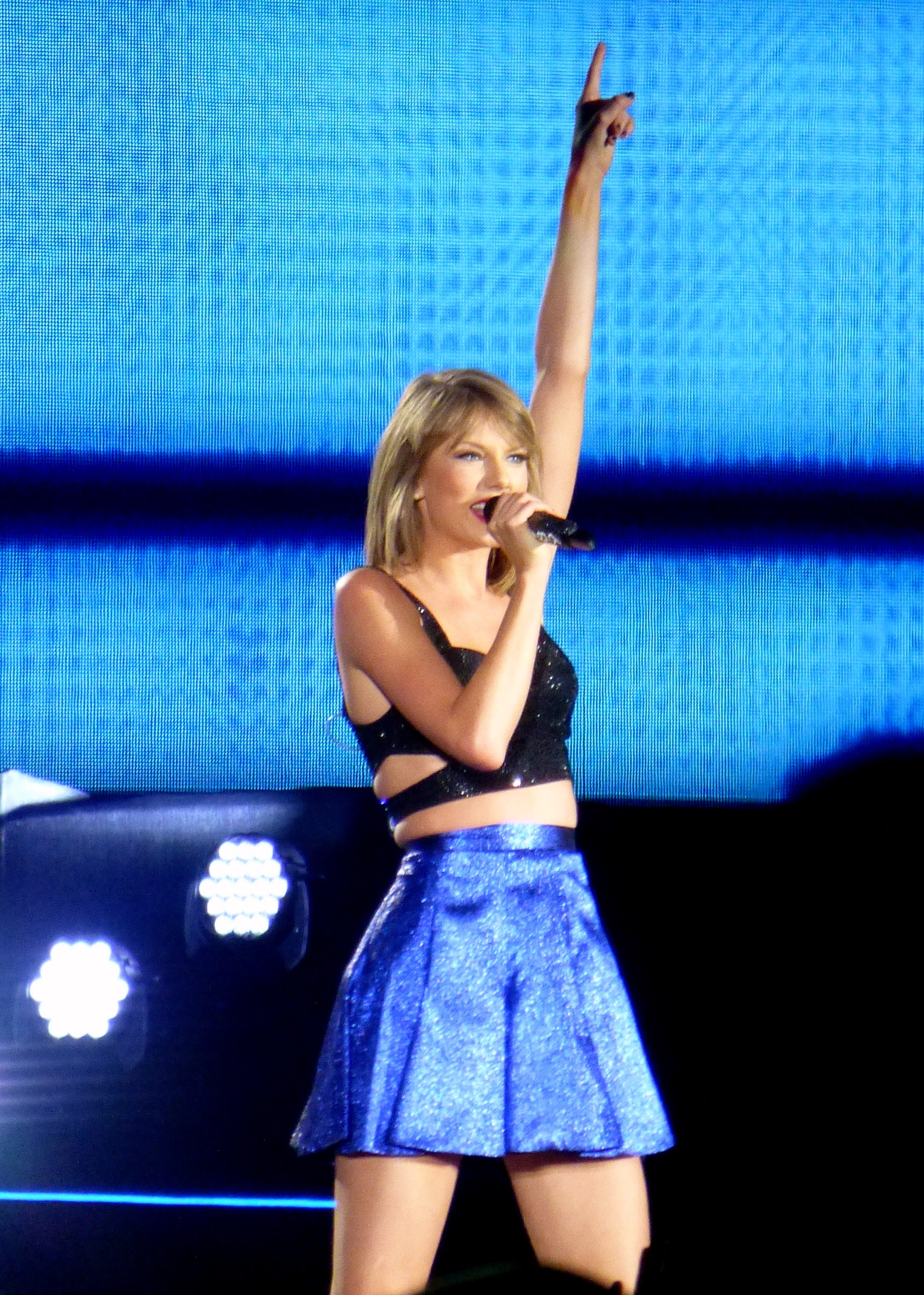 If the mere mention of social media marketing makes you break out into the song "I knew you were trouble when you walked in" then you might be in need of some social media marketing lessons from Taylor Swift herself. The 25-year-old artist has been praised for her social media skills and has also been named a "public relations genius" in one of Washington Post's articles.
Taylor Swift is active on every social media network imaginable. With over 68 million followers on Twitter and over 73 million on Facebook, Taylor Swift has a widespread presence on social media. In fact, she officially became the most followed person on Instagram this year with over 60 million, beating Kim Kardashian and Beyonce.
How does she do it? Here's how:
Be yourself on social media
Taylor Swift belongs to the league of celebrities who don't just use social media to promote their brand, but also have conversations with their fans and followers. Taylor's Twitter feed is an absolute pleasure to read through. I can say that because while I was looking for example tweets to share in this post, I ended up spending around 15 minutes reading her tweets because they were so interesting and humorous.
While she does tweet about upcoming tours and albums, many of her tweets are just about her day-to-day life. This makes her look more human and down to earth, instead of projecting an image of a self-important celebrity. Just as an aside, her two adorable cats feature in a lot of her tweets – which is always a plus!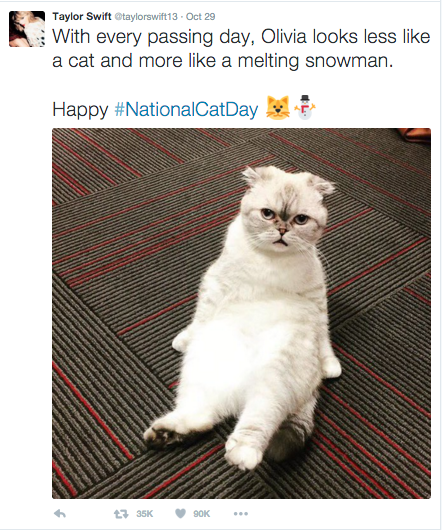 Unlike many of the other celebrities, Taylor doesn't hand off social media accounts to her PR team. Sure, they might monitor some of her tweets to make sure they give off the right tone, but she also posts a lot of details about her personal life allowing her fans to get a glimpse in her daily life. Brands can really learn from this and apply a personal touch to their social media posts.
Post content according to the social media network you are on
Social media networks are all different from each other and that's why it is important to post content that suits the particular network. Taylor Swift generally posts images, updates and silly details on Twitter, publishes more humorous memes on Tumblr and uses Instagram to share all the action that happens behind the scenes. She mainly uses Twitter and Instagram to build a more personal connection with her fans.
On her Facebook page, she posts promotional content along with re-shared content from other websites.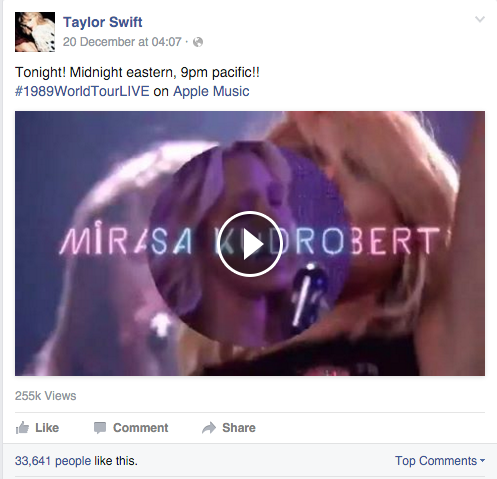 Using the right social media network for the right purpose really does matter and brands should invest some time in understanding where their target audience hangs out so that they can tailor their content accordingly.
Pay attention to viral content and use it to your advantage
Yes, I am about to bring up the annoying dress color debate. But it serves as a great example. A lot of brands at the time jumped on this viral wave and came up with various interesting ways of promoting their product. While Taylor Swift wasn't trying to promote anything with her tweet about the dress, she shared her opinion on the viral post on Twitter.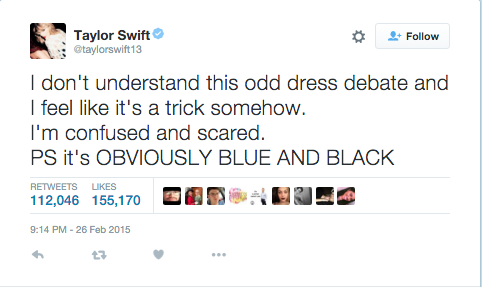 Brands should always keep an eye on trending topics and try to incorporate it in their posts using the right hashtags. It helps your tweets as well your brand get noticed. Here's an example of something Dunkin' Donuts did when the dress debate was trending.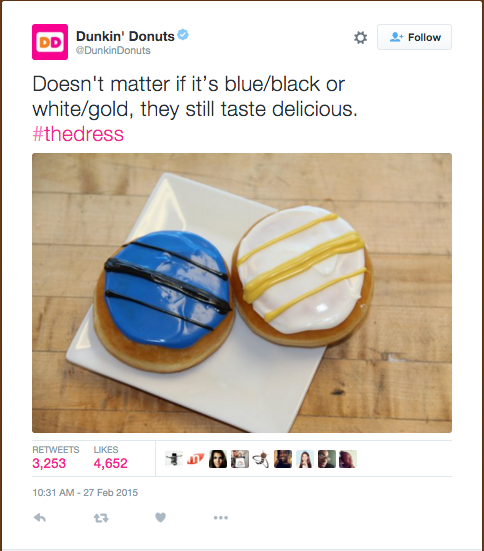 Listen to your fans and interact with them
Although it sounds a little creepy now that you think about it, #taylurking proved to be an ingenious marketing technique. Taylor Swift asked her fans to post pictures of themselves with her album 1989. She later "stalked" their profiles, getting to know them better, and sent them personalized Christmas gifts. With this marketing technique, Taylor took listening to a whole new level.
As marketers, listening to your audience is the most important thing you can do. Use your social media networks to start conversations and discussions about your products and get to know what your audience is looking for in a product or service. This will help you create a better marketing campaign that focuses on what your audience wants rather than what you want to give them.
Summing up
Taylor Swift is a social media marketing pro and there's no denying it. There's a lot that social media marketers can learn from her. If you still can't come to terms with the fact that Taylor Swift might be a better marketer than you, here's something that can change your mind. Her album 1989 sold more than 1.2 million copies in its first week. Before the release of the album, she had started giving out clues on Instagram which hinted towards a live streaming of her album worldwide. She also dropped a few behind-the-scenes videos of her single Shake It Off which helped create a lot of hooplah around her upcoming album.
One of the best skills she possesses is that she makes her fans feel loved and wanted and has always maintained that her fans are her most favorite things in the world. This is what brands need to learn from Taylor Swift – making your audience feel special.
Using some of that Taylor Swift social media marketing magic in your campaign might just get you the long list of followers and the social media attention that you have always craved for.
Photo Credit: "Taylor Swift 008 (17684337073)" by GabboT – Taylor Swift 008. Licensed under CC BY-SA 2.0 via Wikimedia Commons.