21 Social Media Management Tips for Winning Social Media Managers
Posted in :
Content Marketing
,
Others
,
Social Media Tips
on By
Disha Dinesh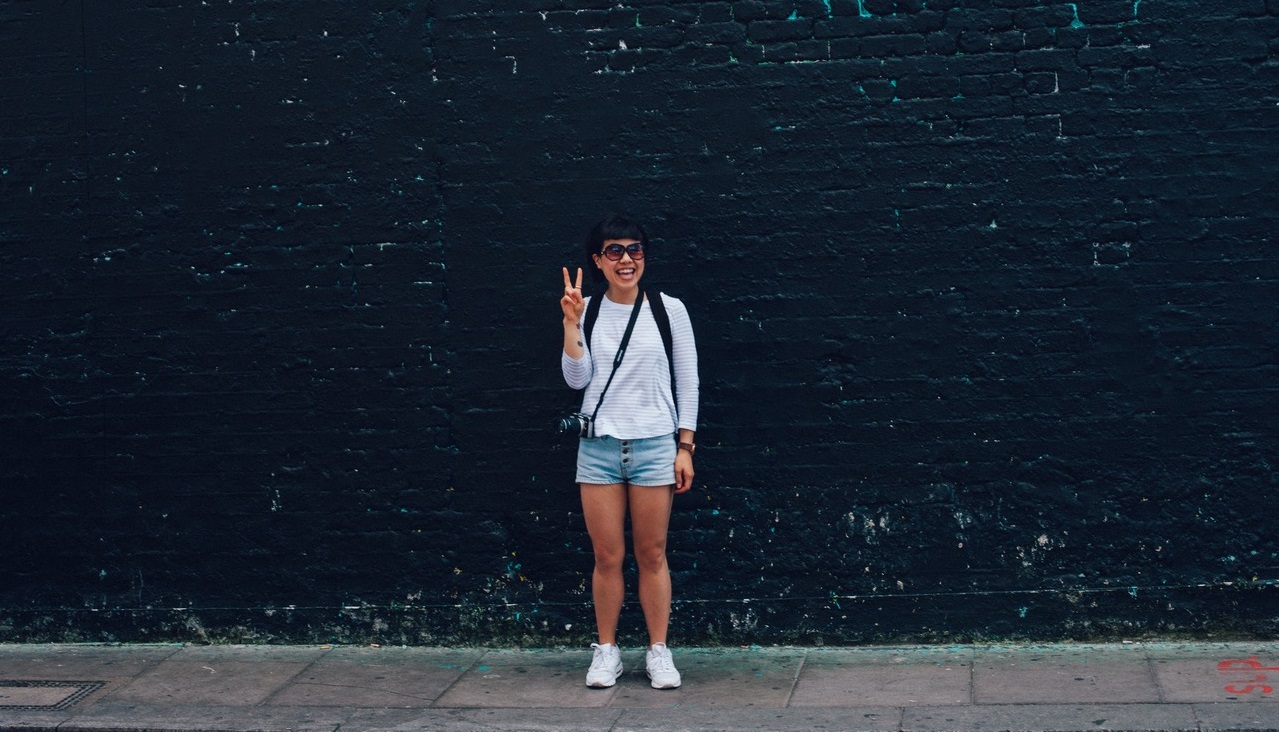 In its existence of over a decade, social media has gone from being an optional splurge to a mandatory investment.
However, the ROI of social media is under question by sceptics who can't correlate social efforts with real business benefits. Despite the availability of analytics tools to measure social media marketing, some businesses remain conservative when investing in the medium.
5 solid reasons to believe in social media marketing
It gives you instant and free access to prospects/target groups (You can locate and converse with just about anybody on Twitter right now, in your underpants at home)
Social media referrals form a substantial part of traffic driven to many websites
At optimum performance, social media marketing can reduce overall marketing costs
A good part of social media efforts are measurable using tools
The feedback cycle on social media content is relatively shorter, so you can test, review and refine marketing strategies quickly.
These benefits are well within your reach, provided you master social media management. Managing multiple social accounts can seem tricky, since it's continuous and on multiple platforms.
This post deals with 21 content and social media management tips to help you overcome pitfalls and achieve your marketing goals. Without further ado, here goes.
1. Focus on quality
Everybody is on social now. Unless your posts add unique value or standout in some manner, they may go unnoticed.
You need to share content that is worthy of retweets and being passed on to friends and colleagues. It doesn't matter how frequently you're sharing content, if all of it is mediocre and uninspired.
Think evergreen content answering a current, pressing question, or humor that wildly resonates with your target audience.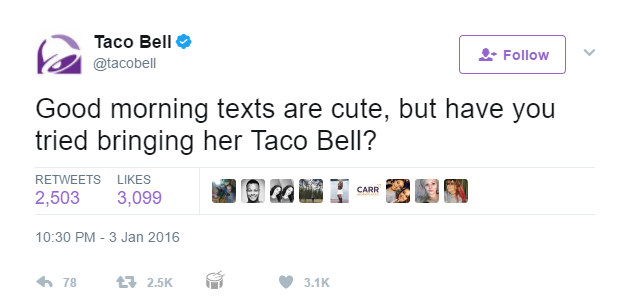 Also, remember to credit authors, other brands or publications if you're using their content. Doing this proves your commitment to being a neutral information source, and helps you build relationships with key people in the industry.
Content curated on DrumUp comes with @mention and hashtag recommendations that you can add to social posts and schedule them effortlessly.
2. Plan budgets according to platform performance
Time is all important; how you manage this resource will determine how well you perform on social. Plan to invest your time and money based on returns that each platform gives you.
Which platform gives you the highest ROI? Facebook, Twitter, LinkedIn or Instagram?
Compare social channel costs and conversion rates side by side, and invest most in your top platform.
To identify social platform-specific conversions, you need unique URLs for each platform. They're quite easy to create if you're using a tool like this one.
3. Use data to fix your posting schedule
There's no universal best time to post on social media. There can't be, because your audience isn't the same as someone else's.
If you're following recommended time slots or ignoring posting time all together, you're quite possibly missing out on some social action. Here's an experiment that can help.
Divide your day into four time zones or ranges (mid-morning, afternoon, evening and late evening). Schedule the same social media post to go out once in each of those ranges on different days of the week.
You can run this experiment over a few weeks to space out the posts. Identify which days and which time slots get the most engagement, and fix them as your regular schedule.
4. Avoid over-posting & under-posting
Frequency of social media posting is a topic that has been done to death. Again, there's no universal frequency that works for everybody. Paying close attention to metrics can give you great insights.
For instance, we noticed that we got about 50% more traffic to posts last month because of tweeting 50% more times. Don't overdo social posting. If you're perceived as spam or annoying, there's no going back.
Recommended reading: The #1 Mistake You are Making on Social Media (and How to Stop It)
5. Commit to the basics
Use hashtags strategically, and @mention the people that matter on every post. Missing out on these basics can leave a dent in your engagement or steady stream of traffic.
If you're creating a branded hashtag, use something that's easy to say or spell. Something prominent on your event banners that is likely to catch attention or stick in people's memories.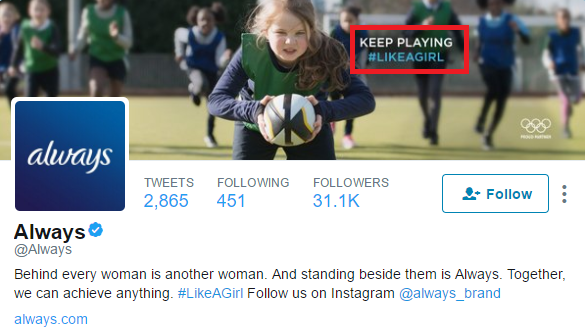 You can use tools like TwitterCounter to track your hashtags and join in the conversation. Create dedicated events/activities to introduce people to your hashtag.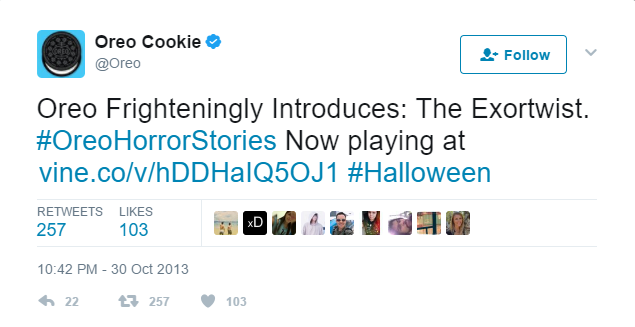 Maximize social media real estate with images optimized for each platform. You can use this cheat sheet for image sizes for quick reference when creating images.
6. Interact and network
Consumers don't innately want to engage with your brand and content. There are endless streams of entertaining content online, without commercial influence, so viewing yours is not a priority.
If you want prospects to engage with you, try and initiate conversations. Interact. Network. More often than not, you'll uncover great partnership opportunities or unintentionally stumble into extra-visibility for your brand.
As a social media manager, knowing what the conversation is about is critical, and that's where social media monitoring comes in. Set up alerts for keywords and opportunity-presenting phrases, and participate in the conversations you find.
If you look for the right keywords, you might even find prospects telling you exactly what they need – great for market and product research.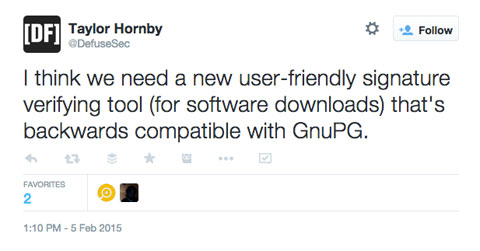 It's also a good idea to follow up with new connections, initiate a personal dialogue. Personal interactions can literally increase your post reach on Facebook.
7. Schedule posts in advance
Which social media posts should you schedule in advance?
Event promotions
Blog promotions
Festival wishes
Holiday promotions
Campaign posts
Video/podcast/webinar promotions
These posts are already set in stone, so you have nothing to lose by scheduling them in advance. In fact, doing so will give you more time to interact with people who like, reply to or share your posts.
On DrumUp, you can view scheduled content in social media calendar form and account for consistency and your overall theme.
8. Reuse old posts
Many social media managers are conservative when sharing content. They share blog posts that take 4-5 hours to create once or twice at the most.
What's the point of investing in content creation if you don't make the most of the product?
A 2000 word blog post can be stretched into promotions for weeks. VC and marketing expert Tom Tunguz once ran an experiment to test the power of content re-circulation on social media.
He discovered that each new tweet about his blog post earned him 75% more tweets than the last one.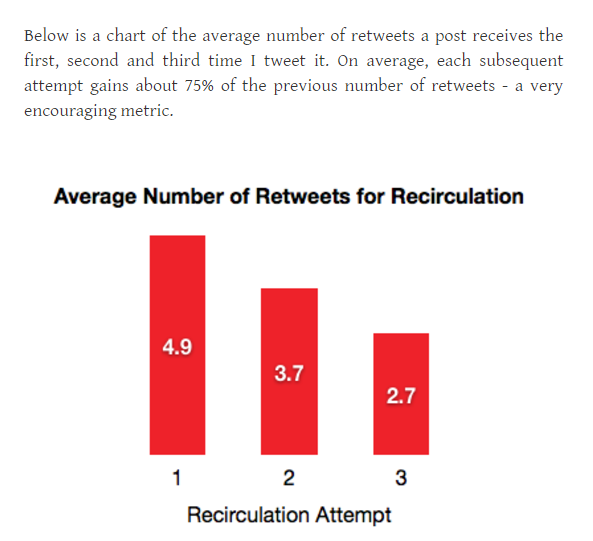 On DrumUp, you can store old, evergreen posts in content libraries and set them on an auto-posting schedule for as long as you want.
9. Automate menial tasks
Between creating fresh content for multiple platforms, engaging customers and updating accounts, social media management is a full-time job. However, you can dial your marketing efforts for minimum effort and maximum outputs by automating the right tasks.
You can use IFTTT or Zapier to cross-promote content between platforms and fill in gaps
If you have favorite industry blogs that you share from on a regular basis, attach their RSS feeds to a feed reader and automate sharing
Curate content from industry publications and news websites using keywords on curation tool
Set your own blogs on auto-post
Create repeat schedules for evergreen posts and re-share them
Use social listening tools to focus on conversations that matter
Steps 8 and 9 are crucial, they'll ensure you can focus on steps 8 through 21.
10. Keep your feelers out
Let us say you and your team finalized a social media marketing plan for the rest on 2017 in one meeting, and your analytics reports over the last few weeks are looking great. Everything settled then? Not really.
Your social media community is dynamic and maybe undergoing a shift as you're reading this. Yesterday's news may have changed their perspective about something important. It doesn't have to only be social media news, it could be an announcement by an alternative platform that might affect your current social media strategy.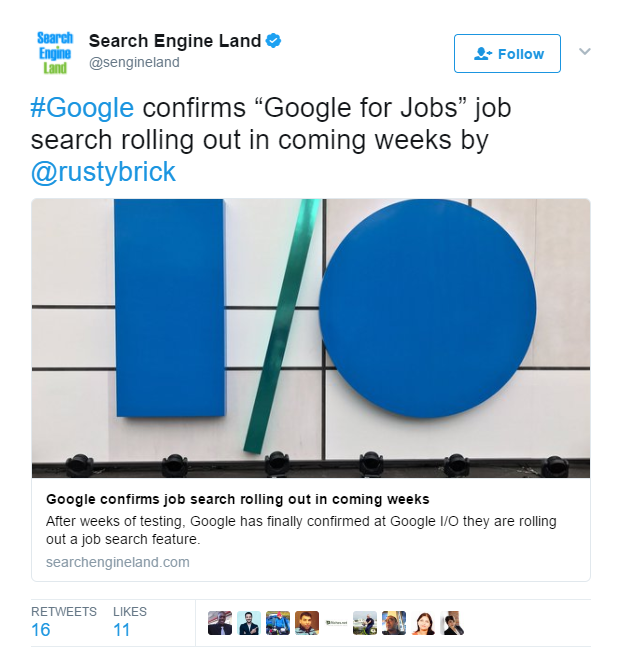 As Rich Brooks once said, you need a social media strategy that can evolve within a continuous feedback loop. It's essential to keep your feelers out and active.
11. Leave room for changes
Tables can turn pretty quickly in the market.
Your competitors may pull a fast one, or launch a campaign that's acquiring your customers
Customers' behaviors and attitudes can evolve with them
The market can experience fluctuations
Your sales can face setbacks
Each of these situations require you to readjust your marketing strategy, so it's wise to maintain constant vigilance and revisit your social media outreach plan on a regular basis.
12. Be refreshingly real
Social networks are all about real people, especially when it comes to real people. Sharing the human side of your brand is important, because people connect better with faces than logos.
That's probably why businesses built on powerful personal brands tend to flourish. Double Fine, the video game production studio run by gaming veteran Tim Schafer is a good example.
You could also humanize your brand by giving it a personality, like Taco Bell's team has given the fast-food brand by consistently tweeting with wit and sass that people look forward to reading.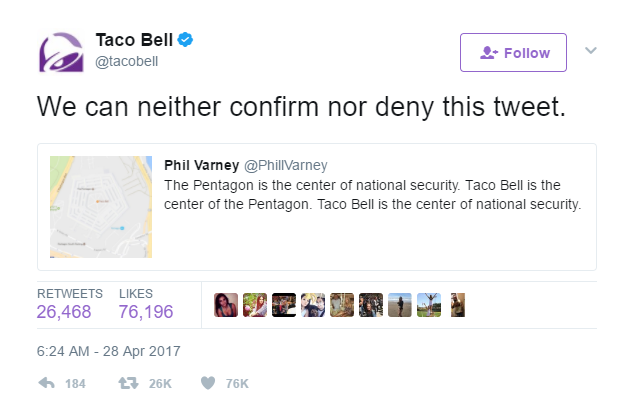 13. Answer questions
With more customers heading to social networks for information, you need to move beyond pushing content and get to answering important questions.
Acclaimed international marketing expert Marcus Sheridan experienced the benefits of answering questions when his swimming pool business was in trouble in 2008. He realized that addressing his customers' fears, worries and concerns would create the transparency and trust he needed to win them over.
He wrote blog posts that answered questions about costs, drawbacks, comparisons and reviews like no one else had done in his industry.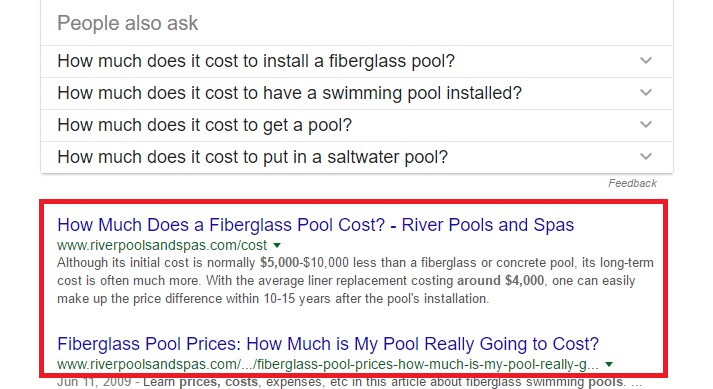 The result? Over $3.5 million in revenue.
14. Guide people to your website
When planning your content, ensure that your keep goals like increasing website traffic in mind. What matters is where and in what context your place links within your content.
For instance, ConstantContact placed a link back to their website within this SlideShare deck, leading to a web page that listed related blog posts.

Don't discount visual content when placing links. You could even link videos on YouTube or images on Instagram back to your website. Ryan Higa guides people to his Twitter and SnapChat accounts from his YouTube channel in a subtle and not-annoying manner.
15. Use storytelling
As humans, we're compulsively drawn to good storytelling. As Andrew Stanton (creator of Toy Story) has demonstrated in his TEDTalk, we're even capable of falling in love with villains when we're told their stories.
You could share customer or employee success stories on your Facebook wall, a great place for long, narrative posts.
The Humans of New York is a great case-example for storytelling. Most of their posts are long, but have a ton of raw, uninhibited engagement on them.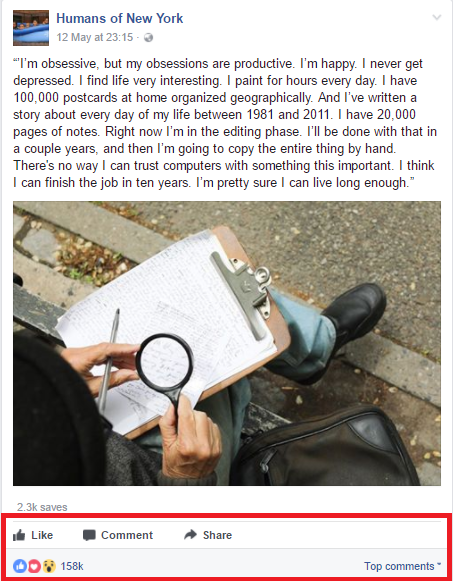 StarBucks has a cool Twitter short-storytelling format. Their 140 character + warm, balmy image format has worked wonders with their fans.
A l🕐🕑🕒ng, chilled steep for smooth, full-bodied flavor. #ColdBrew pic.twitter.com/149KZYJPgg

— Starbucks Coffee (@Starbucks) May 11, 2017
16. Incite emotion
We use about 10,000 facial expressions to convey emotions.
Posts that are laced with positive emotions like happiness, surprise, delight, joy, hope, excitement and awe are shared more on social media. Look at inspirational quotes, for instance. There are always a few of these in your feed. #MondayMotivation. #ThrowbackThursday. Enough said.
Another way of emotionally connecting with your audience is by showing them you care about causes that matter to them.
If you're an NPO, you could even create awareness among people using emotionally stirring social media campaigns like the WWF did with #EndangeredEmoji.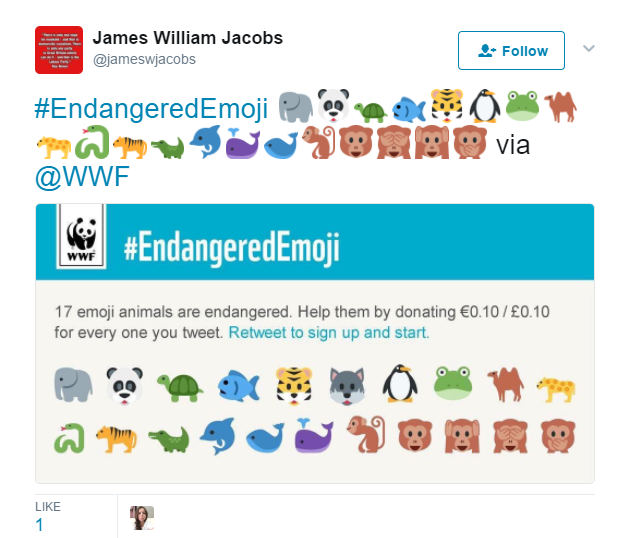 17. Evoke responses
You can't have a truly engaged community without conversations. Two of the simplest ways to initiate conversations is to answer questions or ask them.
Ask your audience questions that force them to pause, reflect and reply.
Go back to your social media accounts and examine the questions that you have asked your fans. Which ones were left unanswered? Which ones resulted in discussions or debates? Look for questions that gave rise to the most insightful and valuable answers.
Or you try using social media monitoring tool like PromoRepublic Social Monitoring which will help you track all your mentions, reviews, hashtags and answer them in one place.
Use these hints to craft future questions.
Gretchen Rubin, a popular author who writes about habit-building and success uses simple, habit related questions to get her fans to talk.

18. Cultivate your U.S.P
Focus on a niche that you think you can rule, instead of covering a broad industry that you can't conquer. We're past the place where mass markets were accessible, both in the product and content perspectives.
You probably can't rank for digital marketing, but you could for a long-tail keyword focused on one of the niches within digital marketing.
Similarly, you probably can't compete with agencies that have been creating YouTube videos for years. Instead, find a platform that is relatively unoccupied and dominate the market-share up for grabs there.
For instance, ShipServ, an eCommerce business for marine equipment used social networks to grow their business, capitalizing on the fact that none of their competitors had considered it.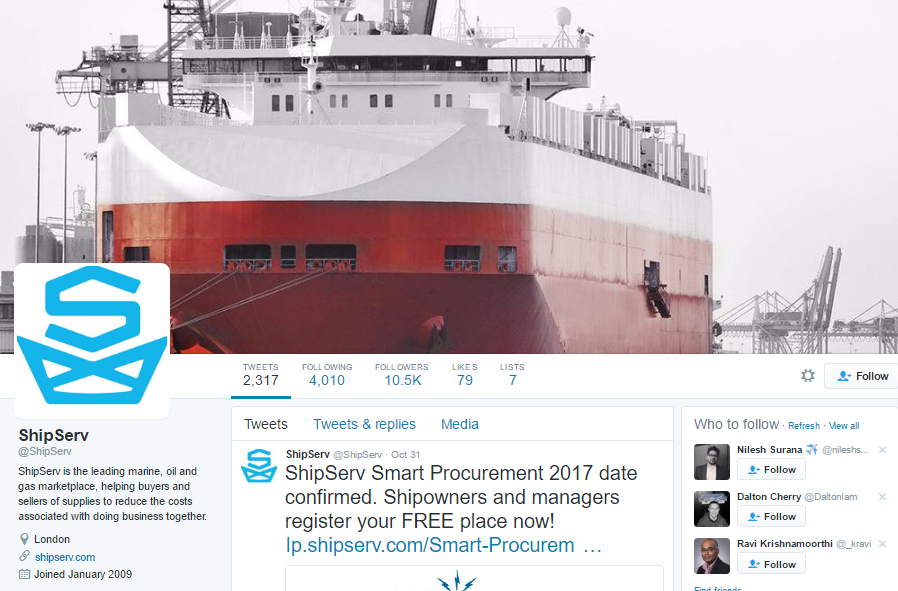 19. Use humor
Humor kills on Twitter. This doesn't imply that you can't use humor on Facebook, and is just a personal observation. What's more, some brands use humor to lighten the mood with support issues, and this is a great way to break the ice with angry customers and their fans.
Old Spice has some tweets that are super-funny.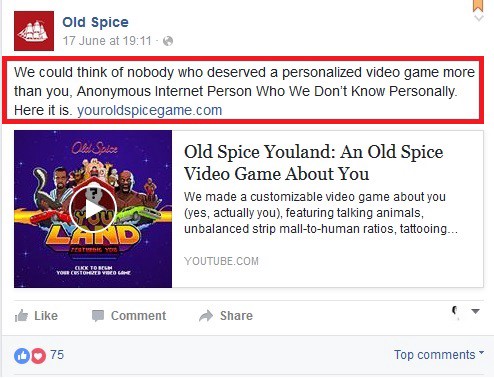 Humor is a great way to revive an unresponsive audience, or tone down serious situations, but you have to be extra-careful to not offend anyone's sentiments along the way.
20. Leverage existing networks
When promoting a social media campaign, it's good to have a small, loyal community of fans who you can count on to share and spread the message.
More often than not, brands end up forgetting their immediate, existing networks and losing out on substantial exposure and engagement.
Happy customers, loyal fans, employees, partners and vendors are all vital social media networks that you can use to amplify your messages.
You can also use your fans to reach their fans and untapped markets by asking them to share contest posts to enter.
Recommended reading: The Ultimate Social Media Employee Advocacy Guide
21. Create contests & polls
Contests and polls are a great way to increase exposure on any social network. Choose exciting giveaways, and create contest rules that help you get more exposure or conversions.
Twitter makes it easy to create polls. You could use polls for humor as well.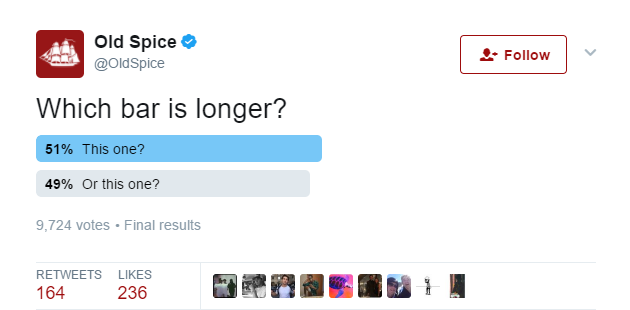 Social media management for agencies
As a social media or digital marketing agency, you probably manage tens or hundreds of social media accounts, which can be tricky because you need to quickly switch between industries and strategies.
Time is critical when managing multiple social accounts, because the creative process needs time, and you can't spend all of it switching between accounts and managing your content.
A good social media management tool, like DrumUp, can help you simplify the process.
Here are nine mandatory, DrumUp supported social media management tips to save you a lot of time.
1. Manage social accounts in one place
Most social management apps let you connect multiple accounts to one dashboard, and schedule content to them from there, so you don't have to waste time logging in and out of different client accounts.
2. Group accounts that are similar
On DrumUp, you can group social media accounts and schedule content to groups with a single click.
You could group each client's Facebook, Twitter and LinkedIn accounts, or group accounts of clients in similar industries to curate and schedule industry content with ease.
3. Store content in labelled libraries
Every piece of content has more value to offer than what many social media managers use. By storing evergreen content (holiday wishes, evergreen how-tos and guides, testimonials and jokes) in one place, you can reuse them when needed.
On DrumUp, you can also set certain libraries on auto-post so content from them in recycled at a frequency decided by you.
4. Set feeds to auto-post where you can
Instead of manually promoting each blog post written for your client, you could set blog promotions on auto-post using DrumUp's RSS feed reader.
You could also set certain news publications on auto-post if your client's audience is likely to appreciate timely industry updates.
5. Use content created by high authority sources
You don't have to create all of the content you share on client accounts. Curation doesn't only save time, but helps you leverage brilliant content that's already been created and build relationships with key people in the industry – which is a huge plus if you're trying influencer marketing.
6. Provide restricted access to team members
Having your team on your social media management tool is an efficient way to manage team members, because they can all update their work within the tool and you can review and approve it from there.
DrumUp lets you provide restricted access to team members so they can comfortably and safely fulfil their responsibilities.
7. Monitor social analytics alongside scheduling
You social media analytics shouldn't be very far away from your scheduling and content, so you can get insights and take quick decisions without having to delay them.
On DrumUp, you can access social media engagement metrics for accounts conveniently, within your scheduling dashboard.
8. Justify efforts spent on content creation by maximizing returns
Content can be created and forgotten just as easily, but if you create a consistent posting schedule and share it over a period of time, it tends to earn you more engagement and traffic (as the study we've discussed in the first half of this post proves).
That's why it's important to store posts in a library and set them on repeat schedules.
9. Park ideas in your scheduling app for quick, last-minute saves
Clients are tough to please, at times, and they're known for creating sudden demands and scares. If you have ideas parked in a safe place (like your content library), you could always quickly turn a save into a viable, great social post.
Feature image via Pexels.com