Social Media Management On-The-Go With the DrumUp Mobile App
Posted in :
Social Media Tips
on By
Apurva Jog
Mobile applications are a quick and convenient way of getting things done when you have a busy schedule and can't always sit at your desk for long hours. So, why not a mobile app for easy content curation and social media management. Content curation is becoming vital for all businesses whether they are large or small. By sharing good quality content on a daily basis, businesses can build brand awareness, boost online exposure and increase audience engagement.
However, many business owners are often apprehensive about social media marketing because they feel curating content and posting it on their social media pages is a tedious process that eats into too much of their time. Here's the good news. With the DrumUp mobile app, content curation and on-the-go social media management can be a picnic. It is a nifty tool that lets you discover content relevant to your business' niche and also allows you to schedule those posts to your social media accounts without tying you down to your desk. The best thing about using the DrumUp mobile app is that it packs in all the features that are available on the web version of the tool, and allows you to manage multiple social media accounts.
Recommended Reading: 21 Winning Social Media Management Tips for Social Media Managers 
Using DrumUp app for content discovery
DrumUp is supported by sophisticated data mining algorithms and NLP (Natural Language Processing) that bring up fresh content recommendations for your business. DrumUp mobile app is currently free to use and can be downloaded on any Android device.
In order to start getting personalized recommendations, all you need to do is sign in to the app using a Facebook, Twitter or LinkedIn account, and enter keywords you would like to base your search on. To make your search even more specific, you can add negative keywords. This will give you content that is more suited to your needs. Based on the themes you choose, DrumUp will search the web and suggest stories that are recent and can be shared with your networks.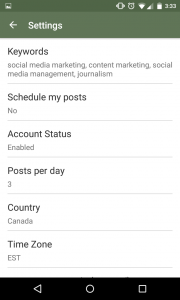 In the Settings menu, you can also indicate the number of posts you would like to publish on a daily basis. If you maintain your own blog, or like the content on someone else's blog, you can easily connect the blog's RSS feed on DrumUp, and receive new stories as and when they are published.
Scheduling and editing posts with DrumUp app
Successful social media management is all about keeping your social media accounts lively. A great way of doing that is by scheduling posts to ensure that fresh content is being published to your accounts consistently.
DrumUp app gives you the flexibility to schedule your posts with a single touch even when you are on-the-go. Not only that, but it also suggests an optimal time to schedule your content on Facebook, LinkedIn and Twitter. You can even subscribe to receive daily content recommendations – sent straight to your email – to see which stories are queued to be published.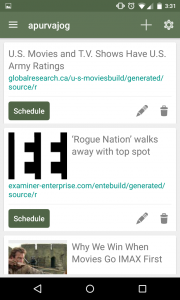 Even on the mobile app, you can customize your posts and schedule them for posting. The app also makes it easy to modify or delete scheduled posts. To edit a scheduled post, touch the pen symbol on the bottom right corner of the individual posts, and make the necessary changes. To add a custom post, just press the + sign on the top right corner of the main window. Once done, you can schedule the posts to be published at a desired time and day.
Monitoring industry trends with DrumUp app
If you are always on the move, and are struggling to track current industry trends, DrumUp mobile app can help immensely. It will share the most recent stories that relate to your field of interest giving you a chance to stay updated on what's happening. To get a better overview of what is trending, you can also subscribe to daily email notifications.
The DrumUp app is a complete package that lets you discover, schedule and customize content to share on your Facebook, Twitter and LinkedIn accounts. It is super easy and fun to use, and lets you manage multiple social media accounts from one single app. It also gives you a great advantage when it comes to boosting audience engagement and increasing social media presence without having to spend too much time. If you don't believe us, download the free app, and see for yourself.