How to Schedule Tweets for High Engagement
Posted in :
SMM
,
Social Media Tips
on By
Vasudha Veeranna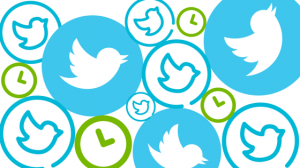 Scheduling your tweets is great way to ensure that your brand's voice on Twitter remains active consistently. Tweeting in real-time demands a lot of effort and sometimes interferes with you work schedule in a more-than-manageable way. Scheduling tweets in advance helps you overcome this hurdle with much ease. Here are a few tips on how you can optimize your Twitter presence with scheduling.
1. Identify the best time to tweet
Twitter is a great platform to reach out to a wider audience. However, you must pay heed to the fact that it's always raining Tweets! If you want to go by the stats, Twitter has 302 million active monthly users, who together contribute 500 million tweets every single day.
To cut through all that noise, and be noticed you need to make sure that your Tweet is visible at times when your followers are most active. According to an infographic published by QuickSprout the best time to tweet for B2B businesses is Monday through Friday. For B2C businesses, engagement on Twitter witnesses a significant uptick on Wednesdays, Saturdays and Sundays. The highest number of retweets occur at 5pm and CTR is the highest at 12pm and 6pm.
While that's a useful timeline to bear in mind, you will need to consider a larger time-window when scheduling posts in bulk. According to another infographic published by Entrepreneur scheduling your tweets between 9am and 3pm from Monday through Thursday helps optimize their exposure.
While you can use these insights as general guidelines to be followed, you must monitor engagement to make sure that the said timeline works well for your brand. One important factor to keep in mind when trying to identifying the best time to tweet is the geographic location of your business and its followers.
2. Increase the frequency of your tweets
As a brand on social media you'll often find yourself trying to find the right balance between tweeting too little and tweeting too much. While the latter will end up annoying your followers, the former will leave you buried under a long, long list of tweets; never to be found by your intended audience. Obviously, both scenarios do little to improve the impact of your Twitter marketing efforts. Kissmetrics found that the ideal frequency of tweeting ranges between one to four tweets per hour.
3. Monitor your scheduled tweets
Yes, scheduling makes your job easier and saves you time. But it's always best to review scheduled content before it goes live. Social media automation is a boon for businesses, however bypassing content review can cost you dearly. Take, for example, the case of Coca-Cola. The global brand, like several of its peers, uses social media automation. However, its #makeithappy campaign had to be aborted after quotes from Mein Kampf , Hitler's autobiographical manifesto, went live on its Twitter account. It took a few hours for Coke's social media manager to discover the mishap, but in that time, the damage was already done.
4. Top it up with real-time efforts
Apart from sharing content regularly, you also have to keep the conversation going on social media. Invest some amount of time every day on tracking engagement and responding to mentions and replies. Doing this will help you establish a stronger relationship with your followers, which in turn will earn you their loyalty. More importantly, tracking conversations in real-time will let you catch wind of a crisis sooner than later. It helps ensure that you are able step-in a resolve the issues a customer may be facing in a timely manner.
5. Be careful when scheduling time-sensitive content
Timeliness is generally important in social media marketing, more so in the case of time-sensitive content. Typically, this would include news and event related content. News-like content has an extremely short shelf-life, which means even few days' lag would render it obsolete. Schedule your content at a time and day when it is likely to have the most impact, while still being fresh for your audience .
These are just few tips to make scheduled content work for your business. For more tips on building a strong Twitter presence check out our Top 10 Twitter Marketing Tips.