15 Free Productivity Tools for Savvy Social Media Marketers
Posted in :
Content Marketing
,
Others
,
Social Media Tips
on By
Disha Dinesh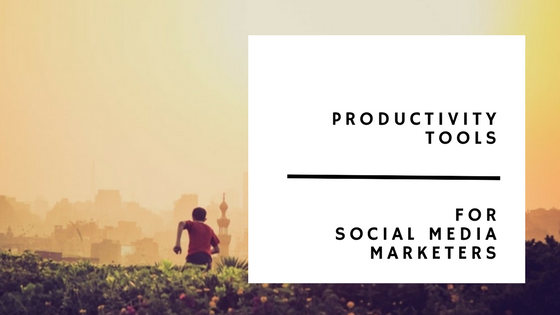 Note: This post was first published on July 5, 2017 and has since been updated with new tools.
Social media marketing can be overwhelming, for amateurs and professionals alike. The best social media marketers are excellent  at multitasking and can work very well under pressure, but even they need assistance from time to time to complete their demanding routines.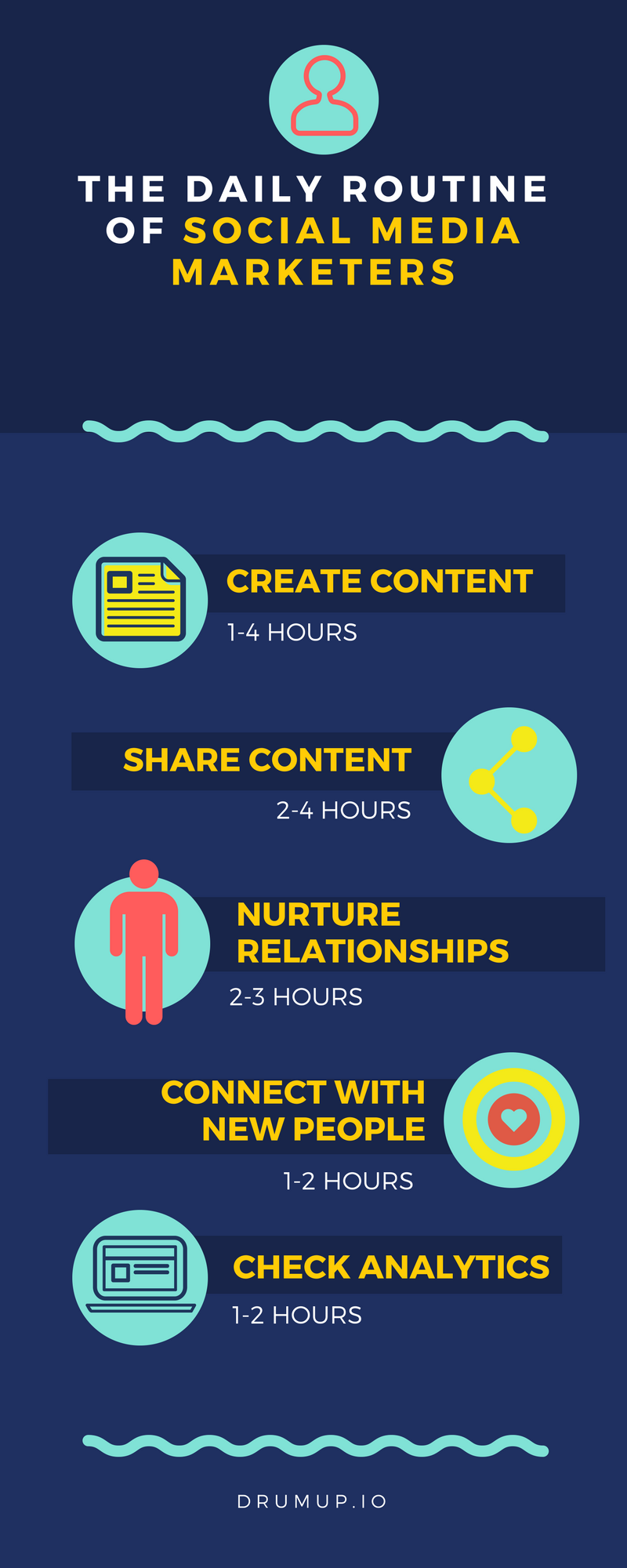 That's why companies invest in social media management tools, to reduce manual work and lessen the burden of multitasking.
There are social media tools for scheduling posts in advance, monitoring keywords and designing graphics, and then there are those that help you get organized, streamline your tasks and save invaluable time. This is a list of 13 social media productivity apps to get more done in less time.
DrumUp is a social media management tool that combines powerful scheduling features with easy content storage and organic content amplification on social.
Here's how you can save time on social using DrumUp –
Store your evergreen content, best posts, inspirational quotes, etc. in separate DrumUp libraries and set them on auto-post at a frequency of your choice.
Schedule posts for clients or your brand weeks in advance, and use the social account groups feature to do this easily.
Set up keywords and RSS feeds to curate fresh content related to your industry. 1-click schedule keyword based suggestions, and set your blog's RSS feed on auto-post for effortless promotions.
Within 10 minutes, you could upload all of your content on DrumUp and set up a powerful social media marketing schedule for your brand.
Note: If you need help with the setup, write to support@drumup.io.
FAQFox is a real-time cross-web keyword search tool that focusses on finding questions that include the keyword that you wish to monitor.
Here's how you can use FAQFox to boost your social media marketing productivity –
Use FAQFox to find questions across specific websites or social media platforms and answer those questions using your blog or social media posts. By doing this, you can identify commonly asked questions, which can enable you to drive a serious source of traffic back to your web pages.
Use FAQFox's questions to create your product guides and FAQs. Sometimes, the questions you assume that people are asking are not in fact the ones that they are asking. By using a research tool, you eliminate the error caused by your bias.
TweetDeck is a Twitter management tool that can help you manage messages and mentions better.
Here's how you can use TweetDeck to save time and boost your productivity while marketing on Twitter –
TweetDeck allows you to create keyword monitoring streams. You can set up streams that concern important elements in your niche. The tweets that show up in this stream are gateways to more exposure and possibly sales.
You can use TweetDeck to monitor your brand on Twitter and manage your mentions. Since the streams are real-time, you can even participate in Twitter chats and ongoing conversations using this tool.
Trello is a project management app that lets you set deadlines, keep track of team members and freelancers and communicate with them easily to get work done.
Here's how you can save time on social using Trello –
Add social media managers, copywriters, graphic designers, social ad specialists and social analysts to your Trello board.
Create cards for each of these people, and list the details of their projects. Set deadlines for each project and add concerned parties to the cards.
Graphic designers and copywriters can upload files to cards for social media managers' review. Social analysts can upload sheets with data. Reviewed files can be moved to a separate column.
Within 10 minutes, you can create a board for easy approval of social media content and ideas. An additional 10-15 minutes is necessary to update project details and set deadlines. Once you have, you can monitor projects easily, even from your smartphone when on the go.
Evernote is a strategist's best friend. It's a classic mobile notebook that lets you save quick notes, to-do lists, images and set reminders, share notes with other users and more.
Here's how you can save time on social using Evernote –
Save random epiphanies and content ideas quickly on text notes, webcam notes or audio notes, and share them with your social media team. Save screenshots or images of visuals that you intend to incorporate on future posts to refer to during discussions.
Create to-do lists and share them with team members, and encourage team members to do the same. When tasks are updated on one list, they are automatically updated on everyone's copies.
Use IFTTT to automatically turn notes on Evernote into Trello cards.
Instead of spending hours trying to recall lost ideas, save them on any device and share them or look back at them when needed.
Time Doctor is a time tracking tool to help track employee productivity. It lets you access data of tracked time based on your company's work schedules and habits, and analyzes them for actionable insights.
Here's how you can use Time Doctor t improve general productivity –
Time yourself and employees by logging tasks through the day.
Access analytical data to assess your productivity and find leg room for improvement.
Apply insights to significantly boost your productivity and results, in the process.
Since social media marketers are required to manage multiple, diverse tasks, Time Doctor can prove to be a useful tool in maximizing your productivity and managing capacity.
Cyfe is an analytics dashboard that you can use to monitor important metrics in one place. Social media marketers need to monitor progress on social platforms like Facebook, Twitter, LinkedIn and track their effect on website traffic and activity. That's where Cyfe comes in.
Here's how you can use Cyfe to save time on social –
Set up widgets side by side, for Google Analytics, and the social media platforms that you are using, like Facebook, Twitter and LinkedIn.
Check likes, views, clicks on social posts and the resulting traffic using the same dashboard.
Take subsequent measures to improve engagement and traffic, based on the results of your current social media tactics.
As things shift quickly in the social media world, you need a swift means of keeping an eye on your activity and its effects, so you can make quick decisions to change tracks when needed.
Social Mention is a real-time social media search and analysis tool. It lets you search keywords by their strength, sentiment, reach and passion.
Here's how you can use Social Mention to save time you spend on social media marketing –
Use Social Mention for any type of social media research. If you are looking for mentions of your brand, or want to assess conversations surrounding a topic, or want to see the footprint that someone (an influencer or blogger) has on social media, you can do it faster with this tool.
Refer to the tool's metrics like strength, passion, sentiment and reach to analyze each keyword. Use that data to make decisions. For instance, if you want to work with a certain influencer, use the strength, reach and sentiment data to understand the extent of their influence.
Set up the tool on an RSS reader for instant alerts, or subscribe to have mentions sent to your email.
Manually scouting social networks is an impossible task. Using this tool, you can find the footprint of your brand, important keywords and influencers in under a second.
SumoMe is a web audience building tool that helps you grow your social media following and turn website visitors into leads. An essential part of marketing on social is making the most of the traffic it drives, and that's where SumoMe comes into play.
Here's how you can save time on social using SumoMe –
Set up SumoMe's social media share plugins on your blog. Website visitors are more likely to share content when it's convenient for them to, leading to added exposure and reach for your brand.
The tool's social share plugins also have counters, and people are more likely to share posts when they know that others before them have (Social validation). The more people share your content, the lesser the burden is on you to promote it yourself.
Use SumoMe's lead capture form to build your email list. You social media follow and share plugins on the newsletters you send to leads, so you can grow your social media following.
Social media referrals are the result of hard work. Letting them leave your website without activity is a waste of that effort. By installing a lead capture form and social share plugins, you can get your website visitors to promote your content or turn into leads.
Canva is a graphic design tool that helps amateur designers create professional-looking visuals for multiple purposes. Brilliantly designed graphics can help you stand out on social media, crowded as it is right now.
Here's how you can save time on social using Canva –
Instead of resizing your graphics to fit each social media platform, create them using Canva's wide range of social media canvases. The canvases are already sized to fit posts and covers on Instagram, Facebook and Twitter.
Work with Canva's preexisting templates to simplify the graphic designing process.
Share directly to Facebook and Twitter from Canva. When you don't want to share them right away, you can schedule graphics using a social media management tool.
Creating great graphics is a tough task, if you don't have a background in design. Using Canva, you can do it quickly and effortlessly and save yourself a lot of time. Canva also has templates for infographics and ads to be shared on social media.
Todoist is an app to manage to-do lists in an organized and effortless manner. The gamification aspect of the app makes it a great motivator for multitaskers like social media marketers.
Here's how you can save time on social media using Todoist –
Create daily to-do lists using the app. Cross off tasks as they are completed, on your smartphone. If you have a daily routine, you can copy the same template for everyday use.
Build to-do lists for team members and assign tasks to them. Gamification will encourage them to be more productive and complete tasks more efficiently.
Lists created for team members can be monitored from your smartphone.
If you want an app that solely focuses on tasks and tracking them, Todoist is a great option.
Pomodoro Time is a tool to help users focus for specific periods of time. It prompts users to work for short, intense intervals of time (25 mins followed by a break of 5 mins) to maximize productivity.
Here's how you can use Pomodoro Time to boost social media producivity –
Pair Pomodoro time with a to-do list on an app like Evernote or Todoist. Split your day's activities into 25 minute blocks that you can complete using Pomodoro Time.
Check off tasks on your to-do list on completing focus periods on Pomodoro Time.
Invite teammates to use Pomodoro time together, so your entire team's productivity is enhanced.
Focusing on tasks is hard when you're multitasking or constantly switching between different completely tasks like supervising content creation and social media scheduling. You can use Pomodoro Time to focus on one task at a time and complete them efficiently.
Dropbox is an essential app for file storage and sharing. Copywriters and graphic designers tend to work with a lot of files, that when haphazardly stored on random devices can be lost or difficult to search. That's where Dropbox can play the hero.
Here's how to use Dropbox to save time on social –
Create shared folders of social media posts, research material, guidelines and other resources for your team to add to and access when necessary.
Use Dropbox to securely share select files with freelancers, new team members or external social media agencies for collaborative working.
Save material for inspiration to Dropbox, so you never run out of content ideas for your social media pages.
The free version of Dropbox offers users up to 2 GB storage. You can store almost everything related to your work comfortably and access it in seconds using the tool.
Google Docs is the best tool you can use to create online documents for easy and controlled sharing. As a social media marketer, you need to manage your social media marketing plan, templates, guidelines and brand related documents that need to be shared with your teammates, freelancers and external agencies. Google Docs makes it effortless.
Here's how to use Google Docs to save time on social –
Create a set of basic documents to manage your social media marketing. For instance, your social media marketing calendar (can be created on Google Sheets), guidelines for freelancers and goals are necessary to ensure consistency and quality of content created.
Encourage copywriters and graphic designers to use Docs and Slides respectively, so they can share the link with concerned editors/reviewers to simplify the review process.
Keep all content created on Google Docs for future reference and inspiration.
Google Docs offers users a lot of space and works well with Google Drive, so you can easily create, store and retrieve content without hassles.
Hemingway App is a writing tool that will help you hone your skills. Content is a critical part of social media marketing, and Hemingway App helps writers ace content. Here's how to save time on social using Hemingway App –
Check your blog posts, social media posts, emails and copy on Hemingway app. It highlights passages that are complex, long-winding or grammatically erroneous.
Identify passive voice sentences, complex sentence structures and unclear ideas, so you can step-up your style of writing.
Clear basic grammar checks on all of your content.
The clearer and more precise your writing is, the better you will fare at social media marketing. Hemingway App can help you correct basic language errors in minutes.
Wrap
The more organized and efficient your social media marketing, the better your results will be, because it is all about the hustle. With the help of productivity tools, you can get tasks down quicker and make room for other activities.