8 Top Employee Advocacy Use Cases (with Case Studies & Tactical Tips)
Posted in :
Content Marketing
,
Employee Advocacy
,
Social Media Tips
on By
Disha Dinesh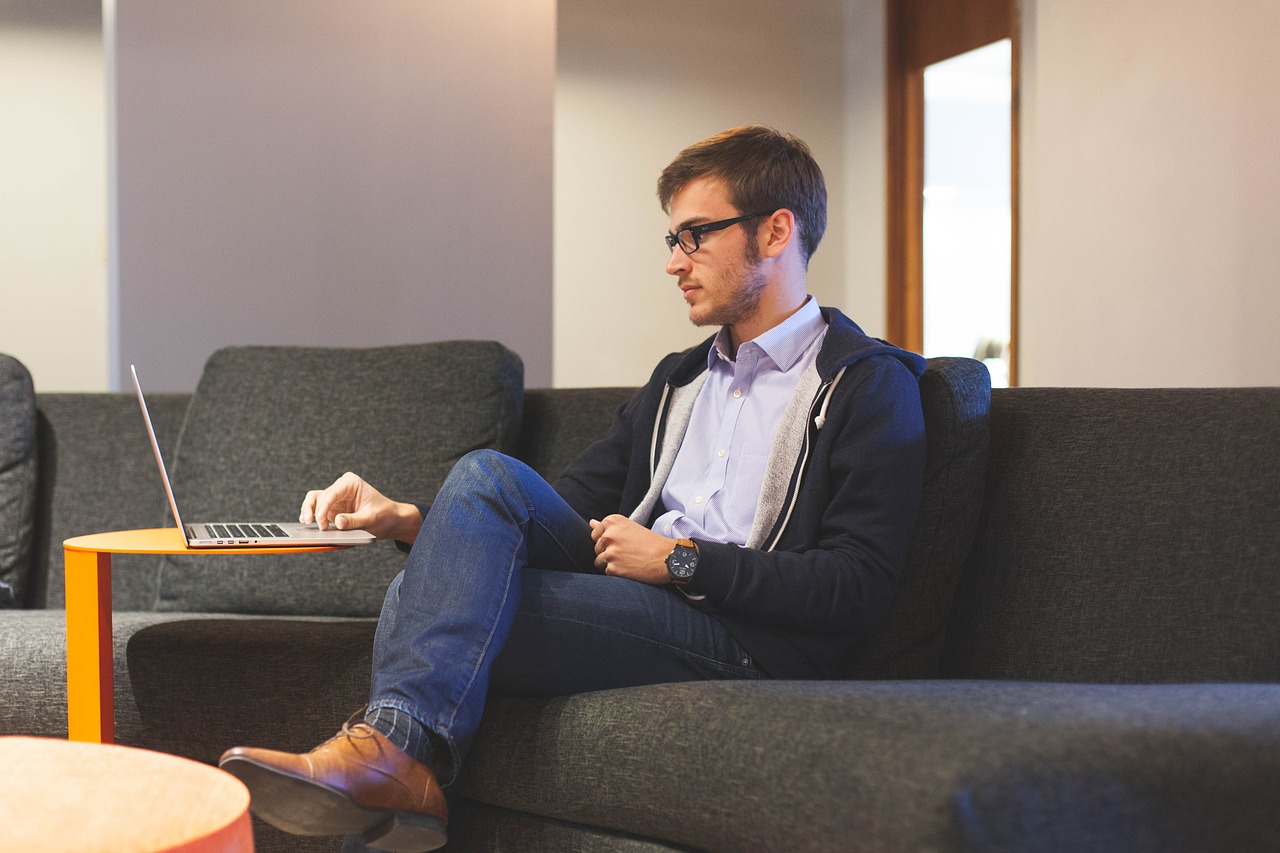 The way information travels is constantly changing and evolving. From the internet revolution, to the information explosion, the invention of social media and the rising noise levels on it, the ever transforming modes of communication have forced companies to remodel their marketing efforts.
There is no better time than the present for word-of-mouth marketing. The baton is back in the hands of consumers who can switch between two services in a matter of seconds and advocate a service just as easily. People have become channels for marketing messages and can give you instant access to a whole new audience, when turned into ambassadors. In times like these, it makes sense to invest in relationships, enable your well-wishers and partners to advocate you. A great way to begin is with the most accessible and untapped marketing resource that every company has – its employees.
What is employee advocacy and why does it matter?
Enabling your employees to be socially proactive, represent their company and push company content on their personal social media accounts can be referred to as employee advocacy.  Doing so will earn you instant access to 100 times the audience on your brand social accounts, and get you past your target audience's 'promotional guard'. Employee advocacy can be an asset to your sales, marketing and HR departments.
8 powerful use cases of employee advocacy
With the right employee advocacy platform, and a comprehensive employee advocacy guide to help you initiate and manage your employee advocacy program, you can transform the face of your brand's social media marketing. Over the years, several organizations have run studies to understand the significance and impact of employee advocacy in marketing, sales, recruitment and employee engagement, and data has stood by this growing form of marketing every single time. There are over 40 valid studies to make a case for employee advocacy and the unique opportunities that it brings to the table.
The following is a list of use cases and case studies that illustrate the potential of a good employee advocacy program.
1. Brand building – build your brand and increase reach of company content by 100X or more
According to a study, brand messages travel 561% further when shared by employees as compared to when they are shared by a company's official account. To understand the impact that employee advocacy has on your social media reach, you simply need to make a simple calculation.
Assume that your average employee has at least 500 connections in total on social media (on Facebook, LinkedIn and Twitter). If you have a work-force that is 1000 strong, employee advocacy would yield you a reach of 500,000 with every post that you share, in addition to your company accounts that may or may not have a strong social presence. Additionally, employee advocacy lends credibility, influence and a human touch to your brand communication, making the reach it provides far more valuable in terms of branding and selling than the reach that your company accounts afford you.
Several of the business giants realized this early on, and now have the concept deeply embedded into their social media marketing systems. Dell, for instance, may have begun as early as 2005, and now have over 10,000 employees specifically trained is social media listening and outreach. One of the reasons why Dell's program is successful is because employees share six times as much Dell information as shared on the brand accounts, on their personal social accounts.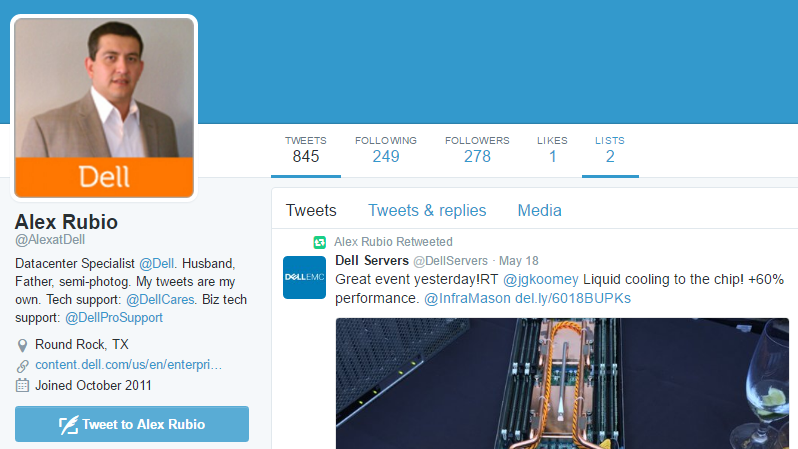 Tactical tips:
1. Begin with your socially active employees, the ones who already have sizable and engaged followings
2. Test your content formats and types – narrow down on what titles work best among your employee advocates and on their social media networks
3. Choose an employee advocacy platform that can help you track advocate and content performance and draw insights to optimize your program for maximum reach
How to use DrumUp to increase brand visibility  
Invite your employee advocates to sign up via their email addresses. Curate the content you want shared on the company stream. The platform takes care of all the communication for you – email on-boarding and a tutorial on how to use the platform (sent via email to invited employees). All you have to do is share your social media policy with the advocates, decide on an exciting prizes for each month and award your best advocates.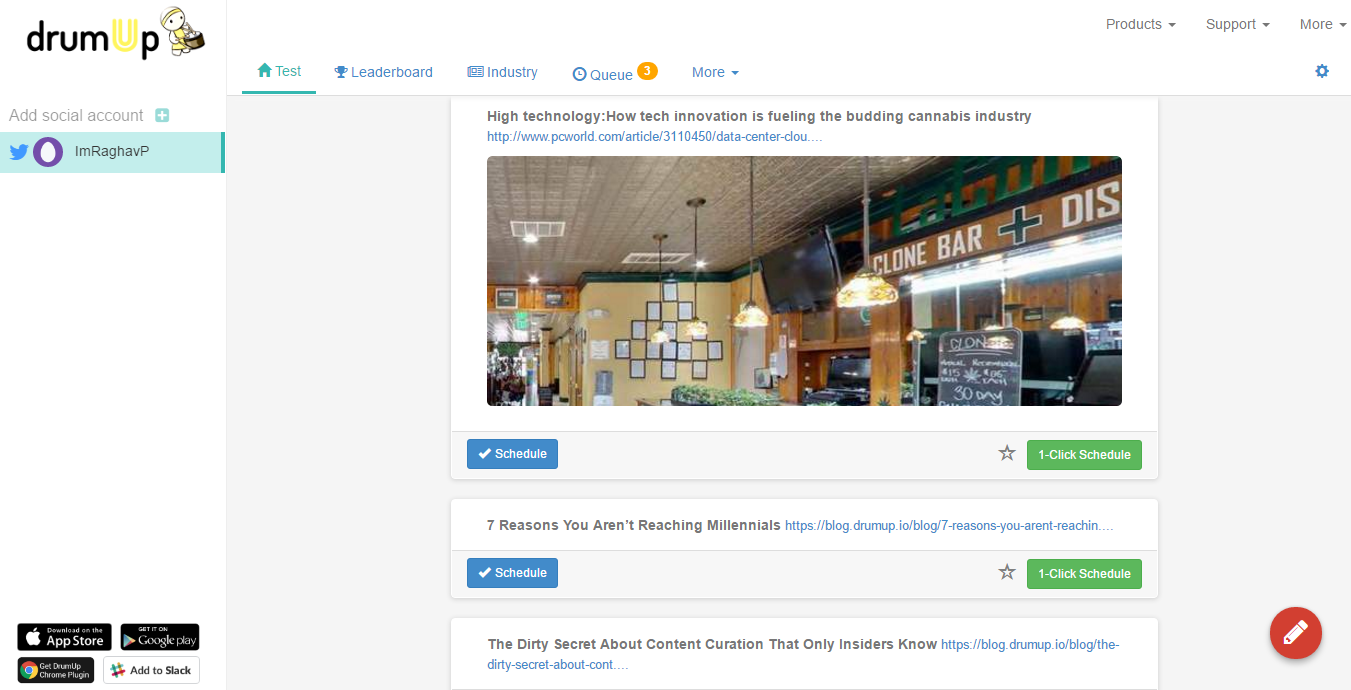 If your employees are more comfortable working with mobile apps (Android or iOS), the platform is supported on both, so you can be sure that more of them will participate and you will earn more visibility.
2. Social selling – drive your sales and outsell competitors by socially enabling your sales team
46% of your audience uses social media to make purchase decisions, and 74.9% of the companies who implement social selling see an increase in revenue within the year. It has been shown that 78% of socially savvy sales reps outsell their competitors, so there's no need for further argument to begin developing your socially adept sales teams.
Adobe's employee advocacy effort attests to the effectiveness of employee advocacy in social selling. In 2013-14, when the company ran its first year of employee advocacy, one employee ended up generating more revenue than Adobe's official Twitter account. Yet another company, BikiniLuxe, has seen an increase in sales specifically for the products promoted by their employee advocates. In an interview with us, Daniel Skaritka, marketing coordinator at Enecon, shared how his company has acquired clients by having their sales team share industry specific content.
Tactical tips:
1. Provide your sales team with powerful material to drive sales, and build relationships with the people they're directly in contact with
2. Happy customer reviews, success stories and announcements of successfully completed training programs by employees (in service-based businesses) are great for sales
3. Top-notch industry content is great for building the expert perception and convincing people that you're the right company to buy from. Choose an employee advocacy platform that gives you industry content rcommendations
4. Encourage your sales team to support content sharing with actual, personal interaction on social
How to use DrumUp for social selling  
DrumUp lets you share company messages and content with your sales team as well as curate content from the industry.  The platform has an automatic, fresh industry content stream that your sales team can schedule content out of for a balanced social presence. If most of your reps are field based there is no worry because they can easily access the platform on their smart phones (DrumUp is available on mobile).
3. Event marketing – increase your event visibility exponentially by leveraging employee channels
FormStack tracked conversions for 650,000 businesses and arrived at the observation that on an average, only 11% of event registration page visitors actually filled the forms. If you desire an event turn-out of 5000, you have to generate an event page traffic of 45,455. That number demands a huge investment in paid advertising, while your employees could help you get that visibility to a fairly targeted audience at a fraction of the cost.
At DrumUp, we've rolled-out employee advocacy programs with several organizations which have seen as much as 40-60X ROI over paid advertising. With the reach that employee advocacy programs give you, you can increase your event page visits significantly which will convert to actual attendee numbers.
For one of IBM's recent events,  the IBM DataFirst Launch that took place on the 27th of September 2016, in New York, New York, the organization had substantial support in gaining event visibility from its army of 'IBMers'. IBM employees shared event registration information, blog posts and post-event replays through their personal social media accounts, creating excitement for the event.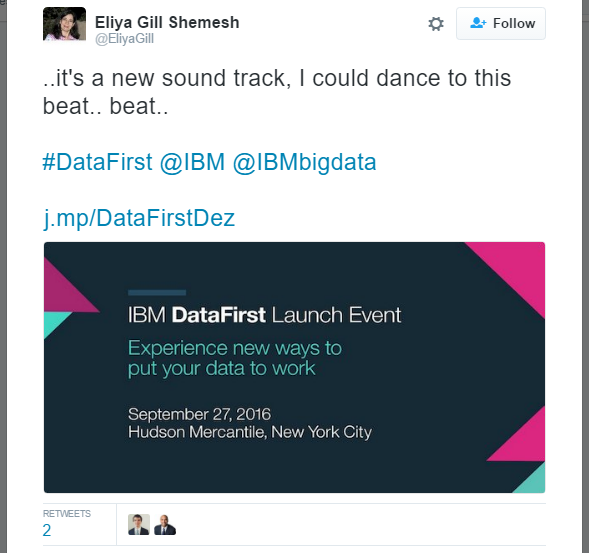 Any organization that has employees/partners with a strong social presence should leverage their networks to promote events and their business in general.
Tactical tips:
1. Identify your engaged and influential employees and event partners (anyone who'll benefit from the success of the event)
2. Arm them with the right content and training necessary to help market it
3. Connect your partners to your company content stream to simplify content sharing and tracking
How to use DrumUp for event marketing   
With DrumUp you can share event information with employee advocates for them to post. If your event marketing is time sensitive, you can choose to use the priority post feature that offers advocates twice the number of points for sharing that post on their social accounts.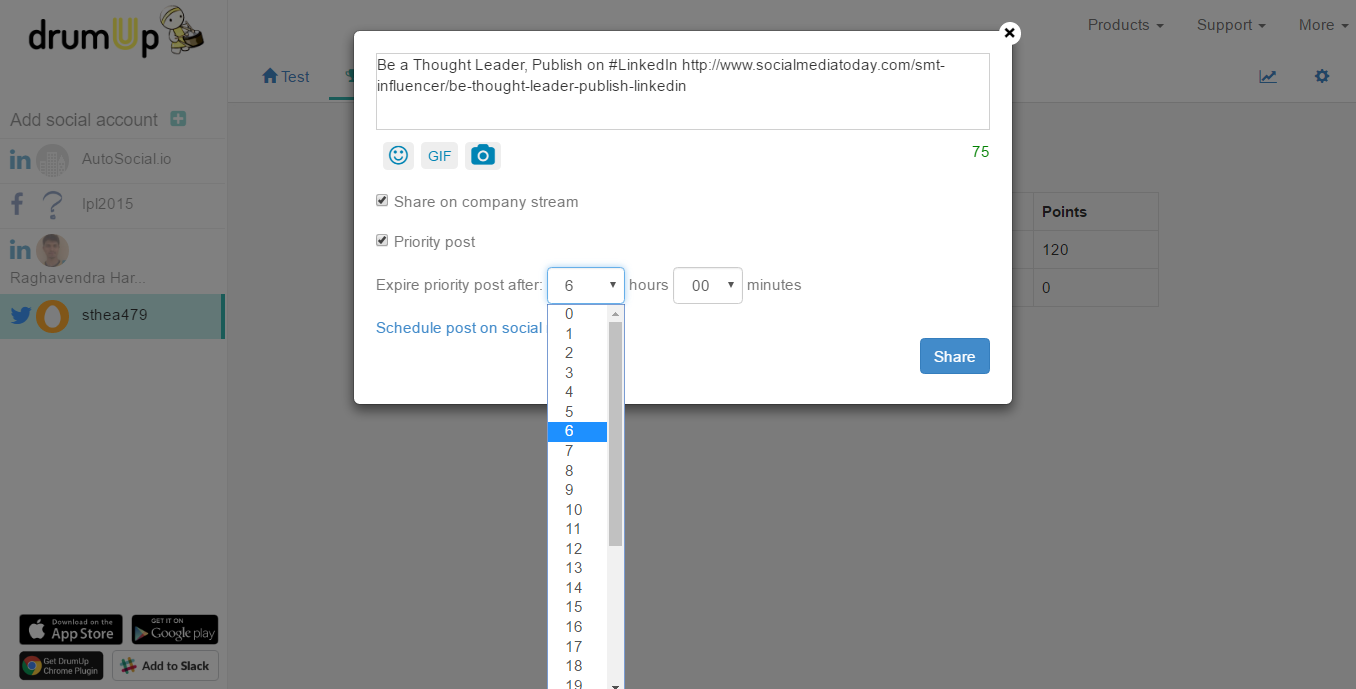 4. Employer branding – build a solid employer brand by highlighting your company culture
According to a study, 75% prospective employees consider a company's employer brand even before they apply for a job. Employers have two major recruitment and employment challenges – retaining current employees, and hiring top performers who are on the hunt for a change. In both cases the employer brand of the company becomes critical to success. What image of your company are your projecting to potential hires?
Deloitte's senior manager of employer brand, Lisa Monarski has spoken about the multinational giant's efforts in this direction. Deloitte, like many other large organizations, has an exclusive social page for their employer brand. Deloitte's is called @lifeatdeloitte and was created to capture the essence of "What's it really like to work at Deloitte?" The page is aimed at increasing credibility, interest and growing appeal of the company as an employer by making a case for Deloitte's recruitment. Deloitte's employees often talk about office culture with excitement, branding it as an excellent place to work.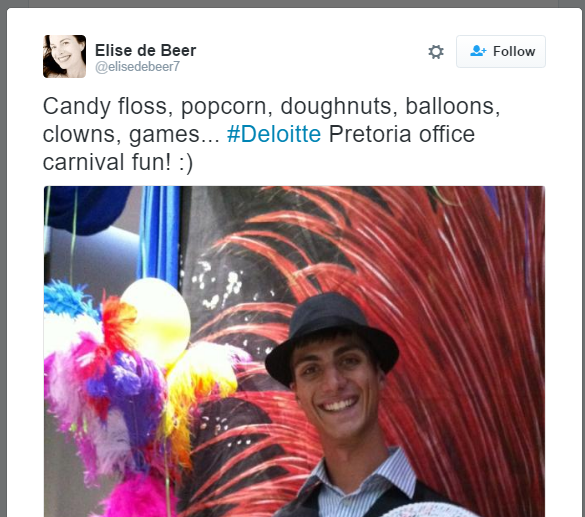 Starbucks refers to its employees as 'partners' and creates with them 'moments of connection'.  They make it a point to celebrate achievements of employees and share their pride on social media, an excellent way to establish their employer brand.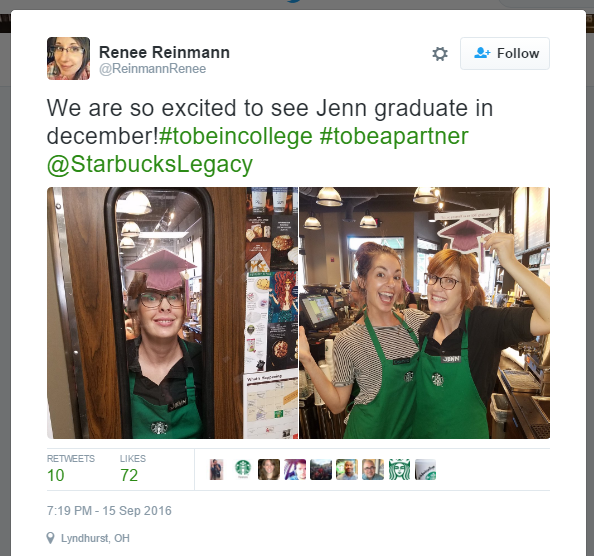 Your company culture is critical to how your brand is perceived as an employer. By organizing your efforts and enabling more employees to share (via an employee advocacy platform), you can powerfully transform your company's relationship with recruiting.
There are several ways to establish your 'employer brand' on social media. You could have employees share content that highlights your company culture – like posts about a company cookout, your latest retreat, or the award ceremony for your best employee advocates. You can also share employee achievements and stories along with creatively made announcements for job openings when you're recruiting.
Tactical tips:
1. Define your employer brand if you haven't – what your company stands for as an employer and what you plan to offer to potential hires (your promise or employer vision and mission statements)
2. Proactive employees who want to share about their companies are great for employer brand building. Identify these employees and allow them to take the lead as community leaders or managers
3. Give your employees reason to be excited, work at creating a work experience that they will want to talk about
4. Give your employees a platform to voice their experiences, but throw caution to the wind when implementing this. Appoint managers to oversee social activity, and share a firm set of guidelines to curb untoward incidents
How to use DrumUp for employer branding   
To simplify participation, DrumUp's employee advocacy platform works on Android and iOS mobiles devices.  DrumUp allows employees to add voice to suggested content so they can craft and share content. Employees can also suggest content and participate in spreading the word about your work place.
5. Executive thought-leadership – position your C-suite and top executives as powerful thought-leaders
Businesses everywhere are developing thought-leaders to help own the search terms relate dto their niche, according to a study. There is also a study that shows that 77% of consumers are likely to buy from a company whose CEO is active on social media. Establishing eminent thought-leaders on the internet and on social media specifically, is a powerful tactic to build brand influence.
IBM, one of the world's largest and most successful organizations, believes that its employees are the best influencers that the brand could have. Employees call themselves IBMers, a branding asset on its own. One of IBM's successful advocacy programs is their Redbooks Thought Leadership Program.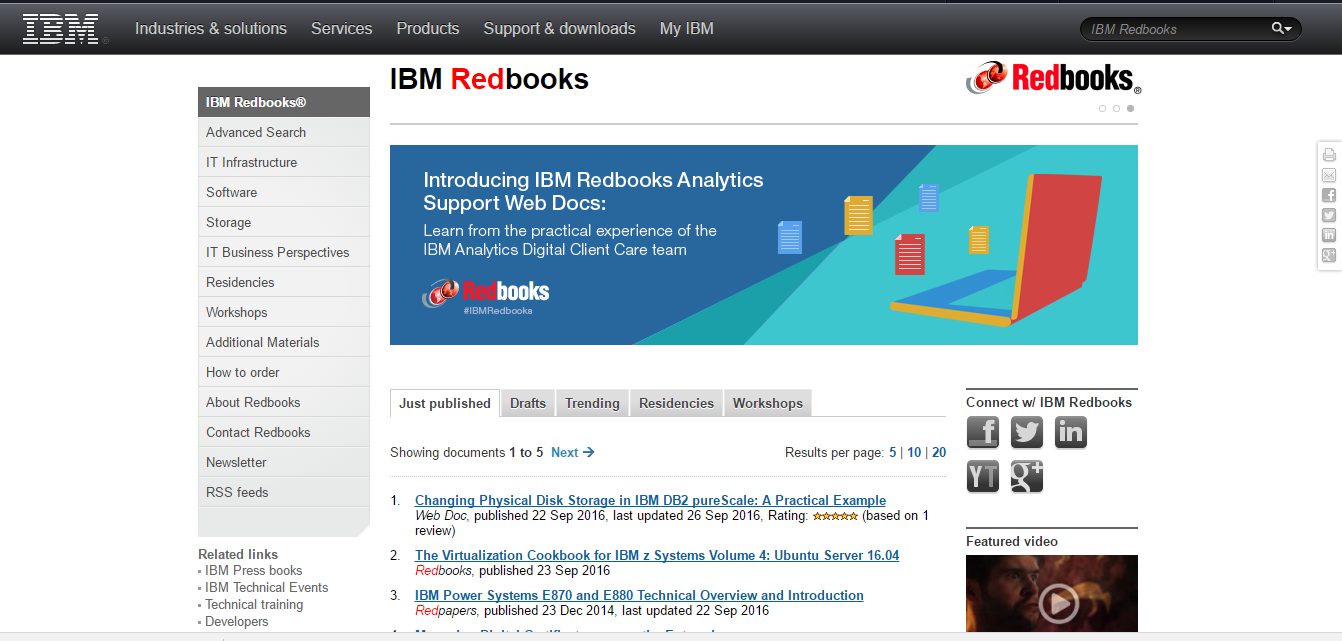 The program includes a platform for sharing thought-leadership write-ups on various topics, and a one week social media residency training where employees are taught how to hone their writing skills and social media know-how with the commitment to contribute to Redbooks after. IBM has developed over 500 thought-leaders who create quality content for the company on a regular basis, representing the brand and building its perception through their own, and the brand's social media networks. Bluewolf, global IT consultancy also believes in empowering its employees on social. In 2012, the company launched an incentivized advocacy program called #GoingSocial to get employees to share valuable content.
Tactical tips:
1. Give your executives pre-created content to work with, so they can add their voice to it and push it further
2. Keep track of all posts published by executives so they can be promoted extensively via your employee networks
3. Track the impact by monitoring your perceived value via social response and article performance (both of which you can boost by encouraging though-leadership articles via an employee advocacy platform)
How to use DrumUp to establish thought-leadership 
On DrumUp's employee advocacy platform, you can aggregate the content written by your executive thought-leaders for everyone to read and share on social. Doing so will amplify that content and earn you more impressions and therefore a better brand impact. You can also connect your thought-leaders to other company content so the can add their voice and share it to a large audience.
6. Social recruitment – replace your traditional recruitment methods by social recruitment
Currently, the recruitment process is broken into too many disconnected stages. Emails are primarily used to communicate job openings, updates and important information. The exposure that emails can afford a company is limited, and more than often, a lot of effort is wasted on a prospect who doesn't convert or isn't best-suited for the job. Besides, employee referrals form a large part of successful converts. While only 7% of all applicants can be attributed to referrals, 40% of all new hires are employee referrals. 67% of HR executives have also said that the recruitment process is shorter and less expensive via referrals. With social media, you can give your referral recruiting a bigger boost by having  employees push-out announcements and job openings to create a much larger momentum. The more you recruit through referrals (increase that 7%), the higher you push conversions (that 40%) and the lesser money you will lose to failed recruitment.
One of the internship ad campaigns run by L'Oreal on LinkedIn with the support of their current network – with 15,000 L'Oreal mangers and employees on the site, earned them 90 top-profile candidates in less than five months and saved one recruiter shop £20,000.
Sodexo is yet another popular case-study in social recruitment. Here is one of their job postings on Twitter –
Largely,  global organizations use dedicated social media pages, consistent branding and social posts on brand accounts and through their HR personnel for recruitment. For extended reach, you could have your entire workforce sharing job postings.
Tactical tips:
1. Curate job postings/messages/announcements for your employees to push-out
2. Create social media pages dedicated to recruitment
3. Assign specific HR department members the task of overseeing social recruitment activity
How to use DrumUp for social recruitment  
On DrumUp, you can curate job postings and announcements for your employees to share. Employees can lend their own voice to the postings. If need to recruit someone quickly, or if the announcement is urgent, you can use DrumUp's priority post feature.
7. Employee engagement – Partner with your employees to market content and get them more engaged with your brand
Engaged employees are more productive and stay in an organization longer than disengaged employees. In fact, an organization with nine engaged employees for every disengaged employee in a competitor's workforce, was shown to earn a 147% higher earning per share than its competition. Employees who were recognized at work have said that it motivated them to perform. Disengaged employees have cost the US more than $450-550 billion dollars, so creating engagement for your employees should be one of your top priorities.
It all comes down to trust. Engaged employees trust the management.  For employees to trust a company, they have to connect with its mission and core values. One way of making that connection happen is through employee advocacy. By letting your employees in on your marketing values and entrusting them with your brand, you open yourself up to their trust.
Share content that is interesting to your employees. Curate industry content to help them update their knowledge. Support them in building a powerful profile on social media. These are some ways that an employee advocacy program can enable employee engagement.
Choose a platform that has emojis and GIFSs enabled so your employees can add their own expression to everything they share.
The exciting rewards, the ceremony and recognition that come with a good employee advocacy program are great ways to improve an employee's experience at work. Create a monthly advocacy contest to keep things exciting and recognize your best advocates on social media as well.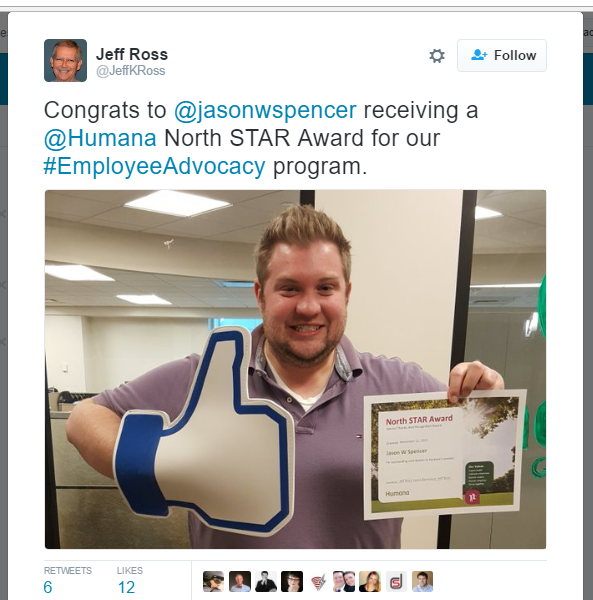 Employee engagement is something that you have to create to fuel your advocacy program, and the program in turn will keep you employees engaged. Zappos, the online store, does this very well.  With an inviting work culture, they have employees talking about the brand all the time. Even the smallest of tasks like pushing out a job posting is done in a fun manner and as a team. If your employees are part of a post, they will be more enthusiastic to share it.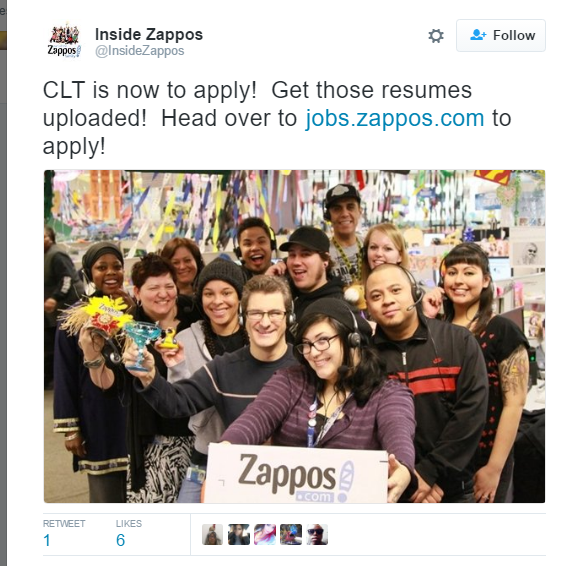 Tactical tips:
1. Curate the best industry content for your employees to read and share
2. Create a fun employee advocacy contest with exciting prizes for the best advocates
3. Include your employees' success stories and content on the platform so you can lend them some visibility
4. Choose a platform that supports mobile usage so it is easier for employee advocates to participate. Ensure that the platform also has a leaderboard to create excitement and healthy competition
How to use DrumUp for employee engagement
Using the platform's analytics module, you can determine which types of posts your employees like best and share more of that type of content.  Curate content from DrumUp's industry recommendations for your employees to update their knowledge and position themselves as industry experts on social media. The platform also supports emojis and Gifs to help your employees add their voice to shares.The leaderboard adds some gamified fun to the mix.
8. Influencer marketing – influence your social media audience by recruiting the right influencers
Marketing via influencer channels in one of the fastest growing and most cost-effective of marketing approaches, and companies are fast employing this tactic to reach their social media audience. Traditionally, influencer marketing has always existed with companies hiring celebrities as brand ambassadors to promote their brands on TV and at events. The idea is to narrow down on which celebrity has the most influence over a company's target audience and work with them to produce powerful marketing messages.
However, the beauty of social media is that there is no one person or single-point solution that is 'right' to solve your marketing problem. People in general are influential on social media. They influence their friends, family and fans by sharing their views on something. Social media has both these 'micro-influencers', and bigger 'social media influencers' who have a hold over large segments of your target audience. You could work with either, or both.
Each of your employees could be micro-influencers. By curating content for them to share on social media, you'd not only be helping them elevate their expertise perception, but you'd also be increasing visibility for your pieces of content.
Cisco, a multinational company that focused on networking technologies, has successfully integrated social into its marketing engine. Over 1300 advocates in the company have guidelines and support to represent the company on social media. With a post like the one below and the support of an advocate army, you could increase the influence of your brand in your niche via social media.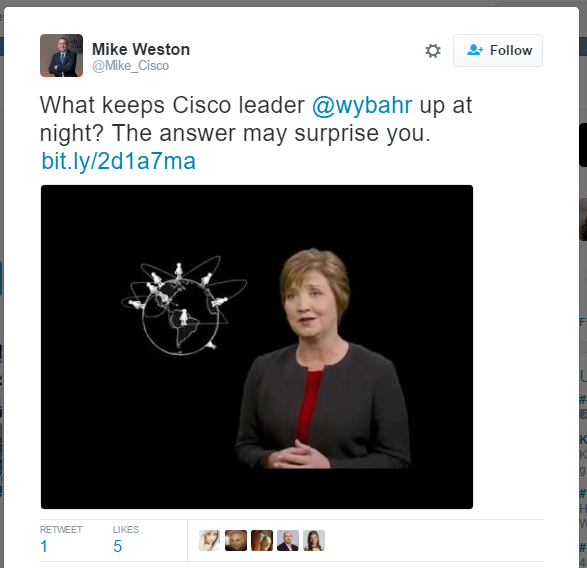 Drugstore chain Duane Reade created an interesting campaign involved social media, local brand advocates and VIP bloggers that earned them a 28% increase in sales. They identified a VIP blogger from each local community with their Drug Stores, and employed them to blog to share on social media under #Dreade, to influence their brand perception.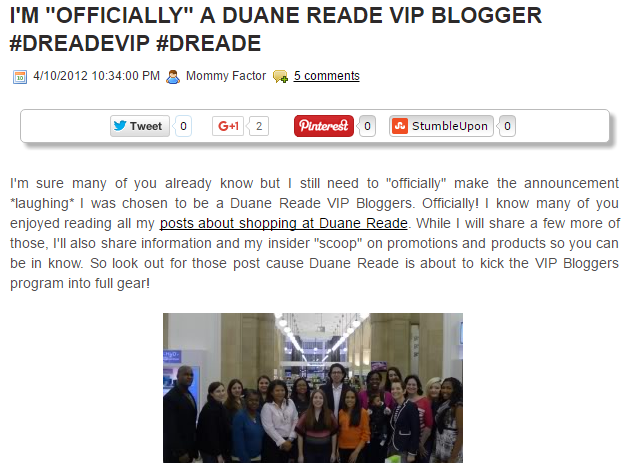 Tactical tips:
1. Don't let the word influencer be a hang-up. Find anyone who may have an influence over your target audience and invite them to share your brand content on social media
2. Compensate your influencers  with your product access/event access or similar compliments so you can reward them. For employees, exciting prizes at the end of each month for the best advocates is a good way to go
3. Track the impact of influencer efforts by measuring the performance of content created/shared by them
How to use DrumUp for influencer marketing 
You can use the platform's advanced analytics to track the impact (reach and engagement) of your influencers' and employees' shares. If you're interested in tracking the impact of a specific campaign, your analytics can be broken down by month and by social media platform.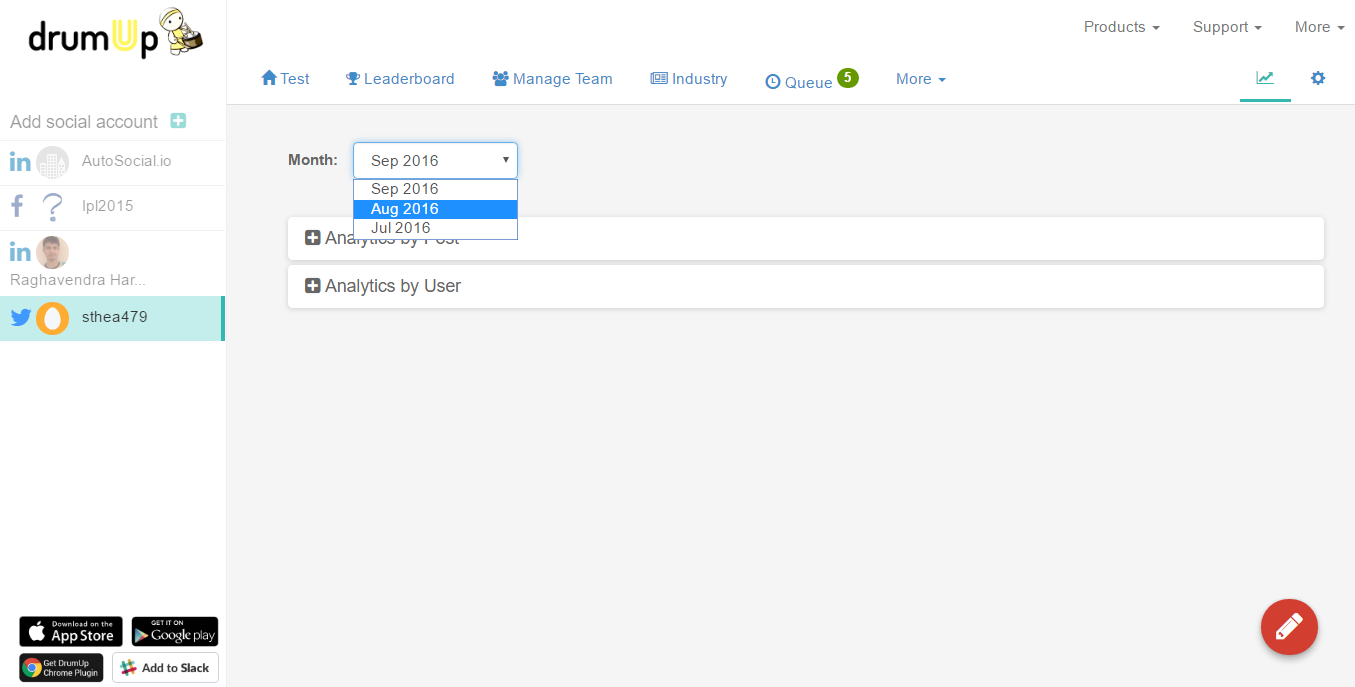 By plugging yourself into employee channels, you can increase your brand visibility and form a stronger bond with your customers. But there is no getting around the fact that you need a reliable employee advocacy platform if you want streamline the process. Choose your partner platform and start your employee advocacy program without any further delay. Because it is as Ted Rubin has put it aptly, "Not leveraging the power of your employees in the social space is like nailing one of your shoes to the floor."
Image via pixabay.com