Marketing Is Going Mobile
Posted in :
News & Trends
on By
Apurva Jog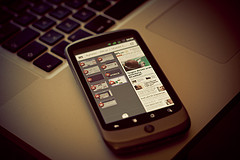 You can run, but you cannot hide from mobile marketing. Mobile phones are increasingly becoming part of marketing strategies as marketers begin to realize the immense potential they hold. There is no time like the present to customize your marketing strategies and spread them out to mobile devices where your audience is constantly interacting and exchanging ideas. Mobile phones are always switched on, and your consumers are exposed to them round the clock. They provide a great platform to spread awareness about your brand.
In a survey conducted last year, it was found that 91% of Americans own and use some type of mobile phones, and of the 91% mobile phone users, around 61% own a smartphone. Those who use mobile phones spend quite a bit of time on them; browsing a variety of social media accounts, surfing the net, and exchanging messages on instant messengers. Marketers can make use of these devices to gain a larger following, and to reach a larger number of consumers.
Last year, the amount spent on mobile advertising touched $16.7 billion, and it is estimated that by 2017 it will touch a whopping $62.8 billion. Among the variety of marketing techniques, the most popular type of marketing that happens on mobile phones is called mobile display advertising or MDA. This refers to advertisement banners on mobile-friendly web pages and mobile applications.
Consumers are no longer glued to their desktops, and instead spend a majority of their time checking updates on their smartphones. Much of the email communication has also shifted to mobile phones as people can easily compose, reply and forward important emails on the go. As a marketer, you might want to consider targeting consumers on a platform where they are more likely to respond and interact with your advertisements. However, mobile phones are personal space. So when you are trying to reach your audience, ensure that your campaigns are relevant and not overwhelming. Your marketing campaigns will need to be more mobile-friendly and compelling.
There is no escape from mobile marketing if you really want to put your brand out there. So, you might as well get on-board, and go mobile!
photo credit: Johan Larsson via flickr cc