Influencer Marketing: What's New, What's Important & What's Next
Posted in :
Content Marketing
,
Employee Advocacy
,
Others
on By
Disha Dinesh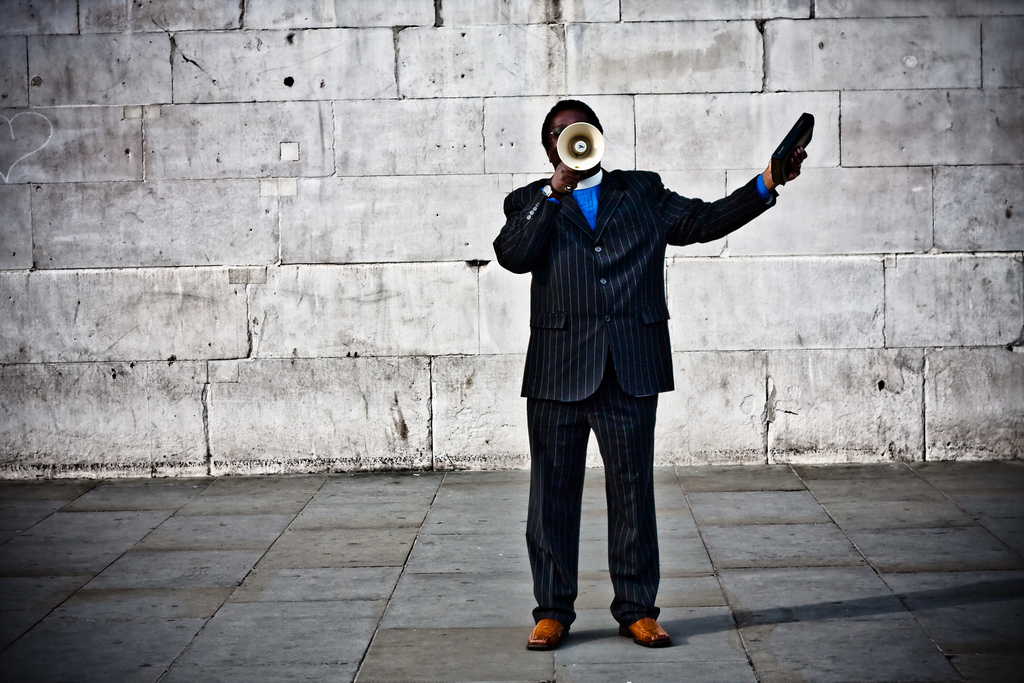 Note: The content on this post has been inspired by the #XYZInfluencer webinar conceptualized by expert growth marketing consultant Ron Sela and co-hosted by DrumUp and TwitterCounter.
If you aren't sure that you care about influencer marketing yet, here are two reasons why you should.
Research conducted by the Omnicom Media Group in July 2016 stated that close to 70 million Americans are set to use ad block software.
According to 2016 Influencer Marketing Survey conducted by Chute, 66% of the marketers they reached said social media influencers were an important part of their strategy in 2016.
Important acquisitions in the influencer marketing space
Giants in the tech space have also started investing in influencer marketing. In 2016, the New York Times acquired HelloSociety, Inmar acquired Collective Bias and Google acquired FameBit, which could interestingly evolve YouTube's ad space to facilitate influencer marketing.
Consequently, marketing has also caught up and business and people are generally growing more interested in influencer marketing.
In a short span of four years (2012-2016), the interest in influencer marketing, reflected by search volumes on Google, has exponentially increased by 100X.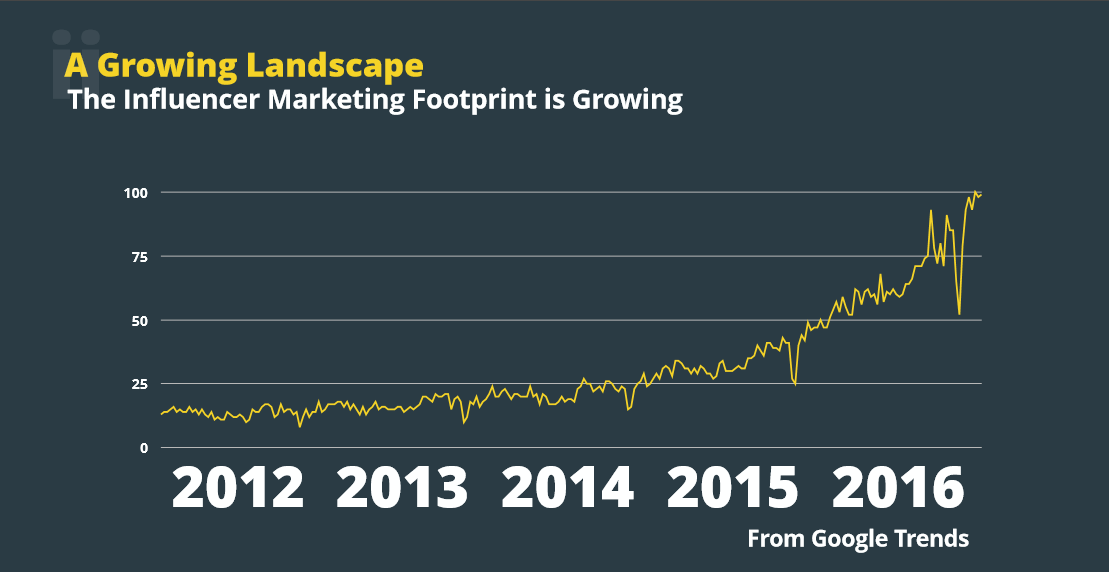 What does influencer marketing mean?
Unlike traditional marketing, influencer marketing (or influencer marketing) is targeted at building relationships with industry leaders, expert influencers, or any individual who has influence over a brand's target audience.
Brands enlist the help of these influencers in reaching and influencing specific demographics.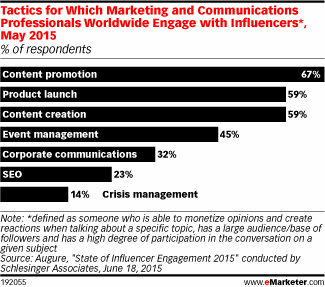 Influencer marketing isn't new anymore. There are studies conducted by eMarketer as early as 2015 stating that 35% marketers considered the strategy to be full-blown, even back then.
Why now?
With the advent of instant social platforms like SnapChat and Instagram Stories, the need for real-time and human engagement has grown, strengthening the cause for influencer marketing.
This coupled with the rise of an ad-averse and all-powerful audience, and increased trust in individuals – experts and peers, has rapidly driven the adoption of influencer marketing as a primary marketing strategy.
Over time, influence has evolved as a social marketing currency and diversified into various forms focused on different types of marketers.
The five forms of influence marketing
Don't commit to a specific form of influencer marketing unless you've aligned your goals to it and tested it out. You have to determine what resonates what resonates with your audience more – video content or technical blogs, Facebook or LinkedIn, before you zero-in on a specific type of influencer.
Before you get to that stage, it is useful to look at the broader landscape of influencer marketing.
1. Word-of-mouth marketing
There's a distinct difference between word-of-mouth and word-of-mouth marketing. While the first refers to natural mentions that are earned out of excellent customer experience, the second is an active and intentional effort into creating buzz about a brand.
Social media is built on the premise of word-of-mouth or the conversations that occur between two people making it a powerful channel to generate or drive brand buzz. One of the ways that brands do this, is by providing great customer care on social networks, running social media campaigns or contests and creating smart PR stunts. A good example of this, is the World Wildlife Fund's #LastSelfie campaign aimed at millennials. They used SnapChat to share images of endangered animals with the caption, "Don't let this be my last selfie".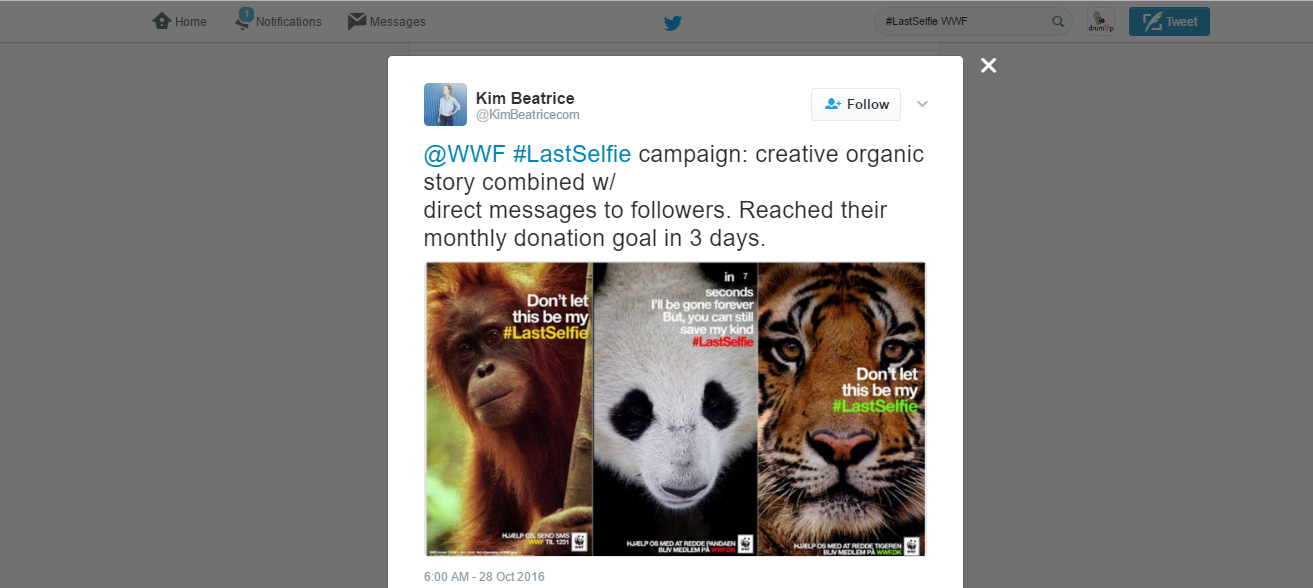 The result: 50% (just under 200 million) of all Twitter users saw this campaign, leading to over 40,000 tweets about it.  
2. Brand advocacy
The difference between brand advocacy and brand ambassadors is that brands usually have very little to do with brand advocacy. Advocates are voluntary influencers who closely follow the brand and are very likely to react to communication from the brand.
The end-goal of a brand advocacy campaign is to get brand advocates passionately talking about the brand. A good example of this is the first phone that OnePlus built – OnePlus One, which was aimed at getting the tech-savvy crowd excited. The company invested heavily in taking feedback directly from tech-enthusiasts and building a phone with high-end and market defying specs that only they would appreciate. As a result, enthusiasts (who are micro-influencers) spoke extensively about the phone on their blogs and YouTube channels creating a lot of excitement and consequently driving sales for the company.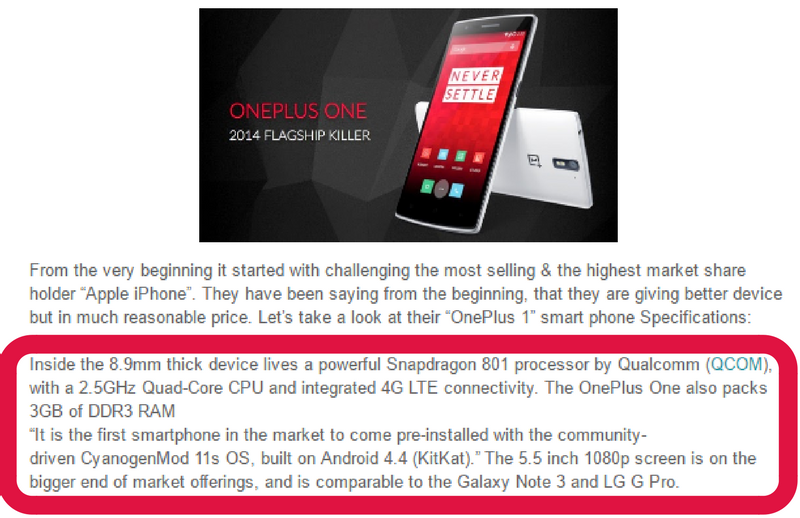 3. Celebrity endorsements
The first recorded instance of celebrity endorsement goes as far back as the 1760s, when Josiah Wedgwood, the founder-owner of a pottery and Chinaware company had members of the royal family endorse his products, creating a perceived value that outdid the actual product. Since then, 'commercials' and brand endorsements have expanded as an industry and become commonplace in most celebrities' careers.
For the last ten years, with social networks having taken off, celebrity endorsements have also manifested on social platforms like Facebook and Twitter.
Most small businesses can't justify the budget for mainstream celebrity endorsements and steer clear of them, unless the celebrity has local bearing or is more accessible. Rob Stevenson also has another way to explain celebrities in the context of today's world.
Zappos COUTURE ran an influencer marketing program with Lauren Conrad, a popular television personality and won big – with revival of their spring line and a personal thank you from Sarah Jessica Parker on being featured on one of the posts that Lauren wrote (Source: Convince&Convert).
You celebrity endorsers needn't be global, they could simply be gateways to right audience.
4. Employee advocacy
According to an Altimeter survey, 90% of participating brands stated that they were in the process of or planning employee advocacy programs. Think about it, employee advocacy is a win-win-win, for the company, its employees and prospect consumers.
Employees bring trust, increased reach, engagement and conversions to the table.
Companies offer employees engagement, and an opportunity to build an online presence.
In 2016, employees of top PR firm Identity shared close to 2000 pieces of content, earning the company 50% new website visits. The firm has employees distribute blog content via their social media channels and finds the exercise highly effective.
They identify and measure the effect of employee advocacy by using custom URLs for the content that they share with employees.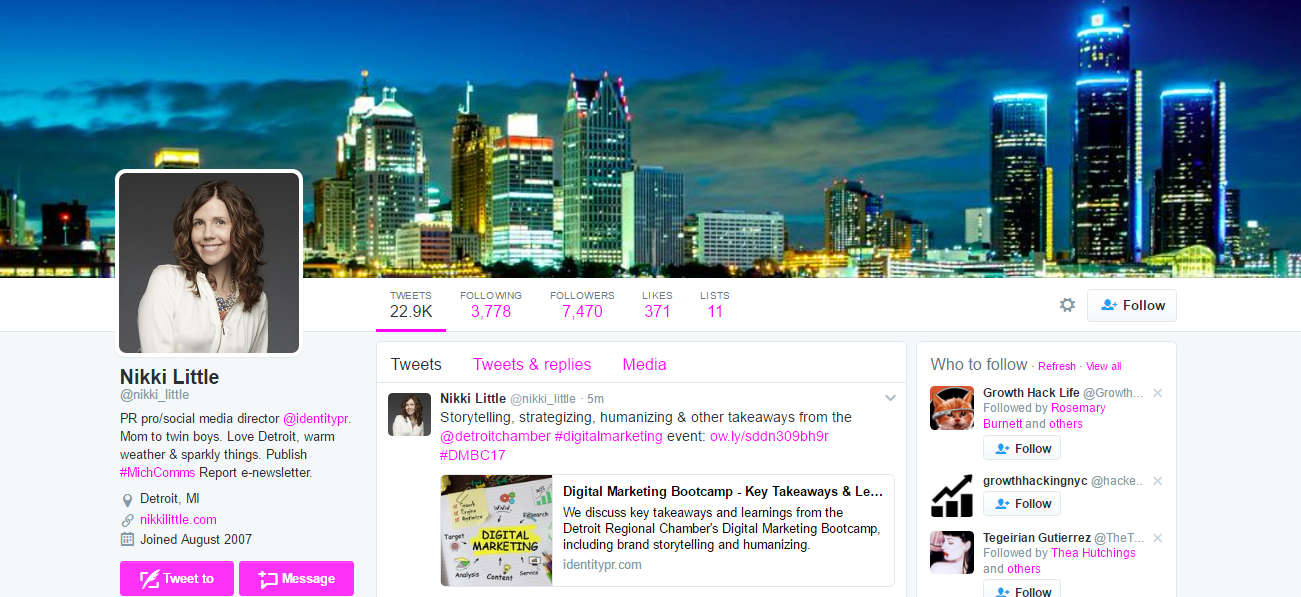 5. Brand ambassadors
Brand ambassadors are brand advocates hired or intentionally activated by companies to advocate their brand.
Maker's Mark, the classic bourbon company, is popular as a brand advocacy case-study. Their brand advocacy program gives advocates exclusive access to an online community called "The Embassy". The brands give advocates business cards and engraves their names on barrels of the fine product. Ambassadors also have access to special VIP tasting events, offers, products in their gift shop, and a whole lot of swag.
You can turn top customers or fans into ambassadors by making them feel special, and valued above the rest. This is also a great way to step-up your consumer experience, and make more fans and customers want to advocate your brand.
How to find the right influencer for your brand
Sure, influencer marketing sounds great and is the right thing to do at present, but where do you begin? How do you identify the best strategy, social platform and influencer for your brand? Where do you find influencers?
Understand your audience
Who are you trying to reach using social networks – prospect buyers, partners, or more influencers? Based on your target demographics, list the social platforms that you need to target. You can do this by looking at audience insights on Google Analytics or a similar analytics tool, or your social media analytics dashboards available on social platforms.
Once you know who you are targeting and where you can find them, list the possible influencers you can work with on those social platforms.
Prioritize your goals
Brands work with influencers for any of many plausible goals. You have to identify which area of your social media outreach you want to work on, and set goals for your influencer marketing program accordingly.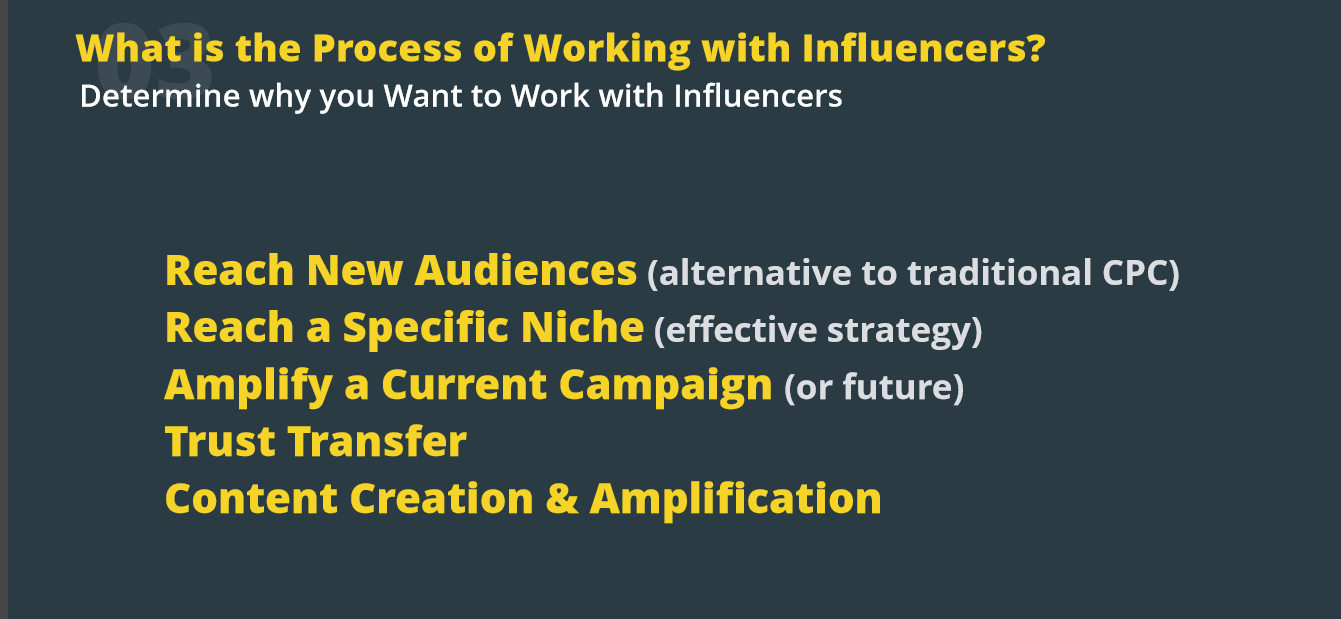 Identify and reach out to prospect influencers
Once you have your targets and goals, you can start looking for influencers to work with. There are multiple tools that can help you identify and reach out to influencers. Some of them are –
If you're taking the alternative route and enabling employees to advocate your brand, you can use an employee advocacy platform instead of the solutions suggested here.
DrumUp has an employee advocacy platform separate from its content suggestions and social media management platform.
Tips to find great influencers for your brand
Set alerts for keywords related to your niche and use a tool that lets you assess the authority of social users mentioning those keywords.
Focus on finding publishers who have great engagement on their social media posts (engagement is more valuable than simply having large followings).
Choose experts who appear to lead industry conversations. Thought-leadership can be a huge differentiator  for brands in today's busy and competitive marketplace.
Shortlist influencers who have used your hashtags more frequently.
Highlight users on that list who have interacted with your brand and social pages more frequently.
See if the tone of their social media content matches your brand's personality.
Once you have that list study those influencers' communities to find more micro-influencers.
How do you work with an influencer
Build real relationships with them
You have to market your brand to influencers to get them on board. Realize that they have options, just the same as your target buyers. Influencers build their careers on the image they have built, and many of them care about whom they choose to represent.
Show them how your brand cares, and maintain your values through your interactions with them. Make an effort to take interest in their goals and what they do.
Provide them with necessary information and support
If you want someone to represent your brand, it is best to provide them clear and detailed information about your brand and what you are trying to achieve.
Communicate with influencers as often as possible and make yourself available for comments, discussions and queries.
Create a mutually beneficial agreement
Ensure that your influencers also benefit from the exercise, via payment and anything else that might be of interest to them. If you intend to create a long term program with them, you need to ensure that they are satisfied and enthusiastic about representing you.
Some brands go above and beyond to take good care of their influencers.
Recognize the value of their time
Don't approach influencers until you have every last detail of your program planned.
Be straightforward and transparent
It is best to be forthcoming about your ideas, goals and expectations from an influencer, and encourage them to be honest about theirs.
It is also important to let your audience in, on the advocacy, and lay out disclosure wherever necessary.
How do you measure the effects of your influencer marketing program
If you're investing in anything, you'll probably want to see your returns, so how do you measure the results on an influencer marketing program?
There are six important metrics to consider when measuring your program, but you can decide what to focus on based on your goals.
Reach
Social media engagement
Revenue
Content promotion or creation
Website visits or traffic
Access to new or inaccessible markets
If you were running an employee advocacy program on DrumUp's platform, you would have access to analytics reports like this one.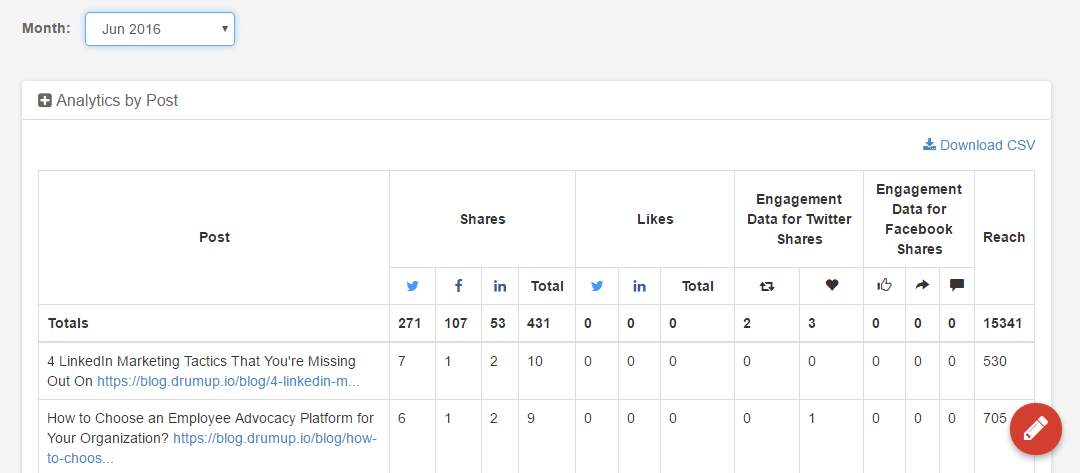 A combination of Google Analytics and social media analytics tools can help you measure these metrics. In each case, you'll have to compare these metrics to your performance before the launch of your influencer marketing program to measure improvement or change.
You can also use custom URLs (with UTM codes), special promo codes, referral codes/links, affiliate marketing tools, pixels or cookies, or hashtags (measured on hashtag tracking tools) to quantify the impact of your influencers.
How to measure influencer marketing ROI
The big question – how do measure the return you get on investing in an influence based program?
Use the right attribution model
If you are running a brand awareness campaign, and your content is focused on that, you probably won't see a significant rise in sales and you might want to focus on brand buzz and the number of mentions made instead.
Consider all benefits (measurable and otherwise)
There are a few benefits of influence marketing that can't be measure and are so, often overlooked. You can read more about them in the section below.
Look beyond top of the funnel benefits (especially in B2B businesses)
You can use influence to do more than create brand awareness for B2B companies. Don't eliminate that possibility with tunnel vision.
Measure repurposing and republishing
When an influencer posts content, there are chances that you might earn backlinks, or see the same content repurposed and republished on different sites. It is good to keep an eye out for that content.
Account for retargeting and remarketing
You should also consider running a second wave to convert fence-sitters who may have been intrigued by your first campaign but not convinced by it. The intrigue created is also a valid result that you should take into account.
Results that can't be measured
You should also consider results of an influencer marketing program that can't be measured – like data and learning, the building of a custom audience, branding, PR, SEO and long term word-of-mouth.
Who are micro-influencers and what are the benefits of working with them
Micro-influencers generally have about 10,000 followers or less
They usually have better engagement rates (because they can personally engage with more of their followers)
Micro-influencers are passionate about their industry and niche
They usually have more focused and active communities
Since they're smaller and less busy as advocates, micro-influencer are more accessible and easier to work with. They can be super-fans,
happy customers or employees – people you are directly in contact with on a day-to-day basis.
There are several benefits of working with micro-influencers, and the following are a few of them:
Consumers are more likely to follow micro-influencers
Peer-influenced media is more trusted
Micro-influencers prompt instinctive and spontaneous purchases
Smaller tribes are more responsive and engaging
Ask yourself who you trust in the industry and have access to already. You can build a program around these people more easily.
Recommended reading: Take a look at our employee advocacy guide to get started on your employee advocacy program today.
What's next for influencer marketing and what you can do about it
More businesses will invest in influencer marketing and others will increase their budgets for it
Recommended reading:
Social Media Marketing Trends for 2017
Content Marketing Trends for 2017
Influencer marketing will become increasingly result-oriented
Micro-influencers will rise in importance
Small businesses will also adopt influencer marketing, and the phenomenon will go mainstream
In-house marketers will become more adept at running influencer marketing programs
There will be a shift towards brand advocacy and employee advocacy
More businesses will invest in building AI and machine learning solutions
Influencer marketing solutions will consolidate (with giants like Google buying FameBit)
Solutions will emerge to measure authenticity and more in-context marketing
Alternative or omnichannel influencers will rise (increasing the range of influencer marketing inventory)
You can make the most of what is yet to come by building your influencer marketing strategy today. Begin by identifying opportunities and spaces for your brand to shine, and the rest will follow (our sections on identifying influencers and getting started can help). The next big marketing shift is already here, what are you doing about it?
Feature image credit: Garry Knight via Flickr.com