5 Easy Steps to Nail Your Content Marketing (and Get People Talking about You on Social Media)
Posted in :
Content Marketing
on By
Disha Dinesh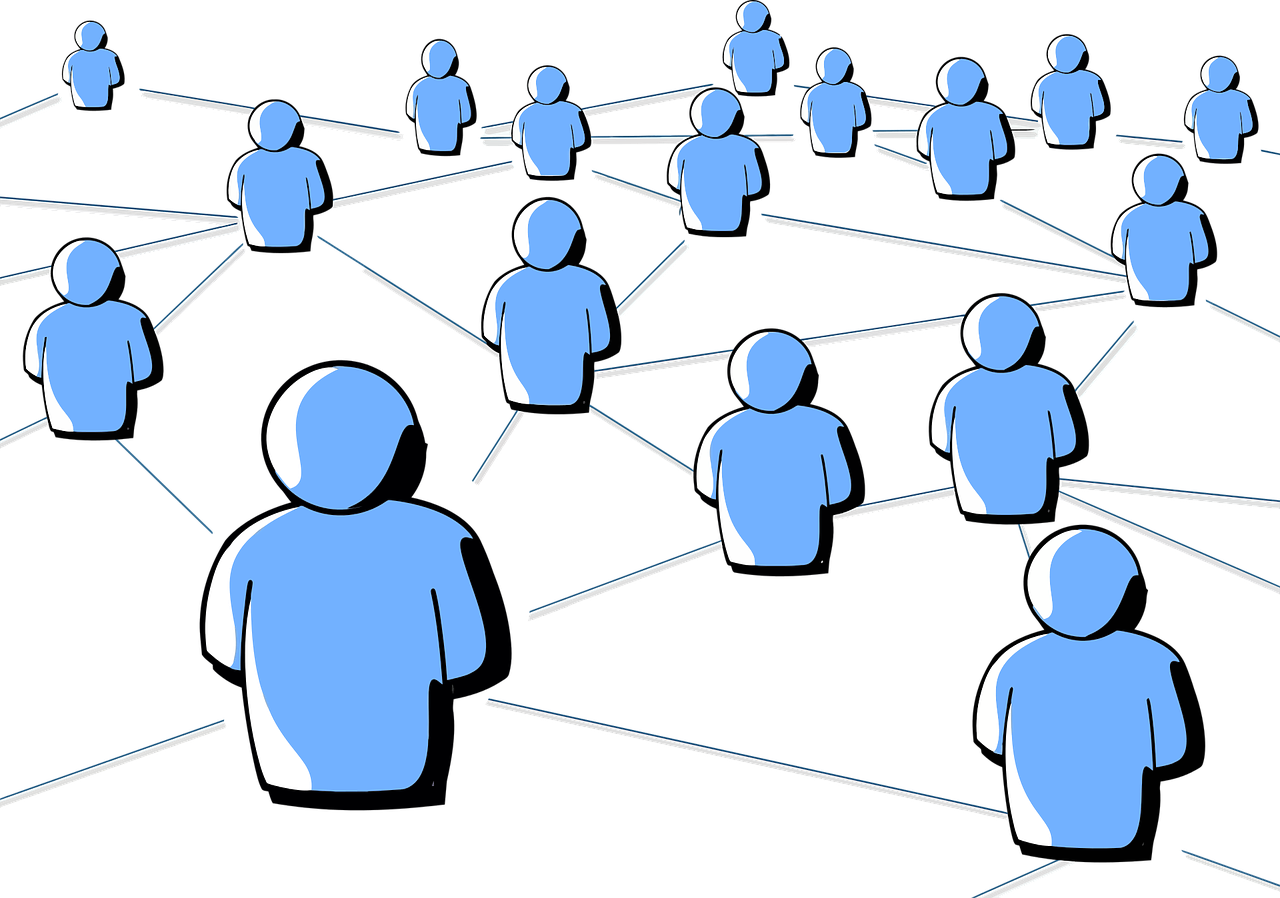 Late July 2015, Brandwatch shared an interesting study in which 2.3 billion people, forming roughly 31% of the world, were classified as active social media users. Further, Erik Qualman's #Socialnomics– a really popular video series compilation of social data, revealed that 93%  of the buying decisions of these users relied on social media influences.
Additionally, as part of several surveys published by Zephoria towards the end of 2015 predicted a 14% rise in active social users annually. If these numbers are any indication, the tide of social media selling is only set to rise in 2016.
What is social media engagement?
Social media engagement can be defined as a conversation between brands and their audiences via social media platforms. Videos, images, blogs, statuses, anything your brand puts out on social is an initiation inviting engagement. The most valuable part of this practice, however, is getting to hear back from an audience that will tell you exactly what they want, if you listen closely enough.
Creating a space where an audience wants to engage with you can be a challenge – one that will require an investment of time, effort and perhaps some money too. Creating class-content that your audience will gain something from is no easy task. Remember that your audience will hang around only as long as they are receiving something of value from your end.
Why should social media engagement matter to you?
It is common knowledge that brands require a unique selling point or a niche' service experience to get ahead of their competitors. With the ascent of social media, it has become increasingly important for the idea of a unique experience to extend to a company's social media presence. People can now voice their opinions about your brand with a few taps on their mobile phones. They can also take information from one channel and share it on another, thereby exponentially increasing the reach of that piece of information.
Brands are now in the consumers' hands. To win them over, you need to be present where they are and command their attention by engaging them in that space. And since the world is largely and continually moving to social, you need to share excellent engaging content on social media.
Many businesses hold back on investing adequately in social media marketing because they are unsure of the impact it could have or what parameters to use to measure results.
To resolve these concerns, let us first run through a few major benefits of social media marketing and engagement.
Building credibility
To prove your credibility to an audience you have to be seen by them and in good light. Increasing engagement with an audience on social media by means of quality content that emanates a certain image can help create a loyal following for a brand. As early as 2013, Social Media Today had 67%  of Twitter users saying they bought from brands they follow.  Twitter has added over a 100 million users since then, as per Statista's Twitter MAU reports. With the skyrocketing usage of social media by people and brands both, this number is likely to have risen substantially.
Establishing a brand voice
How do you differentiate your brand from others? Social media activity is a great way to find your unique brand voice. Keeping in mind your target audience, you can set a tone and continually contribute to your audience by creating compelling blogs, videos, and images. You want your brand to be a character that everyone loves because that's when people will recognize you, buy from you, and even better, recommend you!
Increasing your website traffic
How many people do you know who hang out on company websites? None. To get them there you have to engage them wherever they are and make them want to come over to your website. On an average, people spend up to 106 minutes daily on social media. That is sufficient time to increase web traffic, generate leads, or even boost sales. Having an active social media presence with cross-links to your website in your posts will help veer people to your owned media.
So how do you create a content marketing strategy for better engagement?
Although a brand's ultimate aim entails marketing and sales, the manner in which this is implemented becomes key. To build meaningful relationships with an audience, you have to pay close attention to the content going up on social media. Holding your own here can be difficult, considering the sheer largess of content being generated by other commercial and non-commercial users.
There's no workaround to creating brilliant social media content, but when it comes to re-sharing relevant and high-quality content, life can be made just a little bit easier. Fortunately, there exist content discovery and sharing apps that can manage social media for you. Some of these apps suggest shareable content from around the web, allow you to schedule posts in advance and even help you track your progress, thus leaving only the content creation part to you.
Apps that help
DrumUp – Cut 90% of time required for social media marketing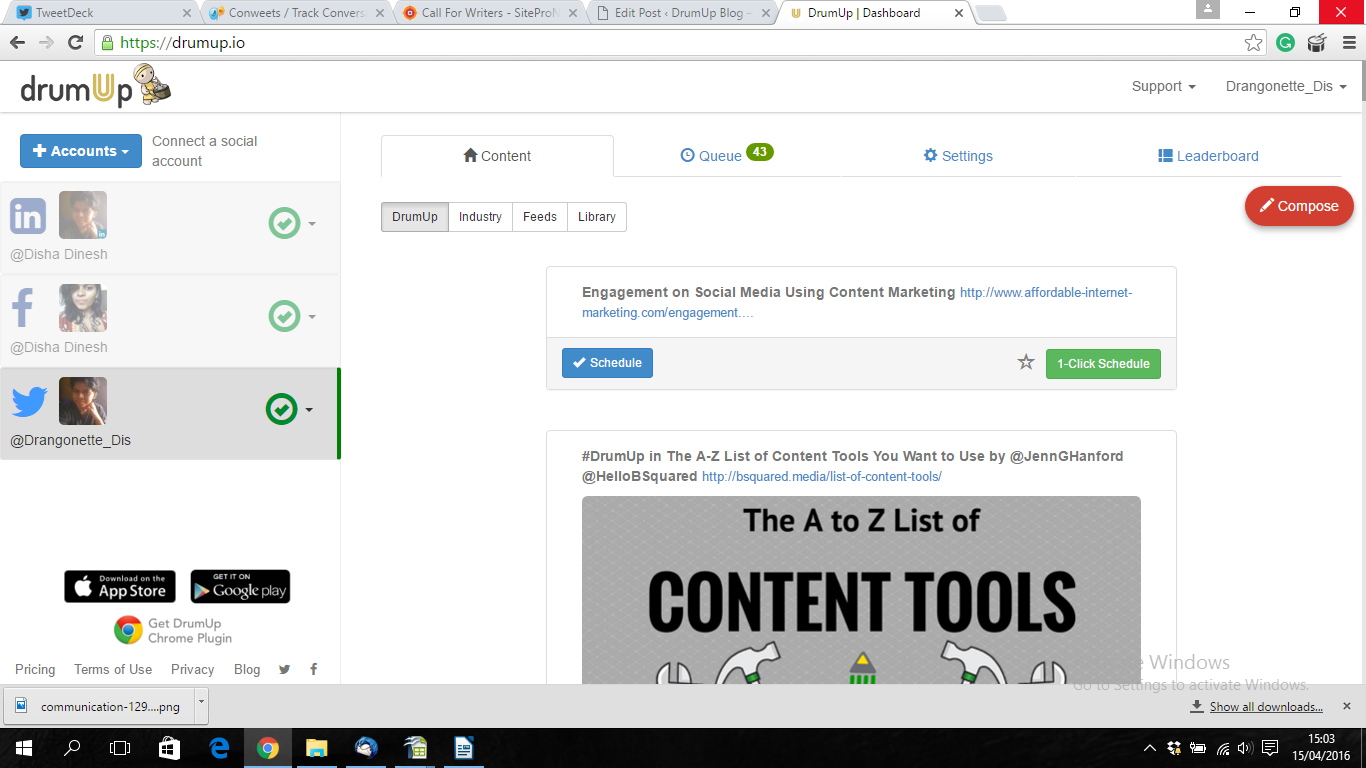 DrumUp lets you add multiple social media accounts across Facebook, LinkedIn, and Twitter. The app mines through tons of content across the web in real time, and uses NLP and machine learning algorithms to recommend fresh stories most relevant to your audience. All you need to do is add keywords describing the kind of content you are looking for and DrumUp creates streams of content suggestions for posts you can schedule with a single click. You can have unique streams for each social media account you connect with the tool, giving you freedom to introduce variety across your social accounts. DrumUp also allows you to schedule any post at any time decided by you. Alternatively, you can let the app pick the best time for you to post something. Hashtag recommendations and the ability to schedule custom posts make the app a must-have in your social media toolkit. If you find it difficult to manually manage your social media accounts or just can't find the time, this app can be a real life saver.
Downloadable as: Android app and iOS app to manage social media on the go. Also available as Chrome extension.
Feedly – Get the latest stories on mobile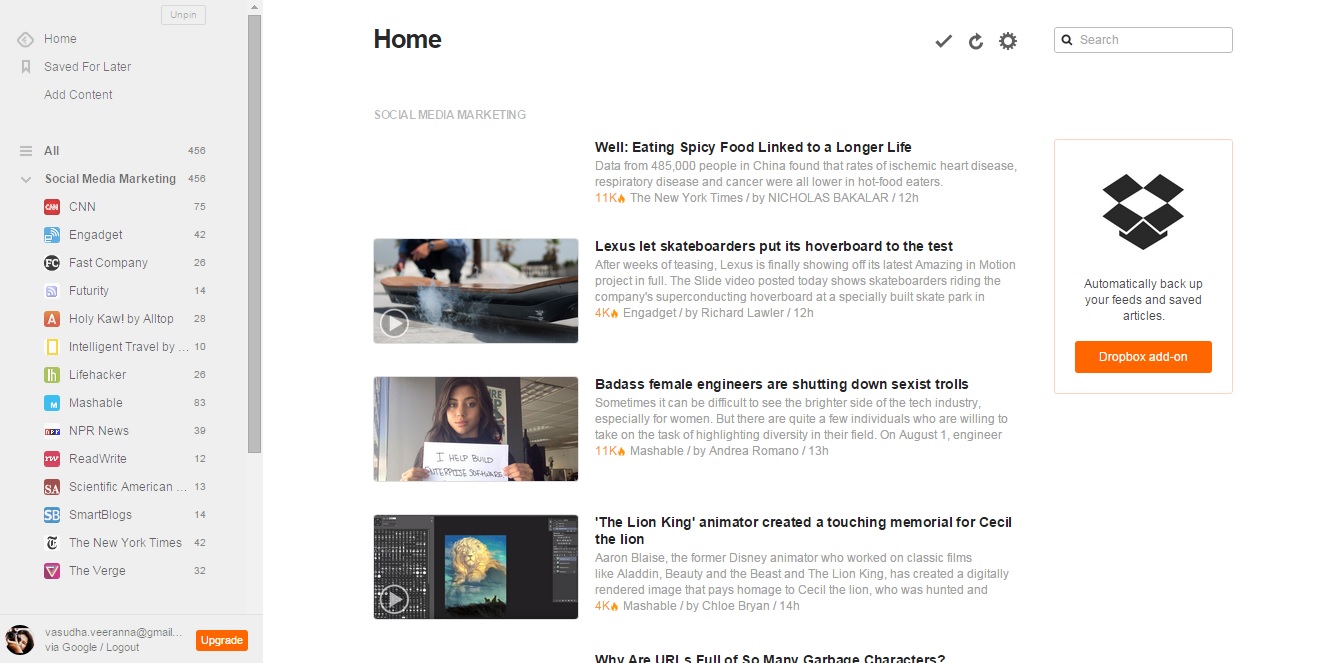 To keep abreast of news, no app serves better than Feedly. This mobile app, with an easy flowing interface, works at collecting relevant news tailored to your interests and bringing them to you via a single and easy-to-use platform. Feedly aims at increasing share-ability by integrating sources like blogs, magazines, publications and YouTube videos into its organized platform.
Powerful as it is, the app grants you quick access to all these sources to enable you to stay ahead of industry news. Connected to millions of feeds at every moment, a user can dig deep to find the exact content that matches their specialized fields of work or interests. Feedly's algorithm works far beyond the surface and is known for its accurate delivery of the right mix for each user making it a favorite amongst professionals.
Downloadable as: Android app and iOS app. Also available as a Chrome extension.
Mention – monitor your brand effortlessly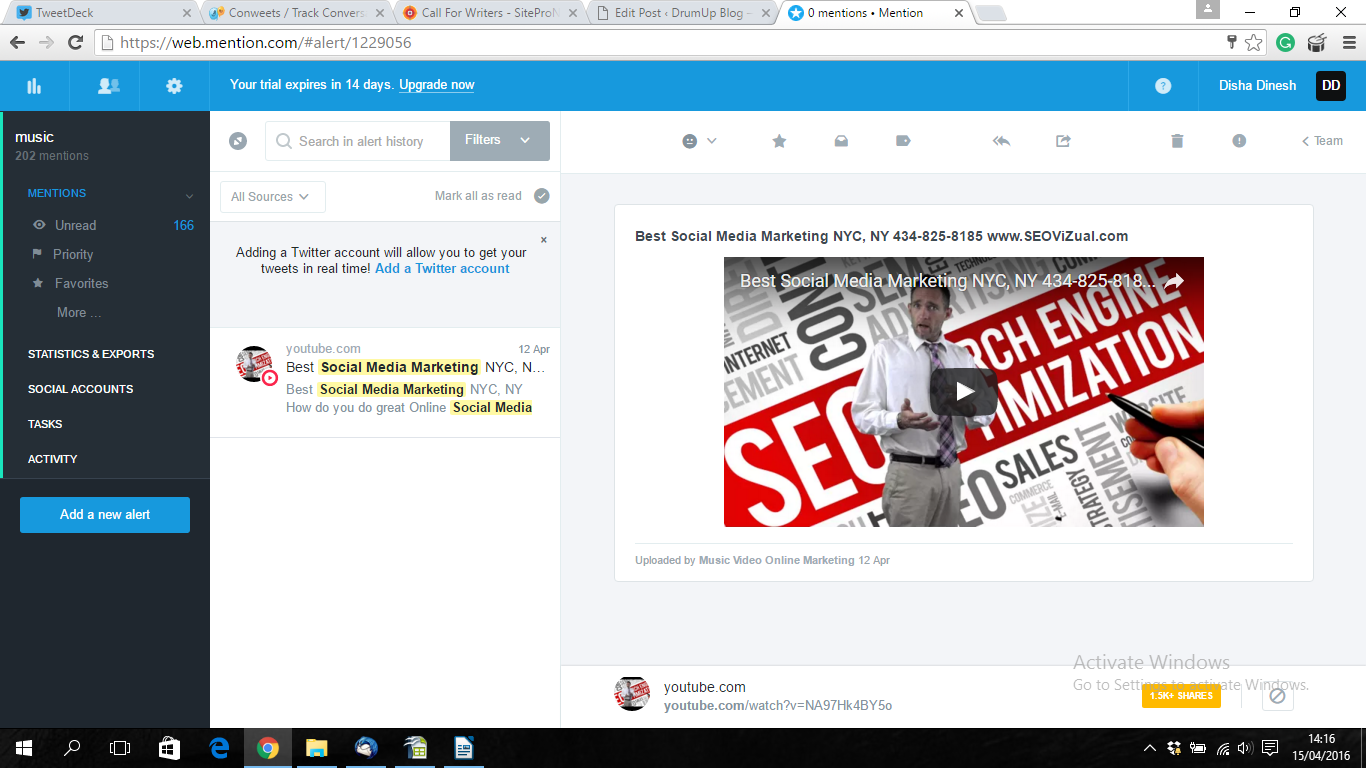 Social monitoring is a vital part of the social media marketing cycle. After content has been created, searched for and shared, it is important to track your progress and see how your brand is doing on the marketing front. Mention is an easy-to-use app that allows for analytics that give you a good picture of your social media standing. On the app, you can choose keywords related to your brand for Mention to watch over and it will give you real-time updates every time those words are mentioned. Apart from seeing the success you brand is enjoying, you can also catch disgruntled customers and diffuse the situation before it causes any damage. To safeguard your brand's reputation, Mention is the best tool available.
What adds to its value is how the Mention alerts give you the source of the brand mention and allow you to directly respond to it right then and there, through the app. The application also allows you to allocate tasks to team members by sharing alerts with them, all from within the app!
Downloadable as: Android app and iOS app. Also available as a Chrome extension.
Apps may help with content suggestions and scheduling, but the actual creation of content requires an organized effort.
Here's a step by step approach to how you can make the most of social media in terms engagement
Step 1: Know your target audience
Like Jay Baer says in his book Youtility, marketing should be not what a company needs but what customers need. The value of understanding your customers cannot be stressed on enough because that is how you learn to really connect with them. In fact, as Janelle Yu has comprehensively explained, there are many things your customers wish you knew!
Imagine you are a brand that trains people to work the stock market. Your target audience is likely to be 30-40 years of age, people with a little extra money to spare. First, delineate the characteristics of this audience. Their interests, possible traits, which social media platforms they are likely to frequent and at what time of day. Surveys are the best method of getting this done, but if you don't have the resources to conduct surveys, collecting statistics and research information from reliable sources can act as a good substitute. Applications like Google Analytics can also help by searching for brand or keyword mentions thereby directly connecting you with people interested in your specific areas.
Even if you don't plan on doing any of the above, going by instinct and educated guesses is better than going in blind. For instance, one definite trait that you can assume about an audience interested in stock trade is that they are risk-takers. This knowledge can prove invaluable when creating a strategy for social engagement. Knowing this, you could write a blog titled, "Triple Your Earnings in Three Days' Time: The secret to how the big guys do it." As stock trading is a conservative and serious profession, there's high probability of finding your audience on LinkedIn. These insights, coupled with the best time and groups to target on LinkedIn can give you a strategy with high potential for success.
Step 2: Get the right people on board
To build a fire the obvious things you need are wood, fuel, and a lighter. The lesser apparent need in this scenario is skill. Even if this appears to be an easy task, skipping out on the skill factor can either result in a forest fire or failure to build a steady fire. Social media is vast and the internet is forever. The implications of badly executed marketing can be as permanent as a tarnished brand image or as heavy a loss as a missed opportunity to go viral. To ensure this doesn't apply to your brand, recognize and recruit the talent you need to make the best use of social media.
Here's a checklist of skills needed to efficiently manage a brand's social media presence
Marketing knowledge
While good writing and design skills are part of the repertoire, it is important to remember that words and images mean nothing if not integrated with an understanding of how the market functions and how to reach a particular audience.
Strategic thinking
Once you have the knowledge, it pays to know the wisest way in which to apply it. When good market knowledge joins forces with strategic thinking, the outcome is a strong marketing campaign with promise.
Creative skills
Each of these skills is pertinent to the overall outlook. Content may be king, but presentation is his crown. Ignore this and your content may end up lost amongst the others. Good writing and designing skills come in here in enhancing the look of the content you want to post on social media.
Step 3: Create a sound content marketing strategy outline
If you have worked through steps one and two, you are now at a stage where you can begin the process of strategic planning. This phase forms the backbone of the entire exercise, so essentially, it acts as your blueprint. Get this stage right and the rest will flow well, and save you a ton of time and energy.
To start off, you can refer to the outline of your target audience characteristics. Once you know them well-enough you can begin to work your strategy through that basic framework. When devising your strategy, clarity becomes vital. Know your goals. Put whatever you want to accomplish into well-defined measurable milestones, just as Jayson DeMers does. Largely, he names four social media goals, each with its own metrics:
1. Generating traffic – measured by unique page visitors
2. Creating a following – measured by subscribers, followers
3. Generating interaction – measured by likes, shares, mentions, comments
4. Generating revenue – measured by dollar value generated by every social media lead
Tying in the metrics during the stages of strategic conception allows you to lay a schematic for measurements, making the strategy you come up with seamless in terms of execution and feedback retrieval.
Things to bear in mind when creating a social media engagement strategy:
1. Think of content that your viewers would want to share. Awe-inspiring content, informative content, humor, content with emotional value/feel-good value and content that promotes fun and engaging activities.
2. The content can be put in several formats – text, blogs, images, videos, infographics, cartoons and more.
3. Content shared can be original or from third-party sources.
4. A content calendar can be made indicating the days of the month and what type of content should be used on a particular day. Evenly distribute the various content formats and your audience gets a value-filled experience.
5. When making your content calendar, it is important to make note of days with significance, like festivals, or days with historic meaning. Saving a post to wish your followers or remember brave soldiers humanizes you to your followers.
6. Remember, social media is a means to build real, meaningful relationships.
Ensure your content calendar is in line with the goals you outline and schedule time for constant monitoring of the metrics that you decide to track.
Once your content calendar is outlined, the actual creation of content becomes a lot easier.
Step 4: Create engaging content
The big question is how? There are many articles on how to boost social media engagement, but which of those ideas would work really well for you?
Social media engagement basic guidelines:
1. Follow your content calendar.
2. Think of engagement as a conversation between you and your audience.
3. Listen in. Listening is an important part of any conversation. Failing to do this will result is missing out on important cues.
4. Be authentic. With authenticity comes a unique voice and emotional feel that is vital to brand image and likability.
5. Simplify your communication. Simple and brilliant ideas – that should be your focus. Complexity adds layers to your message; and in a world where you have only a few seconds to get the attention you want, adding layers isn't a good idea.
6. Always add a clear, simple call to action.
7. Add a personal touch to everything you say.
8. Keep the conversation going. Post regularly.
Ways to increase social media engagement
Create and join groups
Groups on social media represent what social scientists refer to as "modern tribes" or "passion communities". People today form their own societies world over based on shared passions. In these communities, information, suggestions, recommendations, reviews, and experiences are shared. Being an active member of groups that focus on areas related to your industry gives you an avenue to build bonds with people who are likely to be interested in what you have to offer. When you're in a group, like, comment, share, re-tweet and reply to other users.
Post content that encourages engagement
Ask me anything, Q n A, yes or no, true or false, polls, surveys, contests all work well in this context. Make your content simple to understand and easy to engage with. Rewarding participants with thank you messages, comments, incentives and credit will further encourage more people to participate. When you create posts of this type don't just promote them but also converse with participants actively. Always respond quickly, effectively and deliver what you promise your audience.
A/B split test everything you put out there
A/B testing is one invaluable benefit of using social media for marketing. While some social media researchers claim that images generate 61% more engagement, others say this may not apply in all scenarios. Fortunately, you can test what suits your specific industry and brand. For A/B testing, all you have to do is create multiple versions of the same post and share them so each of the versions gets tested at all possible times. Post this exercise, analytical applications like Facebook Page Analytics or Google Analytics are used to see which version had the best impact at which time. Once you know this, you can post more of that content format at that time to optimize engagement. Irrespective of these results, always remember, stunning images, authoritative blogs, engaging videos, ensure your content is at the top of its game.
Step 5: Marketing engaging content
Did you know that 2 million plus blogs are written every day? On Facebook, alone 4.75 billion pieces of content are shared daily. To make an impact in this noisy, jam-packed social media world, you need to pair excellent engaging content with smart and strategic marketing.
Social media marketing tips to get your content noticed
Attention-catching-one-liners
To get an audience to engage with the content you have created, it is important to firstly capture their attention. To do so, you could use irresistible click-demanding one-liners as titles. Constructing the right phrase can be tricky. That is where Maslow's hierarchy of human needs comes in handy. Maslow wanted to understand what drives and motivates people. On discovering the answer to that question, Maslow made a table of needs. Self-actualization, esteem, social and safety are often used in marketing to motivate people to participate.
For instance, social implies a need to belong. To market a blog that has marketing tips, you could say "The marketing world has moved to social. Don't get left behind, discover what the professionals are doing today."
Tailor content to each social media platform
What works on LinkedIn need not work the same way on Facebook. While posting on Twitter, use of trending and relevant hashtags becomes necessary to help your audience find your content. LinkedIn requires the use of professional language and tactics that speak to a business oriented audience. Facebook is comparatively casual and responds best to posts with entertaining content that shines your personality through it. Each platform has its own format of posting and optimum engagement time window to catch. Make sure you A/B split test all these factors to discover the combination of platform, format, and time that gives you the most engagement.
Schedule and share repeatedly across all platforms
Sometimes, it takes multiple shares to reach a particular audience. For instance, consider Twitter, a platform that functions at a really quick pace. If you posted a tweet at 9:00 am, your followers who would open it at 1:00 pm may not even get to see your Tweet! 100s of Tweets, or even more could have accumulated on those followers' feeds, and it is unlikely for them to scroll to the bottom to read every last one. To ensure that all or most of followers get to see that Tweet, re-sharing your Tweet every few hours is necessary.
Further, consistency in content across platforms is also important. People want to feel like something is being talked about on more than one platform. It also happens that some people prefer some platforms over others. So covering all the basic social media platforms becomes another necessity.
So overall, your social media activity should include sharing original content, searched content and sharing both multiple times a day and across several social media platforms. Phew! That would mean endless hours of creating, searching and sharing. Scheduling helps save some of that time. You could collect all your content and schedule it, well in advance, so the posts are made automatically without demanding your personal involvement.
What are the issues you face while managing your social media accounts?
Image credit: OpenClipartVectors via pixabay.com