5 Content Marketing Growth Hacks for SaaS Companies
Posted in :
Content Marketing
,
Small Business Tips
,
Social Media Tips
on By
Disha Dinesh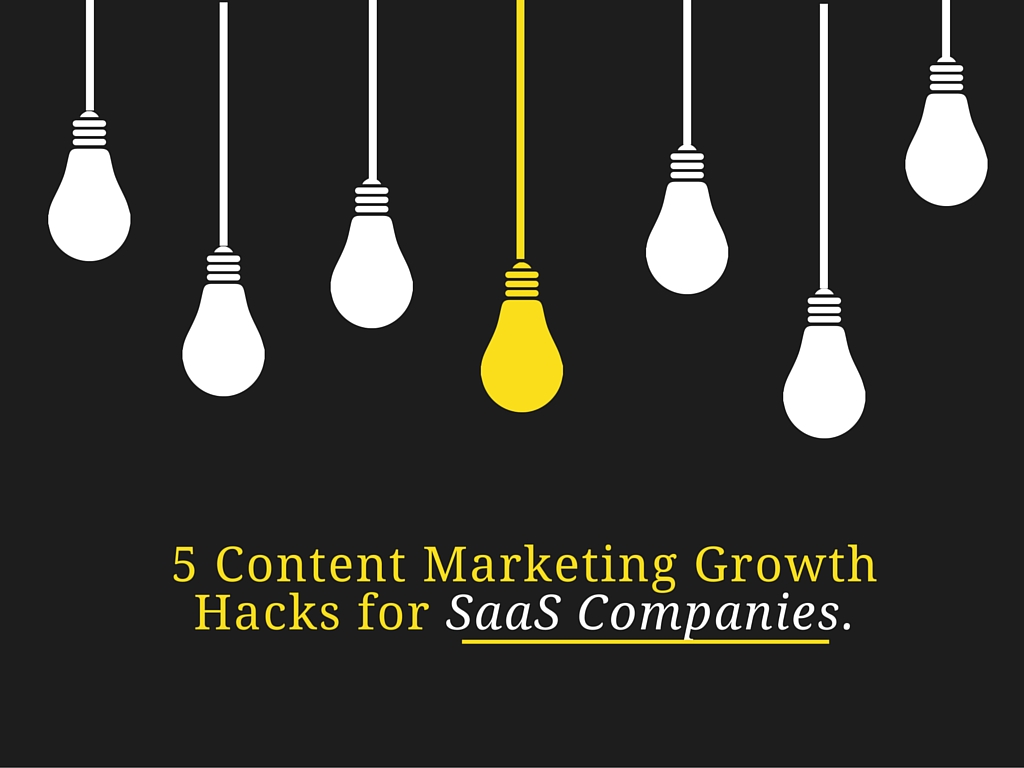 Note 1: All the infographics in this post are under the Creative Commons license and are available for reuse and distribution. Please feel free to share but with a link to this blog.
Growth hacking is the process of running quick and simultaneous experiments across all possible marketing channels to identify which channels and which methods provide best results.
SaaS tools are best positioned to implement growth hacking because they're the perfect blend of technology and service. Opportunities that arise on your marketing front with continuous software updates are like none other. They should ideally be seized and best utilized to acquire potential leads and fortify existing ones. Content marketing has a vital role to play in this marketing cycle, and with successfully tested growth hacks you could reach for higher numbers and conversions.
Here are 5 essential growth hacks to boost your content marketing strategy.
1. Build an extensive emailing list and optimize your email content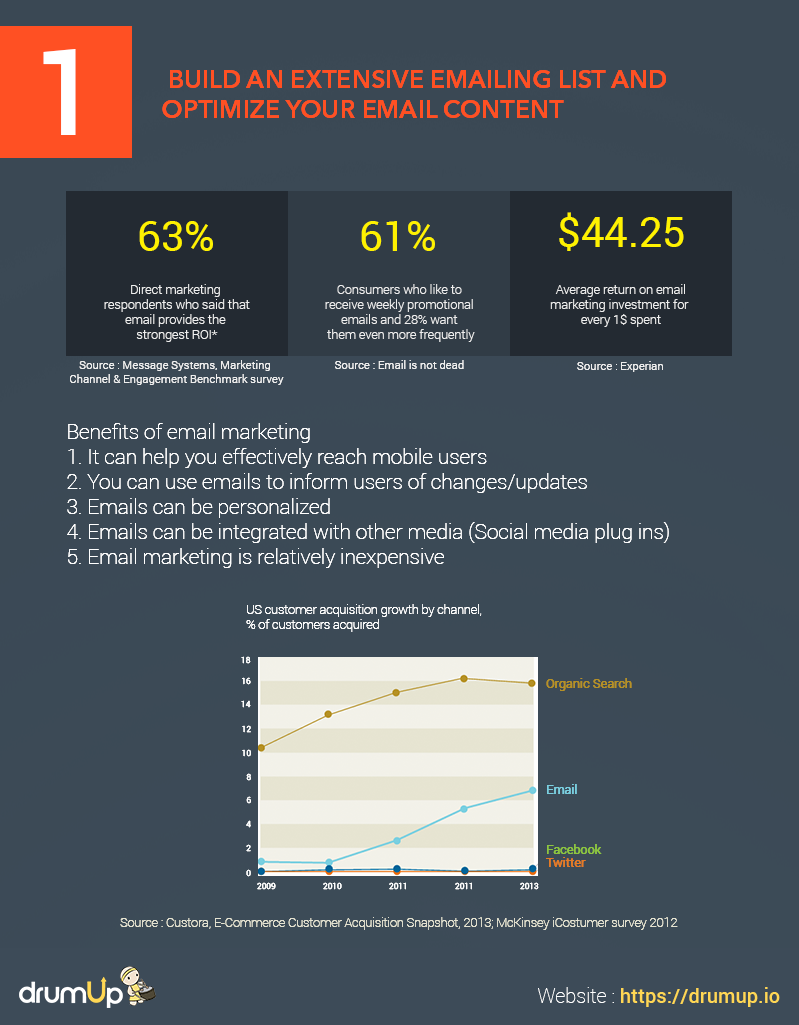 Email marketing is smart and effective because when people on your emailing list Sign Up, they essentially grant you permission to sell ideas to them. This is the massive advantage that email marketing has over most other media like TV, the internet, print or even social for that matter – people sign up for your content. Being willing tips the scale towards a higher possibility of conversions via email.
Besides, email marketing has other valuable advantages:
1. It can help you effectively reach mobile users
2. You can use emails to inform users of changes/updates
3. Emails can be personalized
4. Emails can be integrated with other media (Social media plug ins)
5. Email marketing is relatively inexpensive
6. Emails are permanent and have high visibility
So effectively, you could begin to construct your emailing list from Day 1 (launch of your beta version) and add to it through blog sign-ups and app registrations. Over time, you'd have a wide resource of contacts that would only continue growing.
But how you use the emails matters. What you put in them matters.
For instance, take a look at these email marketing campaigns.
Make them laugh and you've established a connect with them.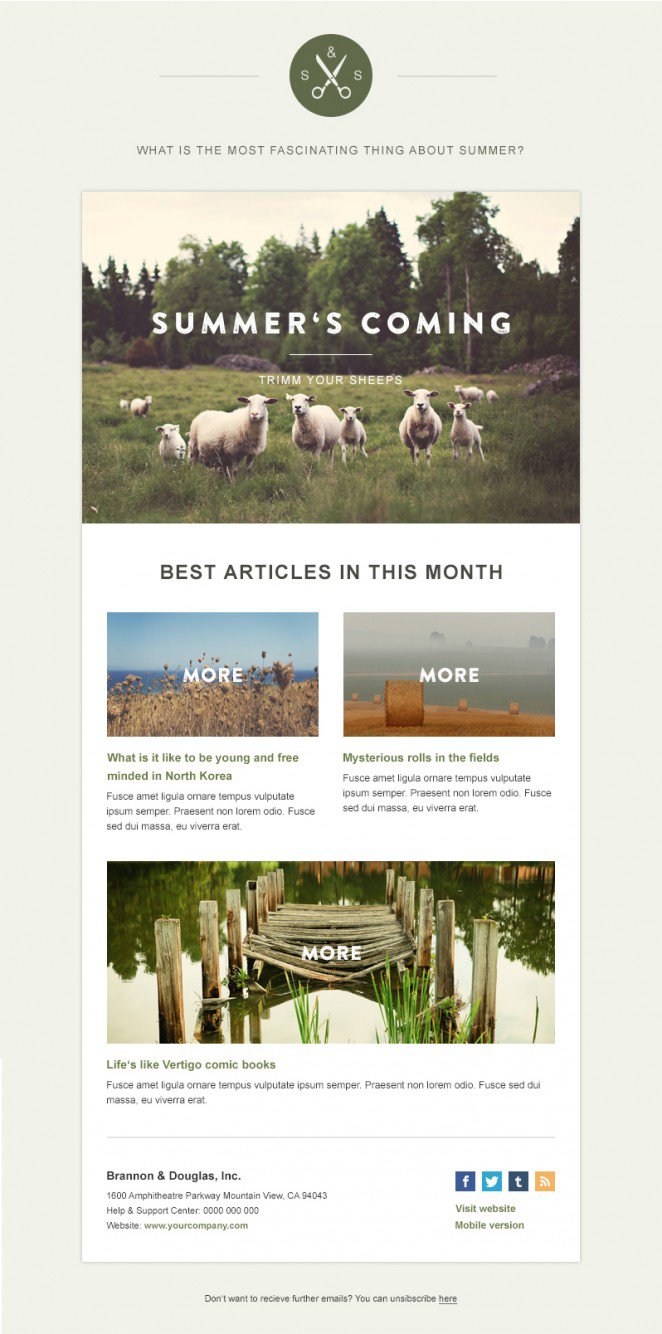 If you can't spring for great visuals, there are more economical ways of maker killer emails.
Simple but attention grabbing subject lines, or simple visuals based on smart concepts will do the trick.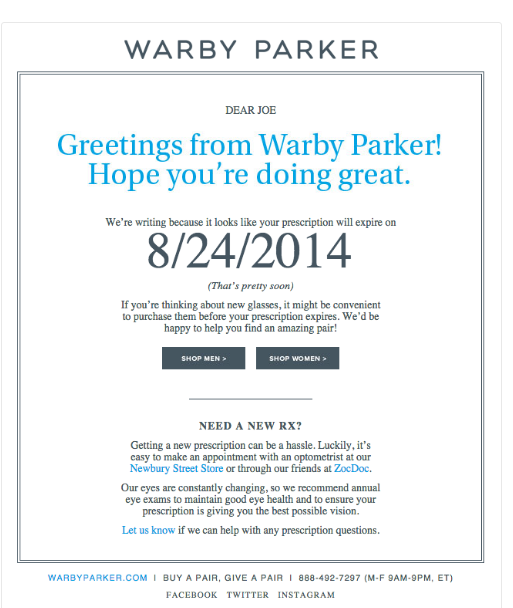 6 tips to create awesome content for your marketing emails:
1. Take cues from the experts
2. Use honest, and personal subject lines
3. Avoid overused marketing cliches (Eg: FREE)
4. Appeal to your contacts' interests
5. Use one simple and clear-cut Call To Action
6. Always write with the audience in mind
Alternatively, A/B testing is a good idea. You could create 2 versions of an email and send one version to half your emailing list and the other version to the other half. Analyze click-through numbers and unique opens to determine which elements on your emails are working and which are not.
There are tools that work well for managing your email marketing campaigns. Personally, we use SendGrid, and the analytics we receive from the tool helps us understand what you, our audience, like to read better. Of course, you could always Tweet that to us, and we'd gladly research and write what you'd want to read about.
2. Take data driven decisions regarding content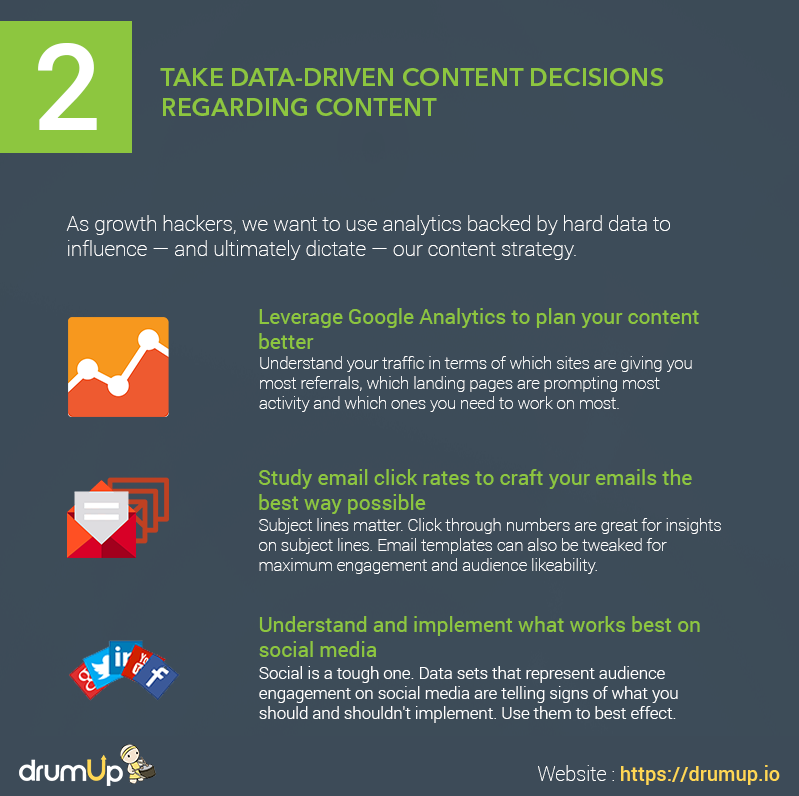 Every piece of content that you send out, be it your website content, a social media post, an email, a blog, or even a comment, your choice of words and pick of visuals have the potential to influence behaviors of people viewing that content. So what you choose to say and how you say it are deciding factors in the success of your marketing campaigns.
Being able to measure the impact of your content is a boon, really, because otherwise you'd be shooting in the dark (I apologize for the cliché but it fits into the explanation very well).
Google analytics provides a pretty comprehensive picture of your content's performance on the internet. The following are a couple of neat insights you can glean from Google's analytics platform.
1. Audience demographic – location, language
2. Visitors – real-time and otherwise, number of sessions and average length of sessions
3. Acquisitions – organic search, social media or otherwise
4. Referrals – the sites sending you most traffic
5. Keyword analysis – which keywords correspond to your clicks
6. Conversions – via tracking URLs
Leverage that data to understand whom you should angle your content towards, which keywords you should focus on when linking-out to your online presences, which social platforms/sites you should focus your resources on, and which blog types/content types you should create more of.
You could simply do this by viewing which ones have better numbers on Google Ananlytics – which sites give you most referrals, which landing pages have the most activity and which keywords have the best searches for you on Google.
Planning your content with those insights in mind is a definite step towards better results.
Social media engagement is a common standout on Google's traffic analysis. Social media has a lot of potential to drive big traffic to your sites. Again, knowing what posts work best on social platforms is useful. Drumup's social media analytics tells you the essentials – the likes, shares that each post got, so you can craft more social posts in the popular formats.
3. Create content that can be re-purposed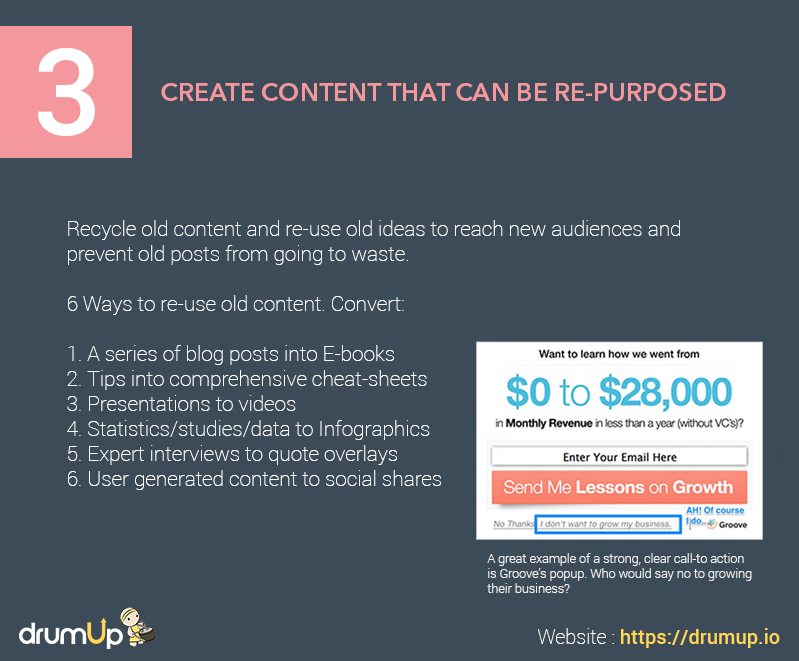 None of us have time enough to create content from scratch on a regular basis. Social media requires you to be active daily; Multiple times a day even. SaaS competition requires you to touch base with customers daily as well; Whether it is by enthralling them with value-adding content or by updating them on your tool's developments and promotions. If you were to create all of that content, you wouldn't be doing anything else, and SaaS marketing has several other bases you need to cover. Like Salma Jafri has simply put, "Create less, promote more."
The solution is two-fold and simple. Curate content that is excellent and create content that can be re-purposed.
Re-purposing content is turning it from one format to another. For instance, you could turn blog posts into slide-shares, which is something we follow.
The ways in which you can re-purpose content are multiple and not bound by rules. The only thing you need to remember is to use formats that your target audience likes best.
Other cool converts are:
1. A series of blog posts into E-books
2. Tips into comprehensive cheat-sheets
3. Presentations to videos
4. Statistics/studies/data to Infographics
5. Expert interviews to quote overlays
6. User generated content
You could also re-post your evergreen blogs – the ones that address concepts, and the ones that never become outdated. In fact, these are the ones that have most potential in terms of re-purposing.
For instance, we've got The Ultimate Employee Advocacy Guide which we update and republish as a complete and evergreen resource for businesses that want to amplify their social media marketing. It's never out of style and remains useful to readers, especially with the updates.
Re-purposing has some amazing benefits:
1. SEO
2. Reach in terms of a new/different audience
3. A reinforced message or concept
4. More views for old popular posts
5. Updated and evergreen content
6. More authority on the internet
Your users probably say a lot about you on social. Why not re-hash those instances and make a quick and cool message board? You could also launch a hash-tag campaign around your tool and encourage them to share stories or images that you could re-use as super-effective marketing content.
Remember, word-of-mouth is powerful. So is seeing a tool in action.
4. Encourage your consumers to share your content (go referral crazy)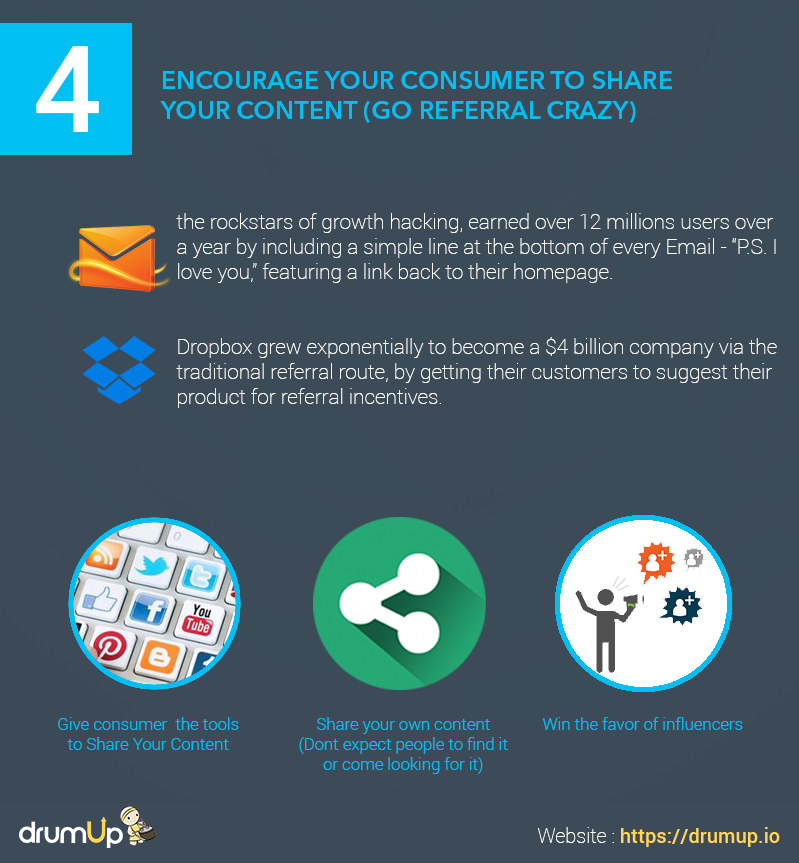 Customers are great content partners. Both in creating and distributing content for you. Most of your customers are probably on social media and have their own internet clout. Tapping into that could be a brilliant way to expand reach online. In fact, that is possibly the best way to to it.
As a growing Saas tool it is absolutely necessary to build and maintain strong relationships with your customers for two reasons – you need their (constructive) feedback to grow and you need them to share positive reviews on the internet to really expand your customer acquisition.
Involving customers as part of your content marketing plan is smart, all you have to do is share excellent content and make it easy for them to re-share it across their social/online channels. The practice is inexpensive, demands minimal effort and shows effective results, so it's a must-implement.
To make this process successful, you have to follow 3 simple steps:
1. Give your customers the tools to share your content
2. Share your own content (Don't expect people to discover it)
3. Request influencers to help widen your reach
Apart from amazing content, there's another way to prompt shares of your content. Referrals. The referral model works, but it is important to do it at the right stage.
Refrain from asking for referrals via pop-ups as soon as someone registers or buys your software, give them enough time to try it and grow to like it before you suggest referrals. Or you could follow up an on-boarding presentation of how your software works with how your referral program works. But always make it appear optional and never seem forced.
All your content should ideally have share plug ins. Direct to social media platforms and to other media like emails if possible. Make the descriptions share-friendly, share-prompting and genuine. Never over-promise and under-deliver. The sound byte is far less valuable than the let-down and loss of trust that incorrect descriptions provide.
With respect to influencers, you could ask them for software reviews. This works in terms of encouraging them to participate and getting some exposure for your software out of it. Their feedback is also valuable, something you might want to consider when planning your next features or updates.
If you want to ask them for something, it's a good idea to build a relationship with them first. Give what you can before you have to take. Involving them in content creation is a good give-and-take that you could initiate. Interviews, guides, quotes – influencers are perfect for these. But ensure to find the right ones for your niche.
5. Participate in community discussions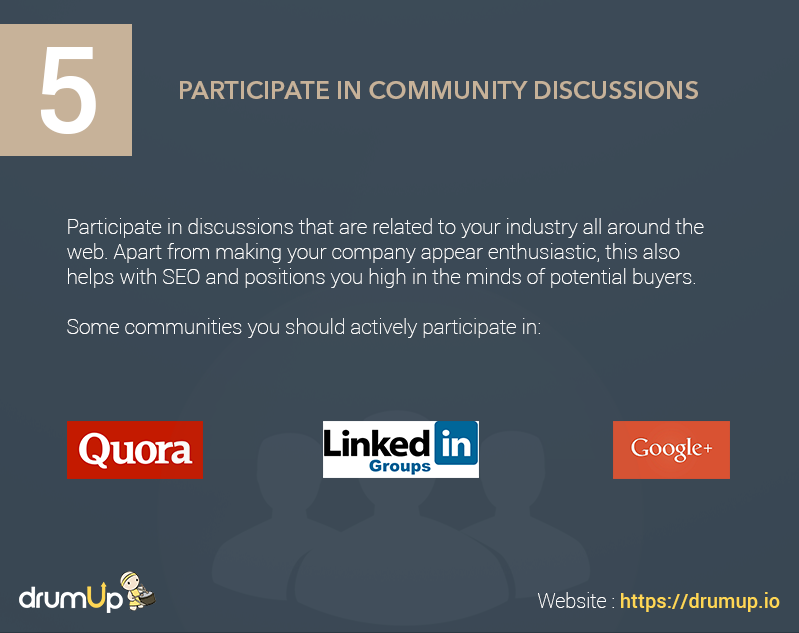 The internet is full of communities, gatherings of people with common interests or passion. These are particularly pertinent places for you to be, for 2 reasons – they are more focused than open platforms and people arrive at them when they are seeking something in specific. Are they looking for your software?
Locate the communities on the internet that they'd go looking in if they wanted to find a software like yours, and participate in those communities regularly.
The idea of communities is not to do direct sells, but to earn the identity of field expert and stay on top of your audience's minds. And when they're ready to buy, they should think of you.
Another way of approaching it is by finding instances when people are looking to make the buy, and then suggesting your software right there. But it's important to ensure that you have the clout to do that.
For instance, if the person you respond to runs through your profile or summary of participation on that platform, they should see substance and situations where you have guided and helped people. They should trust you, and trust is not easy to come by.
So communities is all about working on that presence and being ready for potential opportunities. This strategy may seem time and effort-consuming but it is the more sustainable one. So if your software is in it for the long run, you should stand by this strategy.
Some good generic communities on the internet are – Quora, LinkedIn groups, Google + communities. Of course, you'd have to find the right discussions on those communities to participate in.
Apart from these, do look for more focused communities that discuss your industry.
Growth hacks are quick ways to get massive movement on your marketing KPIs, but their implementation is ironically anything but quick. It takes time to build sustainable systems that consistently deliver results. But unlike traditional marketing strategies, these are economical, and beyond that initial effort of putting things in place, they function well and with little attention and committal of resources. They function ever better when you're constantly updating them based on developments, and as a Saas tool, you're already halfway there.
Do let us know how these hacks work for you, also, we'd love to include any additional growth hacks that you might have.
Note 2: The infographic is under the Creative Commons license and is available for reprint. Please attribute this blog with a link while sharing.