Social Media Marketing Tips for Etsy Retailers
Posted in :
Social Media Tips
on By
Apurva Jog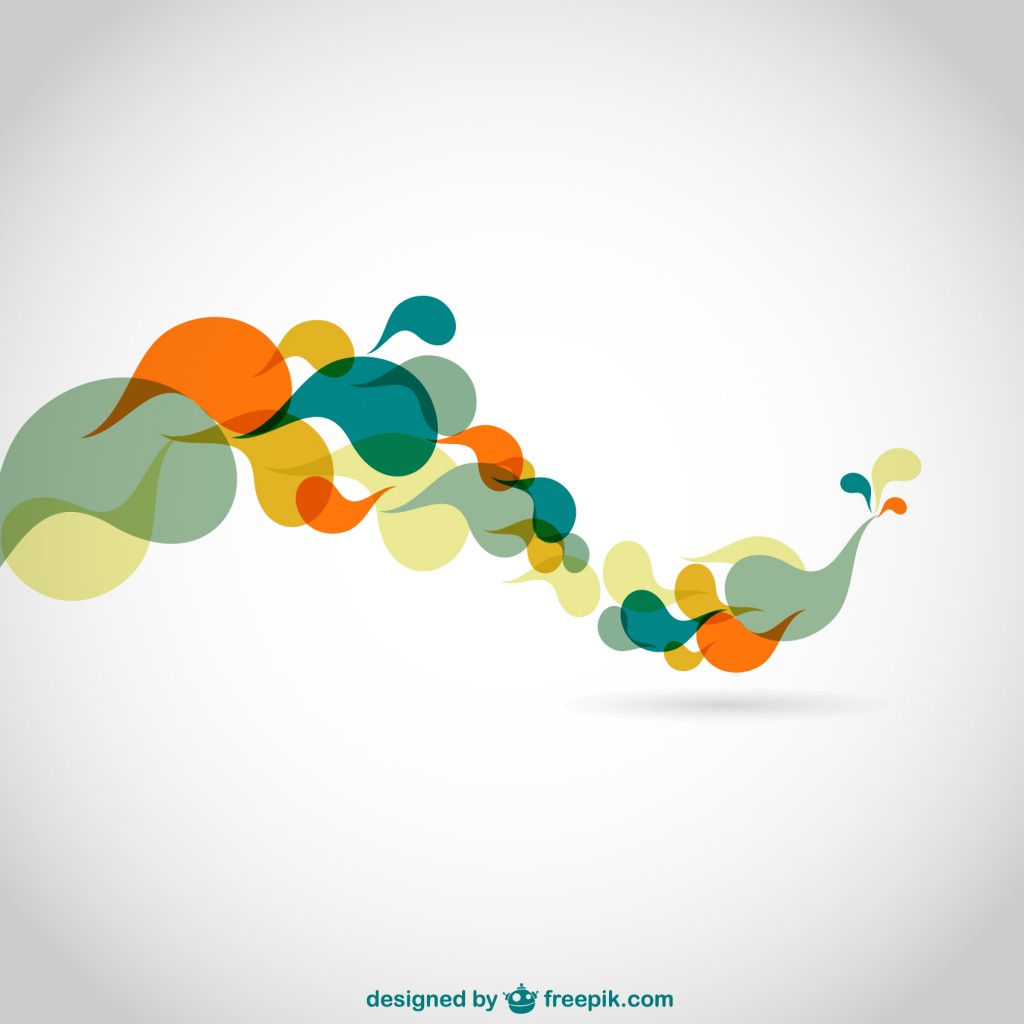 As an Etsy retailer, you probably enjoy thinking creatively, coming up with artsy ideas and putting all your effort in creating that beautiful masterpiece. On the other hand, sitting in front of your desktop and trying to figure out your next move on social media might leave you a little anxious.
Social media is a great platform for all businesses to promote their services and products because of the expansive reach and diversity in audience that it offers. Social media marketing is a definite necessity if you want to make an impact on your customers and boost your online presence. Unlike traditional advertising, social media offers a cheaper approach to marketing and it can also be a lot of fun once you start getting the hang of it. Read on for tips on how you can pump up your social media marketing strategy.
Find your image and voice on social media
Social media is all about personal conversations. It gives you the opportunity to build better relationships with your costumers by interacting with them on a one-on-one basis. This is why it is very important to be genuine on social media platforms. Take your time to craft posts that sound personable and can spark conversations. Here is an example of what Sue Rowe does on her Facebook page – Lazy susan makes.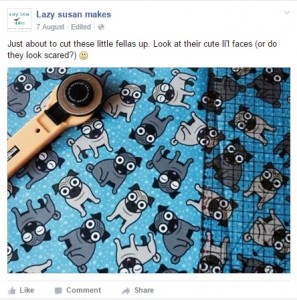 Look for inspiration
Many other Etsy retailers may already be savvy with social media marketing. Look for such retailers who belong to a relevant niche and monitor their social media pages. Don't hesitate to get a few pointers from someone whose social profile you admire. This an excellent way to get inspired and find ideas on how you can bring a fresh twist to your usual posts on your social media pages.
Publish shareable content to your social pages
New and freshly baked content can liven up your social media pages making them look more active. Look for blog posts, articles or images that are relevant to your Etsy shop and publish them on a regular basis. If you are having a tough time looking for or creating new content, use content discovery tools like DrumUp. With this app, you can search for stories that are related to your business using keywords and easily share them on your social media pages. DrumUp also lets you schedule posts that you like directly to your Facebook, Twitter and LinkedIn accounts.
Using tools and apps can really cut down on the time you have to spend organizing your social media or even day-to-day activities related to your business. You can also make use of StartUp Stash, a website that offers a directory of curated resources and apps so you can choose the right tools for your Etsy shop.
Post good quality pictures
Post pictures of your workshop, products or of your creative process to give your customers a small glimpse into how you create your products. Make sure they are high quality. This way they can instantly attract your customer's attention. Etsy retailer Metalicious uses superb photography techniques along with unique backgrounds in the images she publishes on Facebook. This way, her products stand out and instantly grab the viewer's attention.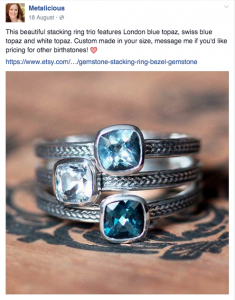 Analyze your social media posts
Whenever you publish a post, check back to see the number of likes, comments, shares or retweets that the post has received. This will help you understand the kind of posts that are working for you on your social media networks. Experiment and create posts that ask questions or ask for opinions. Once you get to know what your audience likes, you can start publishing content that will be instantly lapped up.
Maintain consistency
Even after you start getting a lot of engagement on your pages, you should still continue posting at least twice or thrice every day to maintain a constant stream of engaging posts. When you start slacking off, your costumer will be very quick to pick up on it, and will eventually lose interest in the content you post. Keep up with your posts and most importantly, with your replies.
Lure your costumers using social media
From time to time, run contests, host giveaways, and promote offers on your Facebook or Twitter pages. These are great ways of gaining new customers and holding on to them. Ask you customers to send in photos of them using your product and publish it on your business pages. Carpe Diem Jewellery does this right! After all, a little flattery goes a long way.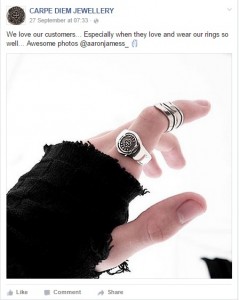 Use hashtags
Social media networks like Twitter, Facebook and Instagram, all support hashtags. Use these hashtags in your posts so that they become easy to discover. Monitor trending topics and hashtags and make it a point to incorporate them in your daily posts. If you are planning on promoting an upcoming event, you can even create your own hashtags to spread the word create hype for your sales or other events.
Social media is a two-way street. You need to be consistent, conversational and creative in your posts in order to get the most engagement from your customers. Put out content that you and your customers will find interesting to read. Lastly, try to become an influencer and provide your audience with a lot of information. This will eventually lead to a loyal followership and strong relationships.
Image Credit: Designed by Freepik