Eight Reasons to Bring Content Curation Into Your Social Media Content Mix
Posted in :
Content Curation
,
SMM
,
Social Media Tips
on By
Ashwini Pai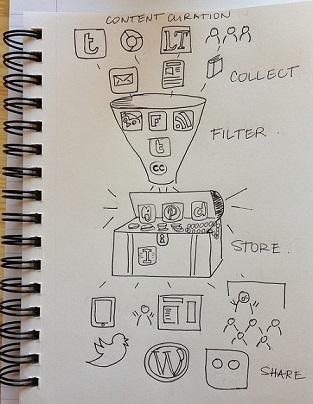 Even five years ago, the word 'curation' conjured images of a man perusing artwork, documenting research conducted on the collection, acquiring them for a museum or art gallery, and sharing the research with the public via exhibitions and publications. Today, any business with an internet access and a deep knowledge of their customers can become a content curator.
Curating content is not simply aggregating it and serving it up for your audience to analyze or find answers themselves. It's about picking the most relevant and useful information on a topic, adding your insights and commentary, and making it easy for your audience to make a decision or enhance their understanding of that topic. To put your own stamp on the content you've curated, you can supplement or combine it with an existing post, infographic or video of your own. Curation is taking a lot of good things and packing them into one better thing.
#1 Build trust, build rapport
The main purpose of curation in a museum is to deliver educative value. Another purpose is to influence some aspect of the visitor's attitude or values stemming from his/her discovery of some meaning in the objects on display, a discovery stimulated and sustained by the visitor's confidence in the perceived authenticity of the content (Lord & Piacente, Manual of Museum Exhibitions, 2014). It works the same way for a business; if you can curate content thoughtfully, you will build trust with your audience. How? By demonstrating that you have a good grasp on the challenges they face every day, and committed to solving their problems. That's the first most-important reason why you should bring content curation into your social media content mix.
Trust builds rapport; the more you trust you someone, the more likely you are to open up to them. Keep providing your audience with quality curated content, and they'll keep coming back to your social media pages and blog to get their fix of data, information, ideas and solutions.
#2 Follow a 70-20-10 split
An important thumb rule for social media content is to post 70% of original content, 20% of shared/repurposed content and 10% of promotional content. Curation meets at the intersection of the 70% and 20%. You can use the findings and statistics from the sources you've curated to produce your own original content. You can highlight some points from a couple of your own posts and add links you've found from other sources or blend multiple stories from different sources to communicate your take on a topic.
#3 Be a hub, not a periphery
The value of providing timely, up-to-date content to your audience, and consistently answering the questions they pose each and every day, is evident. Curation gives you the opportunity to present different perspectives, distil key points from multiple surveys, compare and contrast current commentary on a topical subject….and more. You save your audience the time they would have otherwise spent cutting through the internet and social media noise to find relevant content. They start viewing your social media pages as an information hub where they can gain a complete and comprehensive understanding of different topics of interest.
#4 Supplement original content creation
It's impossible to consistently think of great ideas for your social media and blog posts, especially if you're a busy entrepreneur. It's equally challenging to find the time to create share-worthy posts on the topics and ideas you've finalized. Curation takes much of this load off you, allowing you to produce abundant content that meets your audience's needs. If you're a super-busy, completely hands-on entrepreneur with little or no time for curation, you could quickly set keywords and use DrumUp's relevant social media content recommendations to cover you on social.
#5 Develop your own expertise
Knowledge is a key resource for any business; it empowers your social media team, who can then empower your audience. Research and discovery are key components of content curation. They are mind expanding, thrilling and essential for insightful dialogues with your team, audience and the larger community of social media experts and marketing strategists.
#6 Sharpen your competitive edge
Knowledge is power and social media is everyone's playground! Continuing from #5 above, curation builds your expertise and helps you become a more authoritative voice in your field. The more consistently you prove yourself as a trusted authority, the more people will regard you as one of their chief sources of important, useful information. You'll continue to remain special even in the face of a crowded market and rising competition!
#7 Connect with influencers
Content curation gives you the opportunity to discover and connect with social influencers and prominent bloggers. Networking with them can give your social reputation a boost, drive traffic to your website and help forge mutually-beneficial business relationships. And before you know it, Guy Kawasaki will be tweeting your post to his followers .
#8 Discover your key audience
One of the lesser known benefits of implementing content curation is how you are attracting a very specific demographic to your social pages by aggregating content pertaining to a niche'. Strategic content curation is an excellent filter of viewers on social platforms. Share what you think your ideal customer would want to discover on social, and in the process of doing that, your idea audience could be drawn towards you.
When you start curating content, don't expect the 'finding' to be much quicker than the 'creating'. Ease into the role, discover influencers, bloggers, publication, fine-tune content production tactics, and develop a curation strategy that amplifies results from your social media efforts.
Note: This post was originally published on Aug 31, 2015 and has since been updated with additional information.
Image Credit: Sally Wilson via Flickr