16 Types of Visual Content to Revitalize Your Social Media Marketing
Posted in :
Content Curation
,
Content Marketing
,
Others
,
Social Media Tips
on By
Disha Dinesh
Today's audience has trouble focusing because of their hyperactive, commotion-ridden environment. Everyday, people are exposed to more webpages, TV shows, social media posts, instant gratification technologies and data. The Attention Economy records how one Sunday New York Times edition presents more factual data than 15th century readers could access in their entire lifetimes!
It's great that the world went digital, because you can now connect with anyone, anywhere, but so can everyone else. What makes you different? What makes you stand out?
According to new research, social media marketers are turning to visual content to get the job done. The power of visual content marketing isn't a new concept. Graphic designers have always had a role to play in marketing and advertising, even on traditional media like TV and newspapers.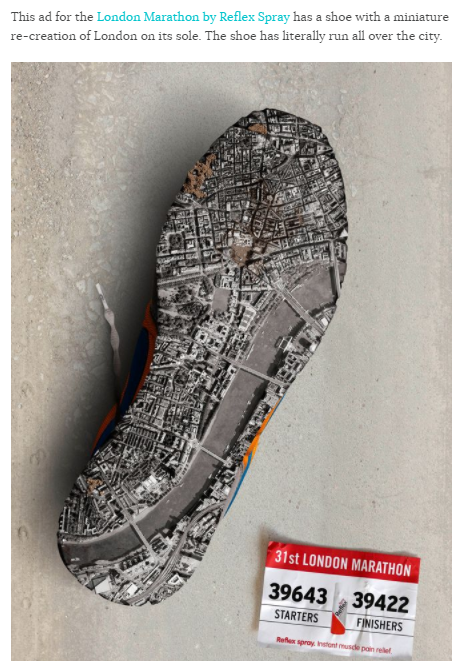 Now that businesses have begun to migrate to digital to reach target groups, visual content for social media and the internet has become a primary concern for brands.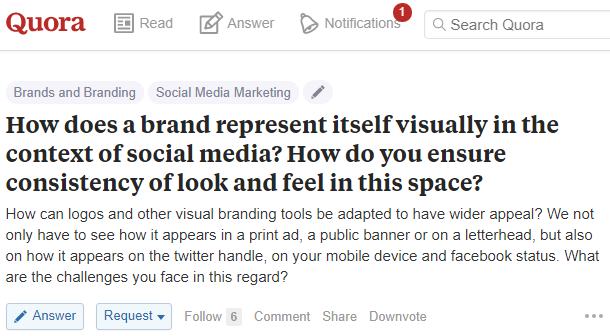 Before we delve into visual content ideas and formats, let's recapitulate the benefits of visual content marketing and why you should take it very seriously.
Index
I. The latest studies on visual content & social media marketing
II. 16 types of visual content to use (+resources to curate/create them)
III. Social media design tips & how to create killer posts [COMING SOON – on the next update]
IV. A summary of what we know about visual content marketing (Hard hitting facts recorded by expert bloggers and research organizations)  [COMING SOON – on the next update]
I. The latest studies on visual content & social media marketing
Of late, several research organizations and businesses in the social media space have begun to study the effect of using visuals on social platforms to evaluate the value of investing in it. Here are three such studies that illustrate the current state of visual content marketing on social media.
According to Brainrules.net, people can recall up to 65% of information that is visually depicted for a period of 72 hours vs only 10% of information they hear for the same period of time.
In fact, even your logo has a lot of bearing on what people feel about your brand. If haven't created a logo yet or wish to redesign to make it more effective, here's a guide that can help.
Visuals clearly have the power to reinforce marketing messages. If you aren't using visuals consistently as a part of your social media marketing, you are missing out on serious action. Use a social media management app that makes it easy to store, source and use visuals.
DrumUp has content libraries where you can store your best visual posts and reuse them. It also lets you source fun GIFs and add them to posts you schedule from the app.
SocialMediaExaminer notes that 85% of the 5000 marketers they surveyed used visual content in 2017; an increase from the 74% who did in 2016.
However, many marketers still struggle with creating their own visual content. You can create excellent graphics even without a design background, using the right graphic design and editor tools.
Periscope users watch 110 years' worth of live video on the app, while Livestream confirms the trend with their study that finds 78% users who watch video broadcasts on Facebook Live. Live video is the trend you shouldn't ignore.
Recommended reading: 20 Top Social Media Marketing Trends for 2017
You can use visual content to get social media users to pay attention, remember your message and act on it, provided you use the right visuals. The following are visual content types and ideas that you can use to create a vibrant and effective social media presence.
II. 16 types of visual content to use (+resources to curate/create them)
1. Stock images
Blog posts that are written in big, continuous blocks of text are generally considered off-putting and visuals can provide relief and value to blog content. In fact, blog posts interspersed with images get more views that those that aren't.
Most bloggers use stock images to headline blog posts, but there's no reason why you shouldn't extend the strategy to create engagement within posts and on social media. One of our senior writers, Vinay, likes adding stock images within his posts, to help readers visualize what is being discussed.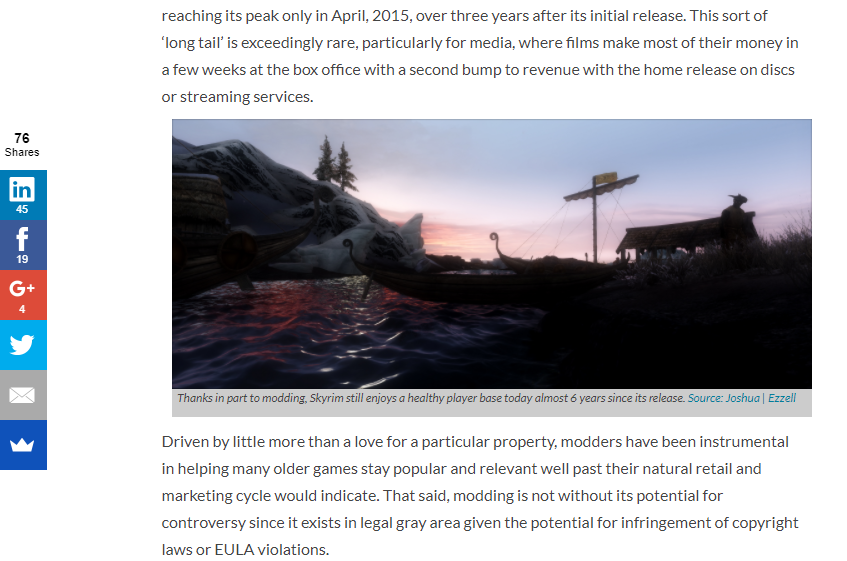 The context you place them in matters. Get creative, and you can radically improve the way your posts are perceived. There are vast resources like Pexels and Pixabay that you can use to find the right stock images.
2. Videos
We've established why you should invest in creating videos, but what can use them to convey? The list of video content applications is endless, because anything you can say in person can be said on video. Businesses use videos to create product tutorials, educational how-to's, entertainment, interviews and more, both in live and prerecorded forms.
Tough Mudder is a military styled endurance event series that pushed people to overcome military like obstacles. They cover their events on Facebook Live  to connect with people who can't make it to the events.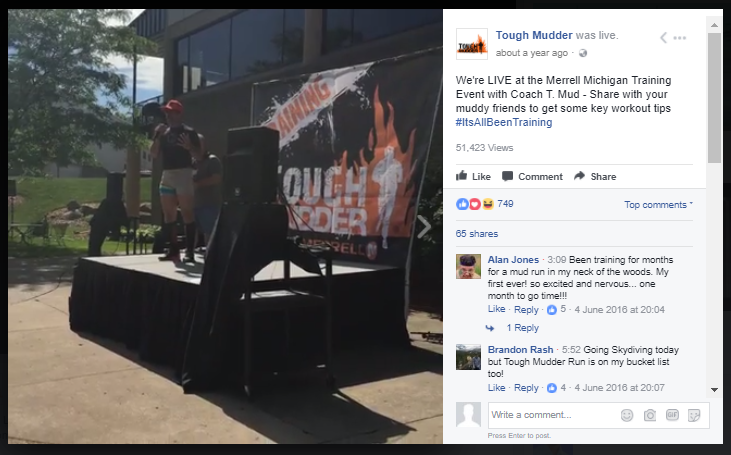 On social media, businesses use live video to launch products, engage with fans and capture real-time events so they can instantly be broadcast to a large, global audience. Some brands also use video to address questions and concerns, face-to-face and real-time.
Lovecars turns their 'Inside luxury cars' videos into AMAs (Ask Me Anythings) to increase fan engagement.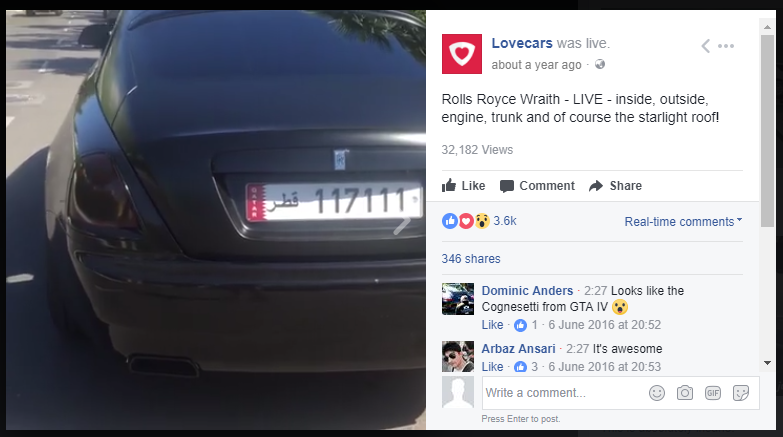 Creating videos isn't hard anymore with affordable and effective tools like Moovly and Fiverr.
3. Infographics
Infographics offer a great way to collate data, complex ideas and information in a concise and consumable format. If you have old, evergreen blog posts, podcasts or videos lying about, you can easily re-purpose them into engaging infographics.
You could also create a unique, intriguing concept like Kelly-Moore Paints did with The Sound of Color.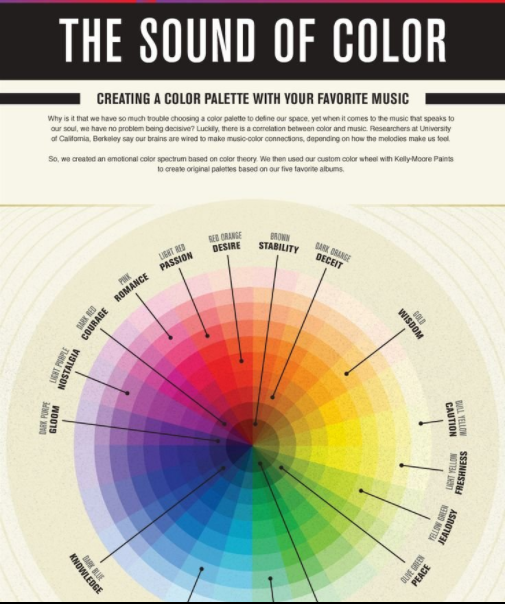 Contrary to what most visual content marketing posts will tell you, infographics aren't shared 3X as much as other types of content. They are shared proportionally to their quality and how well you market them.
It's easy to create high-quality infographics using the right concepts and templates from tools like Piktochart.
4. GIFs
GIFs are fun and super-effective, when used in the right context. Further, people may not have the time or data bandwidth to watch entire videos, but they can always watch GIFs that are designed to run for 2-3 seconds.
MailChimp uses a lot of GIFs on their Facebook page to engage fans.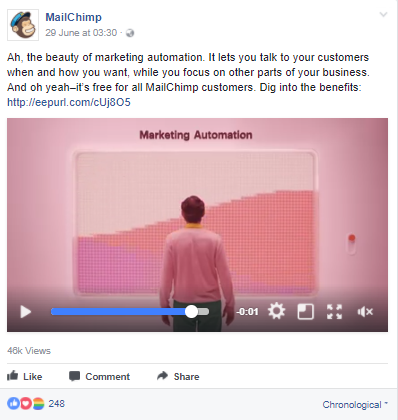 If that's not enough to convince you, GIFs are known to increase engagement on social media. They're also great ice-breakers and can help you develop important relationships, simply by putting a smile on people's faces. Even Twitter and Facebook have relented to the trend and added GIFs to their post editors.
GIPHY lets you create and curate GIFs effortlessly. If you're using DrumUp, you can search for and incorporate GIFs on social media posts in-app.
5. Memes & comics
The word 'meme' was first used by evolutionary biologist Richard Dawkins in 1976, to describe behavioral characteristics or style that spread among people in a culture. Today's meaning of meme is what the internet has re-appropriated over the years.
Memes were initially shared by college students, being images with fun, silly captions, but they have evolved into becoming the internet's language for humor; visual content with serious potential to go viral.
You can use memes to great inside jokes about your industry and display strong, positive emotions that set you apart from competitors. Gucci recently launched a set of meme-based Instagram ads.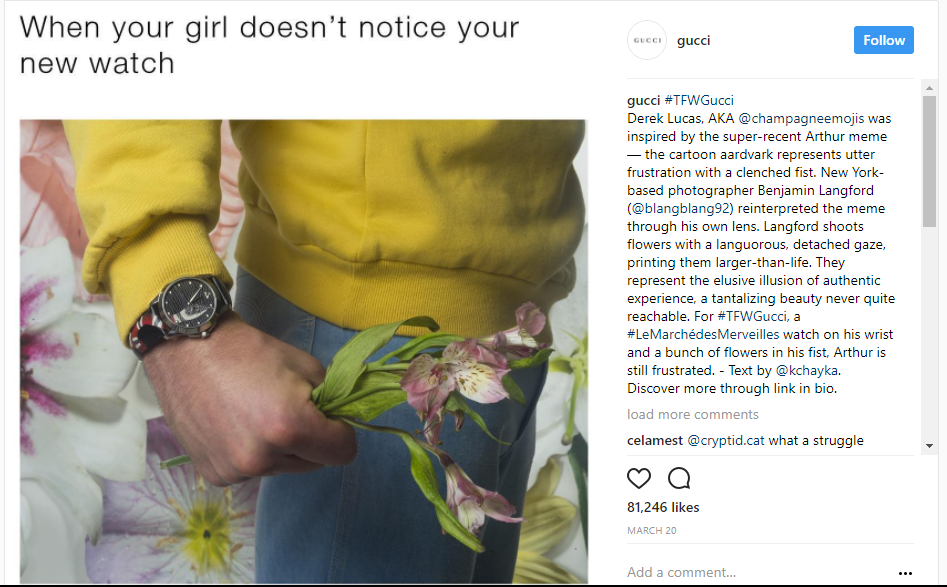 You could also stick to the classic style of comics, if you want to stand apart from brands creating memes.
6. Presentations
Presentations are no longer restricted to boardrooms; you can now create and share presentations on SlideShare, Twitter and Facebook, massively increasing exposure for important messages.
You can use slides to narrate stories, share instructions, tutorials, research and case-studies. There's a lot that you can do with presentations.
There's a lot of scope for outdoing design and organization on slides, like Rand Fishkin has done on his 'Why Content Marketing Fails' presentation. Use humor, great design and clear representation of complex concepts to make the most of the presentation format.
7. Screenshots
Screenshots are a highly underrated form of visual content; they can speak to your readers, illustrate inner workings of products and services and be used to call attention to specific details of any visual.
You can use screenshots to support your arguments on blog posts, make references to sources of information or explain information that is to complicated to convey in words. Screenshots can also function as testimonials.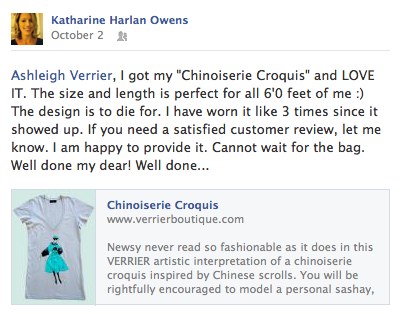 88% people read reviews before subscribing to a service, and screenshots of social media posts can act as great, authentic testimonials.
8. CTAs
Most businesses fail to use the power of CTAs. When you want people to act a certain way, you first have to tell them. CTAs can accelerate your conversions after attracting people to your content, when used correctly.
Adding CTAs to all your visuals isn't a great ideas, as your social media pages will appear overtly commercial and turn off your fans. However, the occasional 'click here', 'buy now', 'subscribe', or 'follow us' can be advantageous, when implemented using the right colors, hierarchy and eye-catching imagery.
Here's how HubSpot gets fans to engage with their content.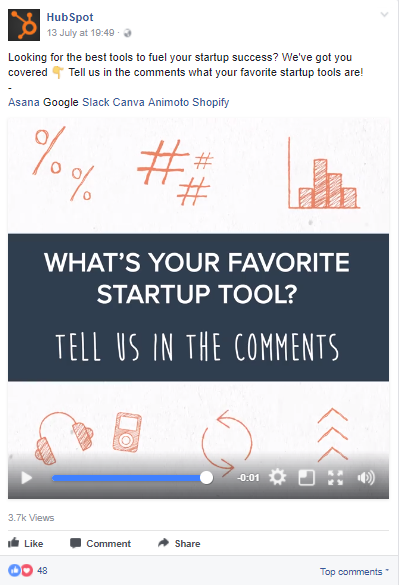 9. Quote covers
When visually represented, quotes have power to get your audience to act or feel a certain way about your brand, products and services. Quotes are generally popular on social media platforms, can easily be shared and have the potential to go viral.
When creating quote covers, you can use your brand's palette, typography and strategic visual cues to make your message powerful, increase impact and brand recognition.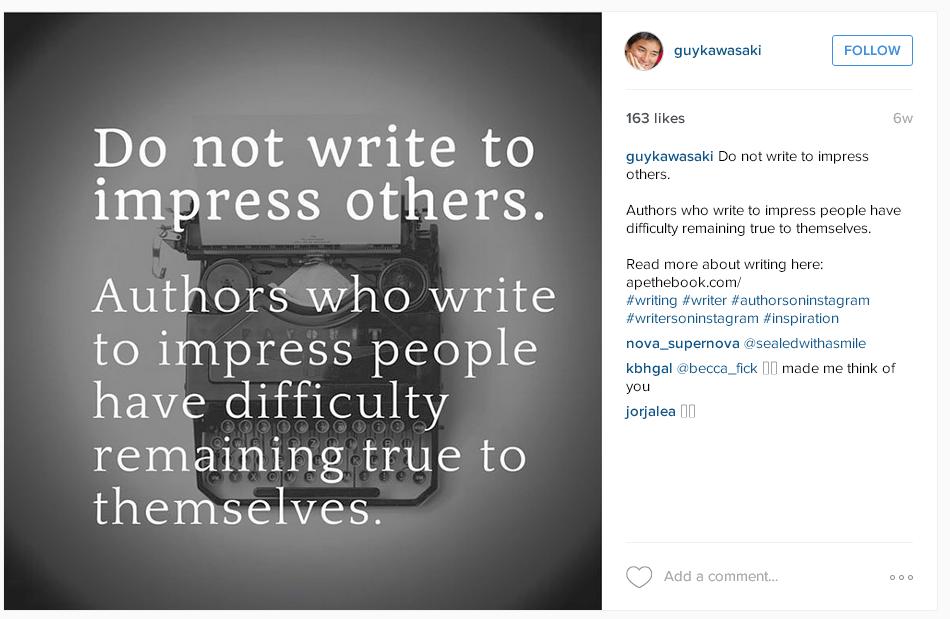 Instead of recycling cues, you could get original ones from your company's leaders and use quotes as a means to further their authority and influence on social networks.
With tools like Recite, you can create quote covers in a matter of seconds.
10. Data visualizations
Most people prefer receiving information in the simplest way possible, without any complexity. Data can be tricky to present textually on social media, but can be effectively conveyed through graphs and infographics.
If you have research or a case-study to share with your fans, you can visualize that data powerfully in your lead image.
Graphs are also great for branding, because you can tailor them to fit your pallet, style and brand spirit. Qualities like sophistication, minimalism and technical superiority can be expressed via your representation of graphs.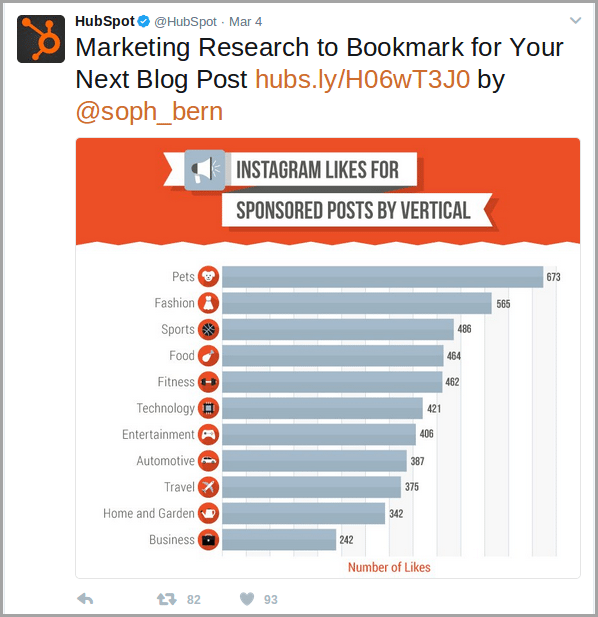 They can be very easy to create using tools like Slides or Venngage.
11. Thought-provoking questions & QnAs
Most brands' social media pages are riddled with one-sided communication where they push out content and fans see it. Few brands manage to create real engagement with fans. That's where questions come in. Expert conversationalists recommend asking questions to initiate conversations, and you can use this strategy to evoke response from fans.
Madalyn Sklar's #TwitterSmarter questions are always presented in her classic and timeless visual format.
QnAs are how you answer your fans' questions and keep the conversation going. They're a great way to address your fans' concerns, and bridge the gap between them and your business. Answering questions openly also makes your brand appear transparent and approachable.
12. Quizzes & puzzles
Most people love puzzles. That's why they get virally shared on chat platforms like Whatsapp. They may be less used on social networks, but that presents an opportunity for your brand to stand out.
You can use quizzes to generate real revenue, with the right strategy and implementation. Brands have used them to differentiate the products, increase adoption and drive conversions. If product education is a challenge for you, quizzes can act as an enjoyable means of turning your consumers' half knowledge into solid understanding.
BioLite uses quizzes to promote their line of products.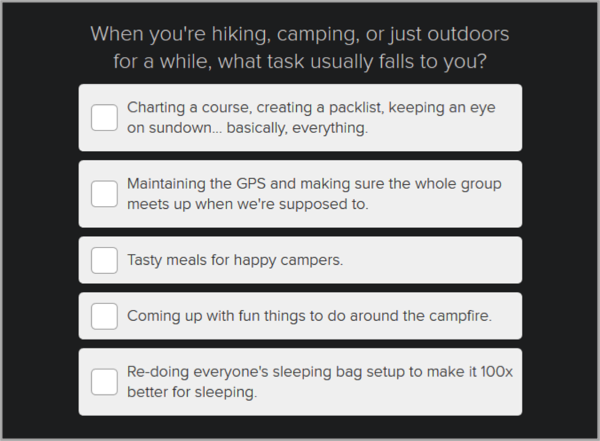 Quizzes can be easy to create with tools like Qzzr and services like Interact.
13. Tips, tricks & how-tos
In a book called 'Effects of text illustrations', WH Levie an R Lentz note that people following visual instructions perform 323% better than people who are not given illustrations. Your consumers and social media fans can make the most of your tips, tricks and how-tos if they are visualized.
These visuals can convey anything from life hacks to product tutorials and everything in between. Simplified step-by-step representation can make your tips seems easily achievable, instilling a sense of confidence and positivity towards your brand.
Use them to show off the best ways to use your product or paint your brand as an authoritative and trustworthy source of information. Quid Corner's 12 Classic Sauces & How to Make Them infographic is a great example of this strategy.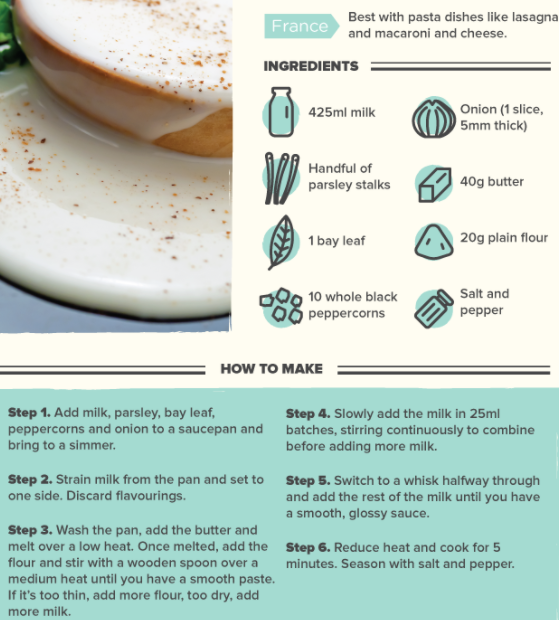 14. Photographs & collages
Stock images are great for enhancing your text based content, but original photographs can be way more powerful. They not only reference real places and people, but make your brand more relatable.
Brands use photographs and collages (albums) to share visuals of the people behind the professional front, workplaces and office outings. Behind the scenes storytelling is a great way to show your fans that you are human, and just like them, making you more approachable and likeable.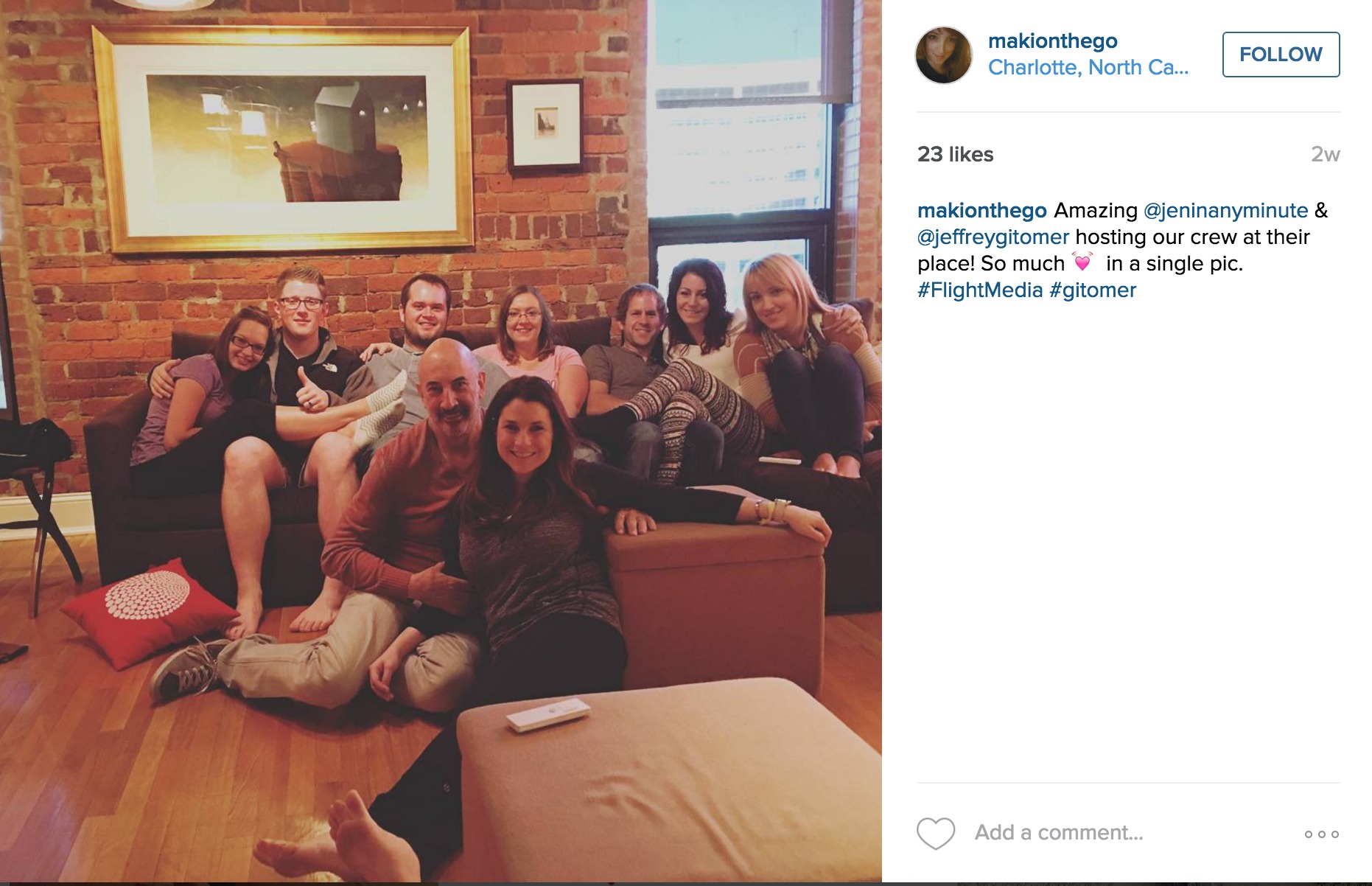 With tools like LiveLuvCreate, you can make your photographs and collages more appealing.
15. Social media quotes
You can also call them 'Quote tweets' on Twitter or 'Shares with comments' on LinkedIn and Facebook. Social media quotes prove to your fans that you aren't simply pushing out content on your page, but also listening and interacting with their content.
Social media quotes are great as visual content, because they add credibility to the equation. If you RT a testimonial or kind words that a fan spontaneously shares about your brand, it instantly boost your brand image.
If you're good with humor and have humorous fans, there's a lot more you can do with quote tweets. Check out this one by Taco Bell for instance.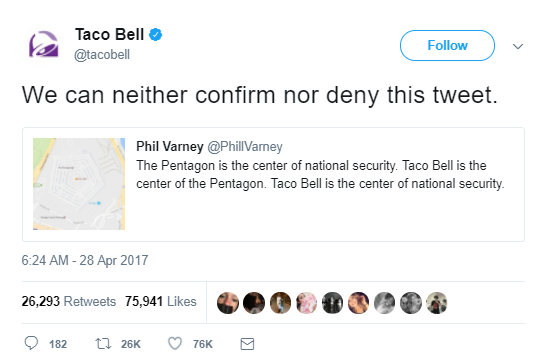 You can also use quote tweets to engage fans, reply to their posts and start conversations.
16. Branded images
Branded images take a separate spot on this list because most brands forget about them while working with different content types and formats.
Do you make it a point to add your logo and brand colors to every image you create? Do you have a standard theme, palette and typography to follow on your visuals? If you don't it's important that you decide on them. They contribute to brand recognition and identity, an essential part of making impact with visual content on social media.
Treat your brand like a person, and choose his/her style and personality before you begin creating content.
Final tip: Use social media analytics to identify which visuals work best for your brand, and use them more often!
Wrap
There are 16 types of visual content that you can start using right away to make your social media marketing more powerful. The post also refers to the tools that can get your started, so what are you waiting for? Use this resource and build a visually competent brand on social media. We'd love to hear about your experience implementing these ideas, so feel free to write to us or comment on this post.