Social Media Marketing Lessons from Bernie Sanders
Posted in :
SMM
,
Social Media Tips
on By
Ashwini Pai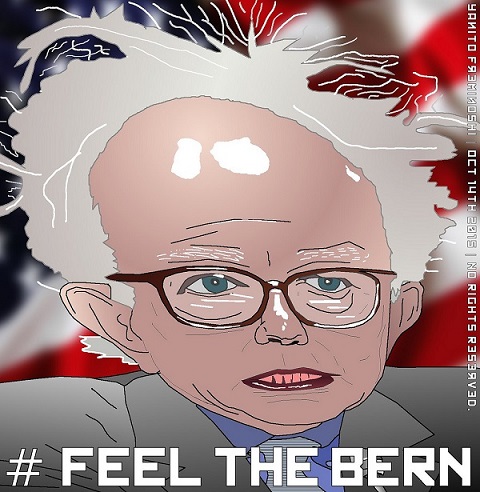 The battle for the Democratic Presidential nomination between Bernie Sanders – a 74-year old senator with little name recognition (until now) – and Hillary Clinton, who has spent a lifetime amongst Washington's elite, is heating up. One of their prized ammunition is the social media campaign they're running (Ex : #feelthebern and #ImWithHer). Bernie's is more organic, led by his grassroots supporters, which is remarkable and probably necessary given the paucity of attention he has received from the increasingly biased mainstream media.
The question of interest to the social media marketer is this : is the American public rallying behind him because he identifies with the problems faced by the 99%? Absolutely. But how has he managed to capture their imagination in such a short time? These marketing lessons from the veteran politician will make you rethink your social media marketing strategy.
1. Define your audience
Bernie Sanders is an advocate for America's middle-class and working class. He concerns himself with problems such as income inequality, reduction in taxes for the lower and middle classes, strengthening the manufacturing sector to create more jobs, affordable college education, tuition-free public universities, paid leave, and better veterans' benefits. A defined audience makes it easier to craft messages that resonate, and encourage positive action. In the way that it makes Sanders appear authentic, it can also make businesses appear caring and trustworthy.
2. Send a clear message to your audience
From the very beginning, Sanders has made it clear that he's here to challenge economic inequality. Everything he says ties into this larger message. As a result, he has amassed a massive number of individual donors and his top contributors comprise of workers' and teachers' unions. For businesses, it means that their social media campaigns must be centered around their image, values and core message. Check out Red Bull, Coca-Cola, Target and SEOMoz for inspiration.
3. Ensure messaging consistency
Sanders is a big hit with the American youth. His subreddit has over 145,000 subscribers, 'Bernie is Bae' messages on t-shirts are selling like hotcakes, and #babesforbernie are popularly used by his young female supporters. Sanders has active social networkers and influencers explaining and promoting his policies to anyone who's willing to listen. If you ask the young crowd what they find attractive in Bernie, many will point to his consistency and steadfastness in addressing issues of debt and inequality. By avoiding flip-flops and sticking to a core message that aligns with specific needs/pain-points/beliefs, businesses can connect more easily with audiences.
4. Link back posts to your website's pages
Sanders' Facebook page has over two million 'likes', and his individual Facebook posts have the highest engagement levels of all candidates. Quite a few of his posts are long-winded tirades, which link back to his campaign website for further reading. In fact, all his social media pages have a link back to his official site. For a business, it can serve an important strategic purpose. It can give readers a chance to further engage with the brand and discover new information or more content to make decisions.
Image Credit : Yanito Freminoshi via Flickr