Why DrumUp is a Great Choice for a Twitter Management Tool
Posted in :
DrumUp Resources
,
Social Media Tips
on By
Vasudha Veeranna
Growing your followers and maintaining an influence on Twitter is no mean task. Close to 350,000 tweets are sent each minute, making it rather easy for your tweets to get buried under a thousand others. With so much information being shared so frequently, it becomes all the more important that you're tweets are interesting to hold the attention of your followers. Increasing the frequency of posting is another way to boost the chances of your tweets being noticed.
However, doing all of this can be extremely cumbersome and time-consuming without a tool like DrumUp. Here's a little more on the magic you can work with the little drummer-boy by your side.
Find interesting stories to share
DrumUp helps you discover the most relevant stories for you based the keywords you choose for your Twitter account. You will be asked to enter your preferred keywords at the time of setting up your account, but you can also modify these keywords at any time by visiting the Settings page for that account. Alternatively, you can also choose from our pre-curated sets of keywords at the time of creating your account, which are grouped by category. If you're interested in tracking one or more keywords from a certain keyword set, simply click on 'x' button that appears to the left of the keyword.
DrumUp's algorithms learn from the choices you make – if you don't want to see content recommendations from a particular domain, or on a particular subject just delete them a few times. The algorithms will understand your preference and stop suggesting such stories for you.
Keep up with industry trends
Using the DrumUp content discovery engine is a great way to keep up with industry trends. For instance, if social media marketing is your niche, you could set up 'Facebook', 'Twitter' and 'LinkedIn' as keywords for your Twitter account. This will ensure that you receive all updates about the big three platforms in your content stream, making it that much easier for you to keep up with news about them.
Content recommendations on DrumUp are refreshed daily, ensuring that you have easy, hassle-free access to all the top news around the keywords you're tracking. Staying abreast with industry trends, and sharing freshly curated content consistently will help place you as a well-informed professional among your peers. You can also choose to receive email notifications with the top stories every day, twice a week, or once a week.
Schedule tweets in advance
Consistency is key to establishing a strong foothold on Twitter. If you're going to be sharing tweets in an on-again-off-again fashion, it'll do you little good. And posting tweets manually is an avoidable interruption to your regular routine. If you're managing multiple accounts, manual posting is all the more painful since you'll have to log in and out of accounts repeatedly to switch among them.
Scheduling tweets in advance will also give you more time on hands to engage in conversations with other Twitter users. While scheduling curated tweets will help you maintain a steady presence on Twitter, DrumUp also lets you schedule custom posts to ensure that you never miss out on making an important announcement. When scheduling your tweets on DrumUp you can either go with the automatic posting times that are identified to be the best ones for you, or choose a custom time and date.
Optimize your tweets with recommended hashtags
Hashtags are your best friends on Twitter. They make your tweets easier to find and also help set them in a commonly understood context. To see the recommended hashtags for a particular content recommendation, just click on the blue Schedule button that appears on its bottom-left corner.
You can either choose from the recommended hashtags, or manually enter one of your own into the test box. Try not to add more than two hashtags in a single tweet since it could make it look spammy otherwise. If you're adding a hashtag of your own, make sure it's relevant to your tweet – the recommended hashtags have been created to save you trouble of finding the most suitable hashtags for your tweets.
Set tweets on a repeat schedule for maximum exposure
Since Twitter is continuously buzzing with activity, your tweets enjoy a very short lifespan. Often, a lot of your tweets may go entirely unnoticed since your followers have so many notifications to catch up with every time they come back. The Repeat Post feature helps tackle this challenge and lets you increase the lifespan of your tweets.
To set a tweet on a loop, you must choose the number of days after which you want it to be re-posted, and number of times you want it to be re-posted. For instance, if you choose 20 and 5 on these fields, it essentially means that the particular tweet will be re-posted at 20-day intervals, 5 times.
Share posts from your favorite blogs with Feeds
Following a bunch of publications? DrumUp makes it super-easy for you to share content from all your favorite blogs and publications. Click on Feeds under the Content tab to add your preferred feeds to DrumUp. The tool will then aggregate all content from your chosen feeds and list them on the Recommended tab, under the Content tab.
To share all posts from a particular feed select the Auto-post checkbox at the time of adding the feed. We recommend that you do this only for your own blogs. It's best that you review that content before you share any posts coming from external sources.
Manage multiple Twitter accounts
If you own multiple Twitter handles, DrumUp gives you an easy way to manage all of them. Rather than having to log in and out of multiple accounts each time you want to post, simply connect all your accounts to DrumUp.
Click on the +Account button that you see on the top left corner of the DrumUp window. If you've signed-in to DrumUp using one of your connected Twitter accounts, open Twitter in a new tab and sign out of that account before you try adding another Twitter account. Also, make sure that you haven't already connected that Twitter account to a separate DrumUp account. If you've already done this and want to disable that account, get in touch with us to have that account removed before you connect it to your preferred DrumUp account.
Grow your Twitter presence on the go
Apart from the web app, DrumUp also has a content curation iPhone app and a content curation Android app. The DrumUp mobile apps are feature-loaded and come with every functionality that is offered by the web app.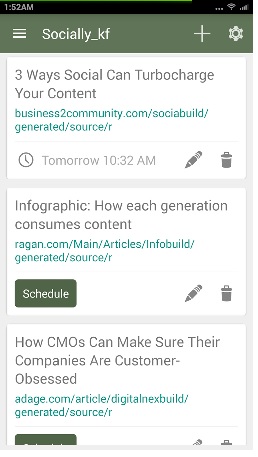 DrumUp on Android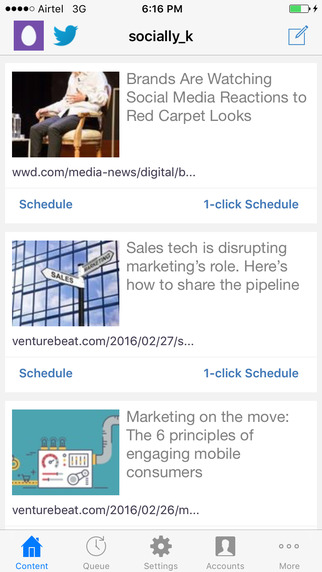 DrumUp on iOS
The DrumUp Android App and DrumUp iOS Apps have been built to give you full access to your social media management dashboard even when you're on the go. So, the next time you're on a vacation your social media presence needn't take a hit.