Why CEOs Should Go Social (& How It's Working Wonders for Elon Musk)
Posted in :
Content Marketing
,
Others
,
Social Media Tips
on By
Guest Author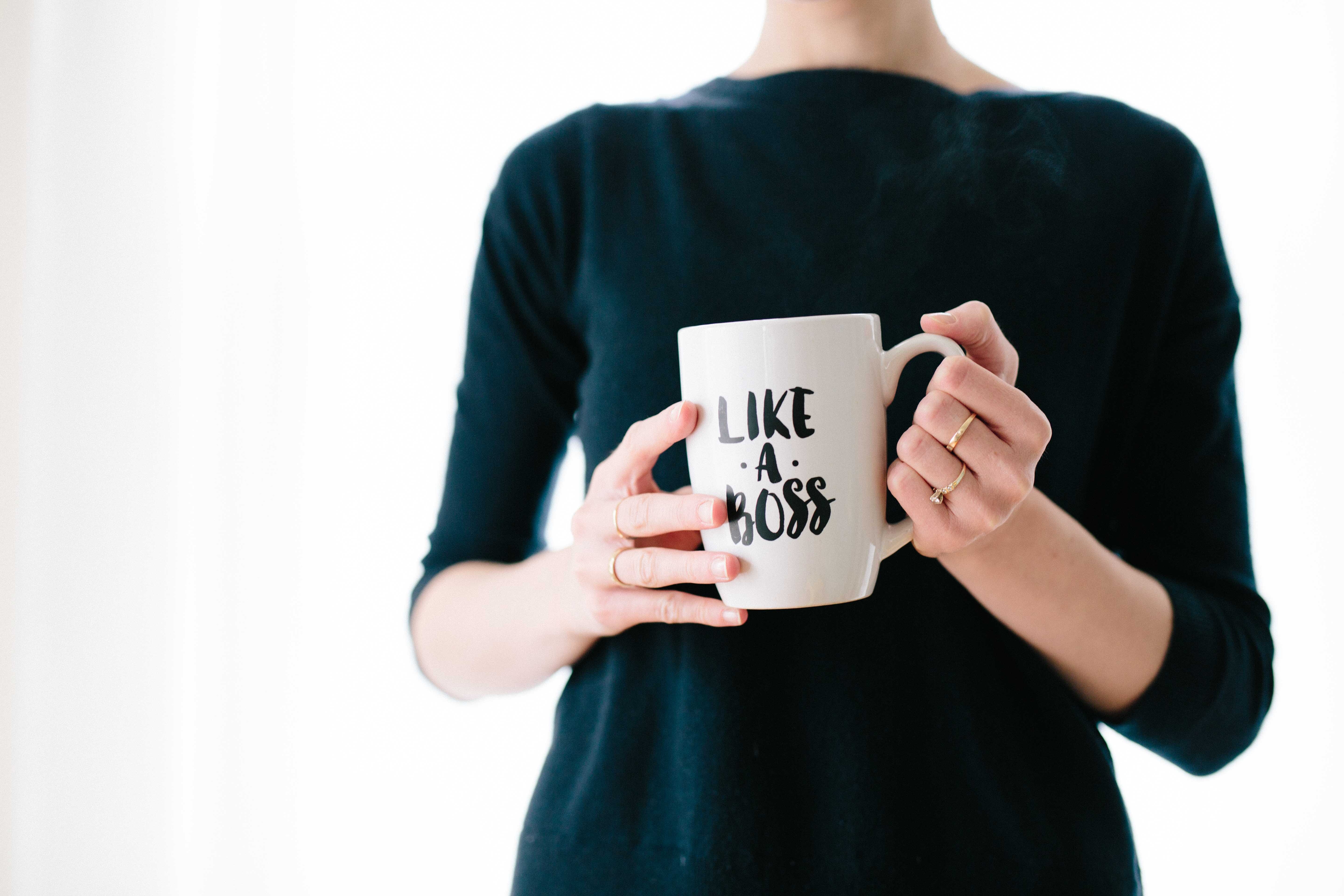 For the longest time, social media marketing has been touted as the future of marketing. Not without good reason. It provides some distinct advantages over traditional forms of marketing and easily takes the cake in low-input, high-output (albeit high-risk) marketing platforms.
Well, guess what – we've already stepped into 2018. The future is here. It is now. And it is indeed, social.
With more than 2.5 billion active users, social media definitely is where all the "cool kids" hang out. From your average Joe to heads of state and leaders of the world, just about everybody is on the platform. And they're all killing it in their spheres. Of course, some are doing it better than the others. (Hi there, Mr. TeslaMan!)
But where are you?
Get personal. Get social. Or get left behind
CEOs have traditionally been asked to steer clear of social media. Columnist Bruce Nolop from The Wall Street Journal recently argued that top-executive use of social media is replete with a host of security, legal, and other risks. It can push several CEOs out of their comfort zones and often turns out to be a colossal waste of time. Staying away from social media is therefore, in the best interest of top-executives and the businesses they run, the article noted.
While I understand where Mr. Nolop may be coming from, I disagree with the idea. There's more to a CEO's social-media presence than increased possibility of cybersecurity or legal risks, damage from unfiltered postings or loss of time with limited upside. There's a legion of brilliant, unparalleled business advantages that come from corporate leaders embracing social media and its (as well as their own) quirks.
With active social media participation, CEOs can:
Generate greater buzz around their products/services or the company in general.
Musk teased his "top secret Tesla masterplan" in 2016, sending Twitterati into a frenzy of engagement activity (700+ comments, 3.9k retweets, and 14k likes as well as media coverage from Forbes, Vanity Fair, Reuters, and Fortune to name a few.)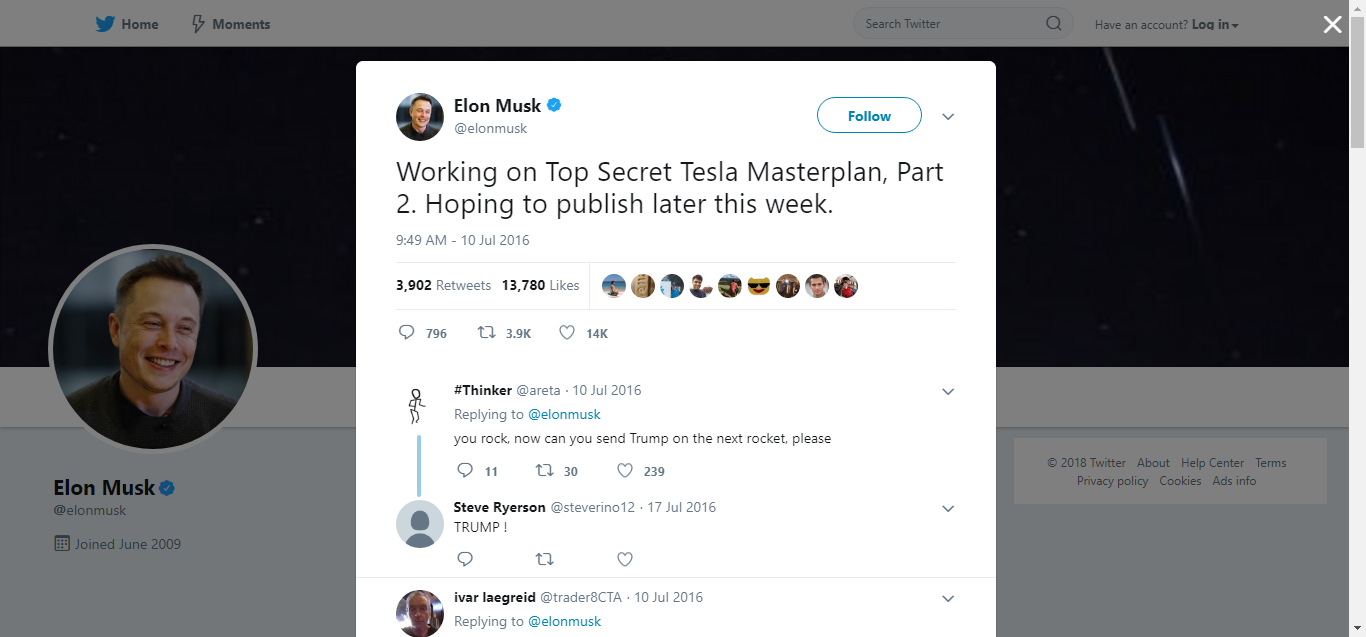 The same message, coming from a regular SpaceX employee may not have fared as well. This is because product announcements, business updates, and industry news usually have a stronger bearing when coming from a figure of authority. Who best then, to publish them than the CEO himself?
Improve brand image by adding a refreshing, personal touch to the business.
Richard Branson regularly creates magic on his social platforms with personal stories, puns and jokes on the name "Virgin", outlandish publicity stunts, and all-in-all entertaining social media posts; drawing people in with his larger-than-life persona.
He also talks about business, promotes noble causes, asks for feedback, and you know, behaves like your everyday person with his many moods and many passions. In essentially being himself, but on social media, Branson has built a valuable, super conspicuous personal brand that drives business. Today, his name sells.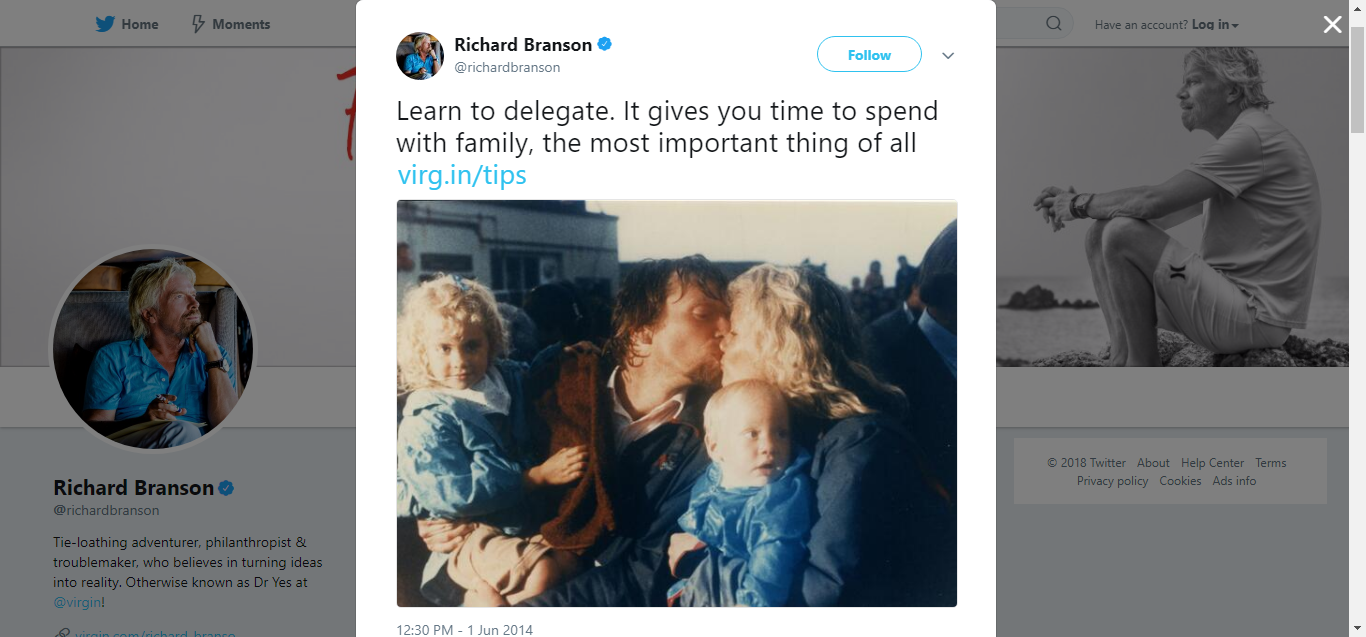 Elon Musk with his goofy Tweets about procrastination, world domination, dog-snuggling, and the like, also reinforces his personal image and that of his business through social media. And just like Branson's, Musk's name also sells. Any product/service or even an organization these CEOs may later be associated with will indeed enjoy greater odds in its favor because of the top-executive's popularity.
Increase customer trust and loyalty.
A CEO's social media account is perhaps the only channel open for customers to engage and interact with "the man" himself. It makes the top executive accessible to the general public while simultaneously adding a level of transparency in the organization's customer relations. Prospects and customers grow to trust the company more, and become/stay loyal, even in the face of competition.
This is not to say that a social CEO should engage with or reply to every customer. You can successfully leave a huge impression by doing so every once in a while.
Squash disasters in time to actively safeguard brand reputation.
The public nature of social media also makes it a great platform for disaster management and damage control. When AirAsia plane crashed in December 2014, founder and CEO Tony Fernandes was quick to take the lead on crash response. He didn't just express concern for the passengers or provide condolence to the families involved, but also gave regular recovery updates to families and followers through Twitter.
This allowed him to take control of the situation. He was able to actively participate in the discussion and influence it positively, rather than letting his (plus AirAsia's) image and reputation get decided in the court of public opinion.
And generate some hard ROI.
CEOs can also use the social platform to perform a host of business tasks and functions easily and at virtually no cost. For instance, Airbnb CEO Brian Chesky took to Twitter for market research last year. He asked his followers that if Airbnb could launch absolutely anything in the year 2017, what they would like to see.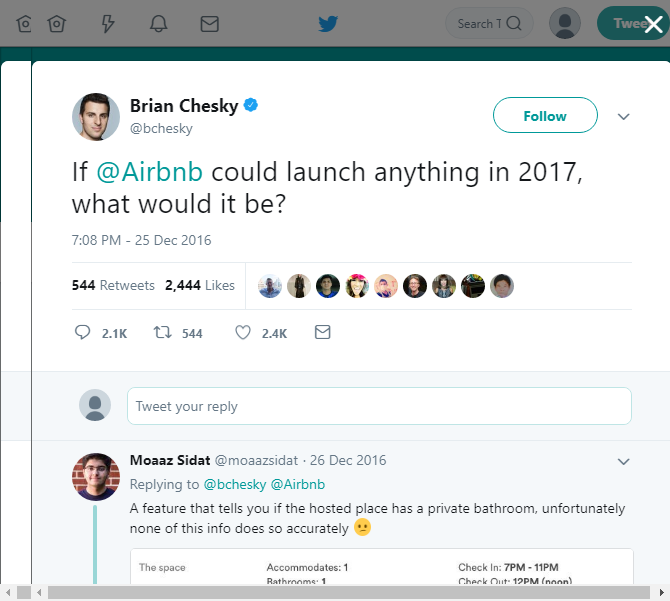 It's easy to see the genius of his idea, isn't it? Not only was Chesky able to secure hundreds of ideas that would drive the company's market strategies for the next year(s), but also let followers to revel in the notion that their ideas have been read by the top in-command and may even be actualized in the near future. Let's also not forget how successful such a product, which was built on the basis of a popular public survey, will be when it is finally launched.
You'll agree with me then, when I say that this strategy of Chesky was marketing gold for Airbnb, made possible by a social CEO and his social platform. And you'll also agree when I say that in today's day and age, CEOs cannot afford to neglect social media anymore. The rewards of social-media adoption by top executives far outweigh the (perceived) hazards. Today, CEOs who fail to get social run the serious risk of being left behind.
If you're not on social media already, that changes now. 2018 is the year of the social CEO. It's the year of you 2.0!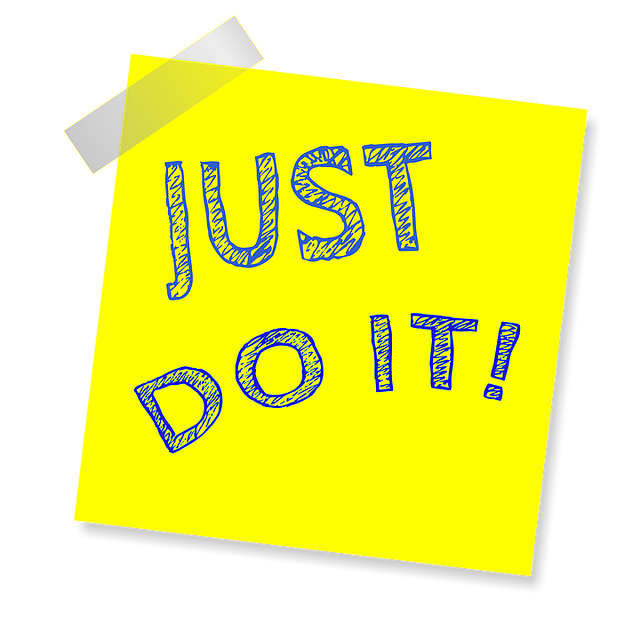 Having seen the 'why´ of social media engagement, let's see the 'how'.
What helps Musk rule the roost?
I wouldn't be exaggerating even slightly in naming Elon Musk the current champion of the social game. On Twitter (and elsewhere), the man is an outright rockstar. His personal handle @elonmusk boasts 19.7 million followers! Let me put that in perspective for you. He has more followers than the business handles of Tesla's top-three competitors – Ford, Chrysler, and Chevrolet – combined!
What's worth noting is that the majority of his followers don't own any of his products. They also most certainly haven't used any of his companies' services either. Yet, there are 19.7 million of them!
To add to it, his personal Twitter handle sees more engagement on the micro-blogging platform than the business handles of any of his companies' direct competitors. In fact, @elonmusk gets mentioned more often than any of the American car companies that compete against Tesla Motors; all of this, without the help of any paid advertising or dedicated teams for social media strategizing.
How does this Gen X inventor and innovator do it?
He operates as Elon Musk, the man rather than Elon Musk, the CEO.
The handle @elonmusk feels personal, even when it's used to talk business. It's easy to see how the man behind the handle is just like you and me. He makes silly plans, shares them excitedly, talks about more than just business, makes jokes at work, gets goofy in conversations, shows vulnerability, is known to err, is humble enough to own up to mistakes, so on and so forth.
He indulges followers, coming off as super approachable and accessible.
When you're a billionaire business magnate, serial entrepreneur-inventor, and the lead designer of a company building rockets, it becomes a chore to stay grounded and not emanate that smarter-than-thou attitude. Appearing approachable and staying accessible is the key to striking a chord, which Musk does very well. He isn't afraid to really get into a conversation with his followers, and seems quite happy in indulging them.
He rewards followers with high-quality "inside-scoops" of business.
Musk shares exclusive business news, product/service announcements, future plans, and other business-related updates directly on his Twitter feed, before it is made available to any other resource. This exclusivity and the you-heard-it-here-first nature of his posts have proved to be a major attraction for technology fans, who have flocked to his handle (and stayed there). After all, everyone wants to be a part of the elite crowd that receives first-hand information about "top secret" plans before anyone else.
What you should do
It helps to remember that there are multiple ways to win the social game. There's no one-size-fits-all solution to replicate across platforms and industries. However, some common lessons emerge from the strategies used by the real-life Iron Man (I'm looking at you Mr. Musk) as well as a good number of other social CEOs who've been successfully outscoring competition.
1. Be more human.
Stoic authoritarianism is out. Being vulnerable and being human is in. Social CEOs who command the most attention and admiration for themselves and their brands are those who share their personal stories, reveal their hopes and fears, talk about their hits and misses, and engage followers in meaningful conversations.
Tip: Use a single account per platform to let your personality really shine through as a social CEO. You don't need two (say) Facebook accounts to keep personal and business posts separate. You're only one person after all. Decide on a social media identity and stick to it across all accounts on different social media.
Make the job easier by consolidating all your accounts on different social media onto one platform with a reliable social media management app. The first social media management tool that comes to mind is the nifty DrumUp, which lets you add, group, and manage all your social media accounts from a single dashboard. Your team can easily monitor all accounts, measure likes, shares, or clicks, and learn the nuances of consumer behavior on different platforms, adding to marketing intelligence.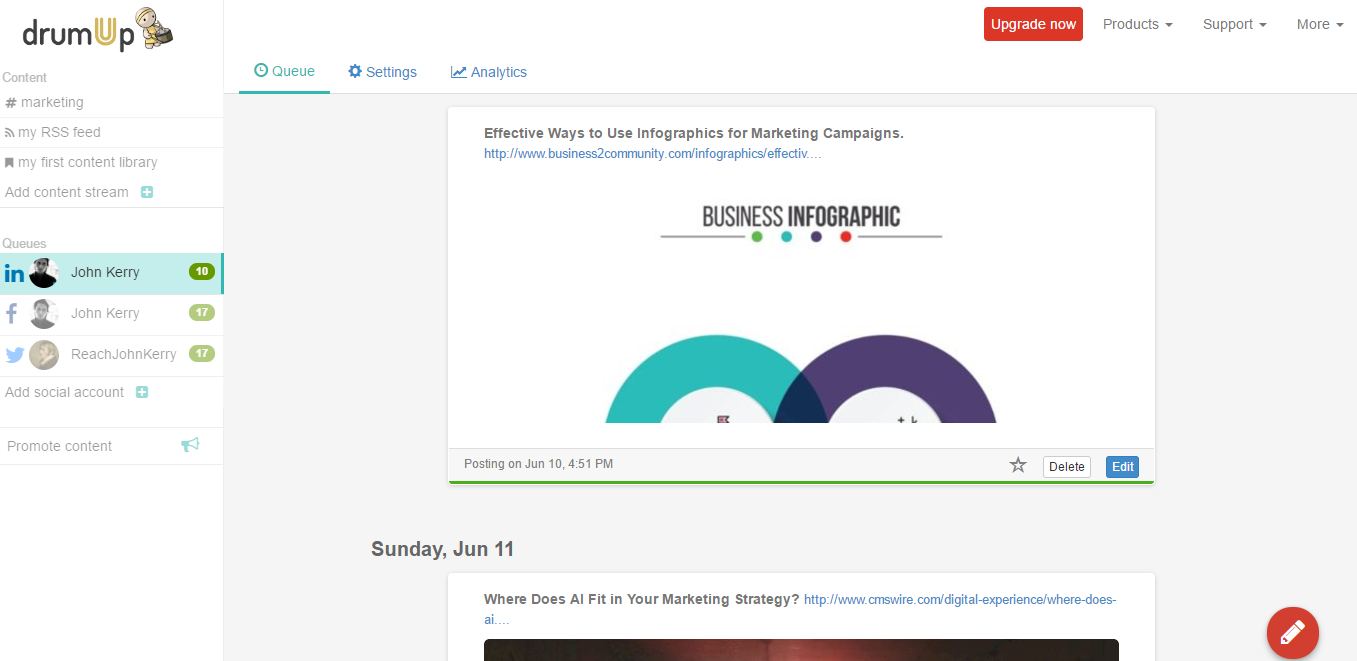 2. Be a part of the bigger picture.
Today, a company's brand is largely formed outside of its board rooms. It is built online bit by bit, with every Tweet/post, every Like, every reply, and every mention that shows the world, what the CEO truly cares about.
Bill Gates for instance, uses his accounts to draw attention towards international poverty, promote awareness about diseases, and highlight humanitarian issues. Marry Barra (of General Motors) champions feminism, passionately sharing ways of empowering female leaders.
Tip: Use your social standing to make the world a better place. You may already be doing it as part of your Corporate Social Responsibility. Take your efforts online so that more people can learn about it and can join you in paying it forward.
3. Be socially and politically active.
There are no perks of being a social media wallflower; only perils. The most respected and trusted leaders are those who have had the courage to take political positions, reveal core values, and voice personal opinions even on "difficult" topics. The CEOs of industry-mammoths such as Starbucks, Nike, Amazon, Microsoft, and Apple displayed great strength of character in being vocal about their support of same-sex marriages in the U.S., which built their personal and business brands even further.
Tip: Strengthen your leadership, build trust, and boost business brand by firmly standing up for (or against) what you believe (or do not like). Set up social media listening rooms where you can monitor and participate in conversations that build up organically around current events.
4. Be consistent.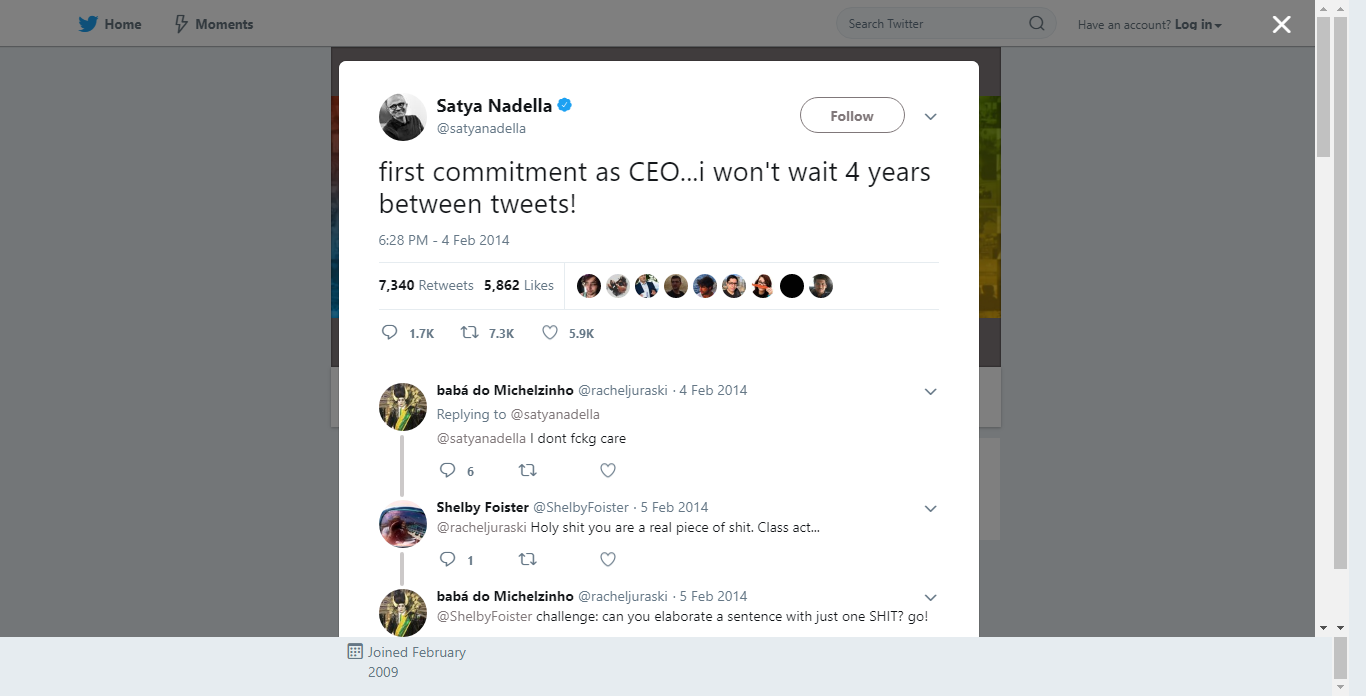 Nadella's got it right! Consistency is the key to winning the social media game. The last thing you want to do is make a grand entrance on the social media front and then go MIA in a few weeks or say a month. Not only will your absence lead to several missed opportunities but also actively hurt your personal and business brand. Trolls love absentee leaders and often go to great lengths to create poor narratives for a brand by impersonating top-executives. The fake Twitter handle of United Airlines CEO Jess Smisek @FakeUnitedJeff is proof of the horrors that could ensue.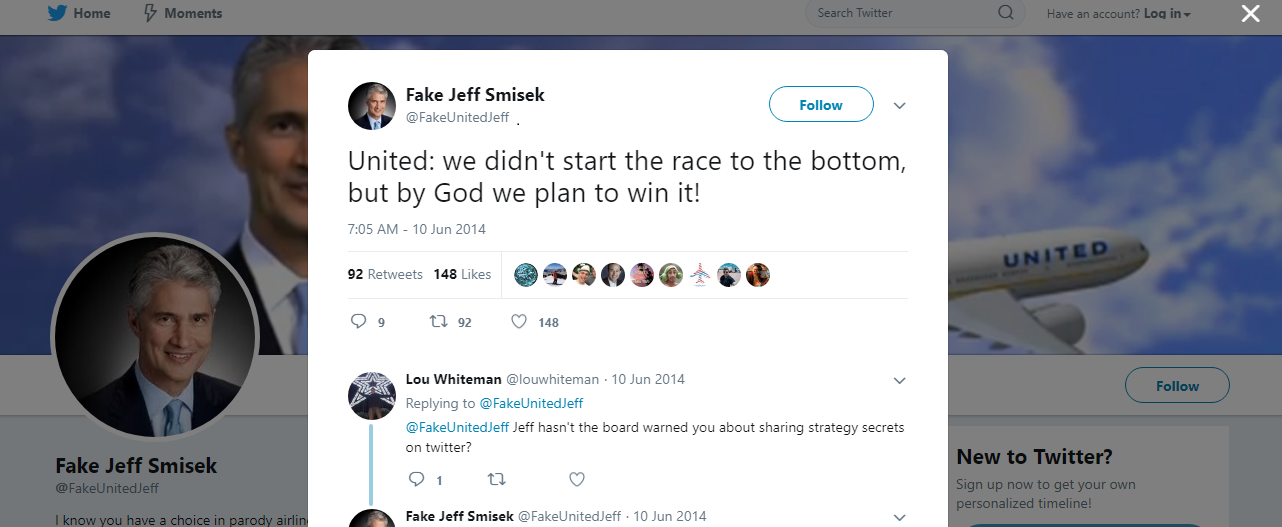 Tip: Save the time and effort associated with being consistent on social media by using social media marketing apps that make content curation and sharing easy. The DrumUp app for instance, allows you to find fresh, relevant content by entering a few relevant keywords on the app. Use the RSS feed integration feature to pull content from your favorite online websites and blogs easily.
5. And finally, show that you're an insider.
The most popular social CEOs are those who appear at ease on the social platform of their choosing. Their feed is proof they're an insider – they understand the norm, know the culture, and use the jargon of the platform. This is in contrast to the top-executives who are evidently "outsiders". They appear stiff and out of place, unable to strike a chord with the users of said platform. This stiffness takes away a lot of their credibility and also makes their posts drab and uninspiring.
Tip: Study your primary platform. Know where to use what – images, gifs, memes, vines, and so on. You'll find that technology will come in handy even in this. Let me go back to The DrumUp app, which makes smart hashtag recommendations that help your posts reach their maximum potential. It also allows you to seamlessly pull Gifs from GIPHY and has a host of analytical options to help you learn what's working and what's not. It's got you covered for the most of it.
So that's all folks. What are your thoughts? Let me know!
P.S. While you're at it, be sure to read Richard Branson's blog post on making the most of social media as an entrepreneur.
Author bio: Shilpi Sagar writes about social media and content marketing. She is a jack of all trades and master of some. When not thinking or writing about marketing, she's probably obsessing about being a good parent to her dog.
Photo by Brooke Lark on Unsplash