Upcoming Digital and Mobile Events Not to Be Missed this Month – DX Summit and GMIC
Posted in :
News & Trends
on By
Disha Dinesh
If you are a digital marketer, analyst or business owner looking for the chance to take your business to the next level, workshops and events are a good place to start. The end of any year is a great time for events. This November we're partnering with two of the best global events focused on digital and mobile, and we're inviting you to share in the excitement.
DX Summit

When
: 14th – 16th of November
Where
: Chicago, IL
How to register
: You can register
here
Use our special registration code DXS10DU to get 10% off your tickets.
CMSWire will host the 2016 edition of the Digital Experience Summit (or DX summit) this month. DX Summit is a premier event that includes all day workshops and networking events focused on leadership, data and insights, and the digital experience. There will be discussions about new age leadership, what it means to be customer centric and how to make your customer's digital experience successful. You will also experience, through case-studies, the importance of big data, personalization, audience persona building and more.
DX Summit is hosted by a team of digital experience specialists at CMSWire who have spent years studying trends and the evolution of digital. They created the summit to encourage networking to exchange lessons learned, discuss interesting ideas and innovate with peers and industry leaders.
For more information, visit their website.
GMIC Bangalore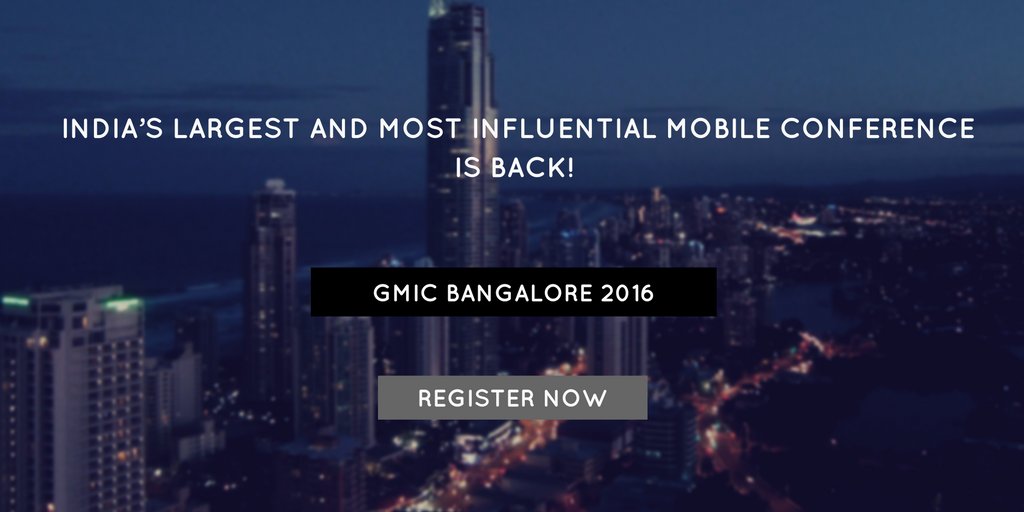 When
: November 16th and 17th
Where
: Yeshwantpur, Bangalore
How to register
: You can register
here
GWC will host the 2016 edition of the Global Mobile Internet Conference (or GMIC) this month. Mobile Infinity 2016 is the third edition of India's largest mobile conference. The conference aims at bringing together global and local businesses, executives, developers, investors and the latest in mobile innovation. Last year's edition saw over 4600 attendees, 45 exhibitors and over 30 of India's most influential from the business world.
GMIC is organized by an enthusiastic group of passionate people who want to facilitate cross-border collaboration and innovation in the mobile tech and internet industry. The conference has multiple chapters in different parts of the world – everywhere from Tokyo to Silicon Valley and now Bangalore.
The conference promises to be a great place to network with executives and developers from India and around to learn the latest trends and build invaluable partnerships.
For more information, visit their website.
Hope you're off to register, we'll see you there!