Social Media Marketing and Virality Lessons from Star Wars
Posted in :
Small Business Tips
,
Social Media Tips
on By
Ashwini Pai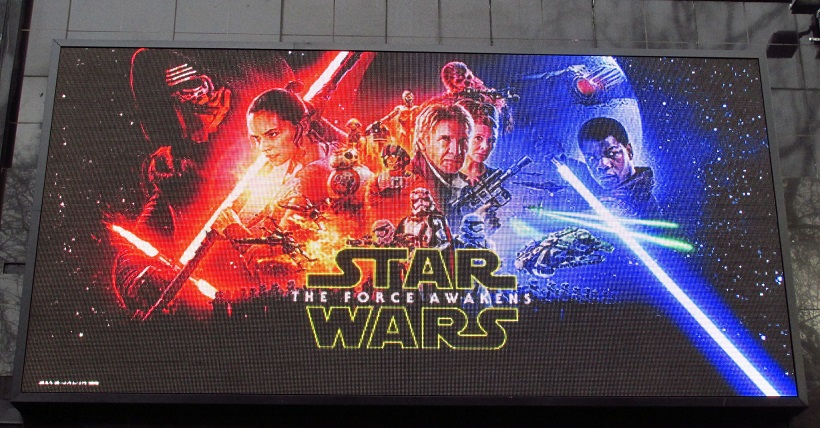 2015 marked the 40th year of the iconic sci-fi series Star Wars, a cultural phenomenon and unifier enjoyed by a broad spectrum of movie-goers across the globe. Stars Wars movies have been consistent box-office blockbusters, and lines from the series have made it into popular lexicon. The latest installment The Force Awakens sent fans into a frenzy, and the enduring appeal of the series was apparent in the number of Stars Wars associated videos that went viral, from I'm in Love with a Star Wars Nerd to Drunk Recap.
Examining the storyline of Stars Wars, you realize that it has qualities of universal appeal and unique style that touch the human spirit and spark the human imagination. Not only is the concept brilliant, but the franchise has also nailed its marketing strategy, especially with the latest flick that had a lot riding on its shoulders. The big question for businesses is this: what social lessons can be emulated from the spectacular success of Star Wars?
1. Invest the necessary time on ideation and execution
The Force Awakens trailer generated 84 million views and amassed over hundreds and thousands of likes within just six days of its launch. People were watching it every day, and post-release, some who had already seen the movie went back to watch the trailer! While you can explain the number of views to excitement, curiosity and hype, the 'likes' indicate that the trailer was good enough to gain the appreciation of Star Wars fans, who can be demanding, vocal and scathing. The trailer had been in the making for three years, and its final version was the result of several iterations.
You cannot afford to spend an inordinate amount of time creating YouTube videos; it helps to plan your video ideas and execution in advance. A rush job or one without enough inputs and feedback won't do anything for views or virality.
Write your script in advance. The script should include dialogues and shooting instructions.
Video equipment is a one-time investment. Starting early allows you to explore deals and discounts on high-quality equipment.
If you will be using your staff as on-screen talent, give them adequate time to practice their lines and act naturally as well as spontaneously to engross viewers.
2. Create YouTube videos people will watch
Prior to the official trailer that was revealed in October last year, two teaser videos were released mid-year to create anticipation around the December release of the blockbuster. The Asian market also got its own teaser. The teasers and trailers set the tone and expectations with ominous openings adrenaline-pumping action from heroes Finn and Rey, the evil nature of Ren, and, of course, sequences featuring Hans Solo and Chewbacca.
Businesses too have the opportunity to promote their product in a number of ways. There is a vast choice of content you can potentially exploit: from explainer and how-to videos, interviews and commercials, to animation news and parodies. The videos can explain different features of your product; showcase its advanced engineering; take viewers behind the scenes in your lab, manufacturing facility or office; or customers can demonstrate how they are using (and benefiting) from your product.
Cisco, for instance, shares industry insights and trends through panel discussions, animations and interviews. Home blender company Blendtec's videos get several thousand views. You may wonder what can be so fascinating about watching a blender chop food: Blendtec keeps it interesting and humorous by using their blenders to chop iPhone and Justin Bieber merchandise.
3. Reuse content that converts
Disney CEO Robert Iger's goal of buying Lucasfilm was to grow the company's stockpile of franchise-worthy characters that could support their movie and television business by using elements of the Star Wars story for more blockbusters in the future. Don't stop at just promoting your branded content on social media. Repurpose content on various sites to expose it to more readers. Some websites to consider include:
Medium, which has a huge community of bloggers and readers, helping you grow your following, pointing to your authority/expertise, and building your brand.
Syndication site Social Media Today where you can submit content directly through your RSS feed. The best content chosen by the site's editors is featured on the Home Page and across their promotional channels.
Reddit, one of the most popular websites worldwide
Business 2 Community
Growth Hackers
4. Connect emotionally with your community
Star Wars' emotional impact is so powerful that more than 390,000 people recorded their religion as 'Jedi' on a 2001 national census. It's when you show the human face of your brand that people will feel more compelled to engage with you. As with any human relationship, the first step is to interact actively with your audience. Speak with buyer personas in mind; with a focus on one-on-one communication and quick responses to comments.
Explore ways to encourage fans and followers to build an emotional identification with your product. Their identity and sense of self should connect with your brand in some way.
Star Wars is a unique science fiction franchise that has inspired countless storytellers and filmmakers. Provide unique and useful insights that your audience won't find elsewhere.
At its core, Star Wars is about good versus evil, and freedom versus tyranny. These simple yet powerful messages form the basis of every Star Wars storyline, allowing us yet another glimpse into the complexities of human nature, told through mind-boggling action sequences and space adventures. Importantly, it makes us identify with all of humanity and be less concerned with ethnicity, gender, species and other group distinctions.
From a business context, being kind and empathetic is essential to creating strong emotional bonds. If you come across as pushy, profit-hungry, overly competitive, or uncaring, your fans will abandon you. Create content around topics that your fans can relate to, propose solutions to their problems, and engage them in two-way communications.
5. Leverage influencers
The Force Awakens went the whole nine yards with promotions, encompassing games, apps, blogs, podcasts, television shows and fan organizations. Some of the avenues are easily accessible to small businesses, and serve as platforms for customer engagement and brand-building. As if it wasn't already influential, the franchise used influencer marketing via famous fans of the saga such as Matt Stone and Trey Parker, Conan O' Brien, Daft Punk and Stephen Colbert, to create a buzz around the latest movie.
Influencer marketing for businesses starts by creating influencer profiles, followed by identifying influencers and providing a strong value proposition. Understand how to reach out to and effectively engage influencers in this post.
Image credit: David Holt via Flickr