LinkedIn: The Most Powerful Social Network You're Not Using
Posted in :
Content Marketing
,
Social Media Tips
on By
Guest Author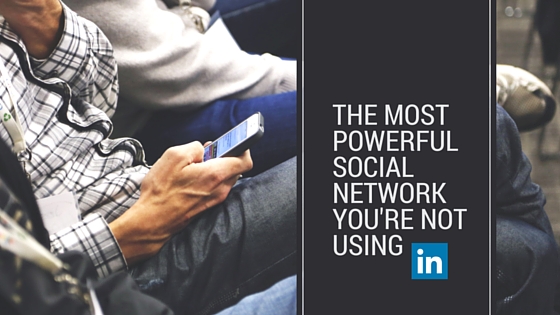 Before I worked for my current agency, I did digital marketing for a B2B company that provided back-office services for recruiters placing contactors. If you have no idea what that means, don't worry. Most people don't. All you need to know is that they handled employment paperwork, benefits, employee issues, etc., for recruiters.
Sexy, huh?
This business could be the poster child for so-called "boring" industries that don't have a snowball's chance of succeeding on social media. But guess what? They did. All because of an underused social network known as LinkedIn.
LinkedIn has 400 million users and gains two new users every second. Eighty-three percent of social media leads come from LinkedIn, and 65% of companies have snagged a B2B customer through the network. Yet, despite stats like these, LinkedIn is still one of the most under-utilized networks out there.
Once I started engaging and sharing content on LinkedIn on behalf of the back-office service, their traffic and leads from social media went up exponentially. I wish I had numbers to share, but I'm no longer there and have the memory of someone about to turn 40. But suffice it to say, they received exposure they wouldn't have otherwise.
If this company had success while talking about employment law and benefits, so can yours. And I'm going to show you how.
First, a Disclaimer…
This pretty much goes for any social network, but especially with LinkedIn: It may not be right for your business. When considering any social network, you need to see if your audience is there. Chances are, if you are B2B, they are. If you're B2C, you may want to consider different networks (and unfortunately for me, a different article to read).
Still not sure? Well, it's a little harder in LinkedIn to confirm or deny the presence of your audience because you can't match website visitors or upload your email list like you can with Facebook or Twitter. But there are other ways to go about it.
For Gmail users, we recommend a tool called Rapportive for matching email addresses to LinkedIn user accounts. To save time, take a random sample of contacts from your database, copy their email addresses, and place them in a new email in Gmail. Hover over the email addresses with your mouse. A box will pop up in the right sidebar showing a link to their LinkedIn profile, if they have one. You can also search LinkedIn for job titles, companies, locations, and LinkedIn industry groups to see if your target customers are there.
Even if they are not, it doesn't hurt to take a few minutes to set up a profile. That way, if someone looks your company up on LinkedIn, they will find it, which provides a bit of legitimacy to your brand and may make people feel more comfortable about doing business with you.
Pump Up Your Profile
Whether you're going to have a limited presence on LinkedIn or do the full court press, you'll want to make sure you have a complete and compelling business profile. Here are the areas you'll want to pay special attention to:
1. Profile image – This should almost always be your company logo.
2. Header or "hero" image – This should be eye-catching and relevant to your company.
3. Description– Be sure it is complete and contains keywords.
4. Specialties – Include any words that you would want to come up in a search for.
5. Website – Don't forget this! It's how people will be able to shop your products/services.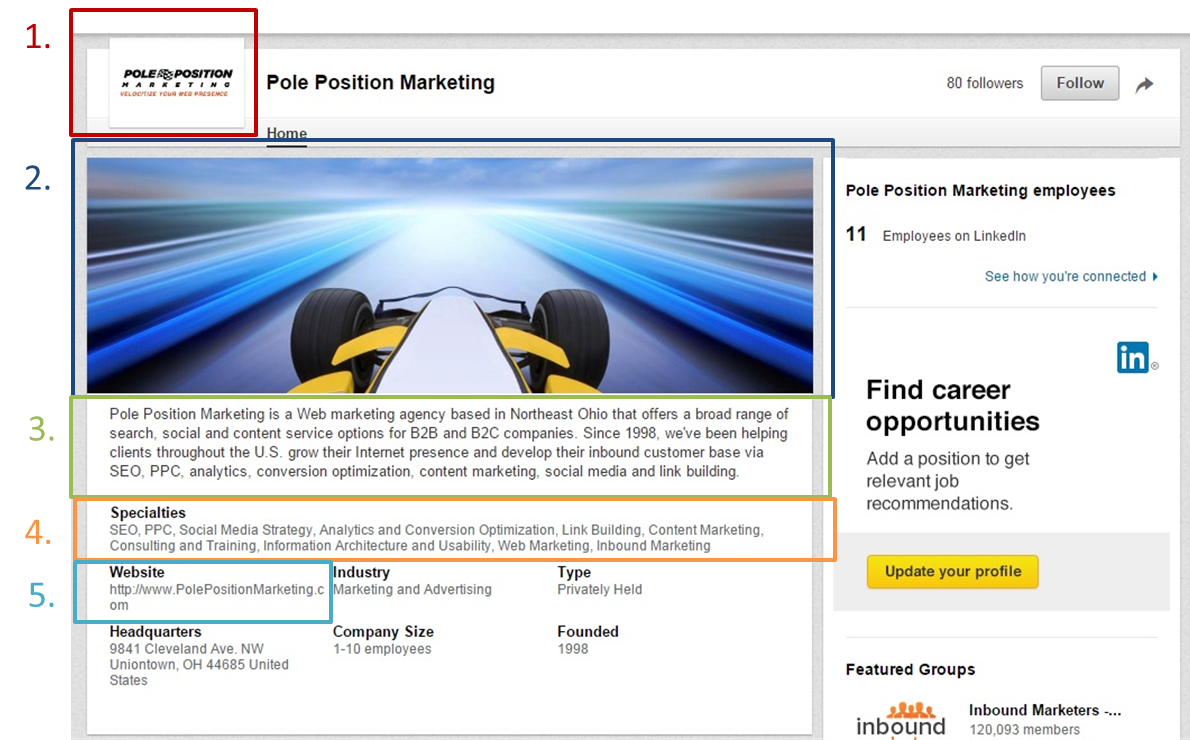 Add frequent status updates to your profile. Specifically, you'll want to be sure to post links to any new blog articles.
Complete your own personal profile, making sure to have a clear, professional headshot (this isn't Facebook. No selfies please) a title with keywords, up-to-date current position and description, and at least two past positions. Encourage employees to do the same.
For your own profile, try to go above and beyond by publishing articles on LinkedIn (more about that below), adding multimedia such as Slideshare decks, listing skills, and having customers and colleagues submit recommendations.
Groups: LinkedIn's Special Sauce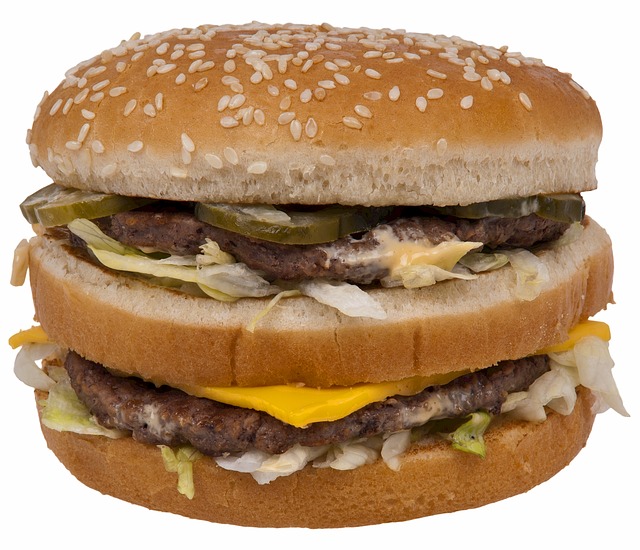 This is where it gets real. While a well-completed profile can help you get found in the search, this is where you make the connections that turn into leads and sales. This is what made the difference for my former employer.
Finding Groups
It's pretty simple to find relevant Groups in LinkedIn. Simply enter keywords in the search bar and select Groups from the drop-down to the left.

Another slick way to find great Groups is to see which ones your connections are a part of. You can do that by looking at the Groups section of their profile.
Keep in mind that your main target would be Groups where your audience gathers, not so much where members of your industry reside. For instance, the contract staffing back-office company I worked for didn't join a bunch of back-office Groups (if any even existed). They joined groups that contained their target clients: Recruiters.
You can join up to 50 Groups. It's not a bad idea to max that out because it opens your profile up to more connection opportunities, but you obviously won't have time to engage wholeheartedly in all of them. Choose a select number of your Groups to actively engage in.
Be a Good Group Citizen
Your first instinct may be to start posting. To that I say "Whoa Nellie!"
Before you so much as look at the Post button, you need to LISTEN. Specifically, you want to:
1. Read the Group Rules. Some have very clear guidelines on what is and what isn't acceptable. Some go as far as to ban link posts. That doesn't necessarily mean you won't find value there, but it does mean you need to be careful about what you post.
2. Recognize Group Norms. Groups can have unwritten rules, too. For instance, if you notice no one shares link posts, or that they get backlash when they do, avoid doing that just as you would if it were a bonafide group rule.
3. Learn what works. Pay attention to what topics and types of posts seem to garner the most likes and discussion. Use this information to guide what types of content you post.
Whatever you do—DON'T SPAM!! Group members can smell self-promotion from a mile away, and they hate it. Group admins could force all your posts through moderation as a result, meaning that anything you post must be read and approved by an administrator before it goes live. They could even kick you out of the group altogether.
That doesn't mean you can't post links to your own blog, but just make sure EVERYTHING you post provides useful information and that it does not in any way tout your products or services.
So What Can I Post?
That's a lot of don'ts, huh? Well, here are some things you can and should post in LinkedIn Groups:
1. Questions. Try to start a discussion by posing a question to the group.
2. Responding to other's posts. Try not to exclusively post your own content. Some of the best relationships on LinkedIn are built when you interact with others' content. Ask a question about what they posted, offer additional insight or comment on something specific you like about what they posted.
3. Curated content. If you find something online that you think one of your Groups might find helpful, go ahead and post it with a sentence or two about why you think it's valuable.
4. Your NON-PROMOTIONAL blog posts. If you are doing blogging right, most of your posts should fall into this category. You should be writing posts that your audience finds useful and valuable. And if you do that, you should have plenty to share in your LinkedIn Groups.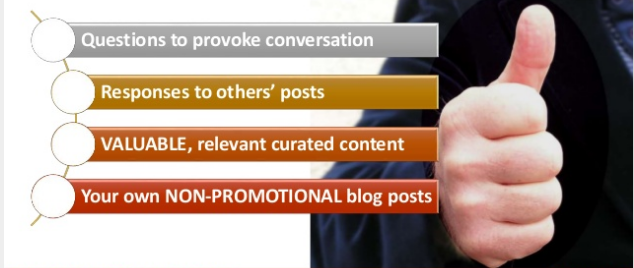 Don't Forget LinkedIn Publisher
Another powerful feature of LinkedIn is its Publisher. Once open only to key influencers, now all LinkedIn members have the ability to post articles on the network.
But you already have a blog, right? Why worry about publishing on "rented" space? Well, for starters, it enhances your personal profile. Every post you write is available from your profile. Better yet, all of your connections get notified when a new post goes live, plus people you are not connected to can follow your articles and also be notified when new ones are posted.
Moreover, LinkedIn articles are searchable both within the network and in major search engines. These articles can also give you more content to share across all social networks, including your LinkedIn Groups.
At Pole Position Marketing, we started syndicating our own blog posts on LinkedIn last October. In that time, we have increased our traffic from LinkedIn by nearly 57%.
Our process is simple: We publish the first few paragraphs of an article that was previously posted on our own blog and then provide a link to the original article on our site so users can read the whole thing.
Here are some other useful tips for publishing to LinkedIn:
1. Longer posts seem to work better. Just make sure they aren't longer for the sake of being longer and that they provide extreme value throughout the whole length.
2. Have as many connections as you can. The more connections you have, the more people will see your post.
3. Promote it just like you would any other blog post on your other social media channels.
4. Post frequently.
5. Make posts professional, yet conversational.
What are You Waiting For?
These are just some of the ways you can leverage LinkedIn to boost your B2B web presence. If you are going after the business market, I strongly encourage you to at least give LinkedIn a look.
Author bio: Julie Graff is Pole Position Marketing's Social Content Liaison, focusing on social media and content strategies. The Northeast Ohio native is dedicated to Cleveland sports, music and crafting.