Lessons from 4 Content Marketing Giants: Hubspot, Unbounce, Zendesk and MailChimp
Posted in :
Content Marketing
on By
Vasudha Veeranna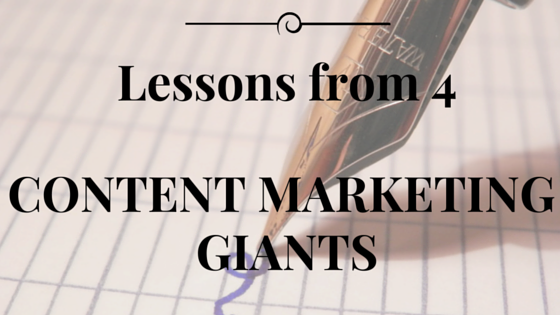 Have you ever looked at an industry leader and wondered just how they do everything they do? How they get thousands of followers on Twitter? How they built a community around their blog? How all their social media content is worth all the shares it gets?
They say some questions are best left unanswered, but I wouldn't put any of those questions in that category. On a quest to inspire myself, and hopefully inspire you too, I've put together a few key lessons from four of the biggest and best content marketers in the SaaS space – HubSpot, Unbounce, Zendesk and MailChimp.
Here's how they've nailed content marketing, and what you can learn from them.
The HubSpot Blog has over 500,000 subscribers!
Clearly, they've been doing things right. Reading this excerpt from a panel discussion in which Kipp Bodnar, HubSpot's then VP of Marketing (now, Chief Marketing Officer), participated will give you a sense of what drives the company's success. Bodnar opines that having a clearly set-out editorial strategy and keeping a close eye on all the work that has been created in the past has helped HubSpot emerge as a thought-leader in content marketing.
Importantly, Bodnar also points out that unless the content has a well-defined, core purpose, HubSpot never publishes it. This ensures that every piece of content is of great value to its audience. That said, he also advises that marketers should continue to try and test different types of content to see what works best for their business.
In another interview with Contently, Joe Chernov, a content marketing pioneer, discloses how HubSpot built such a strong community through content. Two important takeaways from the interview are HubSpot's emphasis on owned media and their commitment to consistently producing useful content.
Key lessons:
1. Create an editorial strategy
2. Publish content that has a purpose
3. 'Own' multiple content channels
The guys at Unbounce have an interesting strategy around how you can use landing pages as part of your content marketing efforts. In a post on their blog, Oli Gardner, one of the co-founders of Unbounce, explains how they build content that can be repurposed in multiple formats and then create contextually design landing pages to re-direct readers from all the channels on which such content is published. The strategy has proven to be extremely effective for them in increasing conversion rates.
Gardner explains that using contextual design simply means starting a conversation with your audience through a specific piece of content, and continuing that conversation on a dedicated landing page. Essentially, your content sets a context for your conversation, keeping your pitch rooted. This keeps your reader immersed in your message and helps you keep the focus on your message.
At Unbounce too, their blog has been at the heart of their content marketing strategy since even before the company was launched. In an interview with the StartUp Frontier Rick Perrault, CEO of Unbounce, talks of how the blog has been the top-of-funnel channel for all their content marketing efforts. Paired with a strong social media presence (particularly on Twitter), the content on the blog helps drive traffic to the website.
Key lessons:
1. Re-purpose content to get better mileage out of it
2. Use dedicated landing pages to generate leads
3. Use social media to amplify your content
Zendesk Alternative is probably one of the most legendary B2B content campaigns you'll ever come across. The cloud-based customer service software company became a brand to reckon with among content marketers thanks to this campaign. Okay, it's unfair to attribute all their success to this one campaign. But there's no denying that it was rock-solid!
One of the responsibilities of the marketing team at Zendesk is tracking keywords that are relevant to the brand. In 2013, when the team noticed that search traffic for the keyword "Zendesk Alternative" was on an increase they came up with this brilliant campaign to trump the trend. They created zendeskalternative.com which features a fake punk-rock band – the narrative being that the company stole the band's name.
The campaign's Creative Director, Matthew Latkiewicz, says it was created with the objective of targeting the search term and creating a presence around it. However, it was so well-executed that it went viral just days after it was launched.
A strong emphasis on content creation is a critical element of Zendesk's marketing strategy. In a 2014 interview with the Kapost Blog, JD Peterson (then VP of Marketing), says the company was quick in adopting content marketing more seriously after having done it haphazardly in their initial years. They now have an in-house content team that focuses on continually creating content for multiple channels in all formats including blogs, Slideshare decks, webinars, and whitepapers.
Key lessons:
1. Get creative with your campaigns
2. Optimize your content for search engines
3. Create content; create a lot of it, and do it consistently
If there's one thing that MailChimp has mastered, it's the tone of voice they use in all their content. If you look at some of the content they've created you'll notice that they always use a personable tone, and they create content to address a variety of needs. So if you're on the blog and you find what you're looking for, it reads as if it was written just for you.
To truly understand how MailChimp thinks customers should be treated, read this post by Ben Chestnut, their founder. He shares an extremely interesting outlook to marketing, and in that gambit, content marketing. Rather than focusing on getting tons of leads that would trickle down to a few conversions, try improving your support service for the bunch of customers you have – give them what they want with no hidden conditions. By default, this will give more leads through referrals and in-effect more (happy) customers.
To ensure that their audience finds any information they seek, MailChimp creates content in several formats including blogs, reports, guides, cases studies, email newsletters, landing pages, and social media. They encourage their employees to share what they know. The benefits of this are multifold – an inclusive company culture, a greater ability to share employees' knowledge, and more expertise for their audience to tap into.
Key lessons:
1. Infuse a consistent tone in all your content
2. Focus on customer experience, rather than cold conversion numbers
3. Tap into all the knowledge your team has and can share
If you've been following any of these companies, you may have noticed a few things yourself. Do share your thoughts and observations in the comments below. I'd love to learn from you.