Introducing DrumUp's In-app Photo Editing Tool to Create Social Media Images
Posted in :
DrumUp Resources
,
Others
on By
Disha Dinesh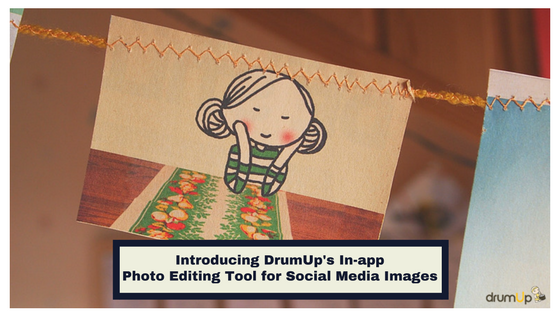 Posts with images get 2.3X more engagement on Facebook than posts without them. Why social media images boost post performance is no mystery. After all,
Images communicate what words can't, stay alive in the memory longer and catch attention more easily on social media than text might.
How to Support Local Farmers and My Georgia Agritourism Experience https://t.co/INYuxjaFSU RT @turningclockbac pic.twitter.com/YeSwCHUNSl

— Ann Smarty (@seosmarty) September 19, 2017
When used consistently and correctly, social media images enable the best marketing and sales results. Why then are many social media marketers not making the most of this tactic?
Creating quality images is a time-consuming task. Doing it on a daily basis can seem unworkable. When you create multiple images, branding and consistency can also arise as a concern.
Social media managers use many tools for different purposes, like social media scheduling, monitoring and analysis. Subscribing to one more for photo editing can be unappealing or a burden on your budget.
To help overcome those very issues, our team decided to build an in-app photo editing tool specifically meant for creating social media images.
Before we discuss what you can do for your social media marketing using the tool, let's take a look at how it works.
How to Use DrumUp's Photo Editing Tool to Create Social Media Images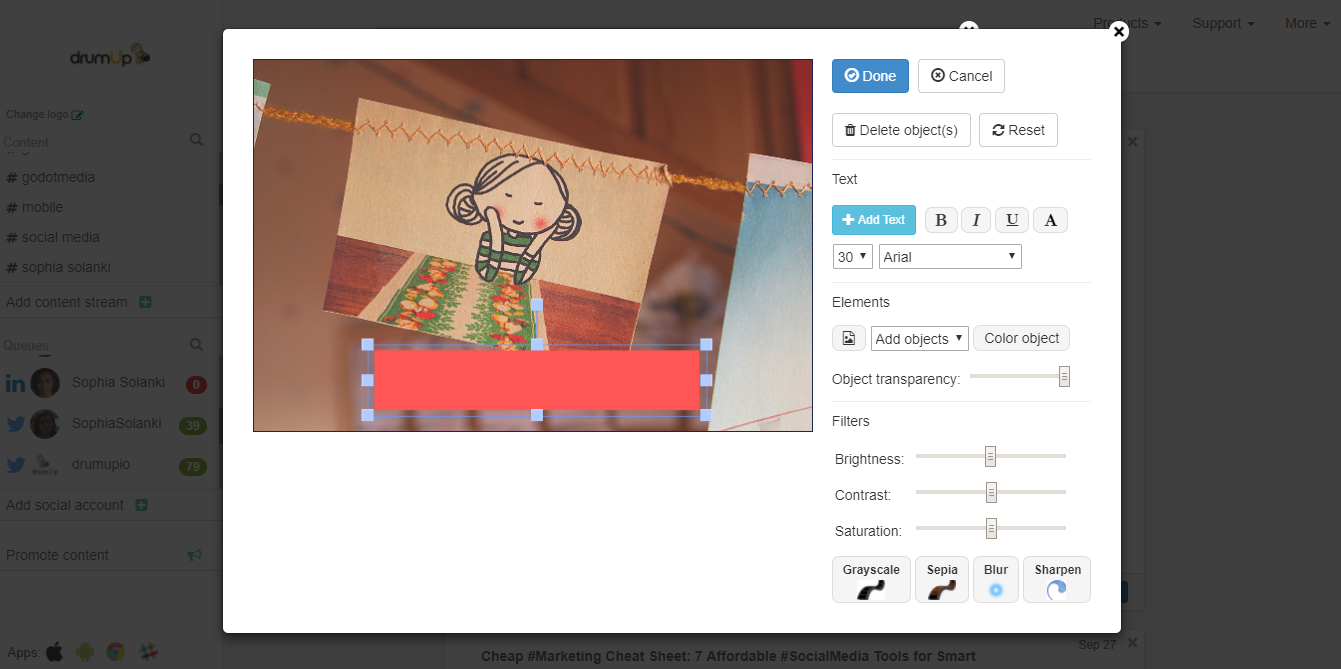 Upload your stock image on using the photo icon in the Compose Post window (which opens when you click on the red "Compose New Post" window.

Click on edit and add text, objects and effects.

Schedule your post.
That's all it takes. The next time you are scheduling a social media post and want to make it standout of the crowd, simply add a stock image from Pixabay or Pexels (they have a wide range of pictures to offer), and quickly add text on the image before scheduling.
If you're not sure what kinds of social media images to create, you can find ideas on the following post.
16 Types of Visual Content to Revitalize Your Social Media Marketing 
If you want ideas on how to visual content that you can curate, read the following post.
The Real and Underrated Value of Visual Content Curation
For more on the feature or how to use it, write to us.
Feature stock image via Pexels.com