How to Use Hashtags in Social Media Marketing
Posted in :
Content Marketing
,
Social Media Tips
on By
Guest Author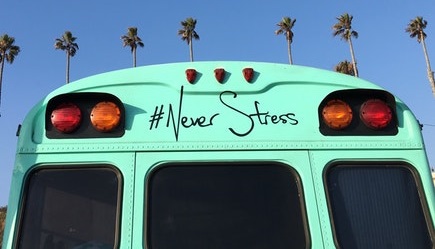 Hashtags change the way we communicate not only within social media. Hashtags are also present offline as they influence our everyday speech and daily conversations. Despite their great popularity, not everyone knows how to properly use hashtags in order to effectively strengthen the online brand communication and social media marketing. This post describes how you can use hashtags in social media marketing impactfully, with the support of reliable social media management tools.
In this article, you'll find out:
What the most important hashtag application is at present?
On which social platform you should and shouldn't use hashtags?
How to choose the best hashtags to match your content?
What the practices of using hashtags in a communication strategy are?
Nowadays, not only social media marketers, but also linguists, fashion designers and sociologists get busy with hashtags, which have long since gone beyond the network communication. Being so popular, it would seem that we mastered the use of hashtags to perfection. Nonetheless, observing the way brands choose hashtags, as well as where and when they publish them, you can see that further education in this topic is essential. Below, you will find some valuable information about the use of hashtags in a way that helps strengthen communication, build community and – as a result – generate sales.
My aim is to make this article as clear as possible for anyone who wants to know how to use hashtags correctly, and for that reason I will start with the basics and go into more details further on. Let's start by defining what a hashtag is.
According to Oxford Dictionary:
"A word or phrase preceded by a hash sign (#), used on social media websites and applications, especially Twitter, to identify messages on a specific topic."
What aspects of social media marketing call for hashtags?
1. Hashtags in branding
Nowadays, brands define themselves not only by what they say about themselves aloud but also… what hashtags they use to mark themselves. By creating your own, original phrases, you increase the chances for standing out from the crowd. Many renowned companies chose to go down that path, Calvin Klein being one of them. CK marks all of their commercials and publications with the hashtag #myCalvins, making it their hallmark.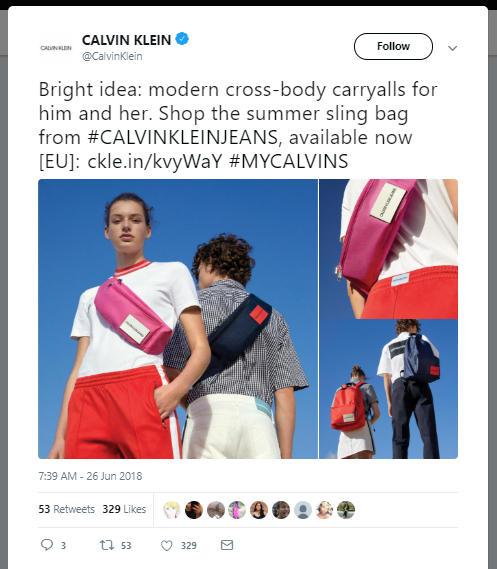 Michael Kors also uses and promotes their hashtag #instaKors, which additionally enables buying a given product from the picture holding that phrase in as little as two clicks. It not only facilitates browsing through products, but also shows that the brand is up-to-date with their clients' needs.
2. Hashtags in social media campaigns
Using hashtags is a very effective way for generating traffic, for promoting campaigns and for tracking the results. In 2017, Heineken created a social campaign and a flagship hashtag at the same time, namely #OpenYourWorld. In the campaign, people of completely different world views were asked to do a series of tasks together. In the end, they were able to share their opinions and Heineken offered them to share their difference – what everyone agreed to. Within a week, the video had 3 million views and 500 thousand shares.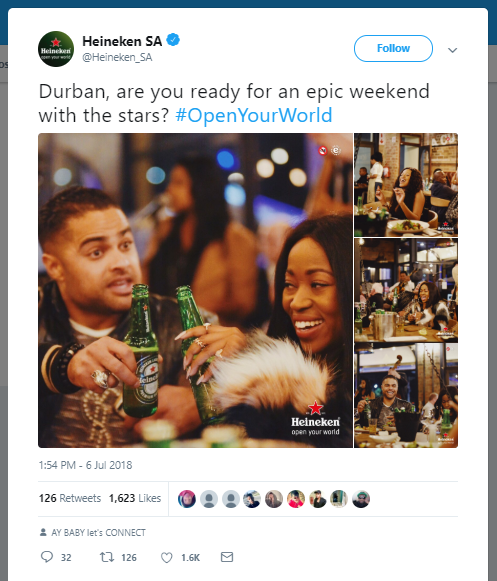 3. Hashtags in increasing social media reach
Using hashtags enables people who are looking for a content or a publication on given subject to find it faster. Any brand can take an advantage of it by using hashtags in such a way that the browser shows our posts. That's why it is very important to use hashtags that precisely match not only our brand but also the subject that is being brought up.
4. Hashtags in event marketing
One of the most popular ways to use hashtags is for marking events. There is no easier way to gather all the mentions on a given event than using one specific hashtag. It makes things easier not only for the event organizers, who get to receive updates on how the event is being received, but also for the participants themselves. It enables them to share information, remarks, posts or to ask and answer questions.
5. Hashtags in user-generated social media content
We want to be easy to find by our public, but we also want to be able to find specific content fast. In my personal opinion, AirBnb is a master at building user-generated content. The company runs ongoing campaigns using their hashtags and encourages their users to publishing pictures of places the're staying tagged #LiveIn+city. Another common phrase promoted is #AirbnbExperiences which connects guests with people and the unique activities happening in their area. The best of them are selected and posted on the company instagram, what makes the account interesting and exquisitely authentic.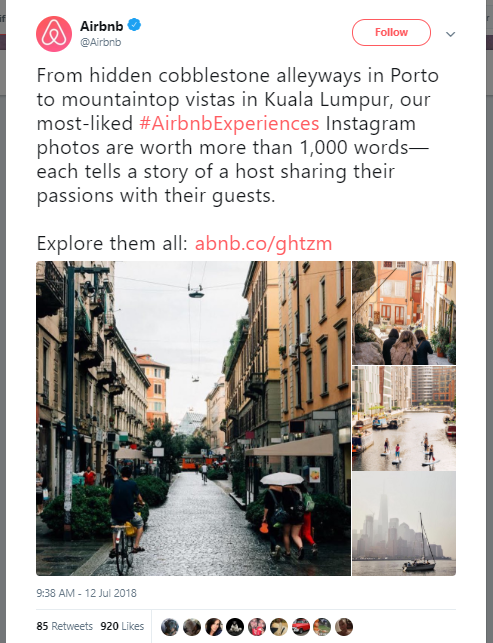 How to use hashtags across different social media platforms
Contrary to the common belief that hashtags should be everywhere and in big amounts, there are places where they should be restricted or completely abandoned. Check how it looks on the most popular social platforms.
1. Hashtags on Twitter
Twitter is where hashtags originated from. Even though it's been over 10 years, they are still a very important aspect of communication on this platform. Nonetheless, the algorithms and rules of applying hashtags change very dynamically. Currently, it is recommended to use one or two hashtags per tweet. Interestingly, while this number can significantly increase our ranges, exceeding this amount brings the risk of drastically reducing them.
2. Hashtags on Instagram
It's a much younger platform than Twitter, but both marketers and its users claim it to be a much more attractive place to use hashtags. Instagram allows and even recommends using more of them in the descriptions. As research shows, the optimal number is 11 hashtags. Here, however, we must be careful not to use the hashtags from Instagram's "black list". The penalty for their use is the so-called shadowban or blocking photos that contain them.
So what to avoid? According to Instagramer's managers, spammy, inappropriate, offensive threads will be blocked. It gets a bit tricky at times, as sometimes the phrases that are blocked do not seem provocative at all (eg. the #kansas hashtag has been blocked because people who used it were considered to violate the platform rules).
3. Hashtags on Facebook
As for Facebook, it is quite simple – we just do not use hashtags here. Though indicated in the previous two platforms, Mark Zuckerberg did not take on the idea. Not only it is not easier to find posts with hashtags but it's actually making the posts almost invisible.
4. Hashtags on LinkedIn
Here, using hashtags is quite a novelty. It is, nonetheless, noticeable that the platform administrators encourage to using them. So how to do it best? Use hashtags everywhere: in the description of your profile, in posts, in comments, articles on LinkedIn Pulse, on private and company websites. On LinkedIn, you are able to use it literally everywhere and it does pay off. When you look at how LinkedIn currently rewards its active users with increased reach, it;s truly worth it to additionally boost it with hashtags. An additional advantage is being much easier to be found within the context of the topics and discussions in which we engage.
Tools to find the right hashtags for your social media posts
How to choose the right hashtags? There's as many ways as there are people using them. I believe choosing something that balances between very popular and niche to be the best approach. Using a hashtag that is just everywhere, we might risk being unnoticed among thousands of similarly tagged posts. On the other hand, it is risky to use a hashtag that is very unlikely to be used by anyone, unless we are running a campaign or trying to build a brand's unique hashtag. So how exactly should we chose a phrase with the greatest potential? Fortunately, there are several tools available to help us.
1. Hashtagify – a free tool that allows us to analyze the most attractive hashtags at the initial stage of their search,
2. TweetReach – another tool which we don't have to pay for, with reports being a bit more extensive.
3. Brand24 – allows you to monitor all hashtags that are significant, in terms of both your brand and your competition. At the same time, it shows you phrases that are the most popular among your audience.
4. RiteTag – selects the right hashtags for the campaign, and, with its entire integration package, helps in their implementation.
5. DrumUp – a tool with much more options, with hashtag curation being one of them. The tool will support us in managing social media communication on a broader scale.
6. Trendsmap – shows the most popular hashtags in a given location. This feature lets you see what topic is the most popular in a given area.
To summarize
Hashtags are undoubtedly powerful in strengthening brand communication. Although some people think that it's nothing but a spontaneous use of phrases preceded by a cross, remember that from the point of view of marketing, the use of hashtags definitely requires a fully-built strategy.
Depending on the platform, however, a slightly different approach will be required. Let's not underestimate the huge potential of this manner of communicating, running campaigns, organizing events or promotions. Increased reach and user engagement is what shows that the effort pays off.
Worth remembering
Hashtags can greatly support our communication in social media, but not on all platforms.
Make sure you know why you use them and chose both the phrase and the frequency of posting it accordingly.
Be easy to find – let your hashtags be associated with your brand. Create two or three unique hashtags that will be reserved for your brand and encourage your audience to using them.
Check what hashtags are used by companies in your line of business.
Use automated tools for monitoring. Check the context your hashtags are used in and where they are used.
Try to keep your hashtags related to the subject of what you're posting so that you're easy to find by people interested in a given topic. Building traffic using all possible combinations will hardly affect the modernity or position of your brand.
Feature image via Unsplash.com 
Author bio: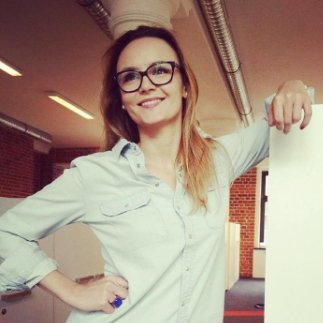 Magdalena Urbaniak is Brand Manager at Brand24, a top social media monitoring tool that offers complete influencer marketing support – from identification of influencers to initiating and managing relationships with them.