How to Use Drumup for Content Discovery for Your Social Media Pages
Posted in :
Social Media Tips
on By
Apurva Jog
Content is king, and one of the best ways of nailing your social media marketing strategy is to have great content. Having good quality content on your social media pages can increase engagement, and raise brand awareness. Creating and posting content, however, is where the problem lies for most people. It is a time-consuming process that involves a great deal of searching and compiling. In fact, finding share-worthy content is often one of the key pain points for most people who are trying to increase audience engagement on their social media pages.
Luckily, DrumUp targets this pain point and makes discovering fresh content a cakewalk. It helps you find relevant content that can be scheduled for sharing on your Facebook, Twitter and LinkedIn accounts.
How DrumUp works
DrumUp scours through tons of web content and comes up with fresh and engaging stories that relate to your niche. It is backed by cutting edge data mining algorithms and NLP that give fresh recommendations based on the themes that you choose. You can use DrumUp on your desktop and also download the Android app for your smartphone for on-the-go social media management.
Instead of spending hours looking for content and publishing it to different accounts, DrumUp gives you the ability to do the job in a matter of minutes, leaving you ample time to focus on other activities as well. It makes the entire process of keeping your social media channels up to date super easy and fun.
How to use DrumUp 
Due to its simple user interface, DrumUp provides an enjoyable user experience to anyone who is using it for the first time. After signing in to DrumUp with either your Facebook, Twitter or LinkedIn account, you can proceed to the Settings page, where you can input your preferred keywords. Once you input your keywords, you can choose the number of posts you would like to publish on a daily basis, and also put in any negative keywords to make sure your search is more relevant.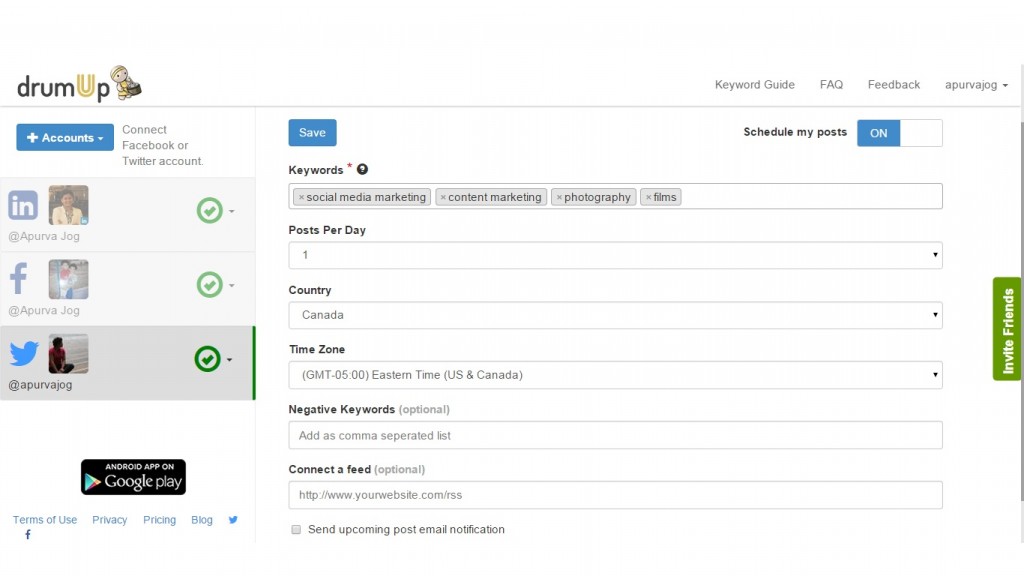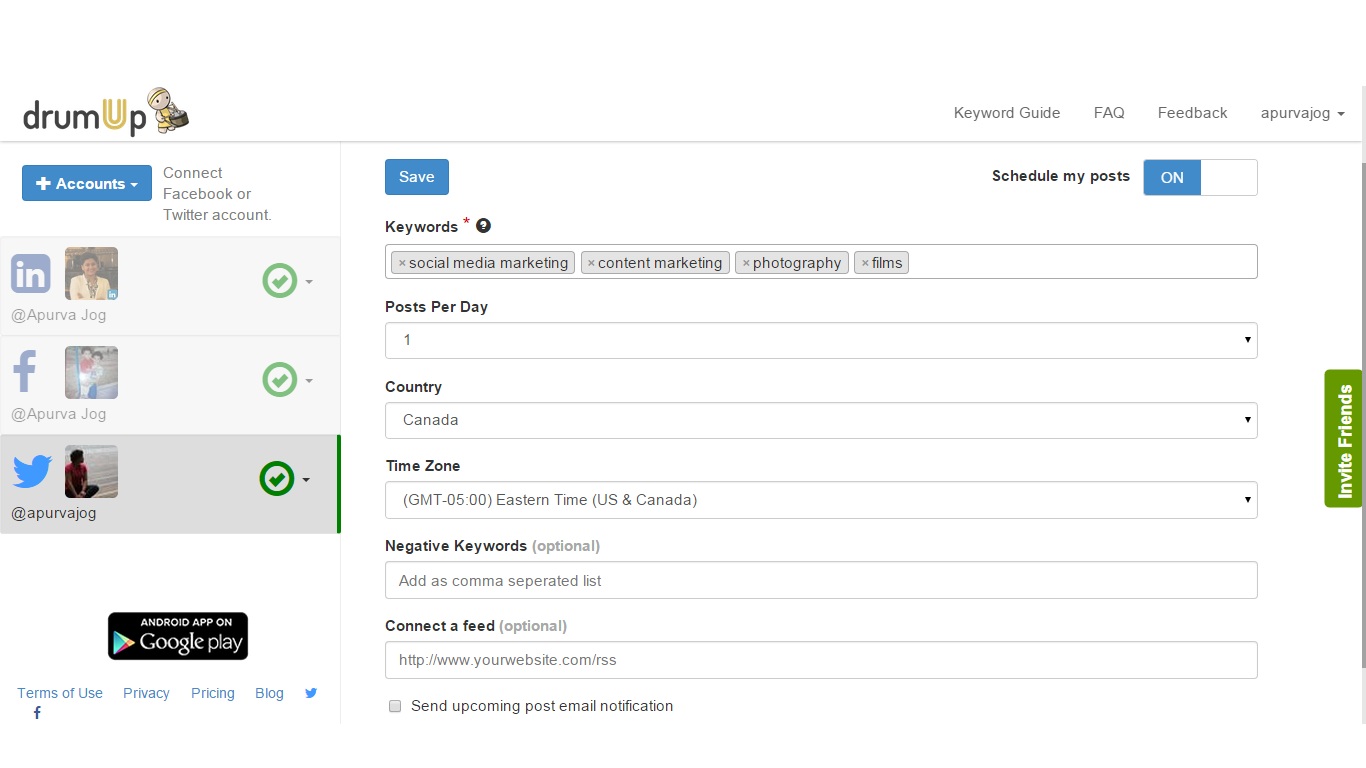 Once done, the tool will start displaying stories that are relevant to the keywords. You will be able to see these stories in your dashboard, and will also be able to schedule the posts to your social media pages.
The great thing about DrumUp's dashboard is that it gives you easy access to all of your social media accounts on a single page. You can view all your accounts on the left side of the page and transition from one account to another in the blink of an eye. Each account is fully customizable with its own individual discovery and publishing settings and content recommendations.
Check out this presentation to get a quick glance on setting up and using DrumUp for content discovery and social media management.
Tracking your industry 
Monitoring trends in your industry is easy and completely hassle-free with DrumUp, as it gives you fresh recommendations that are just a few hours or days old. You can get an update on what is trending by logging into the web or mobile application or you can subscribe to daily email notifications that give you an overview of the happenings in your industry.
Scheduling posts for sharing
DrumUp gives you the option of single-click scheduling and also suggests the best times for publishing the content. If you would like a story to be scheduled at a certain time in the day, you can schedule it and the post will be shared on your preferred social media page at a chosen time.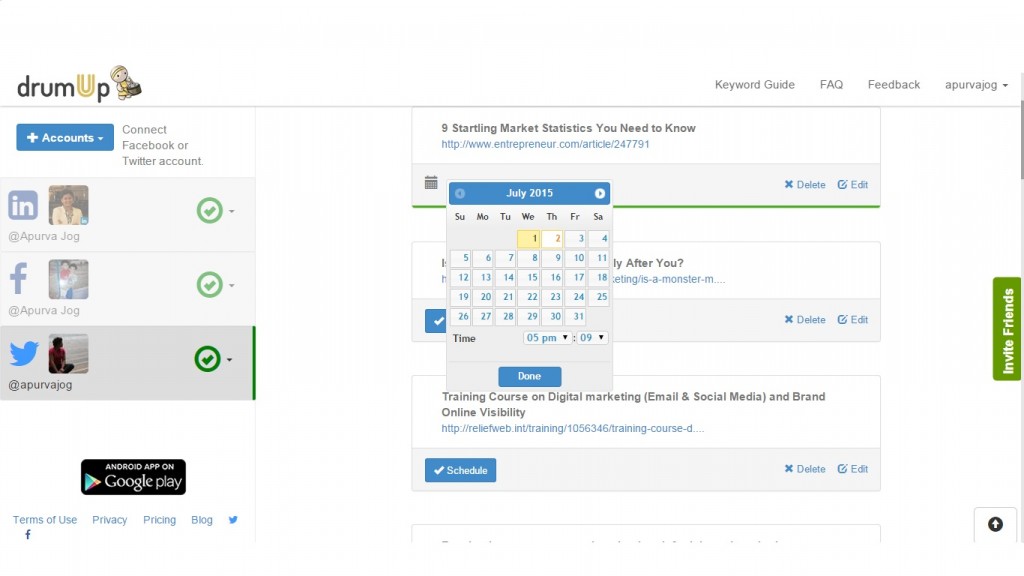 Scheduling posts ensures that they get published on time, so that your social media accounts stay up-to-date and buzzing with activity. You can even subscribe to daily email recommendations to have a quick glance at your upcoming posts. You can activate these notifications on both email and mobile.
Editing posts before sharing
If you want to tweak your scheduled posts before they are shared on your social media pages, you can easily review and modify the queued post. The option to edit is available in right corner of the bottom bar of each scheduled post. DrumUp also gives you the option of creating custom posts if you wanted to publish something related to your business such as announcements, promotions, upcoming events, offers and more.
DrumUp is a complete social media and content management app, and is currently being offered for free. It discovers fresh, share-worthy content that has the potential to increase engagement on your social media pages, and it gives you the freedom to modify, customize and schedule posts based on your preference.  With this tool in your arsenal, you can breathe a sigh of relief. Download the Android app and give it a whirl!