How to Reach Out to Your Customers on Social Media for Thanksgiving
Posted in :
Social Media Tips
on By
Apurva Jog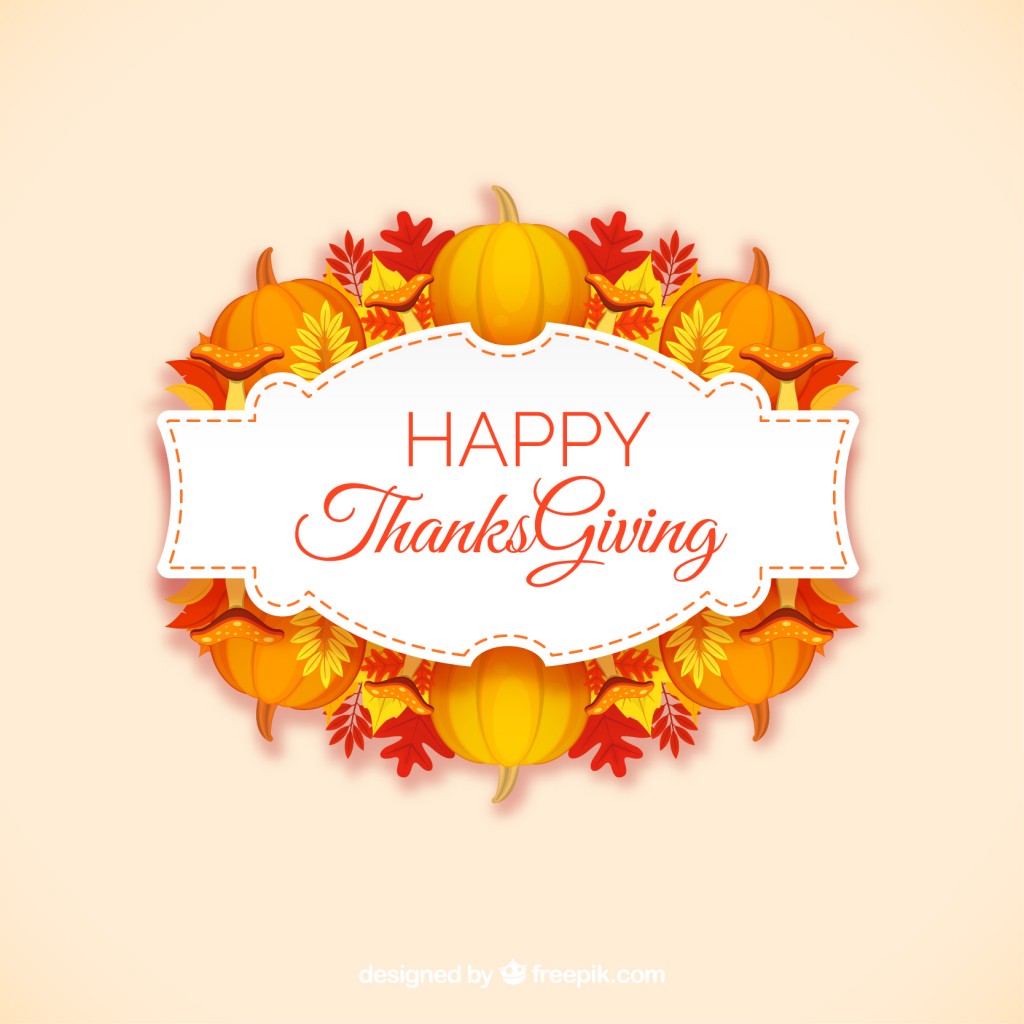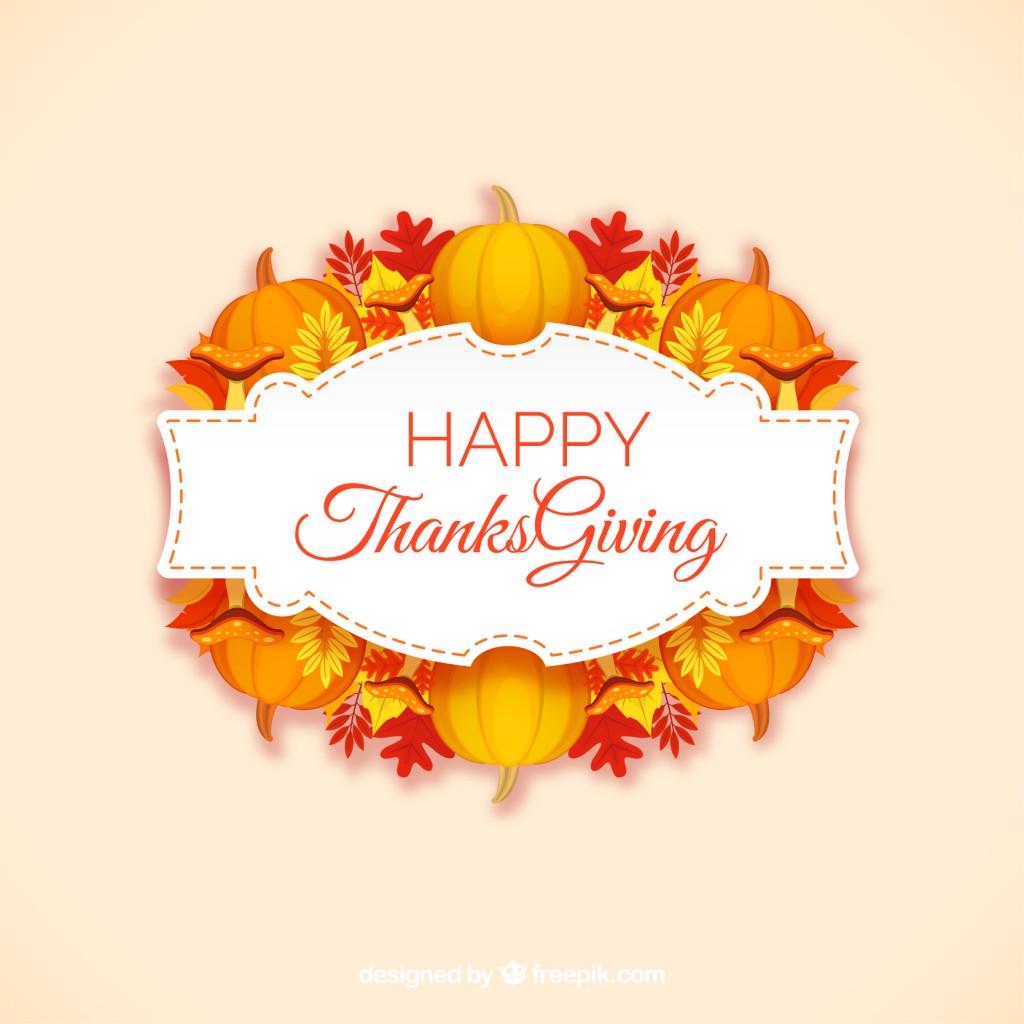 You may not be able to whip up a fancy Monica Geller-style Thanksgiving dinner every year (who doesn't like a reference to Friends) complete with napkins folded in the shape of swans, cranberry sauce, mashed potatoes and of course the stuffed turkey, but you can surely pull off a superb Thanksgiving campaign on social media and reach out to your audience on a larger scale.
Since social media is all about having conversations and staying current, it doesn't hurt to bring in a little holiday spirit to your social media pages as well. With so many people turning to social media for most of their information, it would be wise to make the most out of the holiday season on social media.
Be personable on social media
During the holiday season the focus automatically shifts towards friends and family. At such a time, invest some time on your social media pages speaking to your customers about their Thanksgiving plans or ask them what they are thankful for. It is during the holiday season when customers can really see the "human" behind the brand. Come up with creative post ideas and try to incorporate a Thanksgiving theme into your posts to keep up the spirit. You can share decoration ideas, gift giving ideas, tips for making the perfect stuffed turkey, or even recipes for mouth-watering dishes. Here is something that Betty Crocker posted on their Twitter page.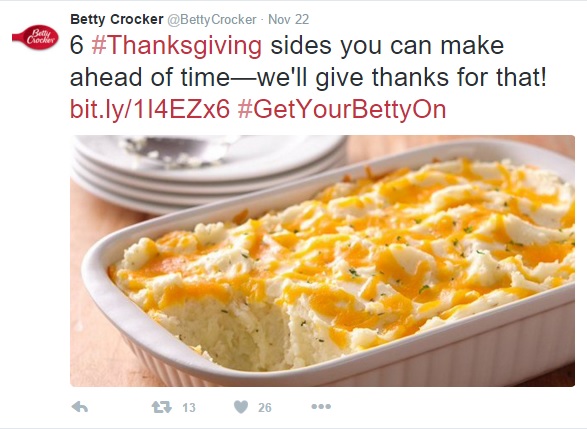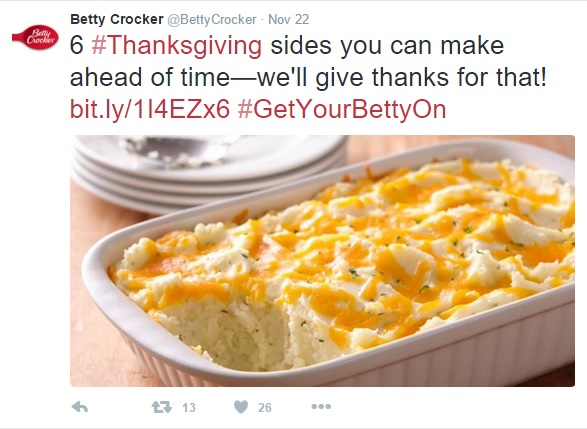 Make it a Thanksgiving week
Instead of just celebrating it for a day, plan a week-long campaign for Thanksgiving. This way, you can get a lot more relevant content out onto your social media pages, and engage with a larger audience. Through your posts, create a hype for the holidays and don't forget to include attractive images with your posts. The colorful and holiday themed images are sure to catch your audience's attention. You can even have a countdown meter to count down days till Thanksgiving day.
Share in-office Thanksgiving activities
Publish a few photographs of Thankgiving decorations in your workplace, or share videos of employees talking about their favorite Thanksgiving memory or favorite holiday food. This provides an opportunity for your customers to see and connect with your employees, and it will definitely give you more social media exposure.
Run special promotions for Thanksgiving
Since Thanksgiving is all about giving thanks, why not run a few Thanksgiving themed giveaways and contests. Hosting giveaways can be very beneficial in the long run, because it keeps your customers coming back to your social media pages. It also encourages a sense of loyalty towards your brand because you are giving away free gifts to your customers and appreciating them for trusting your brand.
Give back to the community
This is probably something your brand should be involved in throughout the year, but during the holiday season it is also very appropriate. Celebrate the season of "giving" by donating to local charities. Several brands get involved in supporting causes during the holidays. Here's an example of Macy's charity drive.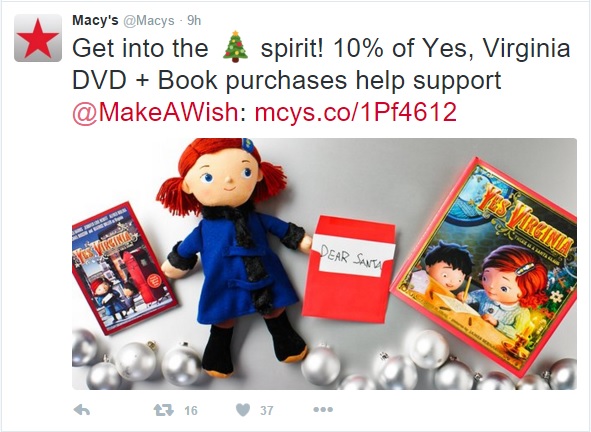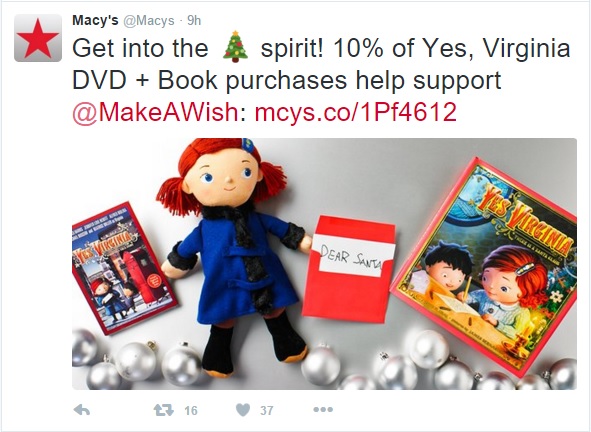 You can do this over social media. This is a win-win for everyone. Besides the extra help that charities will receive you can build some goodwill with your customers as well, and help portray your brand as one that gives back to the community. You can even use crowd-funding websites like You Caring and Go Fund Me to give your customers a chance to donate to causes of their choice.
Engage in live events
There are usually various events lined up to celebrate the holiday. The most popular one is of course the Thanksgiving Parade. Post about your favorite parts in the parade, and engage your customers on your social media pages as well. You can even live tweet the event for people who cannot attend the event because of family dinners and get-togethers. There is also the NFL games that you can live tweet or post about to keep your customers updated on the ongoing game. You are sure to earn a lot of brownie points with your audience for that one!
Provide travel tips
A lot of families head out of the city during the Thanksgiving long weekend since it is one of the biggest travel periods during the year. Post a few travel tips on your social media pages along with a few suggestions for activities that your customers can engage in. You can also post weather updates for the popular travel destinations during the Thanksgiving long weekend.
Try these tips on your social media pages, and let us know in the comments below if you have any tips of your own!
From all of us here at DrumUp, we wish you a Happy Thanksgiving :)
Image Credit: Designed by Freepik