How Social Media Succeeds in Various Countries
Posted in :
Content Marketing
,
SMM
,
Social Media Tips
on By
Sian Jaylo
All social networks are equal. However, some are more equal than others. That's why businesses across the world are selecting particular social networks that their customers use the most.
Depending on your location, customers' preferences, and the network's presentation style, you'll be more successful if you opt for one social medium over another. After all, targeted marketing approach is the best approach, and here's which social networks and tactics are popular across the globe:
Understanding the world and social networks
In January 2017, Nigeria was still a country where you'd do more by marketing your business locally than through social networks.
However, you'd have no such luck in the United Arab Emirates or South Korea, since their rate of social media penetration (monthly active social media users compared to the total population) was 99% and 83%, respectively.
When we take a deeper look into social network usage, the data paints a colorful picture.
Image SOURCE: https://www.dreamgrow.com/world-map-of-social-networks
Among the most popular social networks in January 2018 across the world, there were some social networks specific to countries (like V Kontakte in Russia, or QZone in China).
However, the big names like Facebook and Instagram still remained.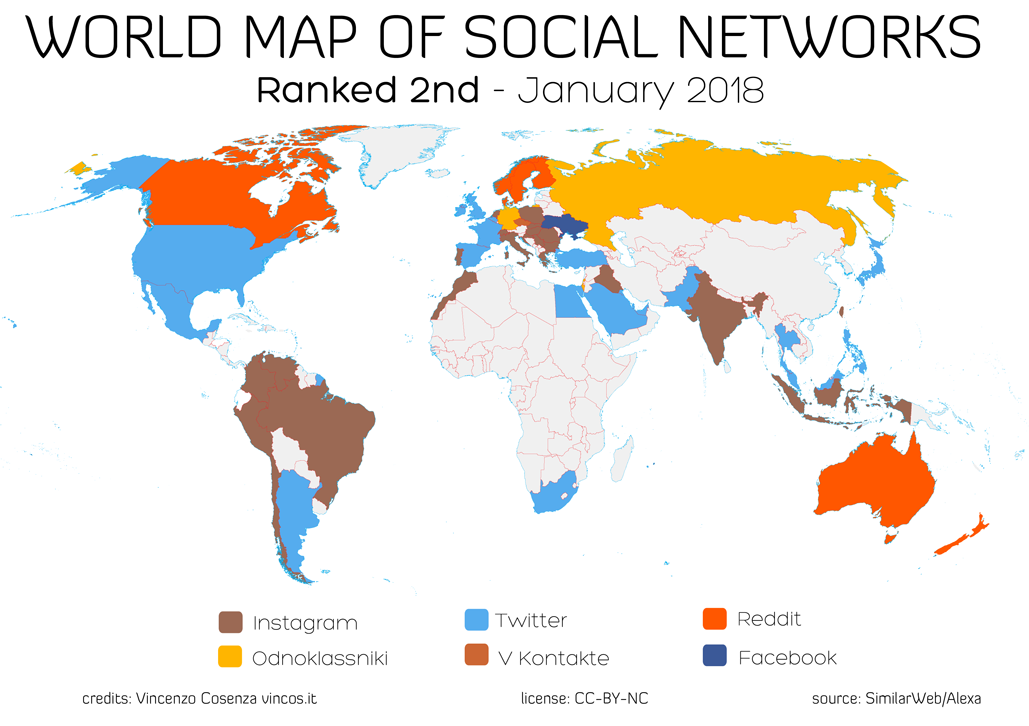 Image SOURCE: https://www.dreamgrow.com/world-map-of-social-networks
Among the second-favorites, we'll all recognize Twitter and Reddit. And even in countries which use their specific social networks, these magnates don't lose power.
When it comes to business, the value is obvious. You wouldn't use Facebook to market to people buying in Russia, nor would you use Reddit to market to people in Nigeria.
Not when there are social networks your audience knows and loves, and where they'll be more susceptible to your product.
So if you're set on using Facebook, LinkedIn, Twitter or Instagram to market your business, here are the countries where you'll have most success. And we'll also give you a few examples of business who've done it successfully to draw inspiration from.
LinkedIn fans: The US, India, China, Brazil, the UK, and France
LinkedIn draws in a diverse crowd, and it's not surprising. Since 2014, LinkedIn has been growing steadily, and their growth in new markets (especially China) has exploded. They currently have over 150 million users just in the US who are looking for new business opportunities.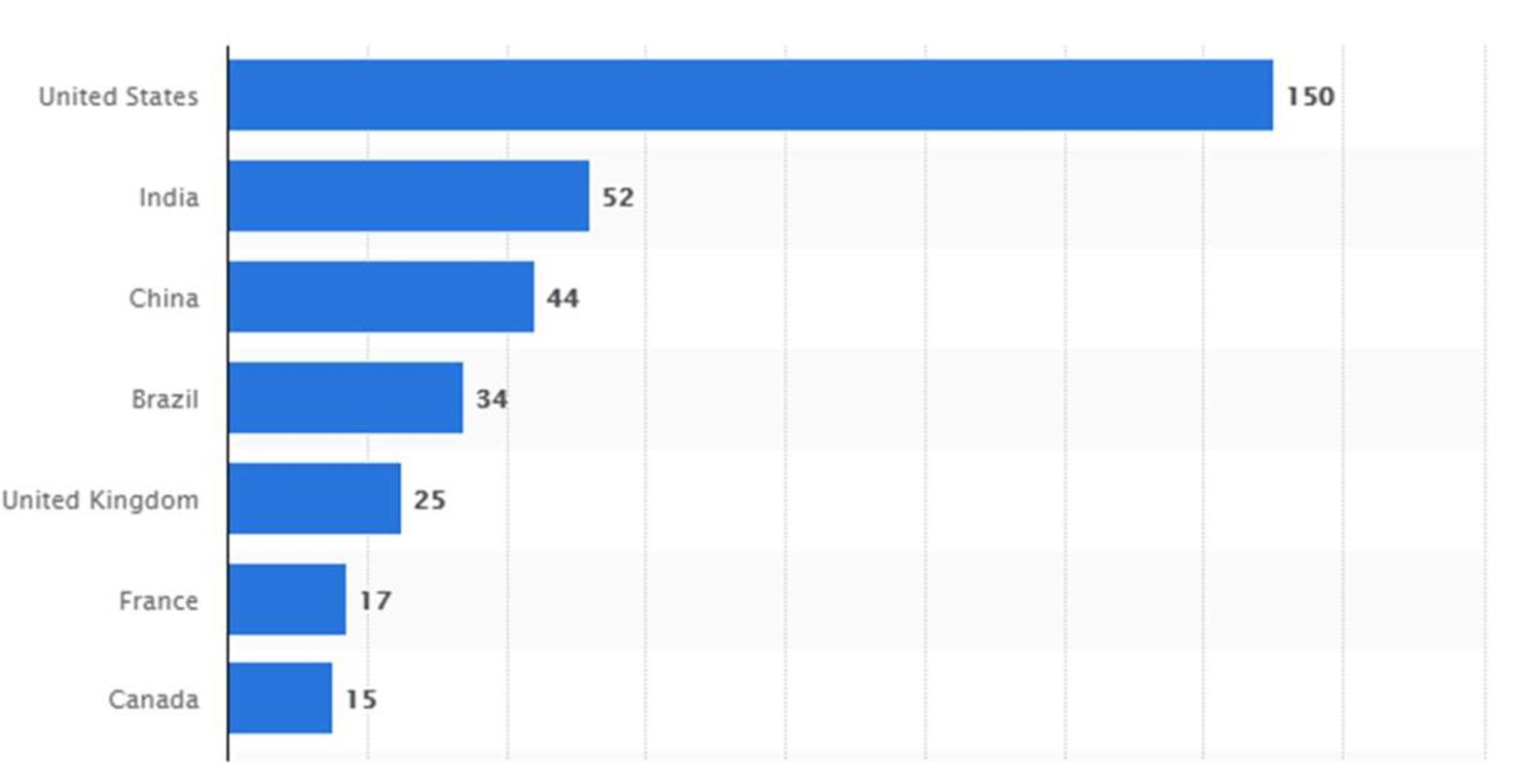 Leading countries based on number of LinkedIn users as of October 2018 (in millions)
Image Source: https://www.statista.com/statistics/272783/linkedins-membership-worldwide-bycountry
There's a growing rate of young professionals in India and LinkedIn recognized it.
In September 2017, they rolled out new initiatives for professionals in India, such as:
 LinkedIn Placements for students
 Lite version for areas with poor connectivity
 LinkedIn Starter Pack: hiring, marketing and learning opportunities for small and midsized businesses
Marketing on LinkedIn in India
If you want to market your business in India with a little help from LinkedIn, consider Volkswagen's car recommendations campaign.
To raise brand awareness and establish themselves on a growing market, VW made a company page, and enabled LinkedIn users to recommend their favorite VW models. To extend reach, they used LinkedIn Recommendation Ads.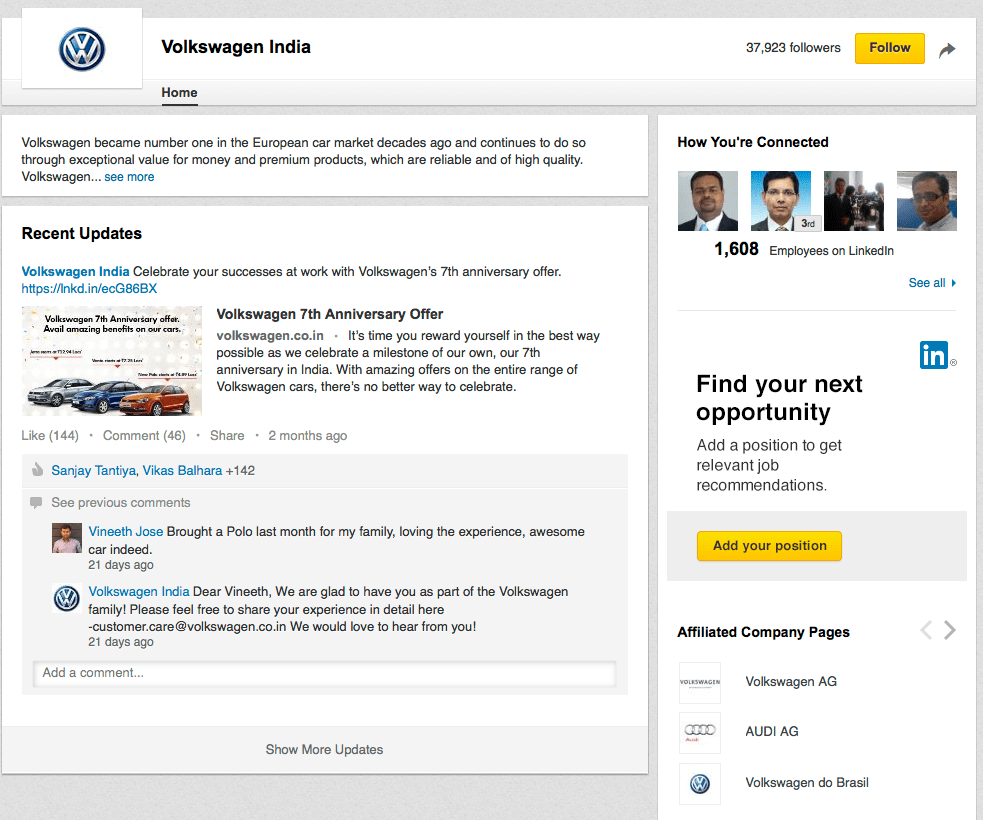 Image Source: https://nativeadvertisinginstitute.com/blog/3-great-examples-of-nativeadvertising-on-linkedin
This was a native solution that resonated well with the professionals from India who use LinkedIn. In Lutz Kothe's, Head of Marketing for VW India, words:
"We knew that for many people, their car affects their professional life and their professional identity affects their car choices. This made LinkedIn a natural choice to connect with car buyers among the growing Indian professional population."
Using the country's preferred professional network got Volkswagen 2,700 product recommendations in 30 days, 2,300 new followers on VW India LinkedIn page, and 960,000 viral updates about VW car models.
Another good example of marketing to professionals in India was Van Heusen's "Most Fashionable Professional contest" campaign. This shirt company targeted 1.5 million users, and got 30,000 unique visitors (from which they got 15,000 connections) – in a month.
Takeaway:
Even though LinkedIn is a professional network, there are a lot of factors which play into people's professional identity. Especially when it comes to young professionals who want to create a polished image for themselves.
Twitter fans: the US, Japan, the UK, Saudi Arabia, and Turkey
Even though the US is the number one for most social networks, Japan is coming pretty close when it comes to Twitter. A whopping 39 million of people from this country use Twitter every day.

Leading countries based on number of Twitter users as of October 2018 (in millions)
Image SOURCE: https://www.statista.com/statistics/242606/number-of-active-twitter-users-inselected-countries
Unfortunately, the initial growth can be attributed to the earthquake in 2011, where Twitter's Japanese user base increased by 33%. And due to the character limit, the Japanese can say a lot more on Twitter than anyone who uses the Latin alphabet.
According to the Twitter marketing team, Japanese users love discussing products, which makes it one of the best social networks to target audiences in that country.
Marketing on Twitter in Japan
When it comes to marketing on Twitter to Japanese users, it's best to take after Japanese businesses.
A shaved ice shop, Himitsudo, learned what to do on Twitter after receiving numerous calls about their flavor of the day.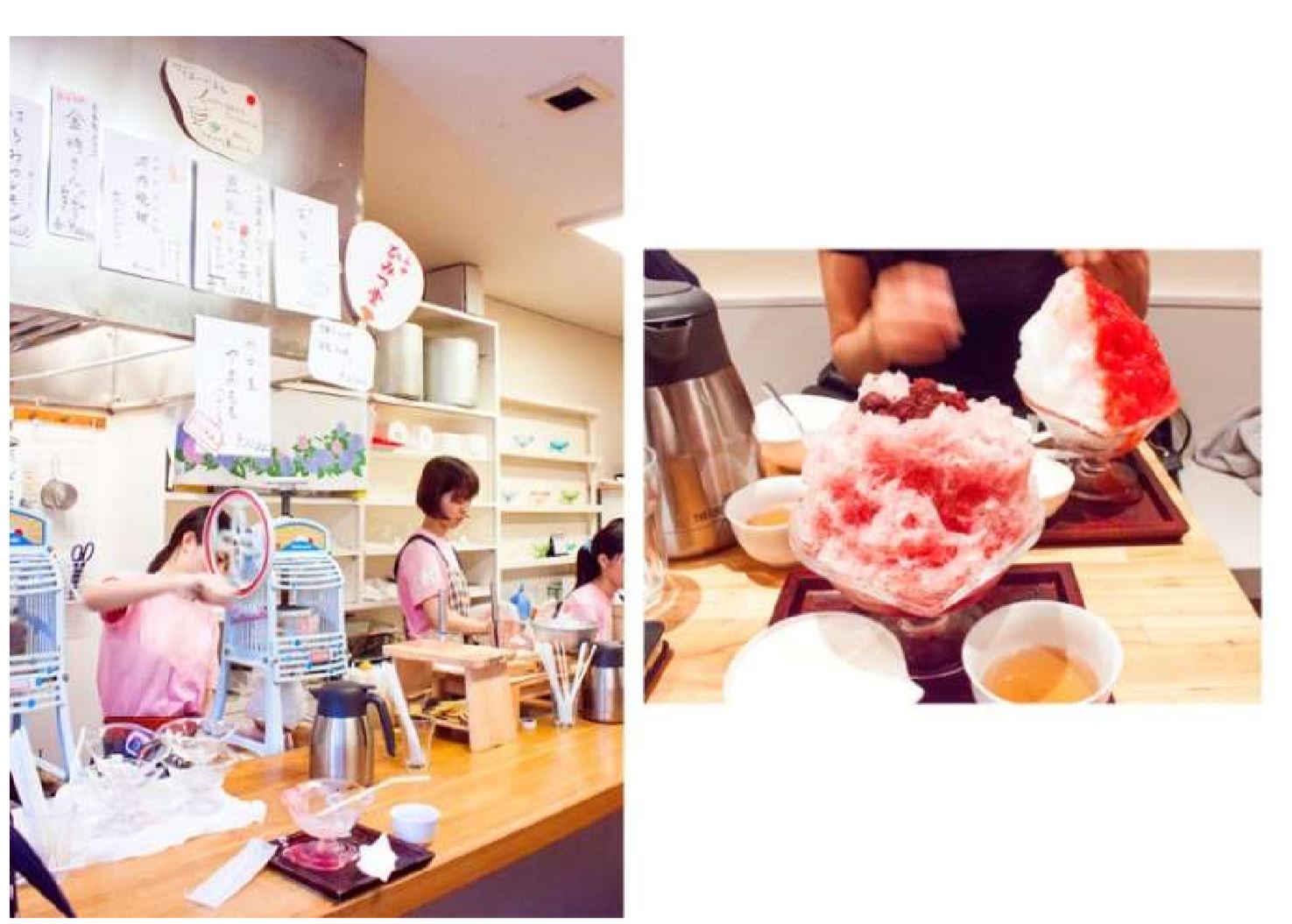 Himitsudo ice shop; Image SOURCE: http://www.cherryblossomstreet.com/himitsudo%E3%81%B2%E3%81%BF%E3%81%A4%E5%A0%82/
They started posting about daily menu changes, new flavors, and what they're about to run out of. They only use Twitter to discuss day-to-day changes, which helped them grow to 30,000 followers – even though they're a small, single-location shop.
Another great example of businesses using specialized social network targeting is Moss Burger. Their main way of marketing on Twitter in Japan is with video content.
What's genius about their video marketing is that they showcase the flavor and the experience of eating a burger in their restaurant. They use customer data to get the information on what their followers would like to see the most, and feature it in their next social media postings.
In addition to that, they communicate with their followers frequently, and the tasty videos are a genius viral marketing strategy. After all, no one can resist a tasty burger at lunch time.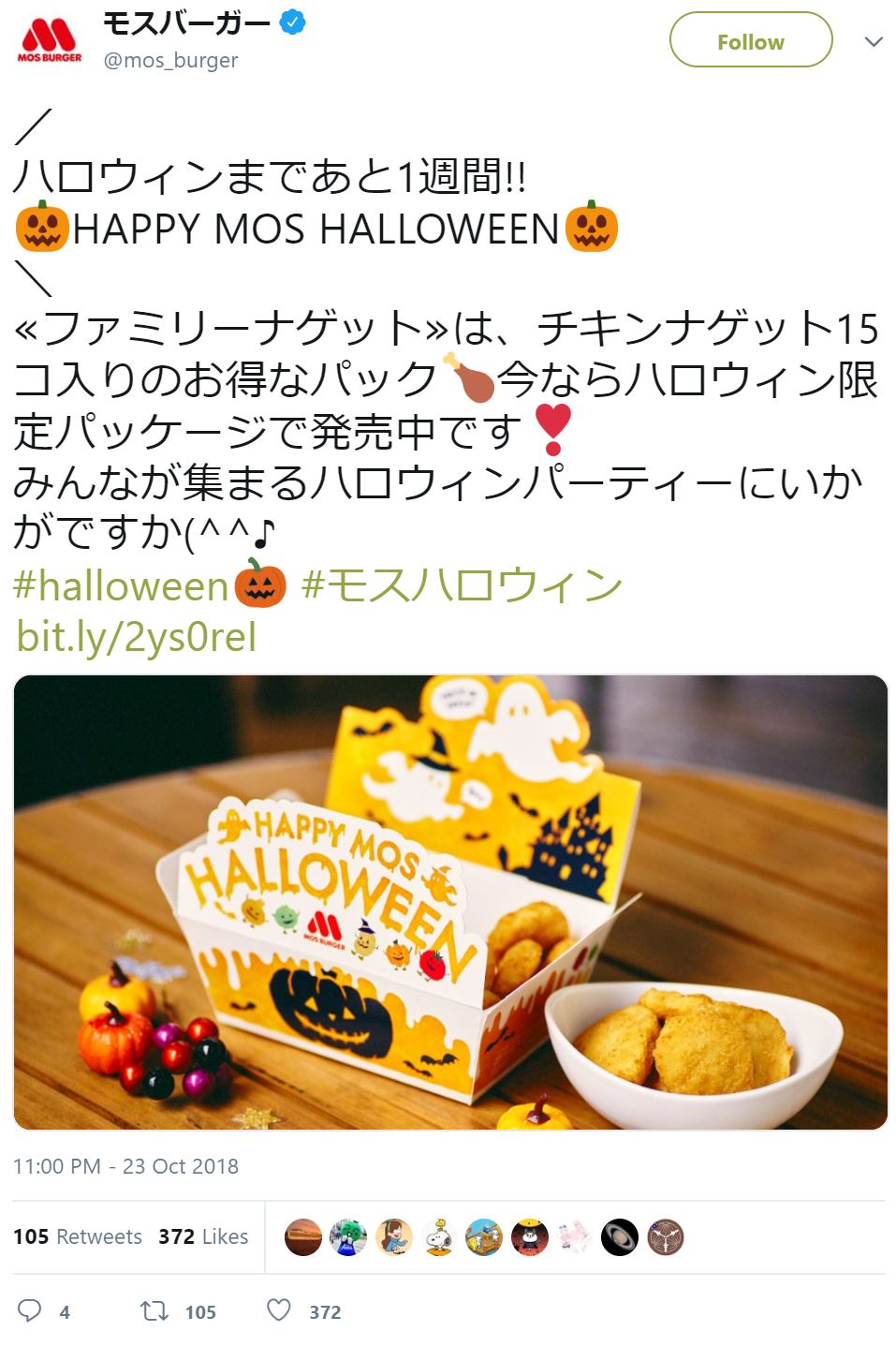 EMBED TWEET: https://twitter.com/mos_burger/status/1054975794789933056
Takeaway:
Use sought-after information and great content to capture the attention of (Japanese) Twitter users. If scheduling takes up a lot of time, you can use a tool like DrumUp to automate it and find the best content to share.
Instagram fans: Marketing to users in the US, India, Brazil, and Indonesia
In 2018, the US was again at the top of Instagram's list of users. However, so were India, Brazil, and Indonesia.


Leading countries based on number of Instagram users as of October 2018 (in millions)
Image SOURCE: https://www.statista.com/statistics/578364/countries-with-most-instagramusers
There are a lot of young and trendy Instagram users in Brazil so if that's your business' target audience, you've found your social network. What's surprising is that Instagram also has a good percentage of young male users.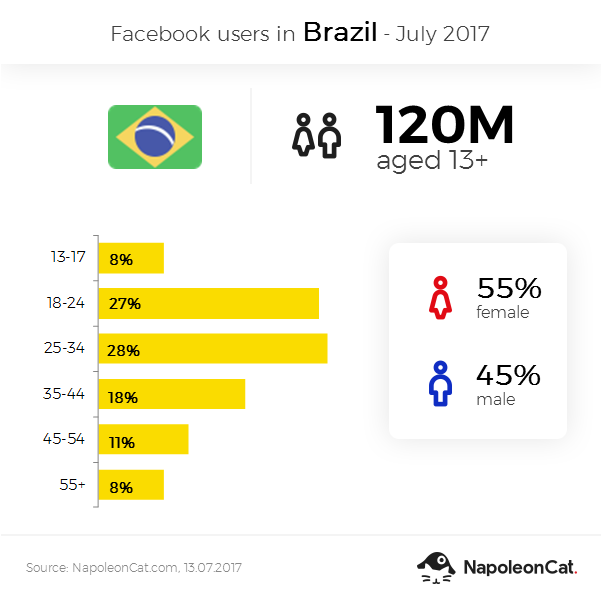 Image SOURCE: https://napoleoncat.com/blog/en/facebook-instagram-users-in-brazil-july-2017
Since Instagram is primarily a visual social network, beauty, food, and fashion work best for its (Brazilian) users.
Marketing on Instagram in Brazil
One of the most interesting campaigns that played right into Instagram's users' food cravings was Heinz's "Irresistible posts."
This campaign used geolocation to target local users. For example, people who were looking at Stories on Instagram around lunch time could see videos of burgers made in Underdog Meat & Beers restaurant.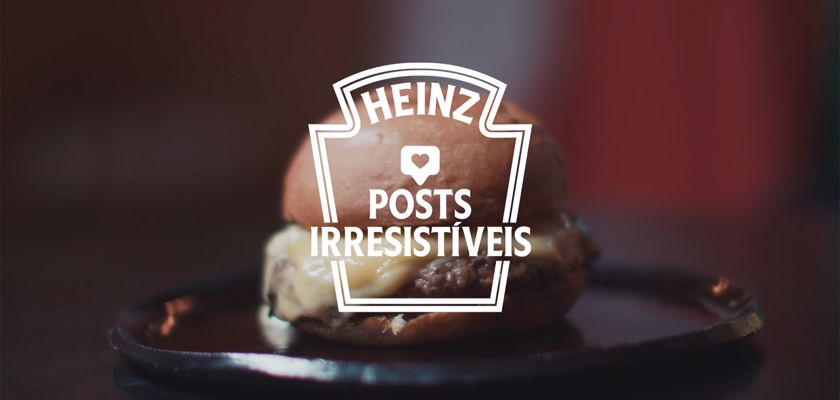 Image SOURCE: https://digitalagencynetwork.com/heinz-lets-eat-delicious-instagram-posts
When that captured their attention, the chef prompted them to order the burger by clicking on the screen. Heinz would then deliver the burgers, and their products, as well.
Finally, Heinz also sent videos of making the burger to users, encouraging them to share them with their friends on Instagram.
Maybelline demonstrated another way to reach Instagram users, this time in Indonesia. In order to connect with local audience, they used a mix of influencer marketing and community outreach.
They started a hashtag contest #MOTD (Make Up of the Day), and partnered with faces familiar to Indonesian users. Thanks to their strategy and successful use of Instagram to reach Indonesian users, Maybelline saw a 7x increase in post engagements, and 2x monthly follower growth rate.
Takeaway:
Embrace the full interactivity of Instagram. Combine Instagram's geolocation features with a targeted offer. Emphasize the visuality of your offer (e.g. the taste of hamburgers). Consider partnering with influencers to streamline growth and brand awareness.
Facebook fans: India, the US, Indonesia, Brazil and Mexico
The whole world is using Facebook. Even though it's seeing a declined growth in Europe, many businesses use it to target countries such as Mexico.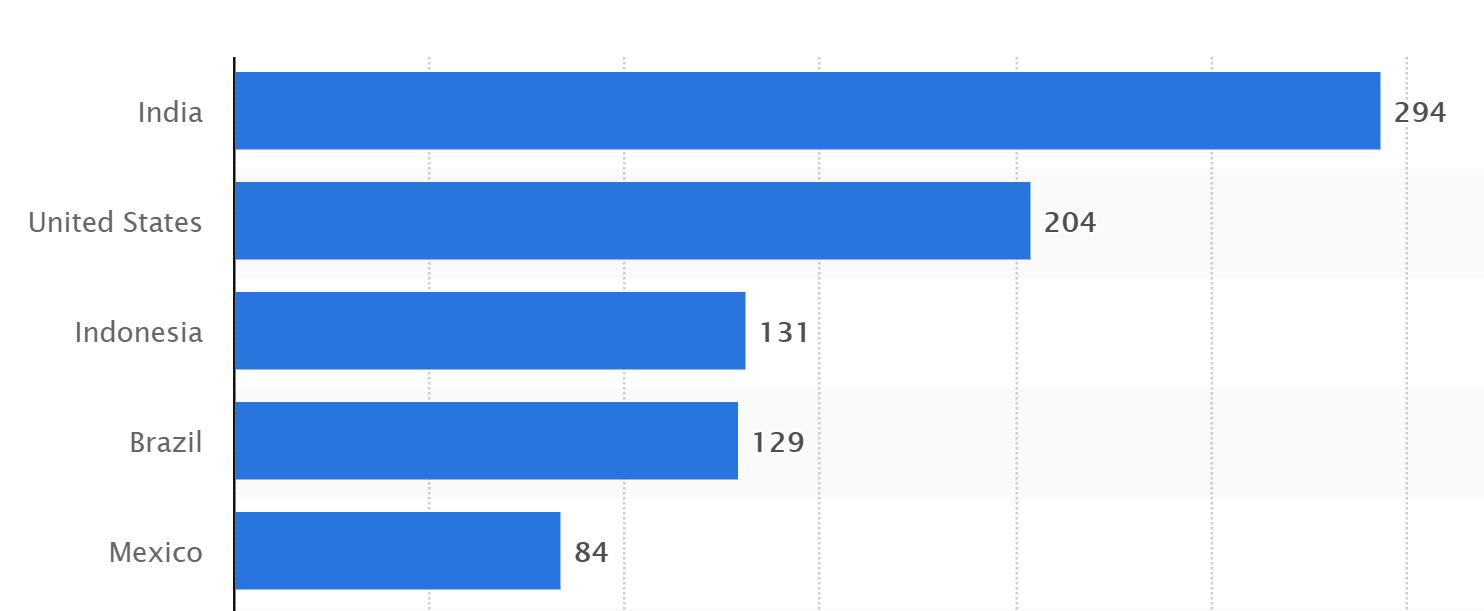 Leading countries based on number of Facebook users as of October 2018 (in millions)
Image SOURCE: https://www.statista.com/statistics/268136/top-15-countries-based-on-numberof-facebook-users
When it comes to Facebook users in Mexico, they love communicating with brands. Brands targeting users in Mexico get more engagement and followers on Facebook than on Twitter, or any other social network.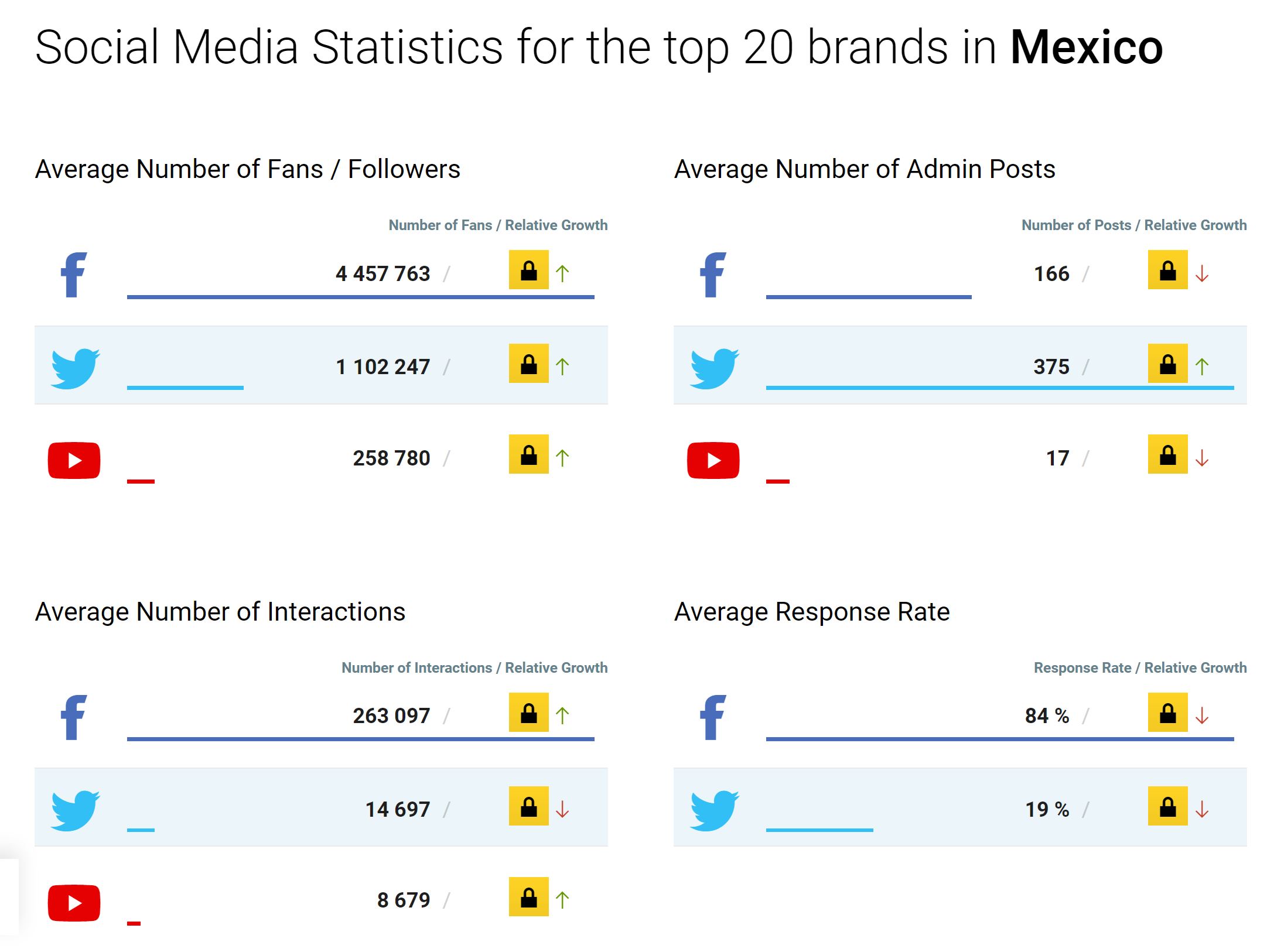 Image SOURCE: https://www.socialbakers.com/resources/reports/mexico/2018/august/
According to the same Social Media Report, Mexican users mostly keep track of retail, food, services, fashion, and ecommerce through Facebook. This is also visible from August 2018 most popular post, a video from Bimbo, a bread production business.
Marketing on Facebook in Mexico
Everyone remembers the Pokemon Go craze, but only some business owners knew how to use it.
Guillaume Guevara is the owner of a torta shop and grocery store Miscelanea, and when he noticed that his shop is right between two Poke stops, he planned a Pokemon Go-themed event.
Using Facebook, he offered his tongue in-cheek commentary on politics and announced that each Pokemon trainer would get something special if they stopped by his shop while on their hunt.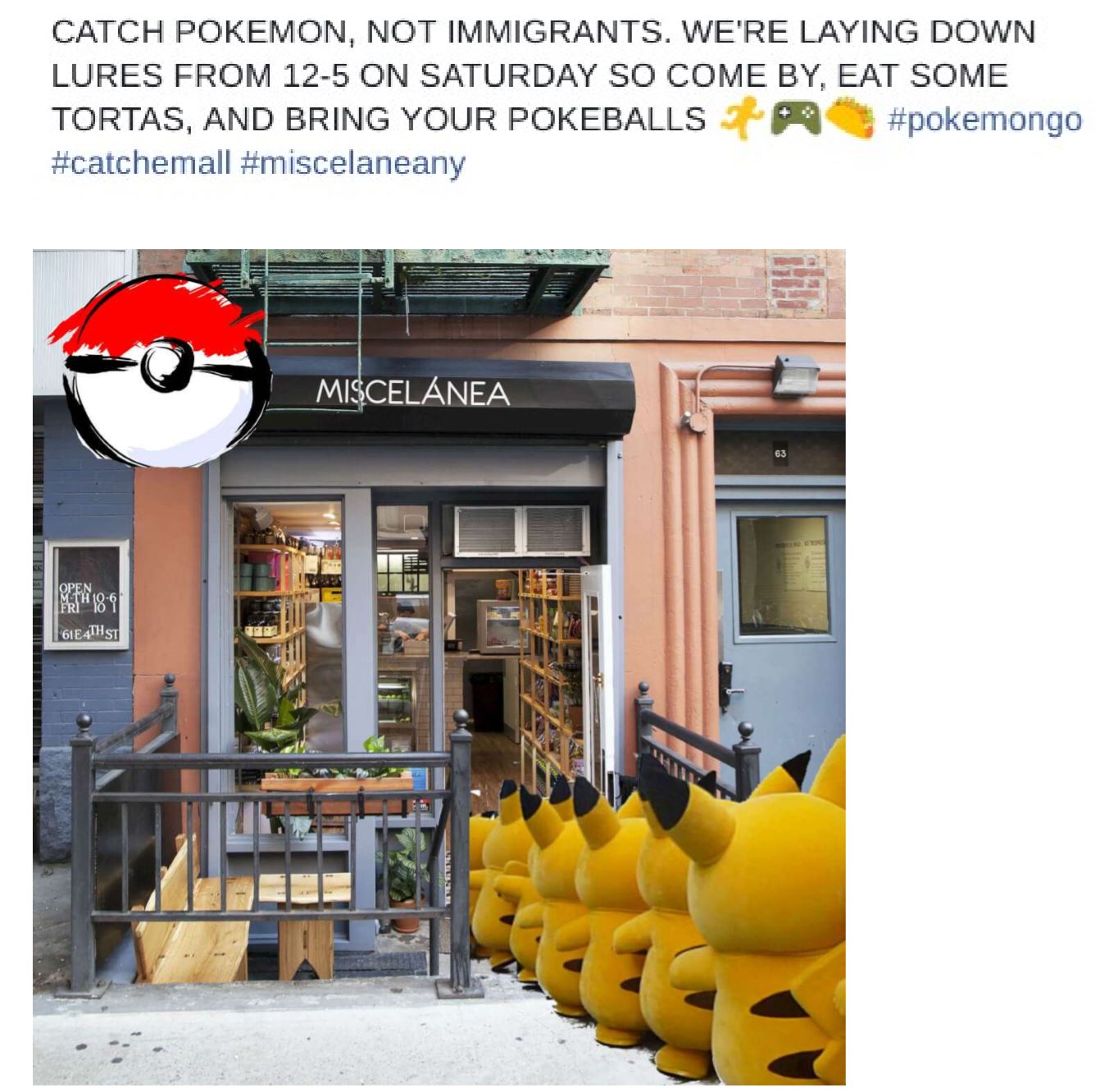 Image SOURCE: https://adespresso.com/blog/use-pokemon-go-marketing-strategy-in-yourfacebook-ads/
The caption caught everyone's attention, and the image just sealed the deal. To make things better, the owner offered a tiered rewards program.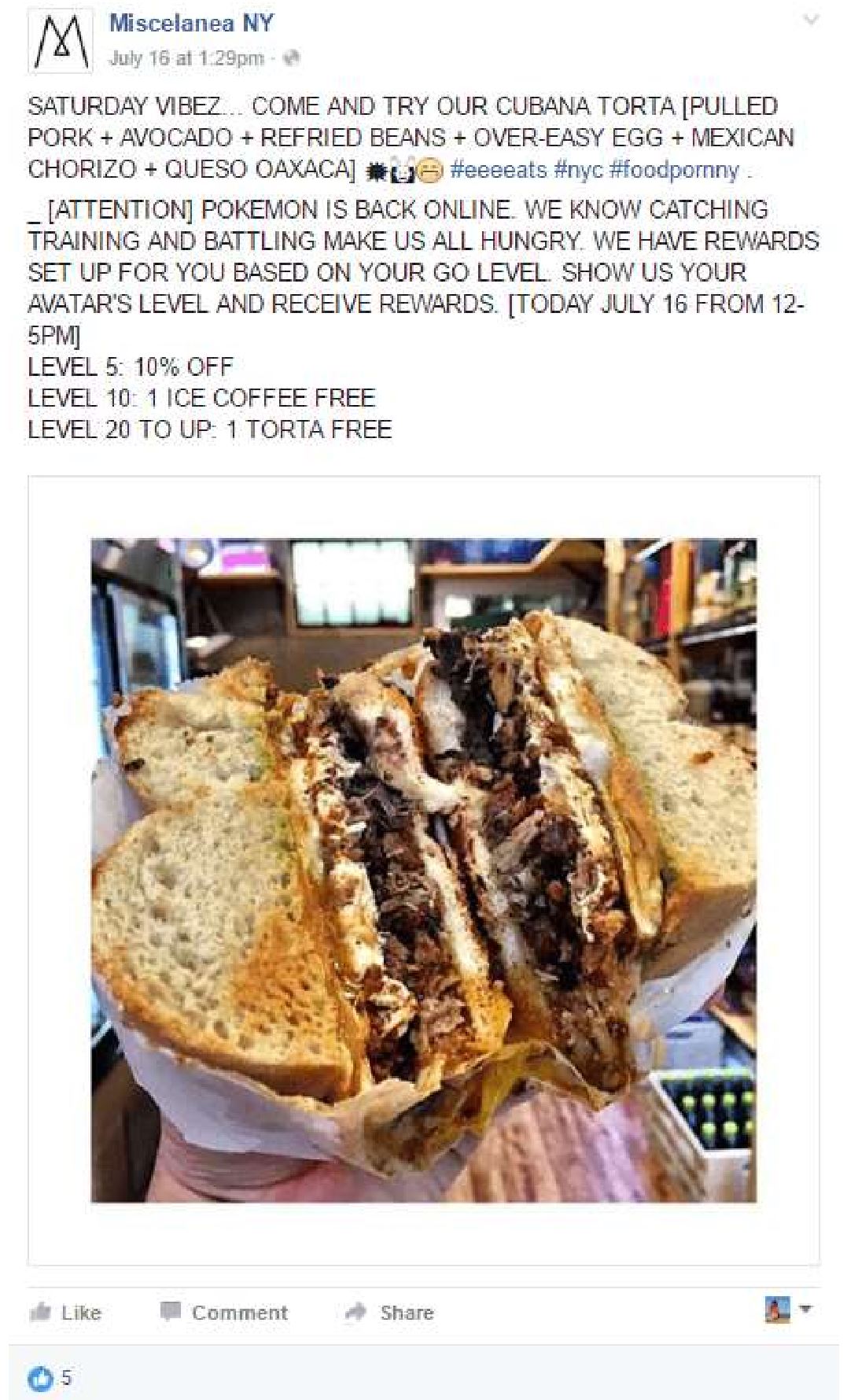 Image SOURCE: https://adespresso.com/blog/use-pokemon-go-marketing-strategy-in-yourfacebook-ads/
Guevara also used geo-targeting features in Facebook Ads to drive engagement, and hungry Pokemon Go trainers flooded his store.
Takeaway
Make use of trends. Facebook users are particularly susceptible to relevant events and even political commentary. Consider using paid advertisements to boost your reach.
Country-specific marketing
There's no formula for marketing success, but targeting gives better results. No matter which country you're targeting, or what product you're selling, there's a way to succeed with social media. The important thing is keeping users in mind, and adapting to the way they communicate and behave on their favorite social networks. And for everything else, there's DrumUp. We'll take care of scheduling, and you can focus on excelling.
Image SOURCE: https://wearesocial-net.s3.amazonaws.com/uk/wpcontent/uploads/sites/2/2017/01/Slide043.png , wearesocial.com