How Social Media Reacted to the Election Results (Some of them Will Crack You Up)
Posted in :
Monthly Social Media Trends
,
News & Trends
,
Others
on By
Disha Dinesh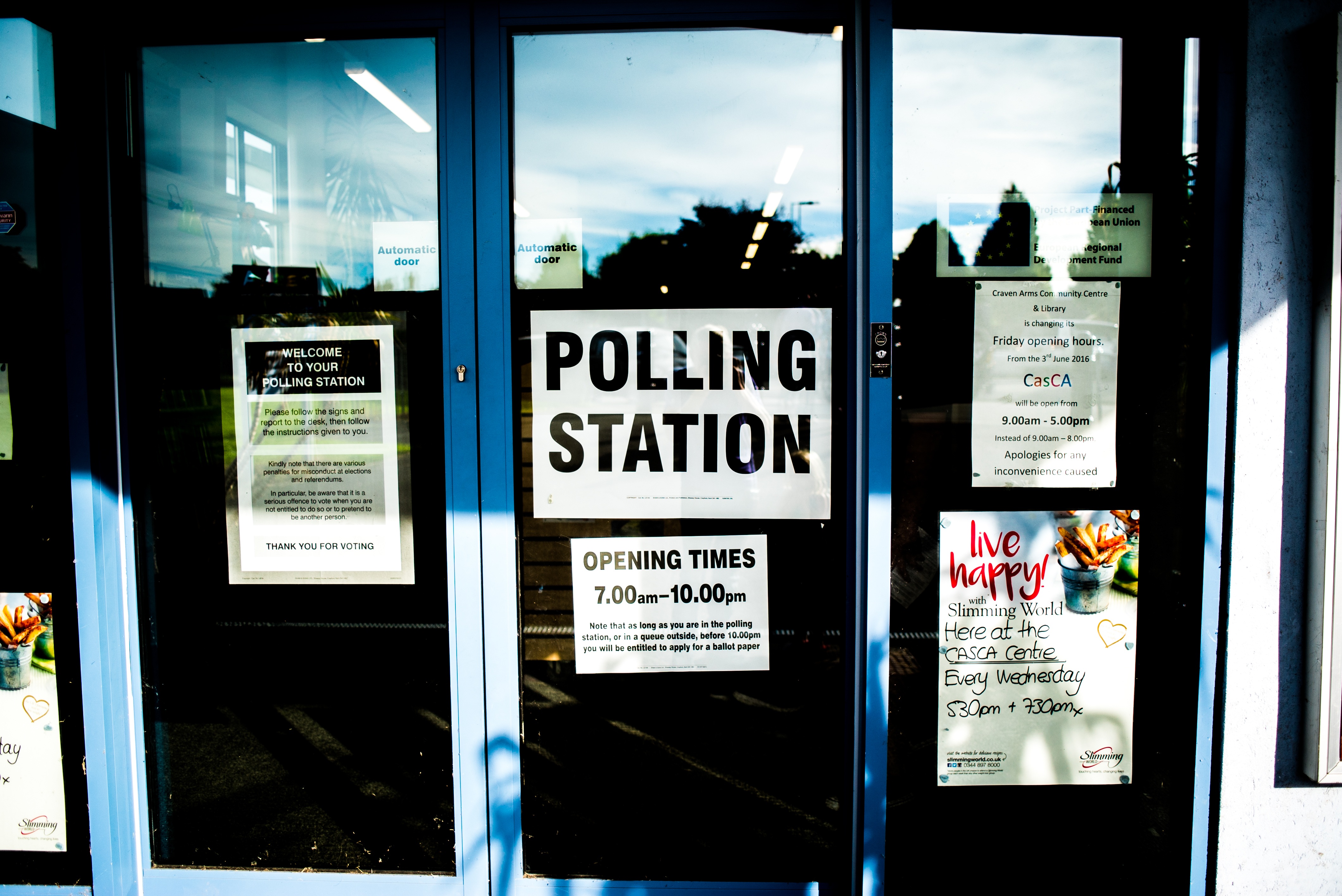 In this year's elections, Americans weren't bystanders, in any sense of the word. Considering the fact that anybody could say pretty much anything (thanks to social media), the US Presidential Elections evoked massive activity from all around the world.
Along with live broadcasts by TV news agencies and continuous updates on social media, the fear, unrest and nervousness of America, came through loud and clear, in tens of thousands of social media posts. In the hours leading up to the results, America waited with baited breath and collectively expressed it on social media.
The difference between "too close to call" and "too early to call" is the difference between looking for a Xanax and looking for a beer.

— Dan Rather (@DanRather) November 9, 2016
With real-time monitoring social media, listening tool BrandWatch built a live access platform for election related data. Taking into account the last 14 days, this is the overall sentiment that social media had towards each candidate.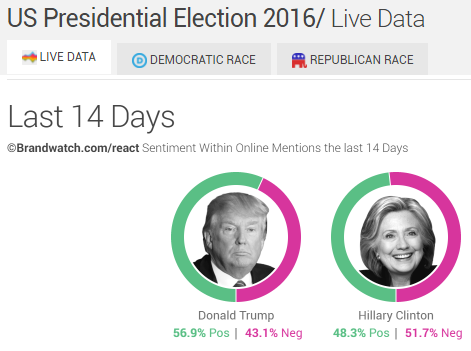 From the media perspective, Twitter came across as the real winner. As of 11 am, Tuesday (East Coast), The New York Times reported that as many as 27000 tweets were going out every minute. The activity clearly demonstrated the social media platform's viral potential, irrespective of its low Monthly Active User count of 317 million. Interestingly, at 5pm on Tuesday, Facebook's "talking about this" list was also trumped by content that was originally on a tweet, pun unintended.
Twitter did its part to establish itself as the hub for election discussions by running live video streams partnered up with agencies like BuzzFeed News.
WE ARE LIVE: https://t.co/s835IkszaZ

— BuzzFeed (@BuzzFeed) November 8, 2016
How top news agencies covered the elections on Twitter
CNN and Fox news focused on posting timely updates of the election map and Clinton's and Trump's wins. What began with Hillary's lead, turned into a close race until most of America either accepted defeat or began celebrating, except for Wolf Blitzer, seemed like.
Hillary Clinton leads Donald Trump 197-187 in the race to 270 electoral votes. Follow results on CNN https://t.co/zwwtDtlYFz pic.twitter.com/j4O7F0Hybw

— CNN (@CNN) November 9, 2016
Donald Trump now leads Hillary Clinton 216-209 in the race to 270 electoral votes. Follow results on CNN https://t.co/zwwtDtlYFz pic.twitter.com/PQIIcUJ9mK

— CNN (@CNN) November 9, 2016
Tens of thousands of tweets about Wolf Blitzer's reaction to Trump's apparent win put him on the Twitter trends list. While some tweets described Blitzer's unwillingness to accept what was happening, others approached the incident with humor.
BLITZER: Missouri is a key state.
JOHN KING: No, Wolf.
BLITZER: How about Sweden?
KING: That's a country.
BLITZER: Turmeric?
KING: A spice.

— Jason O. Gilbert (@gilbertjasono) November 9, 2016
Activity from the parties and its members
During the voting period, GOP's feed maintained posts of congratulations to winning senators, with a characteristic reminder that so many of them had been reelected. The only reference to the presidency was after Trump went for the win, congratulating him and other party members. Most of the GOP followed suit, congratulating senators and then the president post announcement of results. The democratic party also followed the same pattern, congratulating their senators.
Congratulate President-elect @realDonaldTrump & VP-elect @mike_pence ➡️ https://t.co/GtHI90kyFS pic.twitter.com/4NcQIpH9f1

— GOP (@GOP) November 9, 2016
How America reacted to the elections
America maintained a sense of humor through the ordeal, and GIFs and jokes peeped through the grave air of the impending results. Canada trended on an off, and mentions of Mars and polls of where people should run to if Trump was voted president also popped up in conversations. GIFs of characters fleeing the scene in different comic instances swamped Twitter's feeds. Shockingly, screenshots of Canada's immigration website having crashed also made it to the scene. Google's trends also reported a surge in search terms – "emigrate" "end of the world" and "how to emigrate to Canada".
The Canadian Immigration website has crashed. Seriously. #ElectionNight pic.twitter.com/XXSfCorTd1

— Cause We're Canadian (@MadelnCanada) November 9, 2016
#AmericaIsOverParty me at Canada's border pic.twitter.com/CSH5JVTZVf

— Devin Winzer (@WinzerDevin) November 9, 2016
Several Americans tweeted about Obama and how they wished he could run another term, and looked fondly back to the time when he did.
i wish we could re-elect obama #ElectionNight pic.twitter.com/w5G2Jc82do

— n a t e (@dangerousnat) November 9, 2016
For a brief moment, California's legalization of Marijuana for recreational use broke the election chatter, and Snoop dog piped in to lighten the mood. Later, it was announced that Nevada and Massachusetts had also moved to do the same.
We just legalized marijuana in Cali. #smokeweedeveryday 🍁💨

— Snoop Dogg (@SnoopDogg) November 9, 2016
What celebrities said about the presidential elections
While some celebrities openly voiced their dislike for what was happening (Trump winning the race), others expressed their support for Donald Trump.
Katy Perry, Jesse Tyler Ferguson of Modern Family fame, James Corden, Chris Evans and Rashida Jones of Parks and Recreation tweeted their disapproval of Trump, while Jon Voight, Jesse James and Stacey Dash reaffirmed his proclamations.
Gonna cry my false eye lashes off tonight. ❤️🙏🏼🇺🇸

— KATY PERRY (@katyperry) November 9, 2016
I wonder if he still thinks the system is rigged.

— Jesse Tyler Ferguson (@jessetyler) November 9, 2016
I just want to remind everyone that we are looking at a very close race with a presidential candidate who was endorsed by the KKK.

— Rashida Jones (@iamrashidajones) November 9, 2016
Brexit feelings.

— James Corden (@JKCorden) November 9, 2016
This is an embarrassing night for America. We've let a hatemonger lead our great nation. We've let a bully set our course. I'm devastated.

— Chris Evans (@ChrisEvans) November 9, 2016
Donald, you'll be the greatest president. @realDonaldTrump https://t.co/MR7QlyiL1J

— Jon Voight (@jonvoight) October 14, 2016
Just relax he's a good dude that loves this country. He will work his ass off. https://t.co/EpV2hyrGX4

— jesse james (@FreeJesseJames) November 9, 2016
America Will Be Great Again @realDonaldTrump #praiseGod #WeStand #USA pic.twitter.com/4O0j1xNs1x

— Stacey Dash (@REALStaceyDash) November 9, 2016
Singer-songwriters Alicia Keys, Miley Cyrus and Jennifer Lopez expressed their support for Hillary Clinton.
This morning, I woke up feeling hopeful for the power of our voice, for unity, for our continued progress. #VoteLove #ImWithHer pic.twitter.com/rjYJTNhW2Q

— Alicia Keys (@aliciakeys) November 8, 2016
I voted today for @HillaryClinton ❤️💙❤️💙 I am so proud of all of you who did the same! #imwithher pic.twitter.com/AKTuhmEqui

— Miley Ray Cyrus (@MileyCyrus) November 8, 2016
That's My Girl! #NewYork #ImWithHer pic.twitter.com/l3KWfMWotp

— Jennifer Lopez (@JLo) November 9, 2016
Post-result responses and activity
When the news hit the world at about 3:26 am ET, #PresidentTrump rose as the top trend, and #HesNotMyPresident followed at a close second.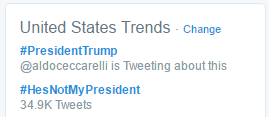 Post announcement of results, Van Jones' emotional talk about not knowing how to explain the results to his children, also landed on the trends list. As Trump supporters shared inspiring pieces of his victory speech across social media, Clinton's supports stayed loyal and undeterred by tweeting #StillWithHer. The LGBT and minority communities went on to voice their outrage and disappointment in the election results, while others in the community were glad to have voted for Trump.
Tweeting Californians refused to be subject to the new presidency, and started #Calexit to express their defiance, while photographs of First Lady Melania Trump began making their way around Twitter feeds.
#CalExit: Californians Call for Secession After Trump Victory To Be Its Own Country https://t.co/HPLS8NobAc

— Mark Dice (@MarkDice) November 9, 2016
Regardless of the results, the elections have been brutal for both candidates and their supporters and Americans, in general. While social media did provide a platform for people to express their views and to create campaigns to support their respective candidates, it also extended the same opportunity to hate speech, distrust and a lot of negativity. What remains to be seen is if America will pull itself together, unite and work for the best, regardless of who supported whom during the elections.
Featured image via Elliott Stallion @Unsplash.com