How Dynamic Content Can Take Your Marketing to the Next Level
Posted in :
Content Marketing
on By
Guest Author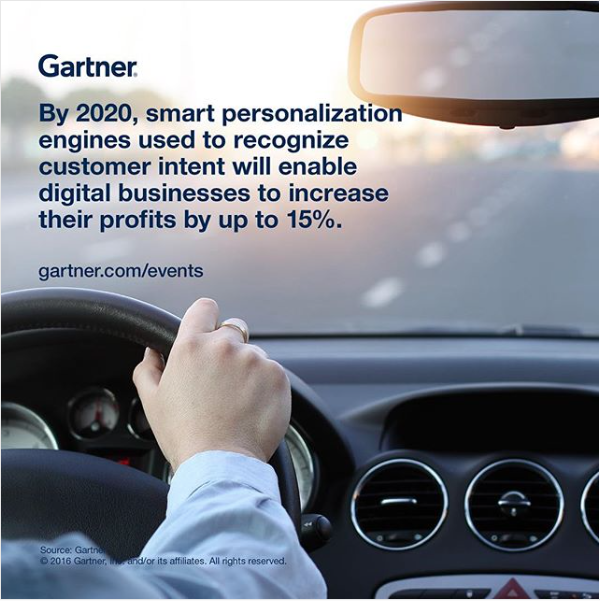 In addition to great UX design, Amazon and Netflix have another common denominator to which they can attribute their success: dynamic content.
If you've ever purchased a book from Amazon, you've likely found yourself browsing their "Recommended For You" section and been impressed with how well the recommendations match your interests. If you're a Netflix subscriber, you've likely scrolled through its "Suggested For You" section and again been impressed with how well the suggestions fit your interests. This is all thanks to dynamic content.
Dynamic content–also referred to as smart content, adaptive content, and personalized content–is a type of HTML content that adapts to customers' browsing habits. With dynamic content, a 25-year-old female in Florida with a history of purchasing dresses can see a floral dress sale as her top Amazon sale, while a 52-year-old female in Maine with no prior purchase history can simultaneously see a cashmere sweater sale. Dynamic content changes based on real-time data, as well as historical data.
Real-Time Data is data that a website reads while a person is visiting that site and is irrelevant to whether the person has visited the site before. Examples of real-time data include location, weather, and details such as browser or device type, among others.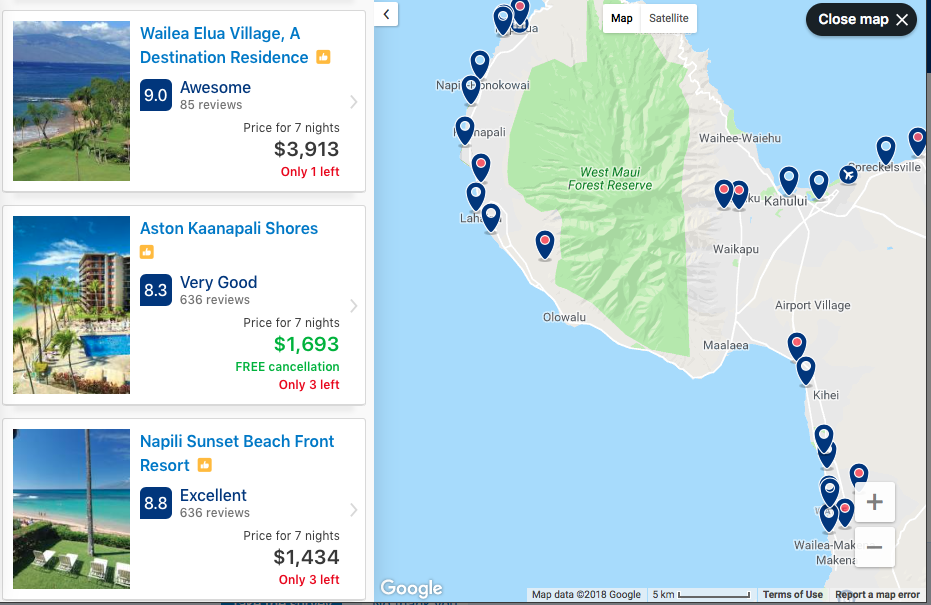 Source: Booking.com
In the above example from Booking.com, you can see that a search for hotels in Hawaii not only shows the price, but also reveals how many packages remain for each hotel. This number changes depending on how many packages Booking.com has available and is an example of dynamic content based on real-time data.
Historical Data: Historical data is based on a user's past browsing history, purchase history, and/or any personal details they have provided a log-in site, such as age, birthday, and brand preferences, among others. Historical data can be tracked with cookies or other methods and can show a company:
Number of days since first or last transaction

Number of days since first or last site visit

Number of orders

AOV (average order value, or average a customer spends per transaction)

Total lifetime spending

Viewed products

Purchased products

Products added to cart but not purchased
By using the above data, a company can better communicate personalized product suggestions, discounts, birthday offers, and so much more to its customers.
How Does Dynamic Content Differ From Static Content?
News sites, social media homepages, and many e-commerce sites utilize dynamic content. The images, videos, text, and sales ordering change depending on who is visiting the site, where they are located, when they visit, and any demographic and/or past purchase behavior data the company has on them. Dynamic content is the opposite of static content, which appears the same for every visitor regardless of where they are located or whether they have interacted with the website before.
In general, dynamic content provides a better user experience than static content no matter what the website is promoting; however, it is particularly beneficial in the world of e-commerce. According to the 13th annual Accenture Strategy Global Consumer Pulse Research report, 41 percent of consumers switched companies in 2016 due to a lack of trust and poor personalization, costing businesses $756 billion. Robert Wollan, senior managing director and advanced customer strategy global lead at Accenture Strategy, admits that consumers are nervous about cybersecurity and data collection, but at the same time want content that is catered toward them. He stated that "forty-three percent of U.S. consumers are more likely to shop with companies that always personalize experiences, as long as their trust isn't compromised." Research advisory firm Gartner agrees with Accenture and predicts personalization will lead to increased profits of up to 15 percent for digital businesses in the next two years.  
Why Are Companies Embracing Dynamic Content?
How exactly will smart content drive such growth? In short, by improving the overall customer experience. If a company can serve its customers more personalized, targeted content, it can:

Increase customer engagement:

The more engaged a customer is, the longer he will stay on a website. This will not only help boost a website's SEO ranking, but can also drive cross-shopping.





Dynamic content can also drive email open rates thanks to dynamic subject lines, and drive email conversion thanks to email content that is tailored to the end user.

Boost conversion rates:

In addition to boosting email conversion rates, dynamic content can boost on-site conversion rates. If customers stay on your website for a prolonged period of time, chances are they're happy with what they see and will decide to purchase. 

Re-engage customers:

If a customer used to interact with and/or frequently purchase from your site but has failed to do so in a while, dynamic content can be incorporated into a personalized email offer with the hopes of incentivizing him to come back and shop.

If a customer leaves your site before completing a purchase, you can also use dynamic content to email the customer and remind them they still have items in their shopping cart.
Where Is Dynamic Content Typically Found?
Dynamic content isn't limited to a website's homepage. It can also be found in emails, landing pages, personalized product recommendations, advertising, and more. Common utilizations of dynamic content include:  
Email:  Marketers commonly use dynamic content to personalize emails, catering them to recipients based on past purchase behavior. As you can see in the below West Elm example, the email's subject line is targeted to a lapsed customer with the words "miss you."
The email also lists the customer's closest brick and mortar location before promoting the "20% off" friends and family sale.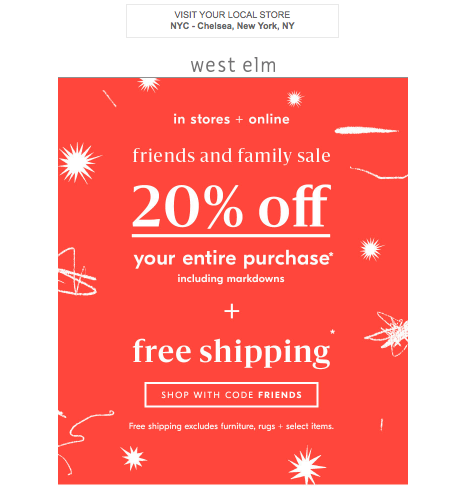 Source: Personal email from West Elm
Landing pages: If a website is dynamic, its homepage and landing page will appear different depending on who is looking at them and whether or not he or she has interacted with the site before. For instance, if you are a frequent shopper of the women's boutique on flash e-commerce site Rue La La, you will likely see women's sales when you visit its homepage, as evidenced in the below (note: the top sale–Marriott in this case–is typically static content):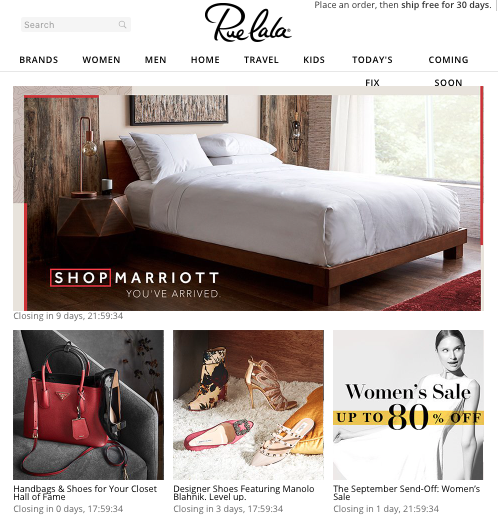 Source: Rue La La as accessed in the U.S.
Rue La La also recognizes that the user is located in the U.S., and promotes a free shipping offer as seen in the top navigation bar. If a user is in Spain, however, the offer changes. As seen in the below example, not only is the Spanish flag present to show that the site recognizes the visitor is in Spain, but the shipping message changes from "ship free for 30 days" to "free shipping on orders over $100."

Source: Rue La La as accessed in Spain
Personalized product recommendations: Many e-commerce sites use personalized product recommendations to either cross-sell products or show what they believe to be relevant products based on a customer's browsing history. In the below example from Saks Fifth Avenue, the e-commerce site recommends a selection of Chloe handbags from "Customers With Similar Style" as a result of the customer's past search history:

Source: Saks Fifth Avenue
A 2015 study by Marketing Sherpa showed that "visitors who viewed this product also viewed" recommendations generate the greatest percentage of revenue of the various types of personalized product recommendations: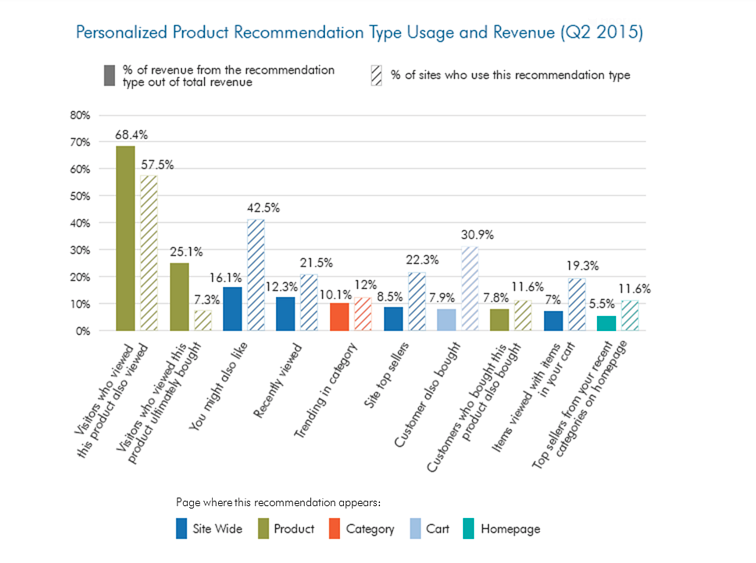 The study goes on to say that these types of promotions work for four key reasons:
"They give a sense of being part of a crowd of the users.

They aren't "salesy."

They encourage users to view more products.

They are engaging and "catchy."
Source: Marketing Sherpa
Ads: Google, Facebook, Instagram ads, and other third-party advertisers use dynamic content to show users personalized recommendations based on their browsing history. These content-targeted ads can show a generic promotion for a company a user has recently visited, as evidenced in the below Saks Fifth Avenue ad found within Buzzfeed's app:
Source: Buzzfeed mobile app
Dynamic ads can also pull in content based on specific products a customer has looked at, as evidenced in the below Saks Fifth Avenue ad found on Facebook's mobile app: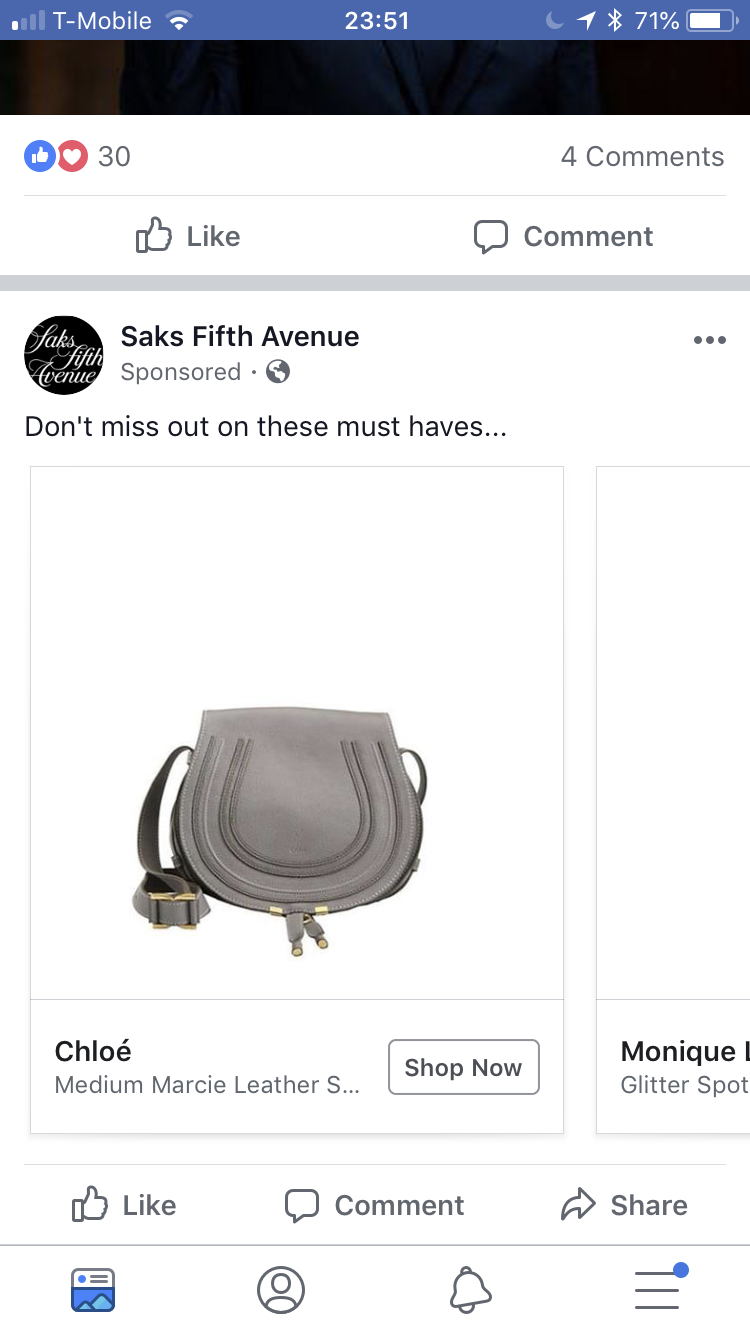 Pricing: Did you know that even pricing can be dynamic? If you're a frequent flier, you've likely noticed that airline prices fluctuate based on when you bought your ticket. If you drive, you've likely noticed that gas stations are constantly changing the price of gas based on oil trends, weather changes, and more. Even Uber changes its rates based on the number of drivers available and rider demand. What you likely didn't know, however, is that e-commerce sites have also begun to embrace the trend of dynamic pricing, changing product prices depending on users' locations, browsing history, and more.
A Wall Street Journal report revealed that office supplier Staples uses dynamic pricing, showing customers different prices for products depending on their zip codes. If they live near a competing brick and mortar store such as Office Depot or OfficeMax, they would be shown a cheaper price than a customer who does not live near a competing office supply store. According to the report, Staples isn't the only e-commerce site using dynamic pricing and, in fact, dynamic pricing software has become more advanced than simply reacting to zip codes. The report says that "[a]dvances in AI are allowing retail and wholesale firms to move beyond 'dynamic pricing' software, which has for years helped set prices for fast-moving goods, like airline tickets or flat-screen televisions. Older pricing software often used simple rules, such as always keeping prices lower than a competitor. These new systems crunch mountains of historical and real-time data to predict how customers and competitors will react to any price change under different scenarios, giving them an almost superhuman insight into market dynamics. Programmed to meet a certain goal — such as boosting sales — the algorithms constantly update tactics after learning from experience."
Other: While the aforementioned are some of the most popular types of dynamic content, it can also be found on news sites, forms and quizzes, plus music and video streaming services. If you use Pandora, Spotify, Apple Music, or another music streaming device, you've likely noticed that the stations play music you actually like. This isn't a coincidence, but due to dynamic programming that recognizes artists and songs you like and in return plays similar ones.
Final Thoughts
Customers want content that is catered toward their needs. Whether it's a travel site that shows how many hotel packages are left at a certain resort or an online retailer that shows personalized recommendations based on a customer's prior shopping trips, customers want to see content that is relevant to them.
Customers are more loyal to companies that deliver content that fits their needs and companies know this. Thus, more and more websites are embracing dynamic content. These companies recognize that dynamic content increases customer engagement, boosts conversion rates, and re-engages lapsed customers, all of which help them deliver a better customer experience–and, as a result, better the companies' bottom lines.
Featured Image Source: Gartner Instagram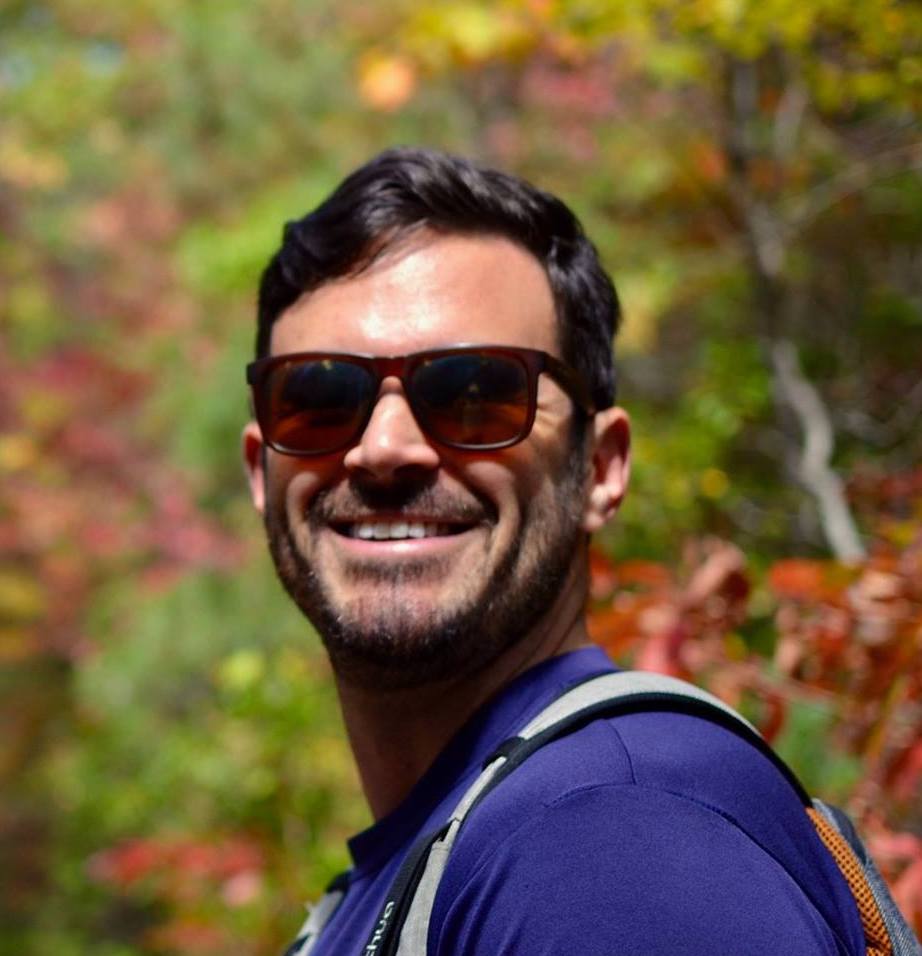 Quincy Smith is part of the marketing team at Springboard, an online training company that provides mentor-led courses like the Digital Marketing Career Track. He's passionate about strong coffee, challenging hikes, and clean data.