Employee Advocacy Best Practices for Hotels & the Hospitality Industry
Posted in :
Content Marketing
,
Employee Advocacy
,
Social Media Tips
on By
Disha Dinesh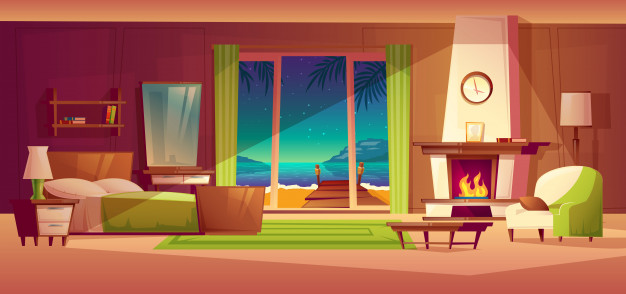 Did you know that 84% of your target audience trusts in reviews and recommendations? People are more likely to eat at a restaurant or stay at a hotel when it has been recommended to them by friends and family, colleagues and random internet personalities. That's what makes employee advocacy so valuable for hotels and the hospitality industry.
What's employee advocacy? How is it relevant to hotels and the hospitality industry?
Getting genuine recommendations consistently requires having a network of active and enthusiastic individuals. Happy customers may advocate your hotel, but their recommendations are typically sporadic, unorganized and ungovernable. However, recommendations rising out of employee advocacy can be molded and delivered strategically.
Did you know that 75% consumers visit Facebook to discover hotels and restaurants to try? So, even if you decide to get employee advocates to talk about your hotel, it's useful to have it done on social networks such as Facebook.
At DrumUp, we've developed a social media employee advocacy platform that can help you do this, effortlessly.
How to get started with employee advocacy in the hospitality industry
If you've noticed, some of the most successful hotel chains have embraced social media marketing and are active on various social networks. If you don't have an existing, effective recipe for social media marketing, it's essential to develop one before moving to employee advocacy.
Recommended reading: Social Media Marketing Guide: Focus on Travel Businesses, Vacation Rentals
Recommended reading: 7 Types of Social Media Content That Drive Most Engagement – What Experts Say (& Real Life Examples)
Recommended reading: 5 Easy Steps to Nail Your Content Marketing (and Get People Talking about You on Social Media)
Once you have an effective social media marketing plan, you can use employee advocacy to amplify your social media content. Here's how to get started with employee advocacy for your hotel in 5 simple steps.
Plan and document your employee advocacy goals. What would you like to achieve using employee advocacy? The more specific your goals, the better the results are likely to be.
A good example of a goal is increasing reach for recruitment messages on LinkedIn, among Software Developers.
Choose an employee advocacy platform that will simplify your work, and setup content sources on it, so your posts can automatically be pulled from those sources and shared with employees who are on the platform.
What should your employee advocacy content sources be? Choose social media pages on which you have already shared those posts (recruitment posts) or your blog RSS feed.
Select a representative among your employees and introduce to them the concept of employee advocacy. Plan how best to introduce the concept to the rest of the employees using this employee's inputs.
A great way to start is by creating an event to talk about benefits of employee advocacy (for the company and employees) and training them to use the employee advocacy platform that you choose.
Choose a set of employees to work with on a pilot program. When you choose employees, consider who they're connected to and how well-networked they are on social media.
If you are planning to recruit Software Developers, include your Software Developers in the program, so you can reach other developers through them. Use the pilot program to test your content and publishing strategies.

When executing employee advocacy for the hotel industry, here are a few best practices to follow for the best results.
Employee advocacy best practices for the hospitality industry
Employee advocacy always sounds like a great idea to executives and marketing managers, but few of them manage to successfully establish employee advocacy as part of their work culture. Many companies typically face certain challenges when implementing employee advocacy, challenges that prevent them from enjoying the benefits of employee advocacy.
Here's a list of the common challenges that companies face when implementing employee advocacy.
Disconnect between management and employee advocates. If you can't effectively convey the purpose of employee advocacy to your advocates, they're less likely to be enthusiastic about participating in your employee advocacy program.
Your company culture isn't inspiring enough to talk about. Successful employee advocacy needs to be genuine, which is why you need to create a culture that employees want to talk about voluntarily.
There's a lack of leadership for employee advocacy. Employee advocates need leaders who can set an example and show them how it's done.
Employee advocacy is too effort-intensive. If your employees feel like participating in your employee advocacy program is "extra work", they probably won't cooperate.
You can streamline the communication required to run employee advocacy and make the process easier for your employees by choosing the right employee advocacy platform.
DrumUp employee advocacy platform simplifies your program by –
Automating content sourcing by attaching content sources to the app. Content will automatically be pulled from here and shared with your employees. Content sources can be social media pages and RSS feeds of blogs/websites.
Simplify content sharing for your employees, who can connect their social media accounts to DrumUp and share through 1-click and automatic sharing
Measure the effect of content sharing through employee advocacy. On DrumUp, you can measure the engagement among employees and on social media after employees have shared your content.
Best practices to follow when running an employee advocacy program in the hospitality industry
How you execute employee advocacy depends on what type of hotel you work for. If yours is a hotel chain that has a presence across the world, it's important to have consistency across all of your branches. Bearing this in mind, let's discuss some employee advocacy best practices to follow in the hospitality industry.
Amplify social media posts that focus on customer experience at your hotel
Customer experience is what your target audience looks for when choosing a place to stay or eat. That's why people usually get influenced by recommendations given by friends and family who share their experiences. If you have social media posts focused on the experience that customers can expect when staying at your hotel, share those with your employees, so they can amplify them by sharing through their social media networks.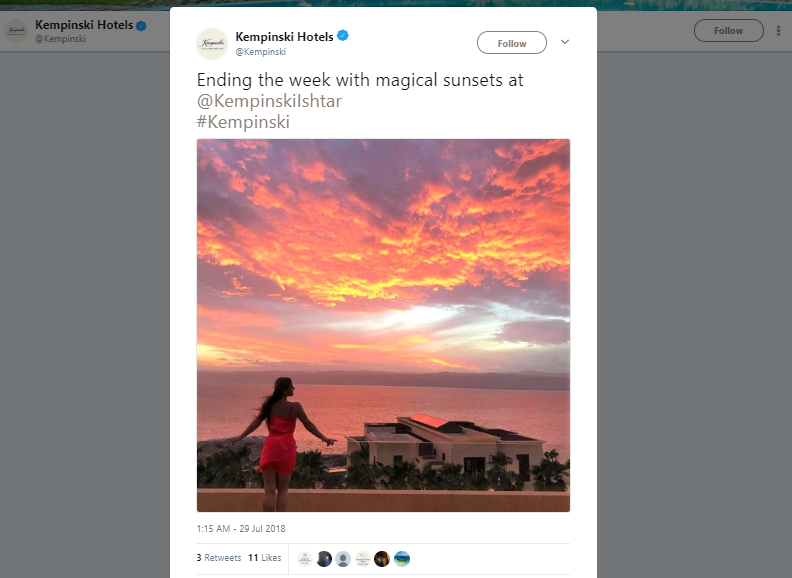 Here's an example of a post shared by Kempinski hotels of the sunset at their Ishtar branch overlooking the dead sea. When trying to create experiences for your customers to enjoy, consider the following tips.
Share information about experiences that are unique and enticing. Kempinski's sunset overlooking the dead sea is a great example.
Attempt to get another customer's voice when sharing the post. So if your customers are already sharing pictures at your location on Instagram, reshare those posts. Curate and reuse them on your website and social media pages.
Share them with your employees to further increase their reach. This will both serve your purpose and make those customers happy.
Try and include other entities or organizations in your social media posts. If you're creating experience based posts, you may want to tag the adventure sports company that's setup a 100 mts away from your beachside hotel. This will increase your reach and improve your relationship with the adventure sports company.
Share posts celebrating the accolades and mentions that your hotel has earned
One of the other reasons why recommendations work in the hospitality industry is because of social proof. People are more likely to stay at a hotel where they know others have stayed and enjoyed. One smart way to create this social proof is by sharing accolades, ranks and mentions that your hotel earns in local and global media. Employees are also likely to voluntarily want to share these types of posts because they're proud of working for a hotel that has earned these accolades.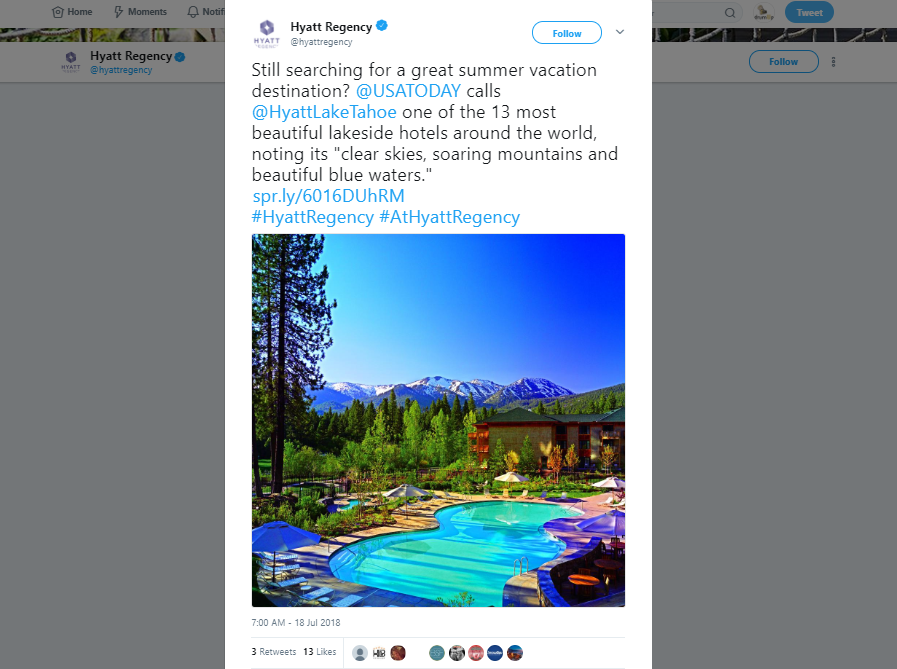 Here's an example of a post shared by Hyatt Regency of USA Today calling its Lake branch one of the 13 most beautiful lakeside hotels in the world. That's the kind of advertising that you can't afford to let die down in one mention. Here's how you can make most of such a mention.
Create a folder or "content library" on DrumUp for all mentions of your brand. You can add mentions to this folder and from here share posts that you like, when you like with employees who are connected to the DrumUp dashboard. This sharing can be done easily with a single click or custom schedule.
Use a social media monitoring tool to capture the mentions of your brand no matter where or when it occurs. These tools can even sort mentions into positive, negative and neutral, so you can decide how to deal with them.
Share beautiful images of your hotel and the entity or element you have won the accolade for along with the mention.
Create a stable hierarchy of representatives among your employees who can keep the program running
You can automate a large part of your employee advocacy program, but it's important to personally ensure that everything is running in order. That's why the people you choose to manage your program are critical. Choose vibrant, friendly people who can communicate with and motivate everyone. If yours is a chain of hotels, you need an employee advocacy manager for each branch of the hotel. These managers can personally check in with and motivate team members of their branch to share content.
Here are a few tips to keep in mind when building a hierarchy to manage employee advocacy for your hotel.
Chart out a hierarchy before you begin choosing people. Ensure that there's someone on every level so you can truly communicate your intentions to employees.
Choose people who get along with others easily. It's essential for the representatives you choose to have spoken to everyone on the team for the best results. Ensure that they volunteer for the post, because you don't want people who aren't enthusiastic about advocacy themselves.
Meet with your representatives from time to time so you can assess their reaction to the program and get feedback to make the program better.
Assess the performance of your content among employees from time to time and refine it continuously to increase your engagement and sales.
Bonus best practices for employee advocacy in the hospitality industry
Broadcast your customer loyalty and referral programs using employee advocacy to increase reach and impressions.
Curate User Generated Content and have it amplified by encouraging employees to share.
Wrap
Did you know that most of your target audience is influenced by recommendations that they hear and read? Employee advocacy can help you create positive buzz about your hotel on social media.
Feature image via Freepik.com