How Employee Advocacy Can Benefit Your Business
Posted in :
Employee Advocacy
,
Social Media Tips
on By
Disha Dinesh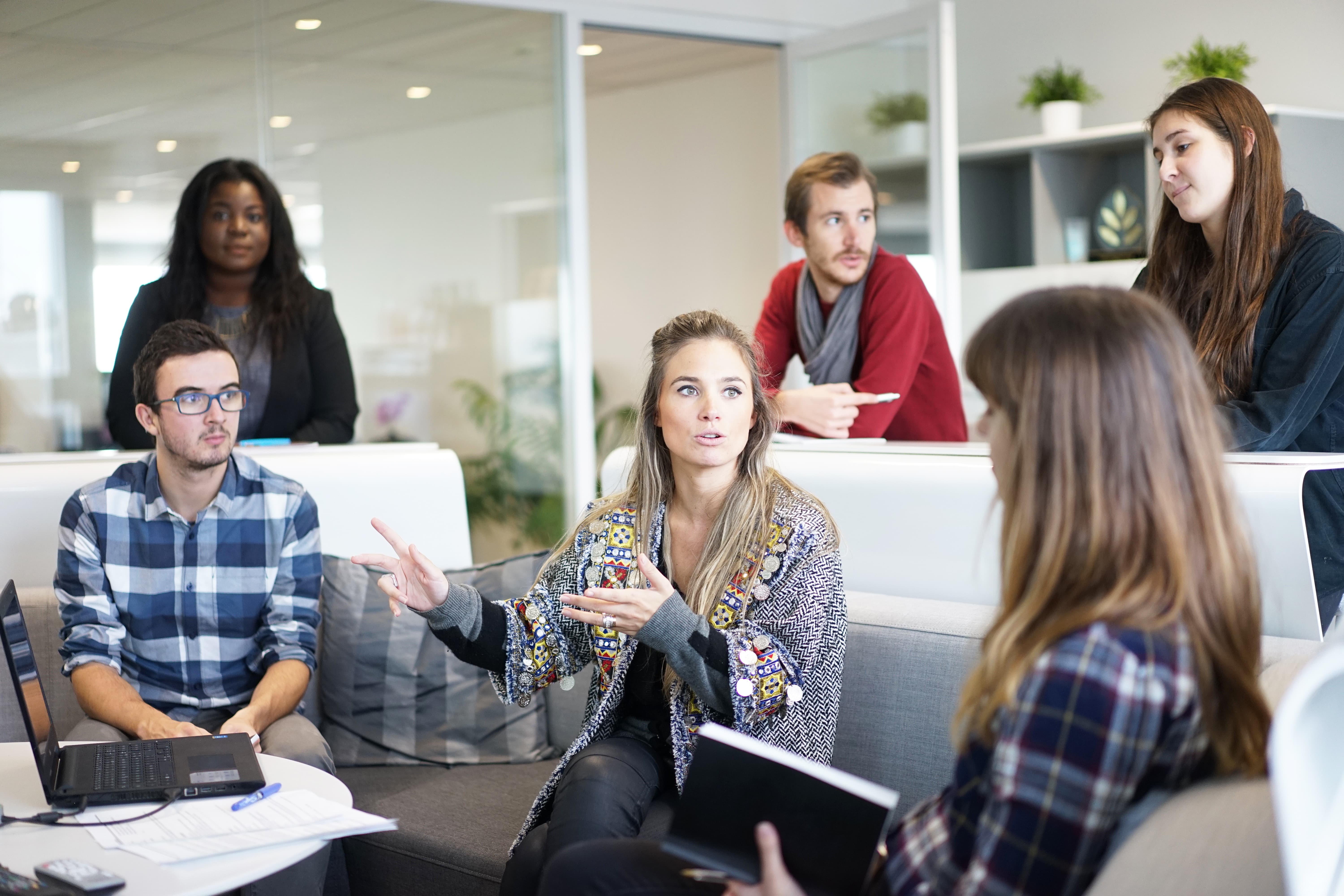 In the 10 years of social media's existence, it has gone from being an untested fad to becoming a crucial part of a company's digital identity. Top executives and marketers are using social networks for content marketing, sales, recruitment and more. Traditional company sectors – like marketing and HR – have begun coordinating to find beneficial social business solutions across their silos. Social media employee advocacy is one such viable solution.
In the last three years, interest in employee advocacy has grown by 191%, making it a key objective in business plans.
Employee advocacy is a great fit for the current social media scenario, where –
Increased activity on social media has forced social networks to reduce the organic reach of brand content (Source – Marketing Land)
You could boost your reach by using paid social ads, but ad aversion is a growing statistic (Source – Optimal and Wells Fargo)
The need for omnipresence on multiple social networks has made the human element hard to maintain
Competition and noise on the social front has made it tough for businesses to access new markets
You could access new markets by tapping into an influencer's following, but establishing a relationship with an influencer takes time
Marketers are using employee advocacy to overcome social media noise and make an impact on their intended audience, with the support of employee advocates.
How employee advocacy can benefit your business
A well thought-out and organized employee advocacy program can have a positive impact on your business in many ways – measurable and otherwise. The following is a list of nine major benefits that your business can experience by activating employee advocates.
1. Employee advocacy can increase your social media reach by 561%
According to a study conducted by the MSL Group, employee advocates are connected to 10X as many people as their brand on social media, and can increase the reach of brand content by 561%. This trend particularly favors large companies, with multiple offices and teams of employees.
If each of your employees has an average of 300 connections on social media (say a 100 each on Facebook, Twitter and LinkedIn), you can reach 300X new people (where X is the number of employees working for your company).
How extended reach can benefit your business
1) Marketing content, sales material and important company announcements can be so much more effective with added organic reach
All you need is a simple and adaptive means of connecting your employees with company content. You could use email, but your employees would have to open the email, copy the content and then share it on their social accounts. An employee advocacy platform like ours can help you streamline the content sharing process by allowing employees to share directly to their social media accounts from the platform. It can also help you monitor the resulting reach.
2) You can reach new audiences, and increase website traffic and conversions with the extended reach
2. It can help you access untapped markets
If you see traffic on your webpages without proportional conversions, it could be because you haven't accessed new markets. According to a study conducted by Cisco, 92% of an employee's Twitter following is new to the brand. Your employees are in contact with new markets that you can reach through them.
Alternatively, you can use guest posting to reach a new audience. Several companies invest in developing employee bloggers who can write for internal and external blogs. Marketers also recommend blogging to position client facing employees as thought leaders and industry experts.
How you can tap new markets via employee advocates
1) You can gain access to feeds of employees' connections by getting them to share your content and engage with it
Side note – If multiple employees share content in a given time interval, it could get picked up as a social trend ("People talking about this" on Facebook and LinkedIn, or "trends" on Twitter). DrumUp's employee advocacy platform lets you create "Priority posts" offer employees extra points for sharing and expire after a set time interval – an interesting way of getting your content to trend on social media.
2) You can also access new audiences by developing employee bloggers who can blog on premium external sites like Forbes or Inc.
3. It can improve your lead conversion rate by 7X
Many businesses generate real revenue from social platforms, by driving traffic back to webpages that allow purchase or lead capture. Today's social savvy audience isn't very receptive to content shared by brands and is more responsive to content shared by direct connections. Your content is more effective when shared by brand advocates.
Only 22% companies are content with their conversion rates, according to a survey conducted by econsultancy. IBM's data states that leads gathered as a result of employee advocacy, convert 7X more often than other leads.
How you can use employee advocacy to boost your lead conversion rate
1) You can arm sales personnel with conversion optimized content for prospects who are in different stages of the purchase cycle
2) You can help client facing employees build a compelling social media presence, inviting attention of important people, partners or potential consumers
4. Employee advocacy can help you streamline referral hiring
According to JobVite, 40% of all new hires in a company are employee referrals. Referrals from employees also have a high application to hire conversion rate. A referral hire program is generally tough to run – you have to prompt employees on a regular basis, check on their participation and monitor its impact.
Technology can help you unite those tasks on a single platform. DrumUp's employee advocacy platform lets you invite employees, share content with them and measure your program's progress by employee and by content shared.
How you can run a referral hiring program via employee advocacy
1) Request your HR personnel to "Suggest content" via their DrumUp dashboards. The content can be social media posts talking about available vacancies in the company.
2) Your marketing team can edit/approve content suggested by the HR team from the admin account of your employee advocacy platform. Once the posts have been approved, they will appear on the company stream. You employees can decide which positions to share with their social media connections.
Side note – The marketing team can add a strong CTA and visual to make the social post more effective
5. It can elevate employee engagement and performance
Most executives find employee engagement to be a challenge. Implemented correctly, an employee advocacy program can help you engage employees and improve their performance.
According to Altimeter and LinkedIn Relationship economics, 20% employee advocates are more likely to remain at their company, 27% are more likely to think positively about their company's future and 57% are likely to generate more sales leads through employee advocacy. Further, an employee advocacy program is an opportunity to recognize top performing employees, and recognition has been found to elevate employee performance.
How you can use advocacy programs to engage employees
1) Turn employee advocacy into a contest with exciting monthly prizes. DrumUp's employee advocacy platform awards employees points for sharing, as per a gamified points system. Employees can keep track of their performance on the platform's leaderboard. The points are reset at the end of each month.
2) Make sure to involve employees in the ideation process. Employees are more enthusiastic when their ideas are considered. Our employee advocacy platform lets employees "Suggest content".
6. It can supercharge your social media engagement by 8X
Many companies struggle with generating engagement on their social media pages. Employee advocacy can help change that trend, because posts shared by employee advocates get 8X more engagement than those shared by brands, according to a study. Clearly, social media users are more likely to interact with their connections over brands.
How to boost your social media engagement using employee advocacy
1) Provide your employees with social media training so they can represent your brand to the best effect on social networks. Employees at Zappos are given Twitter training on joining the company. They even have a leaderboard to display the number of Twitter followers each employee has.
2) Create a set of guidelines for employees, to make social media interaction easy and effective
7. It can enhance your social selling efforts
According to a study conducted by social sales expert Jim Keenan and his team, 78.6% sales personnel using social media to boost sales outperform their peers. Further, 54% of sales people who use social selling techniques have said that it helped them close at lease one deal.
Traditionally, marketing and sales team worked in isolation. But CMOs are now investing in integrated content solutions, for marketing, sales and customer support. An employee advocacy platform can connect your sales team with content created by your marketing team.
How to use employee advocacy to further your social selling efforts
1) Provide your sales team with informative material that they can share with prospects at the right time
2) Share industry content with your client facing teams so they can establish a reputation as experts on social media
8. Employee advocates can help you overcome the trust hurdle
Employees are among the top trusted sources for recommendations on social media, according to Nielsen's Trust in Advertising Report. Encouraging employees to share your content on social networks will humanize your communication. Your prospects will be able to connect with your brand better, having associated it with faces and actual people.
How to enable employee advocates to create trust with their social media audience
1) Encourage employees to share content related to their work that they are proud to showcase. Your employees are more likely to be enthusiastic about content that they personally connect with, allowing their audience to emotionally connect with them.
2) Share industry content from the best sources with your employees, so they can share it on their social media accounts. Consistent sharing of the latest developments and news in the industry will help your employees build a powerful personal brand on social networks.
DrumUp's employee advocacy platform also lets you curate content from the best sources in your niche based on keywords that you set, and also lets you share that content with your employees with ease.
9. Employee advocacy can help you get more value out of created content
Marketers create a lot of content on a daily basis, and expend a lot of effort reaching that content to their target audience. With an employee advocate army, marketers can easily distribute content to a wide audience on social media.
As discussed previously, we know that content shared by employee advocates not only reach 561% further, but also attract 8X more engagement. A well organized employee advocacy program can help you create an engaged community around your content.
How to improve the efficiency of your content with employee advocacy
1) Ensure that the social media connections of your chosen advocates matches your target audience
2) Use DrumUp's employee advocacy platform to automatically source content from your social media pages and blog for your employee advocates to share
Side note – The platform also lets participants like posts on the platform, increasing the engagement on your social media pages.
3) Store content on the platform's library to access with ease when necessary
4) Use the platform's analytics module to identify successful content so you can replicate it for the rest of your social media posts
Torchbearer CMOs are moving from traditional, isolated marketing efforts to integrated marketing, sales and customer support strategies on social networks. An employee advocacy program can help you connect different employee teams with strategic content to share and promote on social networks. Implemented correctly, the program can help you drive several business benefits through social media platforms.
Feature image via Pexels.com