Content Targeting – How to Ensure that Your Content Reaches the Right Social Media Audience
Posted in :
Content Curation
,
Content Marketing
,
Others
,
Social Media Marketing Resources
,
Social Media Tips
on By
Disha Dinesh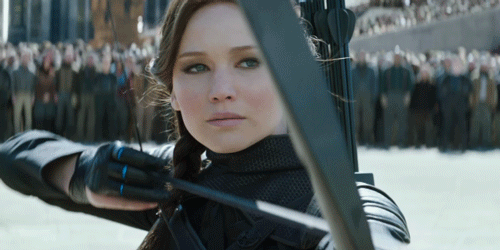 Any social media marketer can reach target groups without relying on audience data. How? Through targeted content. Recently, content targeting company Zefr, Magna and IPG Media Lab released the results of a study that confirms this possibility. In their study, the companies verified that brands on YouTube reached more of their target audience via content targeting as they did via demographic targeting or channel targeting.
P.S: DrumUp enables native content targeting or content promotion by helping you display your posts to other users looking for your kind of content.
On YouTube, content targeting is when brands run an ad relevant to the content on videos. But the concept applies to content marketing on any social media platform. Here's why.
Content in transparent; unlike audience history based advertising or marketing.
Content is relevant; unlike brand-focused ads that are force-fed to an audience.
Content is resourceful; so it can actually benefit the viewers – their lives or careers.
Content is consumed real-time; while ads are only consumed in specific instances.
Social media users consume a lot of social media content, and yours has to be unique, targeted content to make an impact.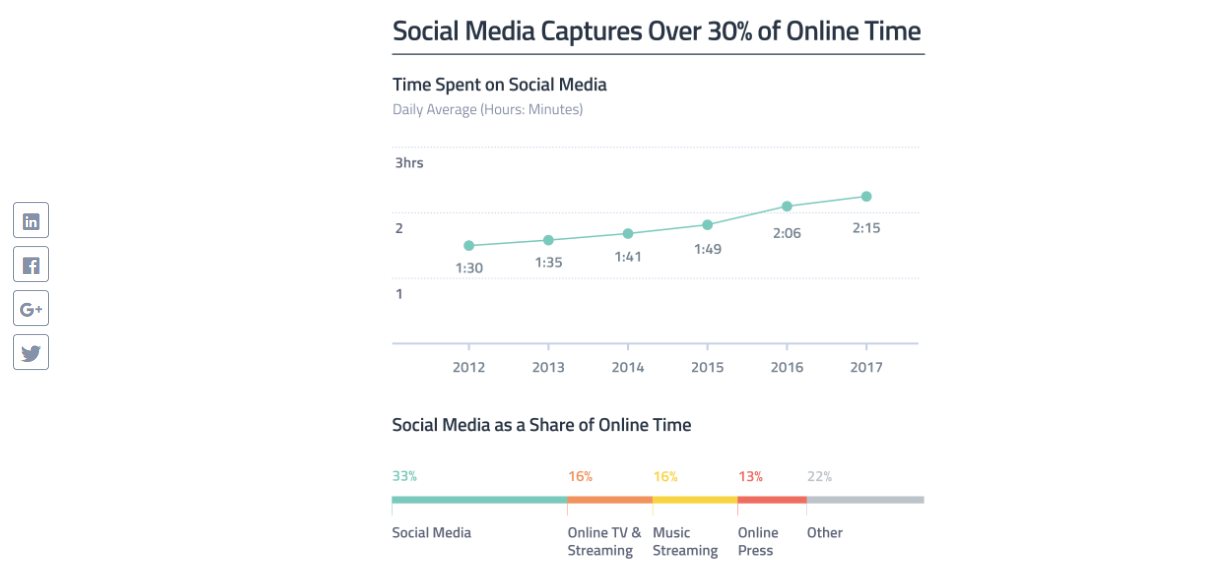 Source – Global Web Index
Social media users spend about 135 mins daily on various platforms, according to Statista's research. That's a lot of content consumed; content in which your brand can participate. But before you apply content targeting to social media, there are a few things that you should understand.
You have about 15 seconds to capture audience attention on your website, according to a study conducted by Tony Haile of Chartbeat. Social media referral visitors won't spend more than a few seconds on your website.
It's not enough to simply publish content regularly, because on Facebook alone, users publish 2.5 million pieces of content daily. The content you publish must be relevant, targeted and impactful.
Is your content only being shared? Shares may not be enough. You need to connect social media activity to enquiries, sales or reorders.
How to Ensure that Your Content Reaches the Right Audience on Social Media
It doesn't matter if you have a great product or service, your social media content won't have an impact unless directed at the right audience. Even if your content is engaging and persuasive, it won't contribute to your social media goals unless it's put before the right target groups. That's why audience research is given so much importance. Want to ensure that your content reaches the right audience on social media? Here's how you can.
I. Who's your target audience? Conduct audience research and create detailed consumer personas.
Everything about you social media content depends on audience research. The topics you choose to talk about, how often you post social media content and your optimum publishing times all depend on who your target groups are.
So, who are your target groups? Ask yourself the following questions to find out.
How old is your typical consumer? Is there a definite age range?
What professions are your consumers likely a part of?
Do they predominantly belong to any one gender?
What behaviors can you associate with them? Browsing behaviors? Which channels/platforms do they frequent and at what times during the day? Purchase behaviors? Who do they consult before making a purchase?
What are their likes, dislikes, fears and concerns? What are their pain-points?
Once you've got data to answer these questions definitely, create consumer personas (you can have more than one) to reflect your findings.
II. Are you investing in the right channels/social media platforms? Understand where your focus should be to reach and impact your social media audience.
Published an epic meme on Facebook that got a ton of engagement? What's the point, if your target audience – say Marketing decision-makers – don't follow you on Facebook? An important step in understanding which social media platform to target is really knowing where your target audience is active and connected to you. Here are a bunch of ways in which you can choose the right social media platform for your business.
Study the demographics of each social media platform. This is crucial in understanding how much potential specific platforms have in connecting you to your audience.
Know who follows you on each social media platform. Social media can be used for lead generation when you pay attention to your audience one-on-one.
Understand which social media platforms yield your competitors the most engagement and response. This of course is useful information only when your audience has a significant overlap with those competitors' audiences.
Correlate your objectives with the social media platform. If you want to engage your audience with strong, brand-focused visuals, Instagram is the right platform. If B2B sales is your objective, LinkedIn is the better-suited social media platform.
For instance, here's some information about Facebook's demographics.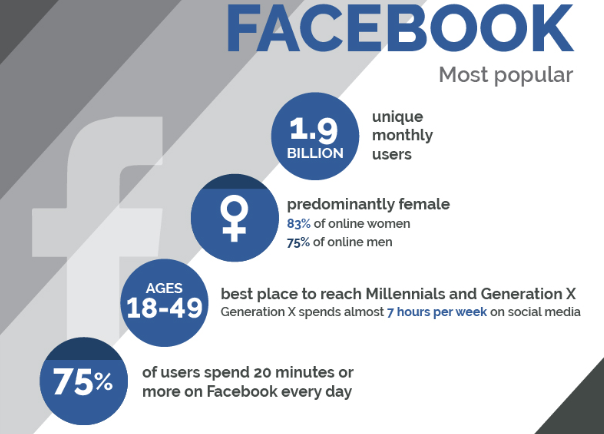 Source – Tracx.com 
Based on these criteria, decide which social media platform your focus should be on. You could always cross-post content to all social platforms, to increase reach. But the content you design should be focused on your primary social media platform.
III. Is your social media content effective? Invest in creating quality content to woo your high-potential social media audience.
"No amount of paid media is going to turn bad creative into good content," says Gary Vaynerchuk, who's a strong advocate of organic content and social media marketing. You should be spending $85K a year on creating good content and only another $35K on amplifying that content – not the other way around.
"Only targeted, top-notch content can help you impact the right social media audience."
Organically, there's a lot of quality content that you can curate and share using an app such as DrumUp. The app collects the right content for your audience based on keywords that you set and helps you distribute that content effectively on social media.
When creating social media content that converts, here are a few useful best practices and tips.
Create the perfect content fit for your target groups via personalized content.
According to recent studies, 79% of the companies that exceeded their revenue goals in 2017 had a documented personalization strategy. Many social media marketers avoid personalization because they can't afford the data analytics tool that fuel such efforts. But you can personalize content simply by understanding your audience very well.
Choose content topics/ subject matter that address consumer concerns
Design social media posts that are in tune-with your target audience's behavior
Tell inside jokes, share stories that can make a difference and create a content experience that shows you care
Create posts centred around good news and positive emotions.
Jonah Berger studied over 7,000 New York Times articles to find that positive news was more likely to "go viral".
Create social media posts that resonate good news in your industry.
Design research centred around discovery of useful insights that can change the lives of your target audience.
Collate empowering quotes, stories and case-studies that can inspire your target groups.
Curate powerful, positive and inspiring quotes.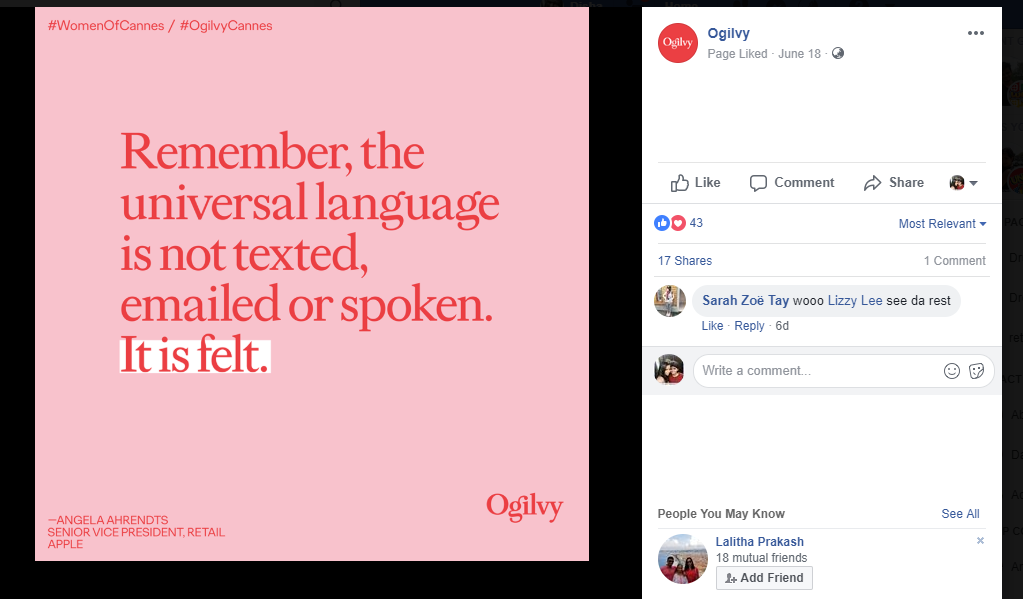 Source: Ogilvy Facebook 
Leverage social validation via social media influencers & employee advocates.
According to this study, social media users are likely to share/pay attention to posts that already have likes on them. So, they believe such posts are "accepted" and "approved" by peers.
Engage your employee army in increasing your social media engagement.
Request employees themselves to share your brand's social media posts.
Work with social media influencers who are already in touch with your target audience.
Another way to involve your influencers is by creating content targeting them. For instance, LifeCell, a stem cell banking company, has parents as their influencers who can influence other yet to be parents. So they regularly create Facebook posts that interact with new parents.
Target and engage your social media influencers with your content.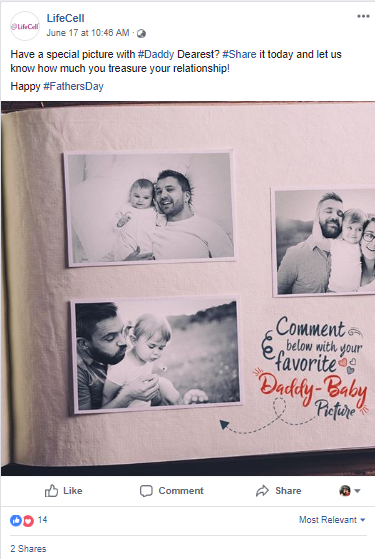 Source – LifeCell Facebook 
IV. Who's incharge of your social media content? Choose team members or digital agencies that understand your brand and can deliver tangible results.
Zig Ziglar once said that "You don't build a business – you build people – and then people build your business". The quality of your social media content directly depends on the capability of the people on your social media management team. Here's proof.
Oreo made huge waves during the Superbowl, because an Oreo social media manager took advantage of the power outage during the massive event.
Social media is real-time and you need social media managers who have necessary skills, can think on their feet and consistently deliver every single day. Here are a few questions that can help you hire the right social media manager/agency.
Which social media platforms are best for my brand? And why?
What are the two most important metrics that social media manager should measure? And why?
Name 3 instances where you displayed mastery over social media marketing (pre-sale) and social media customer service (post-sale).
What's the most important thing that a social media manager must do? And why?
Describe 3 instances where you handled a social media crisis.
How would you allocate budgets for social media advertising?
Do you have a blog/social media presence? (Evaluate that presence)
How do you plan on generating leads via social media?
What would your first goals be? How long would it take you to implement them?
Tell me a story. (Evaluate their storytelling skills)
When hiring an agency, ask them to describe your brand in a word. Quiz them on your products and services, and your potential competition. An agency that has done its research pre-pitch usually spells success.
Note: If you already have a social media manager, give them this list of questions to work on and review them to refresh your current social media marketing approach.
V. Equip your social media management team with the essential tools to deliver results.
Saas software are now mainstream in the marketing area. Every business – from small to large can accelerate their business and revenue by investing in the right social media management tools. In fact, it makes more sense for small businesses – who have limited budgets and resources to employ tools that can amplify their small team's performance.
Here are a few social media marketing tools that can help you reach your content to the right social media audience.
Social media managers who can come up with fresh ideas to engage audiences are worthwhile your investment. However, any social media manager can tune-up their content ideation skills by feeding themselves new content everyday. The above mentioned tools are great for generating and stimulating random content ideas.
DrumUp has a content curation module that runs through 50,000+ content sources on a daily basis to filter out content that is likely to vibe with your target audience. Setup keyword based content streams on DrumUp, and curate content from RSS feeds of your favorite blogs to fuel your social media marketing team with all the best ideas.
An important part of a social media manager's job is to monitor the brand on social media and respond to good and bad chatter. A great social media manager would even monitor industry related conversations to find the brand opportunities to increase brand exposure. Tools such as the ones mentioned above can help social media managers find the right instances to connect with your ideal social media audience.
DrumUp (or Buffer, Hootsuite, etc.) for social media management, scheduling and analytics.
Social media management is the most time-consuming part of social media marketing. By employing the right social media management tool, you can save tons of time that your social media managers can use otherwise, to be more creative, productive and effective.
Using DrumUp, your social media managers can schedule content across multiple social media pages, enjoy a bird's-eye view of scheduled content and save reusable posts in convenient folders to revisit/reschedule when necessary. Users can also measure engagement on all their pages and sort posts by most popular or date published for easy review of your prevailing social media content strategy. Such features come in handy when you're looking for insights to improve your social media marketing.
Creating effective social media graphics can be extremely hard, without the assistance of easy-to-use graphics editing tools such as the ones mentioned above. Canva has templates for most use-cases in social media graphic-making, Venngage has templates to create professional-looking infographics and UnSplash has HD stock images that you can use to make your graphics appear more professional.
However, how these graphics editing tools are applied completely depends on your social media managers' capability and vision.
SumoMe for LinkedIn group sharing.
Content targeting becomes easy when you join the right groups on social media. LinkedIn groups, in particular, can be very effective in terms of reaching a specific target audience. Once you have joined the groups on LinkedIn that have your target audience, you can share blog posts easily to them using SumoMe's social media plugin.
Wrap
There are tons of ways to ensure that your content reaches the right audience on social media. However, content targeting is probably the easiest and most effective way of accomplishing the task. By consistently following the five subheads on this post, you can ensure effective content targeting in your social media marketing.