How to Suck Less at Thought Leadership to Advance Your Career
Posted in :
Content Curation
,
DrumUp Resources
,
Thought Leadership
on By
Sian Jaylo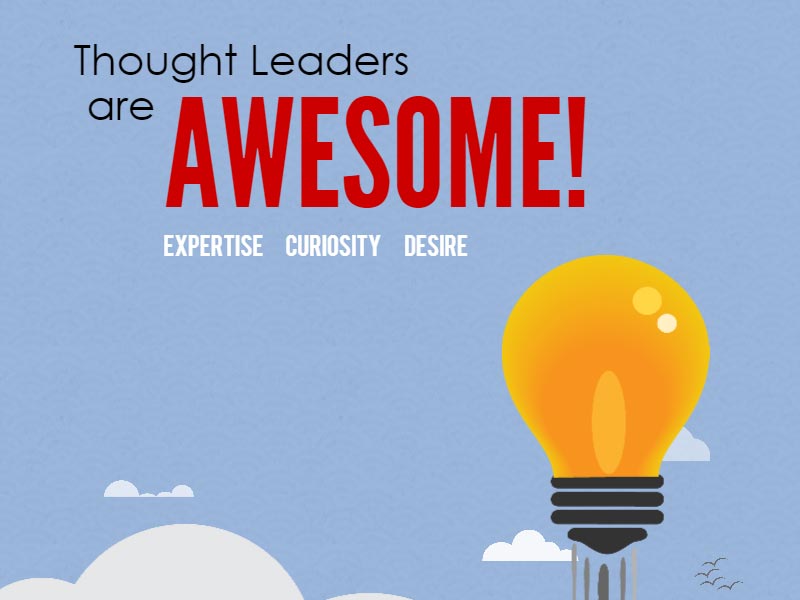 Advancing your career isn't easy for executives and high-level professionals. The importance of higher education is rising, and so is the number of people who obtain degrees every year. You could argue the value of cookie-cutter academia has diminished, and the race to differentiate is a lot more complicated than it used to be before – particularly at the top.
Simply put, there's more competition than ever before.
In order to advance, the cream of the crop have to find entirely different methods to separate themselves from the pack. And there's nothing better than distinguishing yourself through thought leadership.
What is thought leadership?
A term often misconstrued as writing blog posts and guest speaking at conferences, thought leadership means showing professional authority.
Each industry has thought leaders – formally recognized or not. The most popular example would be the late Steve Jobs of Apple. His authority was respected when it came to mobile technology and IT in general.
However, the real importance of thought leadership for professionals lies in showing your expertise, and positioning yourself as an authority in your industry.
This automatically signifies that your skills are sought after, giving you competitive advantage over professional competition.
How?
By raising awareness about your expertise through different channels
By establishing your authority
By becoming sought-after (51.5% of C-suite respondents in LinkedIn & Edelman Digital survey cited thought leadership as a major element for vetting potential partners)
Being a thought leader is very similar to being an influencer. By definition, thought leaders are influencers. They both have networks which give them exposure.
However, there is one very important difference: thought leaders can influence public opinion. In particular, they can influence their industry's opinion, and contribute to the discussion.
Advancing with thought leadership
As a professional, there are 3 things you have to do constantly to advance:
1) Be really good at what you do, and advance your skills
In an ever-changing market climate, you have to know more than your competition, and be better at it.
Advancing your skills is a prerequisite for advancing your career, and it's possible to do it through formal and informal education.
This can also help you with thought leadership as well. You've invested in your education, and kept developing your skills throughout your career.  It's important to show your commitment to improvement.
Thought leadership is also good for skipping the regular recruiting process. On average, corporate job openings attract 250 resumes. Only 4 candidates are called for an interview.
As a thought leader, you can skip that process, and go straight to negotiating your compensation.
2) Networking
The true power of thought leadership is in networking.
As a thought leader, you have more access to people who could eventually either promote or hire you at your next job. As you raise awareness about your expertise, you'll encounter more people who'll be able to offer you more career-advancing opportunities.
Thought leadership also builds trust in your workplace, and could result in a promotion. For example, Indeed has over 30,000 listings for positions in companies that require thought leadership.
After all, thought leadership does improve revenue. 90% of the C-suite believe that thought leadership is important, and thought leadership has a greater impact on potential buyers than all other forms of content marketing.
3) Proving your thought leadership
Theory without proof is meaningless.
That's why it's important to show your network directly and indirectly why you're a thought leader in the industry.
This won't only give you professional credibility, but it'll also go a long way towards establishing a pleasant professional brand image.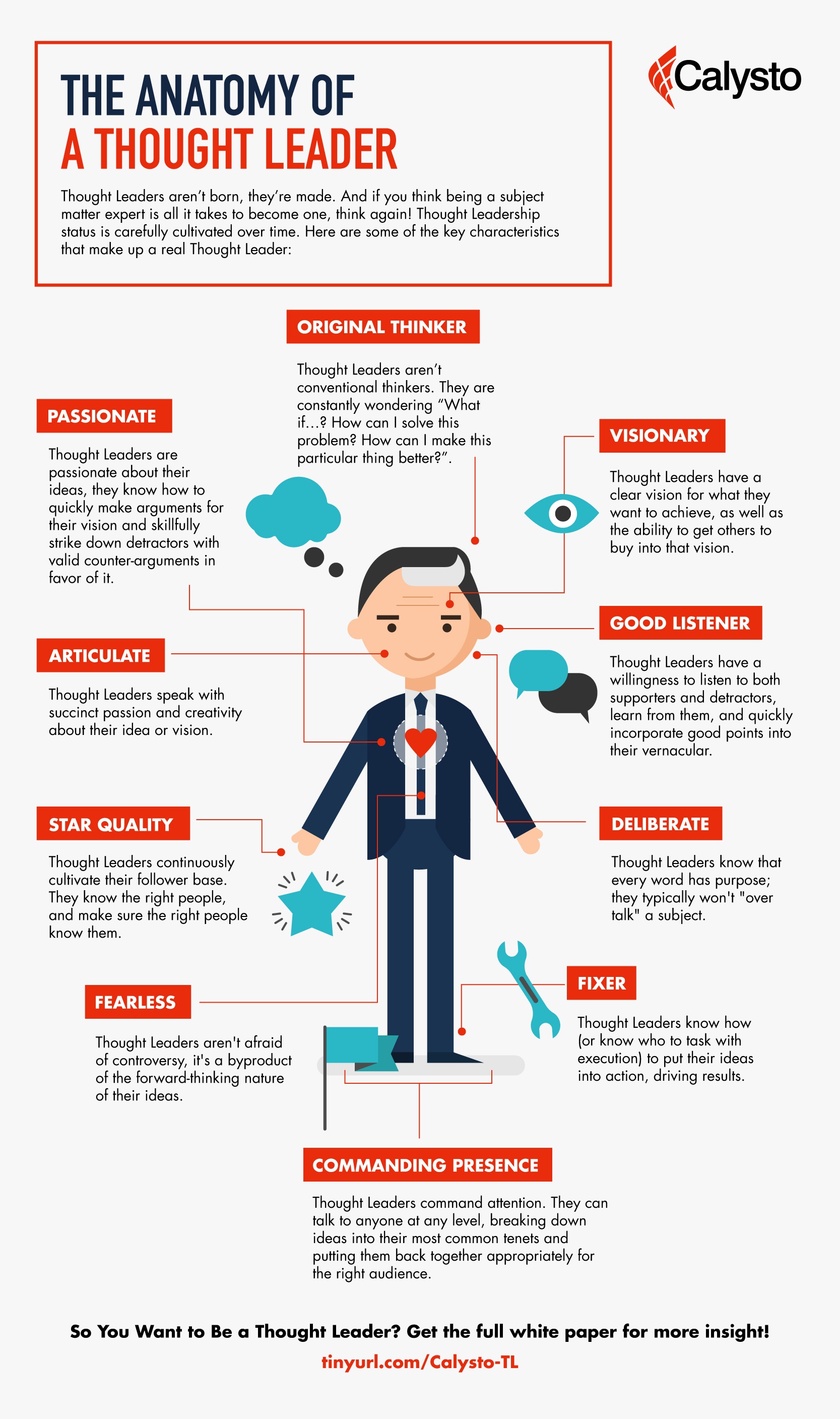 Infographic Source: http://info.calysto.com/thought-leadership-infographic
How can you prove you're a thought leader?
If being a thought leader can help you advance in your career, and you understand that you have to share proof with your network, how can you approach thought leadership and get the best results?
The answer is: with social media and content marketing.
1) Content curation
There's a lot of content available, but not everything is useful to professionals and executives. Most people have given up on sourcing content themselves since it takes up too much time.
And that's exactly where your thought leadership can help.
If you want to advance your career and get new skills, it's important to stay up-to-date on industry trends and discussions. And by sharing content that you've find useful, you can grow a network of people who find your input useful.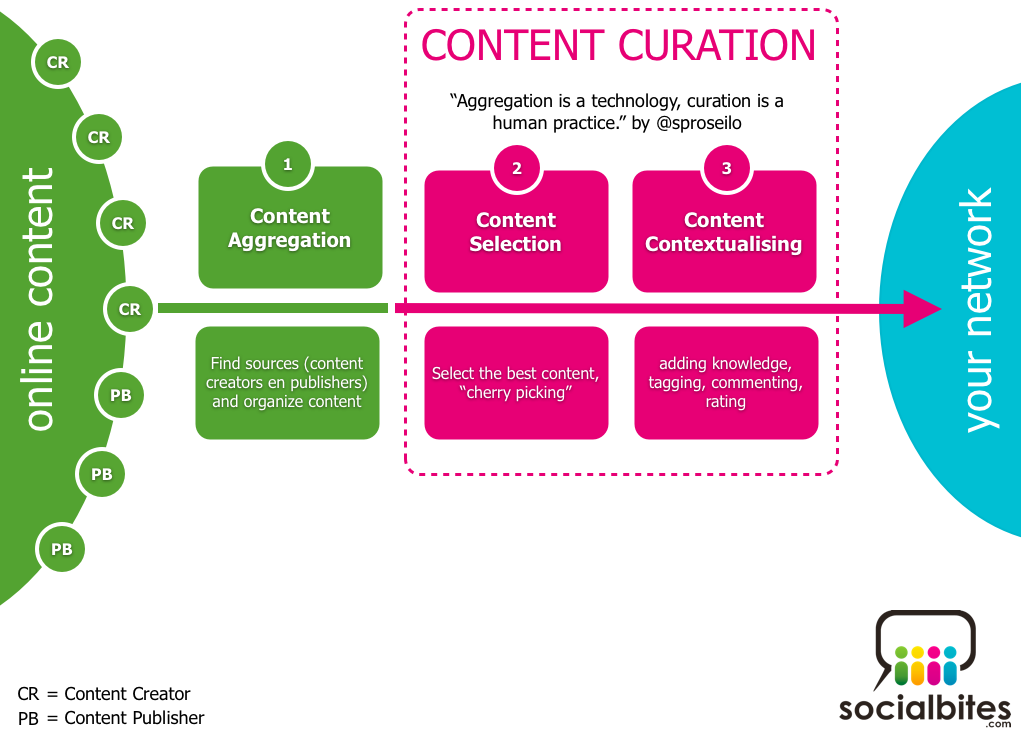 Image Source: https://contentequalsmoney.com/can-proper-content-curation-feed-your-thought-leadership/
It's necessary to show your opinion in order to become a thought leader, and content curation allows you to source the best content – and say why you think it's the best.
2) Blogging
No matter what industry you're a part of, there are a lot of changes and trends.
If you want to become a true thought leader and advance your career, you don't only have to be informed – you also have to inform others.
Writing a blog that explains your perspective on a trending topic is extremely beneficial:
You help people find solutions to their problems
You build trust and community
You position yourself as an expert
Blogging is also a good way to attract engagement. Once you capture someone's attention with a particularly good post, they'll most likely be interested in hearing more from you, and become a part of your professional network.
That's why it's good to be opinionated when blogging. You want to avoid simply stating information. Instead, your main focus should be on stating your opinion, and providing value to your network.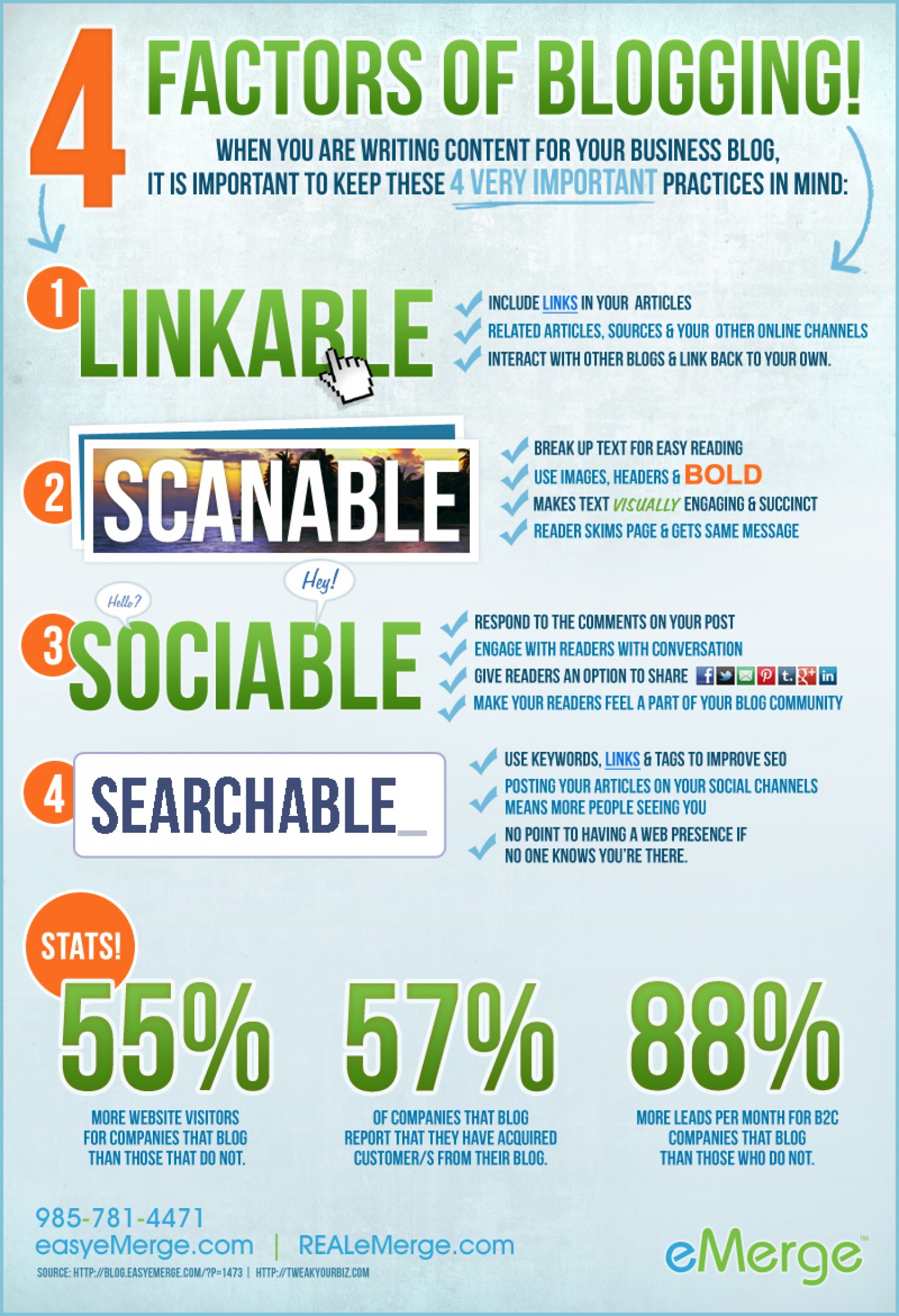 Image Source: https://visual.ly/community/infographic/social-media/4-factors-blogging
Blogging and content curation complement each other, and can serve as a very good marketing strategy to prove your thought leadership in your industry of choice.
By building a network and showing your opinion, you are automatically in a better position than your competition.
Your (potential) employers can see proof of your expertise, allowing you to generate even more career-advancing leads than if you only sent your resume and invested into courses.
Using thought leadership to advance in your career
Thought leadership is a more proactive way of seeking new career opportunities and spreading your influence beyond your company.
However, it's time-consuming.
DrumUp can help you with content curation and getting more exposure for your blog. Our features are easy to use, and streamline the process. You can cut social media time by 90%, and get great results.
Every thought leader needs great tools. Let DrumUp be yours.
"Thought Leaders are Awesome": Image source: https://thoughtleadershipleverage.com/become-a-thought-leader