Best Practices of Customer Service on Social Media
Posted in :
Small Business Tips
,
Social Media Tips
on By
Ashwini Pai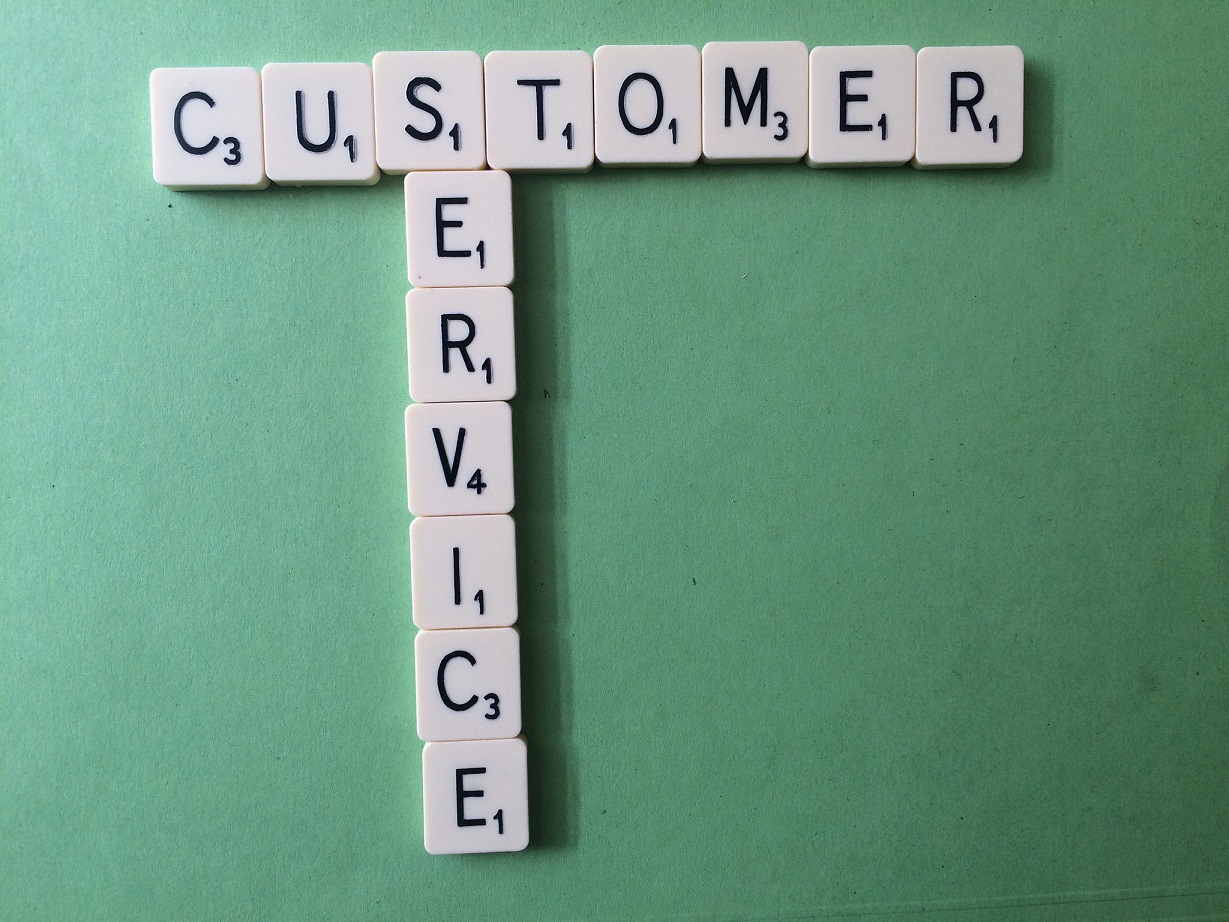 When customers want to reach out to you to complement you on your new product or vent their frustration at your slow customer service, they will post directly on your social media pages. While the positive WOM will naturally make you look good and reinforce your brand reputation, negative comments will catch other customers' attention. This is a reason why so many brands now have a strategy to handle customer service issues on social media.
Statistics on social customer service
67 per cent of consumers use a brand's social media exclusively for customer service communications (J.D Power and Associates)
33 per cent of users would rather contact brands via social media than telephone (Nielson)
Customers who receive satisfactory service resolutions on social media spend up to 40 per cent more with the particular brand (Bain & Company)
An unresponsive attitude to customer questions on social media can drive up churn rate for existing customers by up to 15 per cent (Gartner)
Customers with positive social care experiences are almost three times likely to recommend a brand (Harvard Business Review)
You can't please 'em all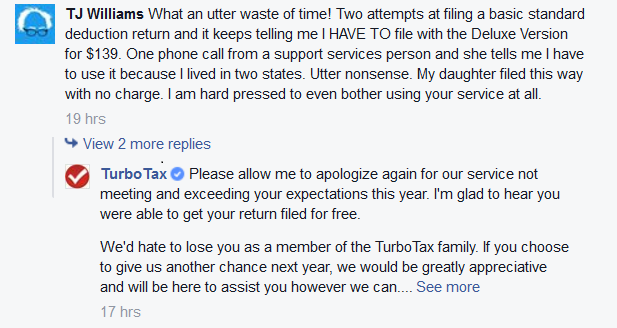 Some customers are hard to please. Even if you objectively believe that you deliver stellar customer service and you've consistently incorporated customer feedback, you will have to deal with complaints from time to time. As a contingency measure, you can do what Turbo Tax does so well: take the rough with the smooth.
The business tax software company religiously responds to every negative comment, which indicates that they care about solving customers' problems proactively. Tax filings are frustrating but necessary, and it's quite natural for tempers to run high when things are not going as expected. By adopting a conciliatory attitude, Turbo Tax hasn't let occasional grievances affect brand reputation.
Is dedicated social care a viable option?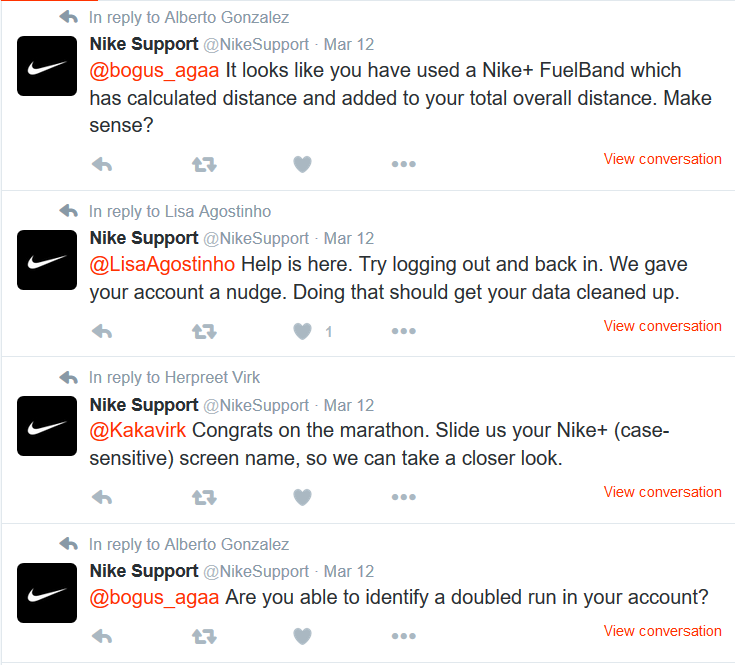 Nike, one of the world's most recognizable brands, maintains different Twitter handles for its various product lines. Nike also has a Twitter handle dedicated solely to customer service communications. From making important customer service announcements to addressing individual queries very quickly, Nike has taken social care to another level.
A dedicated social media account/page for customer service offers customers peace of mind that they have a separate, vigilant channel responding to their problems. As complaints and comments are restricted to a single page/account, they don't interfere with the engagement and mood on your regular Twitter handle or FB page. And with apps like DrumUp, multiple social media account management isn't something you'd need to worry about.
Don't be partial only to a few keyword identifiers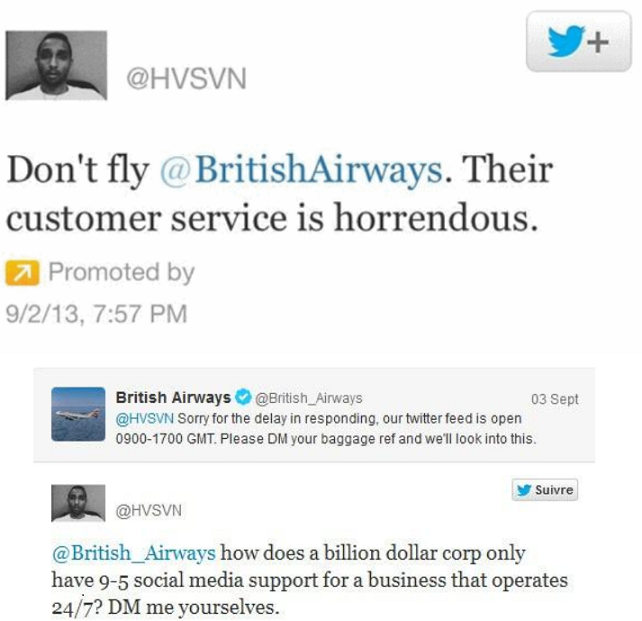 If you have to deal with several tweets on a daily basis, you may prioritize just a few tweets using appropriate keyword identifiers. The usual suspects are 'thank you', 'service', 'great', 'poor', 'disappointed' or 'excellent'. You may be missing out on other service-related comments that need immediate attention and action.
Include keyword identifiers such as 'switching', 'help', 'sick', and 'mad', which indicate that stuff has hit the fan with these customers, and they need to be pacified immediately. Also include 'buying' and 'buy', which indicates intention to purchase from your brand. Your customer service team can move these prospects along the sales funnel by contacting them at the earliest.
Follow a standardized process for tracking and processing customer service requests
If you have multiple responders handling social care or a social customer service software, it is best to treat every customer query as a help ticket to avoid duplicate responses and confusions. The advantage with this approach is that – just like a help ticket – the issue becomes clearly identifiable as open, awaiting a response or resolved.
Nearly half the Twitter users expect brands to respond within two hours of their tweeting the complaint. By tracking customer queries like tickets, your first response can come quicker and issues can be resolved in a more streamlined manner. Some software also re-route messages if one of your responders doesn't answer within a specific time, saving you the embarrassment and customer wrath of answering late.
Don't ignore tweets without @brandname
Customers may not always send a direct tweet/message with @brandname, and use just the brand name in their tweet. Obviously, it is important that you read and respond to such tweets. That means listening for your brand mentions without your handle. Social listening software can be configured to listen for mentions with the @, without the @, and #brandname, making it easy to monitor for different kinds of tweets.
Social care tips:
Avoid being sarcastic or rude in your replies. Be polite even if the customer is being unreasonable and take the matter offline where possible.
Follow up apologies with action. Don't hesitate to offer discounts, freebies or replacements at no extra cost.
Ignore trolls. If you have an engaged community of brand advocates, you can count on them to deal with trolls and drive them away!
Encourage feedback from customers. Besides requests and polls, think of creative ways to solicit suggestions and ideas on product/service improvements from fans and followers.
If you see similar queries popping up one too many times, note them down, and add to the FAQ section on your website.
Keep track of competitors' social care strategies. See how often they offer customers special deals, so you can also brainstorm over whether you should launch a competing giveaway.
Create a rule-book on social care, listing out best practices and protocols. Revisit the policy from time to time to incorporate enhancements that help move social care to the next level.
Image Credit: Jeff Djevdet via Flickr