Alternatives to Buffer Content Library for Social Media Management
Posted in :
Content Curation
,
Content Marketing
,
News & Trends
on By
Disha Dinesh
The ability to manage content from a library is a huge advantage, because it gives marketers flexibility and helps them save time. When popular social media management app Buffer announced its decision to remove the content library feature, a lot of people were taken aback.
Buffer shuts down its content library
The app plans to retire the feature post December 7th. Buffer users did not take the news well, and rightly so, because a content library allows users to manage content easily and streamline their social media marketing activities.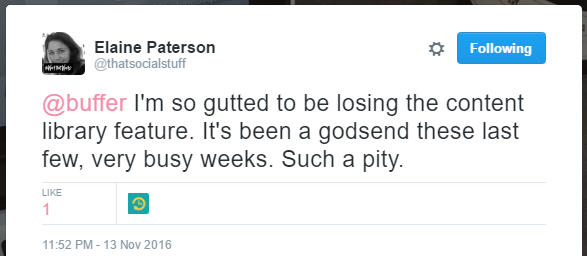 Top alternative apps to Buffer's content library
We have put together a list of social media content management tools that have that critical library feature, to help you organize your social media content.
1. DrumUp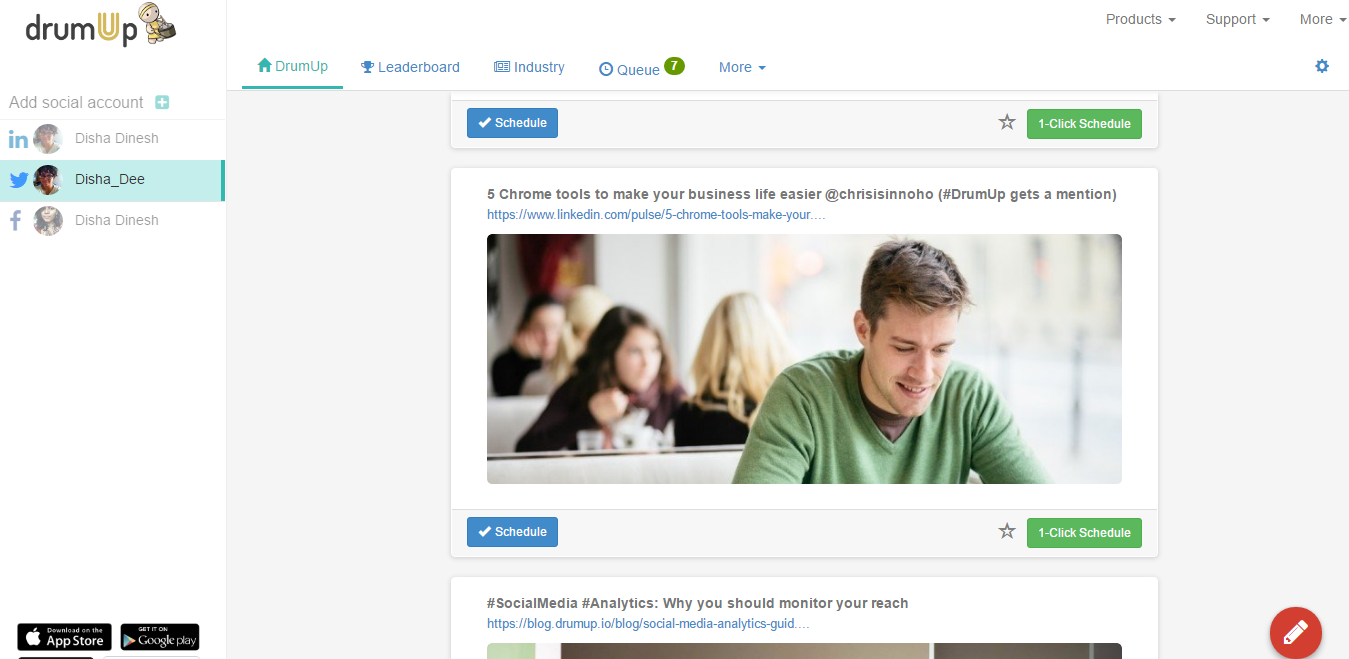 DrumUp is a social media and content marketing app that is supported on desktop and mobile devices (iOS and Android). You can use the app's powerful content library to store content in categories for future use and retrieval. The app also has a Chrome extension to help you bookmark content while browsing.
Additional things that you can do with DrumUp 
DrumUp also provides content recommendations based on keywords that you set and RSS feeds that you attach to it. You can save the recommendations that you like from the app's suggestions to your library, with ease. When it is time to schedule the content that you have stored, you can do it right from your library and with ease.
Feature highlights –
Save custom social media posts to the library for future use
Save content while browsing
Save content from in-app content recommendations
Schedule from the library with ease to Facebook, Twitter and LinkedIn
How to use DrumUp's content library
1. Log-in/sign-up via Twitter, Facebook or LinkedIn on DrumUp.io

2. Click on the "Manage Categories" option under the "Library" tab and create your content categories (tags)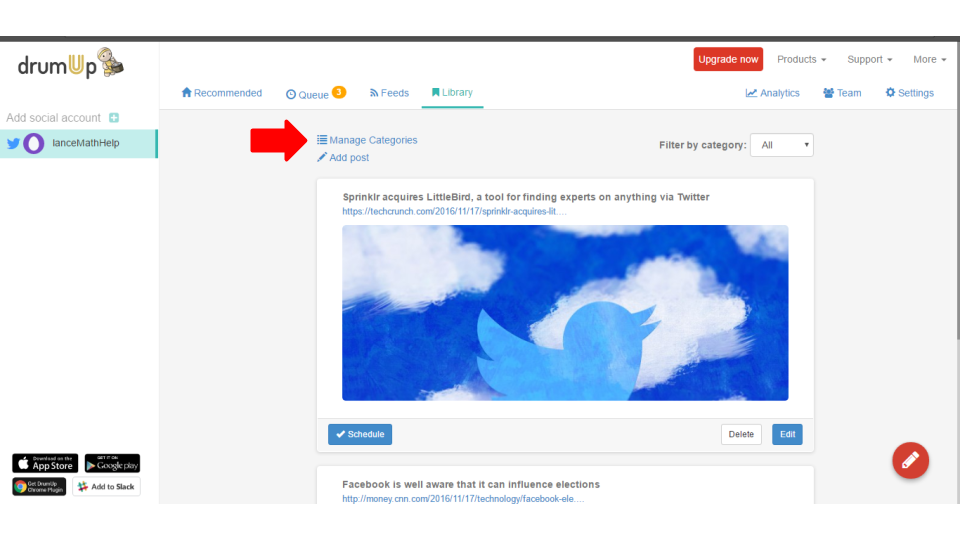 3. Use the compose button on your home page, create a post and check the "Save to library" box to add something to your library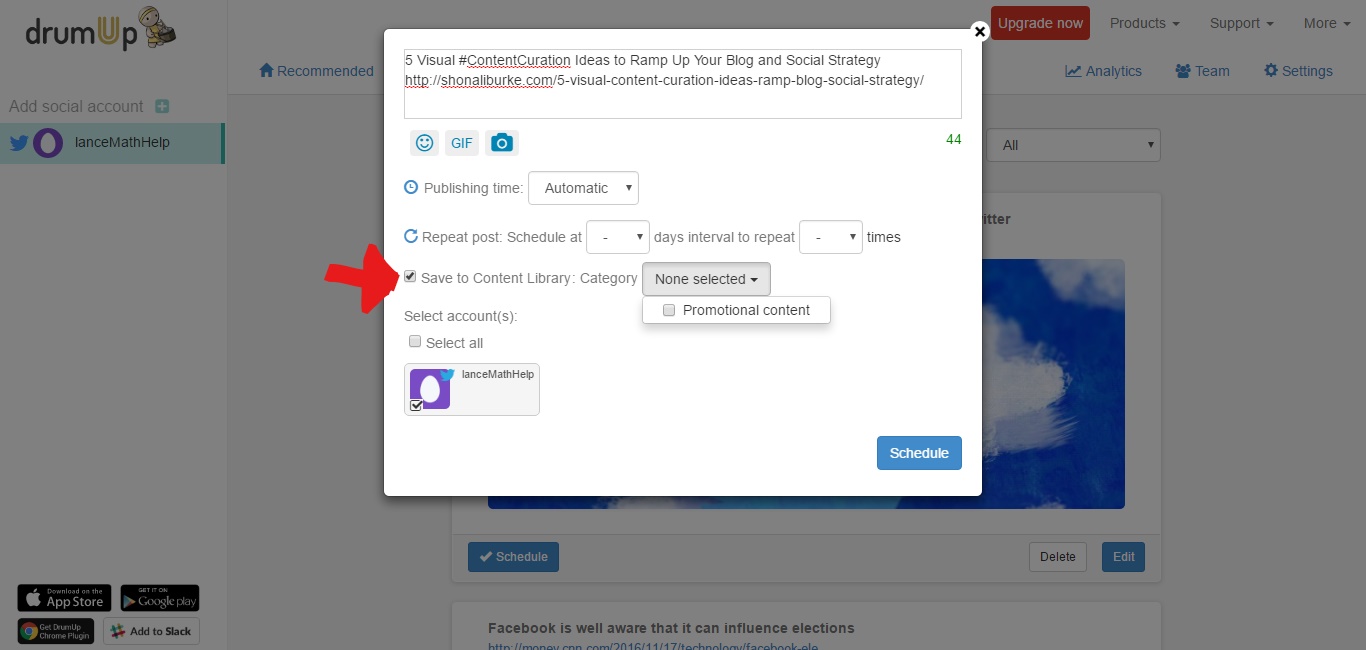 Alternative: Click on the "Add post" option under the "Library" tab to add custom posts to your library
4. Click on the star icons on your recommended/scheduled posts to save them to your library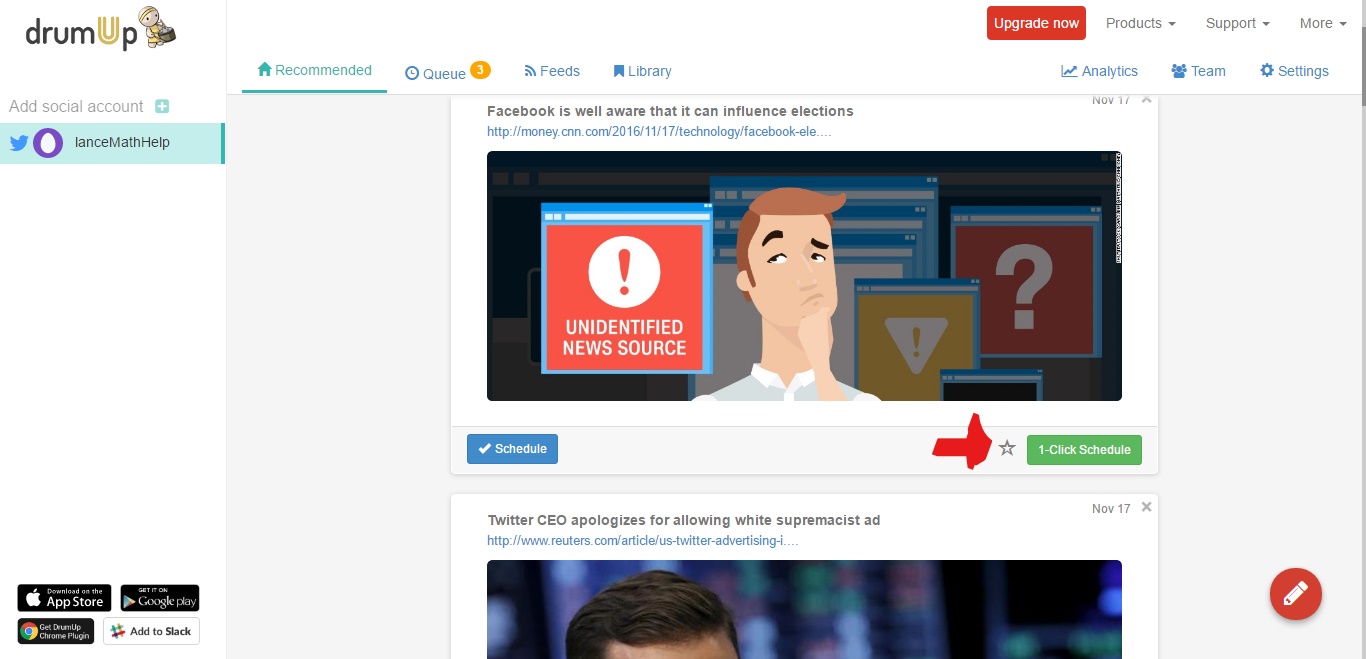 5. Use the Chrome extension to "Save to library" when browsing the web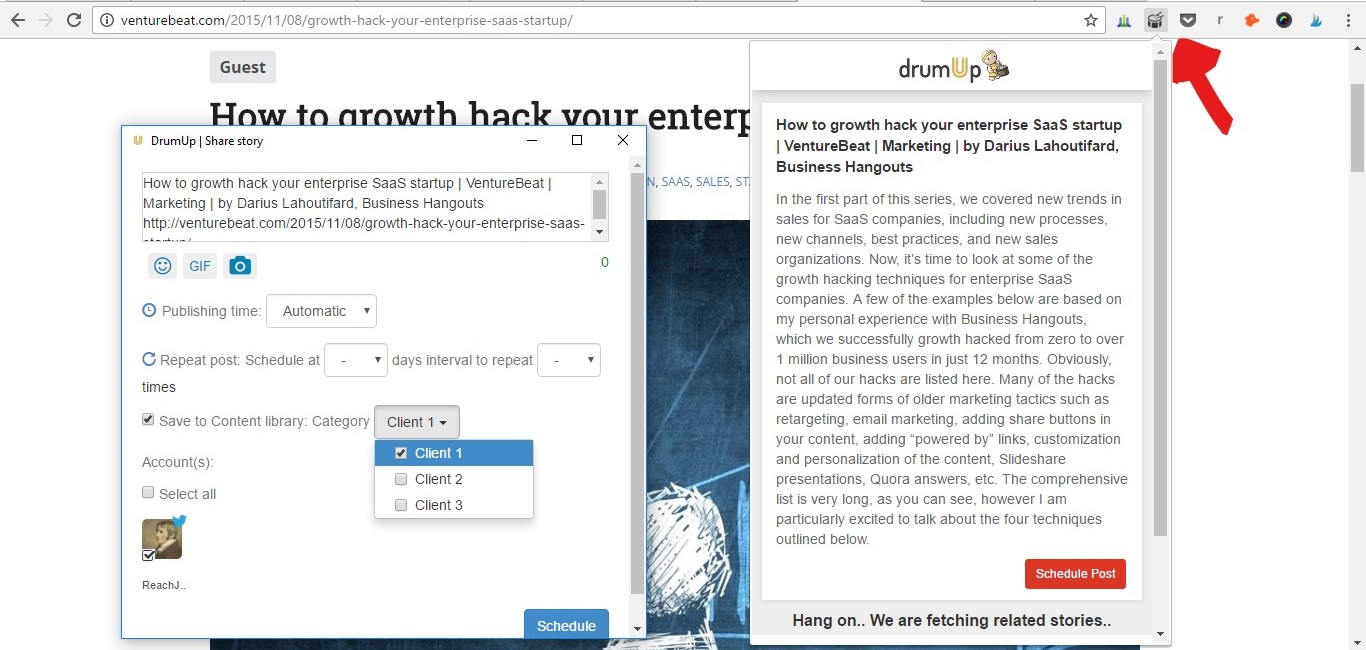 2. Trello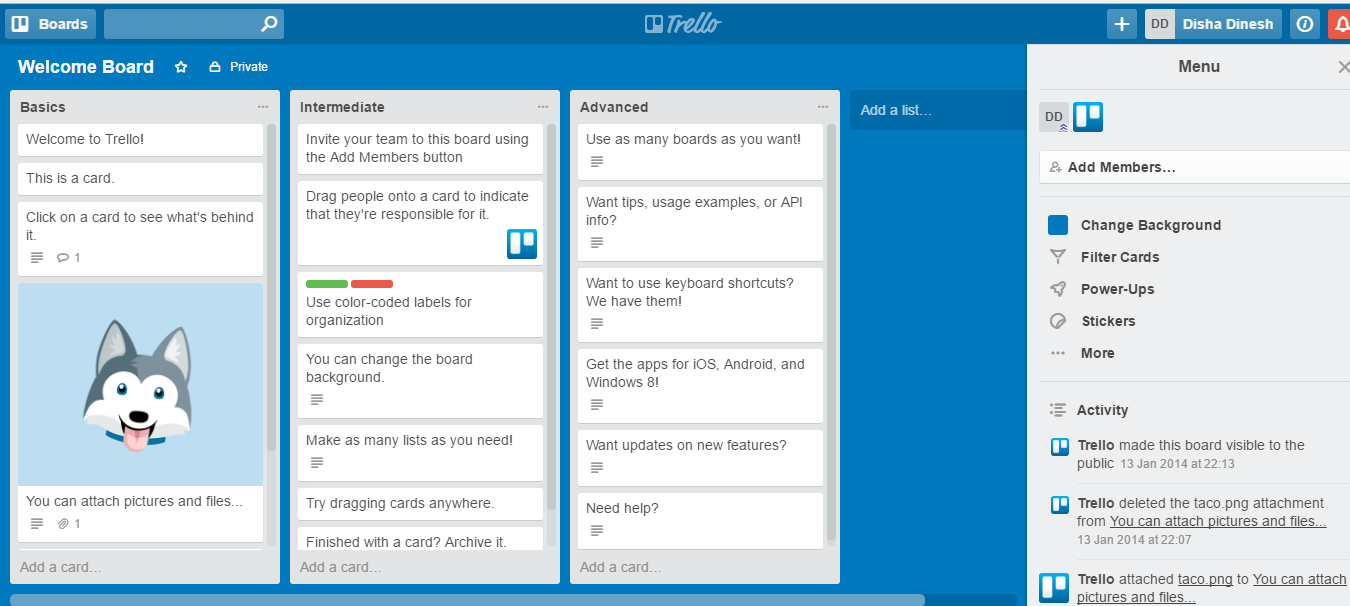 Trello is a collaborative content organization app that lets you customize and create boards to work with. You can create an entire content work-flow from step one to the finish to efficiently manage your content.
Every board can have cards in columns, and each card can be labelled. You can set due dates on cards, comment on them and move them between columns. Trello is a great place to set-up an approval system for your content. You can upload files on cards and move them through your approval system until you're ready to publish.
Feature highlights –
1. Create custom content work flows to save content to
2. Upload files to cards in your content work flow
3. Comment, label and set deadlines for any card
4. Assign cards to teammates for collaborative content management
3. Raindrop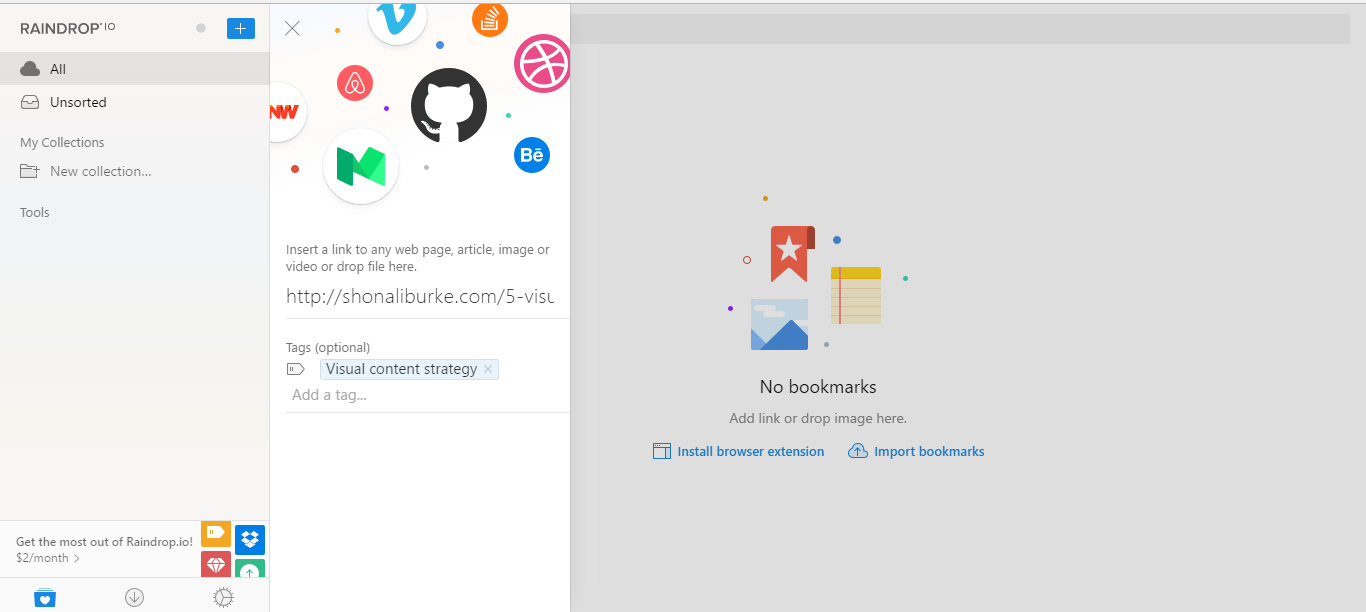 Raindrop is a collaborative bookmark management app, that lets you save all types of content from around the web for later use. The fact that you can store articles, videos, screen shots, images and more, makes the app perfect for social media content management.
Using the app, you can collect content for your social media pages, store and categorize them. The collaborative features allow you to get teammates involved in the process, by sharing bookmark links and suggesting content.
Feature highlights –
1. Save content of any format (text, image or video) while browsing
2. Categorize content to suit your needs
3. Share bookmarked content with teammates with ease
4. Instapaper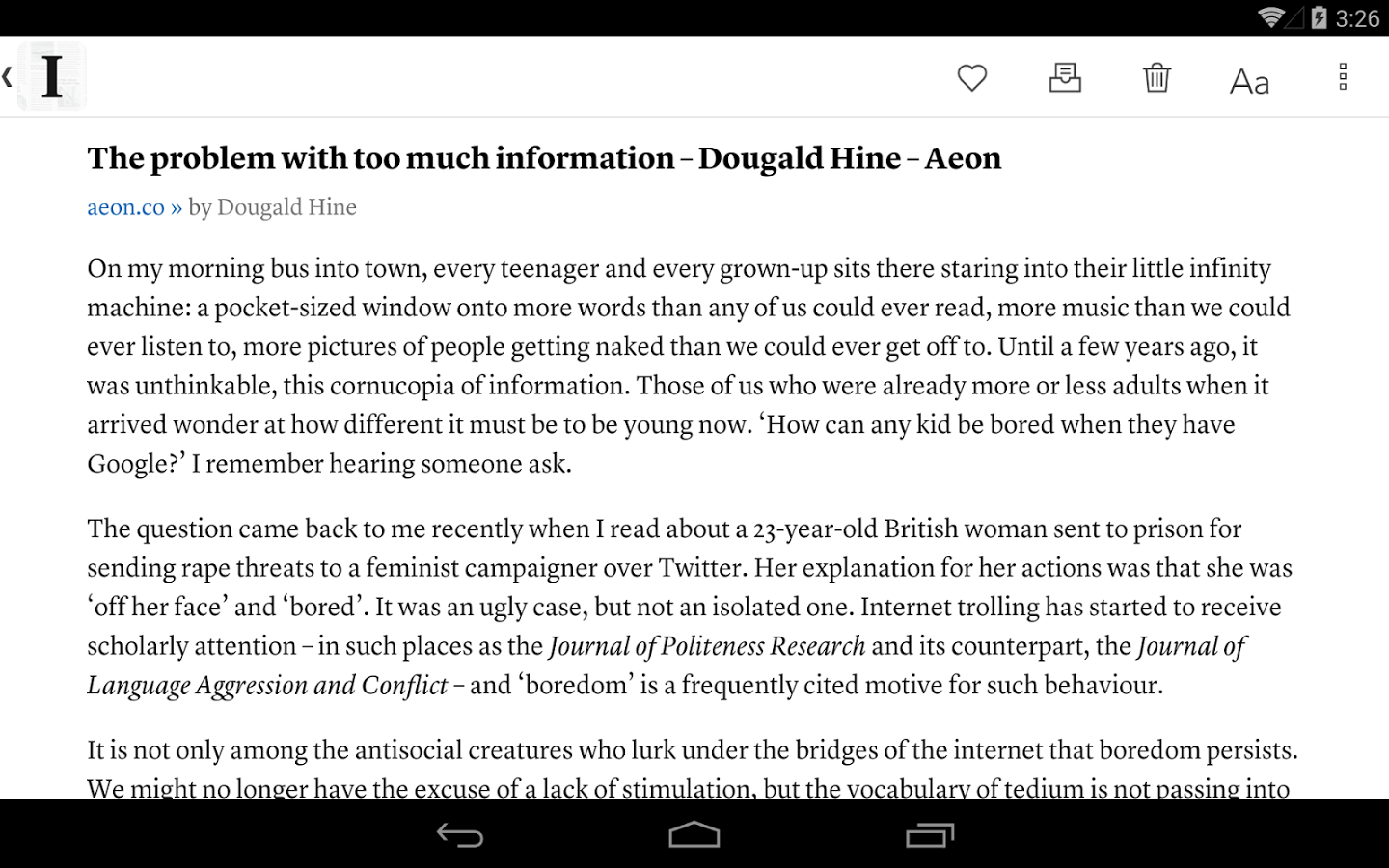 Image source: Google Play
Instapaper is a content storage app that lets you save content that you find while browsing, to return to when convenient. Like Raindrop, the app helps save content in all formats – text, image and video, for you to access when required.
Once you have saved content to the app, it is accessible even when you are offline. If you're travelling and have no access to the internet, you can still get work done using Instapaper. You could review content that you have saved on your mobile device and decide on the which posts you want to publish when on the move.
Feature highlights –
1. Save content of any format (text, image or video) while browsing
2. Access content on any device even when offline
5. Pinterest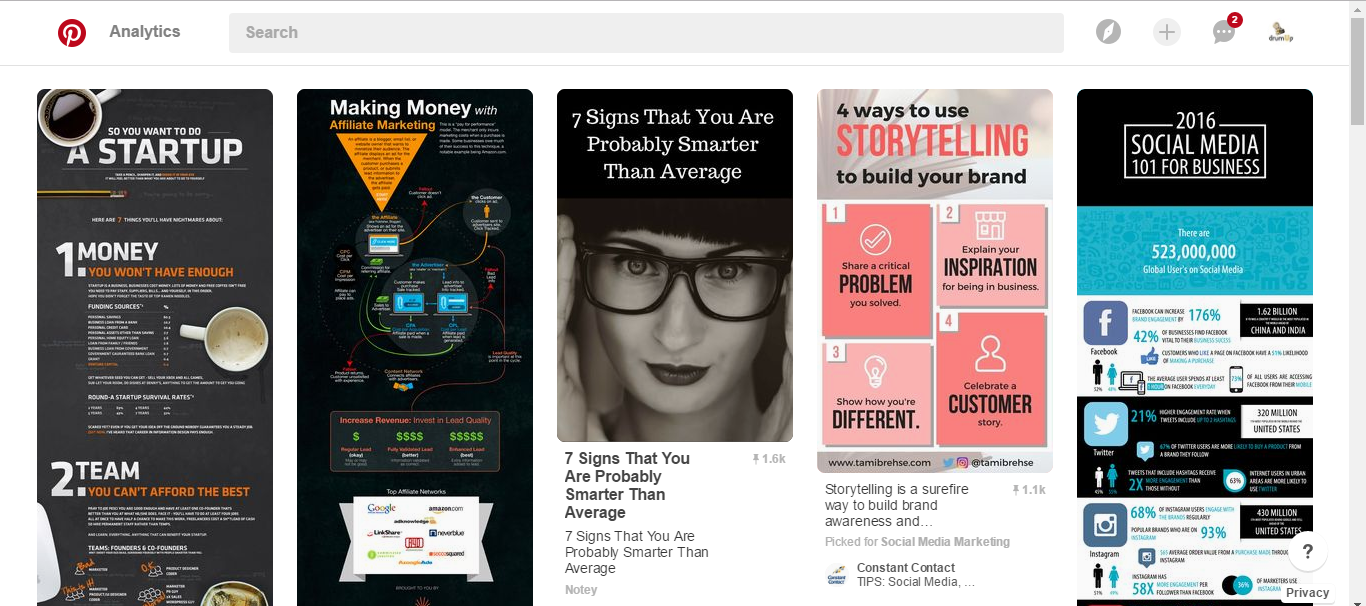 As marketers, there is a good chance that you've used Pinterest before, for visual content marketing. In addition to behaving as a marketing platform, Pinterest could double up as your content library.
As you probably already know, the app allows you to create "boards", or a collection of pieces of content. To create a content library on Pinterest, create content boards and choose the "secret" visibility option. Doing this will limit the visibility of those boards to only you. If you work in a team and want multiple people to access your content, you could do that by simply inviting them to view the board.
Feature highlights –
1. Save content of any format (text, image or video) while browsing
2. Invite teammates to view/use your collection
Four use-cases of a social media content library
With a content library, you can organize and streamline your social media content marketing process.
1. Save promotional content, season's greetings and evergreen content for reuse
By saving promotional content to a library, you ensure that it isn't underused and doesn't go to waste. You can have all your promotional content in one place to make it easy to account for.
Season's greetings is a type of content that can be reused every year. You could save the ones you have already created to avoid the hassle of having to create fresh ones for every festive season.
Any business that wants to succeed on social needs a collection of evergreen content related to their niche to share with their audience. By sharing content related to your niche, you establish your authority and show your audience that you can be of help. This type of content is reusable and best stored somewhere convenient from where you can schedule it as and when required. You could do that by creating a category for evergreen content in your library. This tactic is especially good for your most popular content. You can always go back to them when you notice a dip in your social media engagement.
On DrumUp, you can also set content on repeat schedules at specific intervals of time.
2. Bookmark great content to read in the future
Use a content library to ensure that you never miss a good read to forgetfulness or lack of time. Sometimes, you may find something interesting and not have the time to read it. With a content library, you can safely tuck it away for later.
An important part of growing in your career is being updated on the latest news and advancement. However, the world is constantly changing and there is just so much for everyone to read. A library can help you manage your reading material better.
If you're meticulous and want to never miss an article related to a specific topic, you can simply add those keywords/RSS feeds to an app like ours, and then save those articles in your library to read when possible.
3. Build a social media content reserve to use when you are short on time
One of the best advantages of having a digital content library is that you can draw from it on a rainy day. When you do have time, you can fill your library with content related to your niche, and on busy days you can simply schedule content out of that reserve.
While building your content reserve, ensure that you have a good mix of original and curated content on it. You also need to consider the types of content that are most likely to increase your social media engagement. Once you have built a reserve considering those factors, you can breathe a sigh of relief and enjoy all the time that this tactic will save you.
4. Use your library to store rough drafts to work with when needed
You can create and save drafts of your social media posts in your content library. This tactic is especially advantageous when the library is on an app that also offers scheduling, like DrumUp. By using such an app, you can create a folder of drafts to schedule when it makes most sense.