5 Social Media Tools to Boost Your Business
Posted in :
Social Media Tips
on By
Guest Author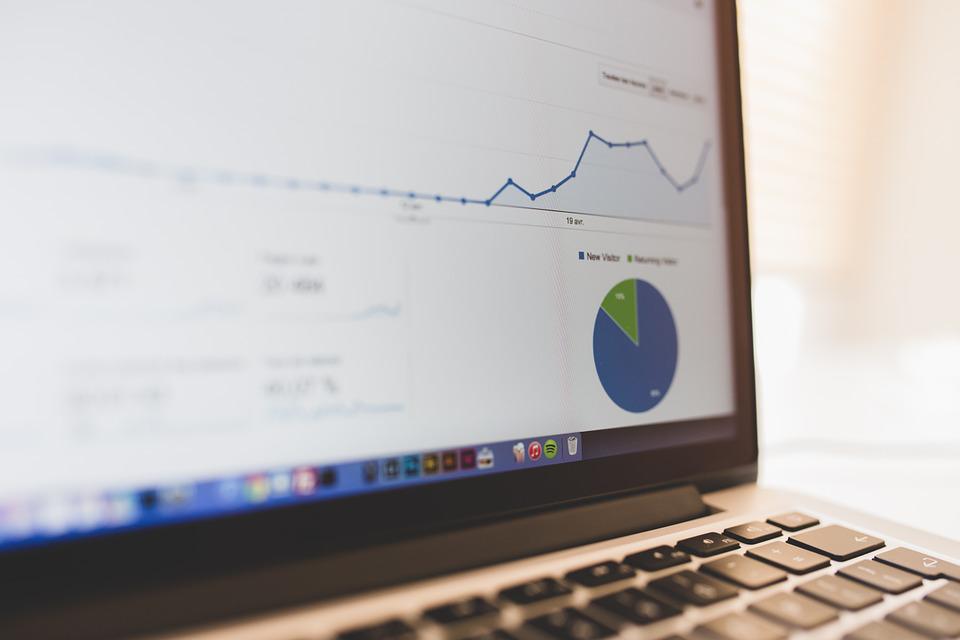 If you are looking to drumup some business, social media is the way to go. According to Aabaco, 50% of shoppers have made a purchase based on recommendations on social media. Social media helps upcoming businesses, individuals and brands in establishing themselves and reaching out to a massive audience.
One of the challenges that a majority of social media marketers face is the reach and engagement of their specific target audience. How do you reach out to the right audience? How do you engage them and keep them coming back?
You could enlist the help of social media tools to do it. This list includes the top 5 social media tools that you can use to boost your business on social platforms.
1. AeroLeads
AeroLeads is a prospect and lead generation software that helps you find your target prospects from around the world. It behaves as an intermediate that connects you with your potential customers.
Its prospect and lead generation software finds you new customers via the largest professional network, LinkedIn. With three simple steps, it lets you search and add the email IDs and phone numbers of your required prospects to your prospects management page. To make the process simpler, you could work with the Google Chrome Plugin.
If you wish to automate the process further, you could use the AeroLeads Service. The service uses your requirements such as job title, industry type and location to shortlist and verify prospects for you. You are provided with names, email IDs, phone numbers, personal LinkedIn URLs and other data you need to connect with your prospects.
The app also seamlessly integrates with SalesForce, MailChimp and other top CRMs for better management of the leads you acquire, so you can concentrate your resources in converting your prospects into customers rather than exhausting all your time and efforts in finding new prospects.
2. DrumUp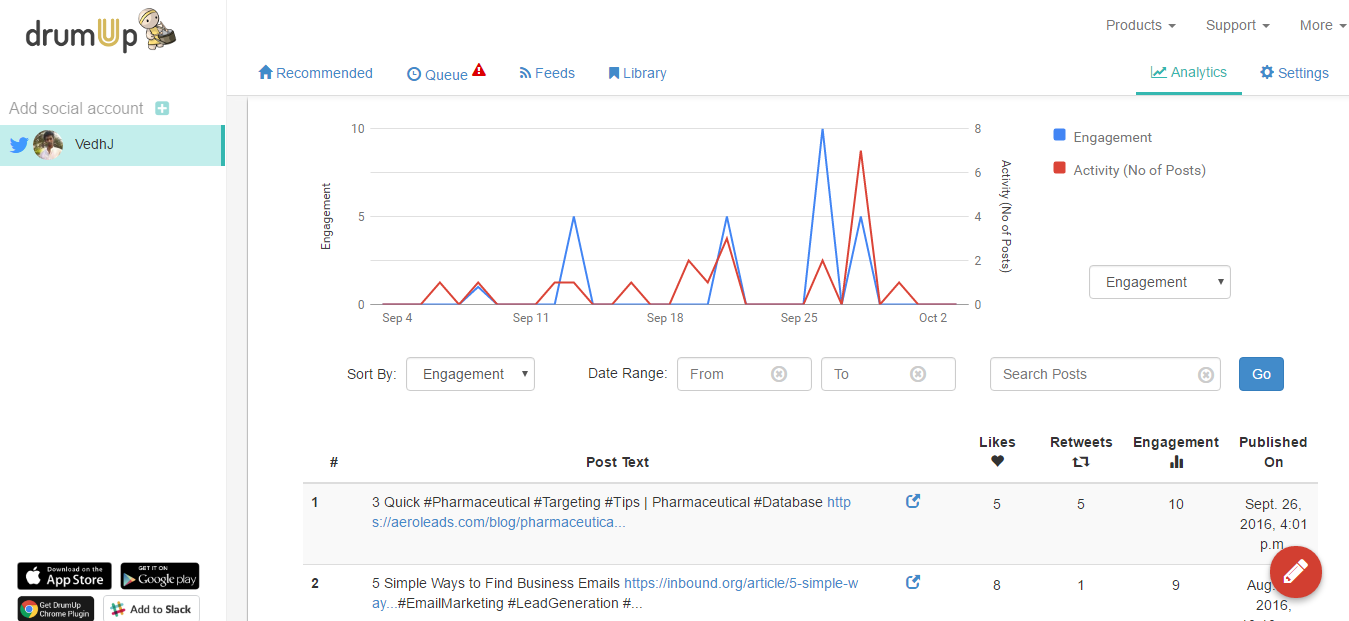 Reaching out to your audience is just half your battle. Engaging your audience with the right content at the right time is what you need to do to keep them coming back for more. This is what content curation software DrumUp does for you.
It provides you with the latest content in your industry in accordance with the keywords set by you. You can then schedule and share that content across your social media channels in the easiest manner. Being a reliable source for the latest and shareworthy content is a key in winning the social media game. You can also evaluate which your top posts are by using DrumUp's in-depth analysis. This way you get a better understanding of what content is working best for your audience.
DrumUp trumps the other content curation apps with its Employee Advocacy Platform. It helps you increase your web and social traffic while also increasing employee engagement. You can easily add your employees to a common company stream and curate your marketing and sales messages to them. The employees can then share that content from their profiles, giving you maximum visibility and helping you generate more leads. You can then track the shares to measure and optimize your success.
DrumUp hosts a Google Chrome Plugin, iOS and Android app for uninterrupted connection.
3. IFTTT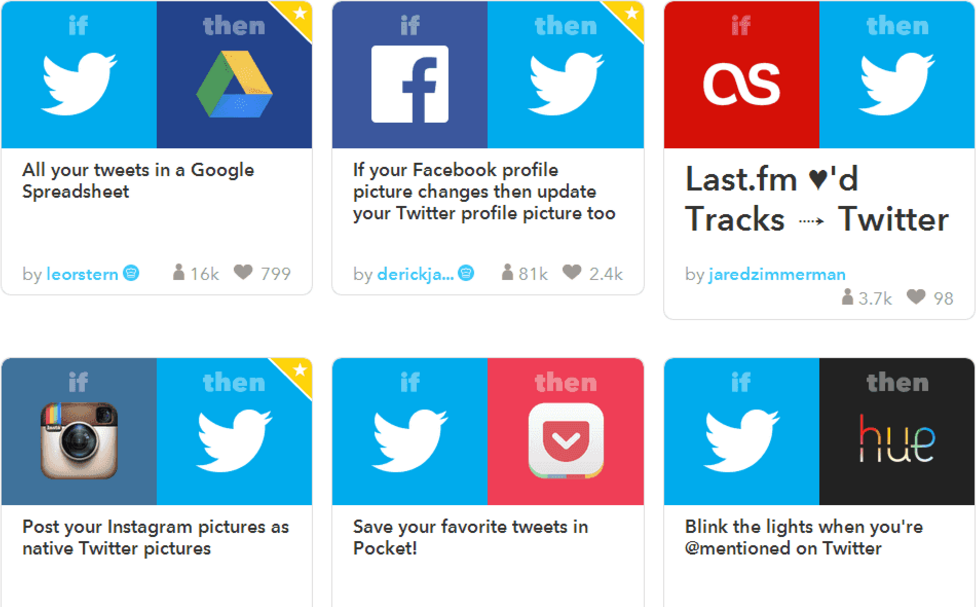 IFTTT is an interesting app that automates a bunch of online tasks across platforms. It unites web apps, desktop apps and mobile apps. Various social media platforms become accesible through it.
To run any task on IFTTT, you simply need to create a recipe that follows the 'if this, then that' law. For instance, you could automate posting your Facebook statuses to LinkedIn, or build lists out of Twitter hashtags. The process is clearly defined on the IFTTT web and mobile apps, making it very easy to use.
IFTTT covers a whole lot of channels – Reddit, Tumblr, Pinterest, Google Calendar, Dropbox, SoundCloud, Instagram and Evernote. So pretty much anything you have in mind, can be executed.
4. FollowerWonk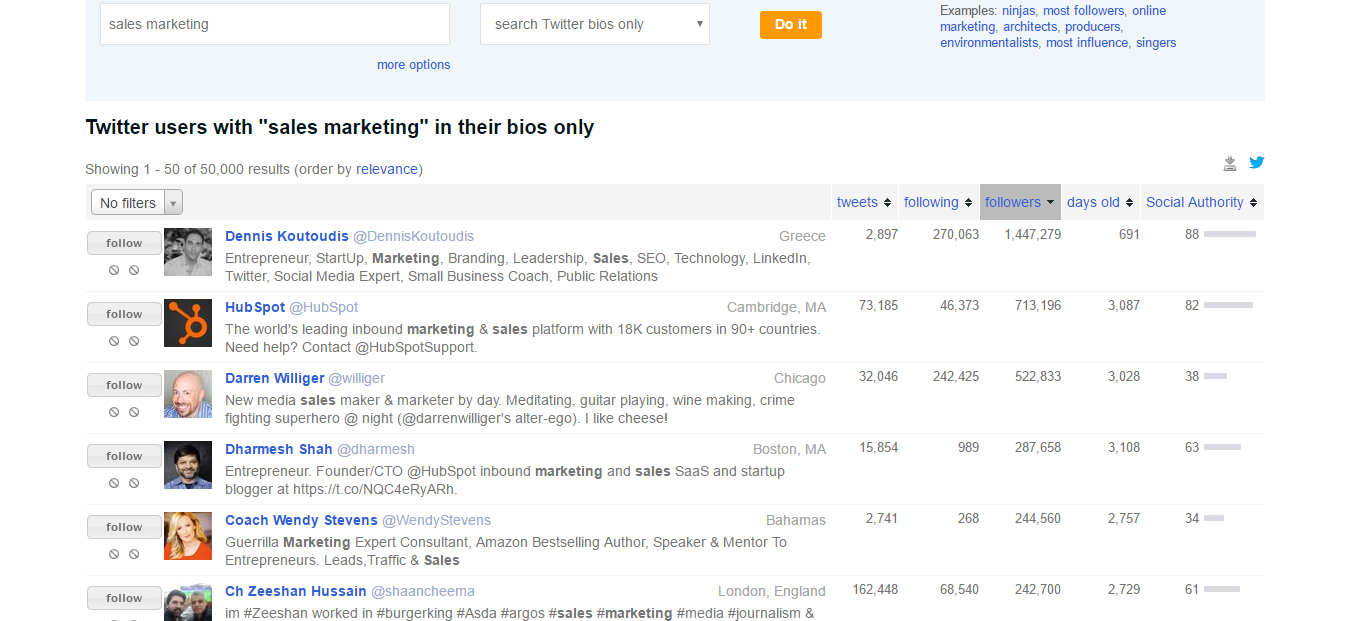 This Moz App gives you everything you need to be the Twitter master. This power packed app tailored for Twitter leaves no stone unturned.
The app helps you with Twitter growth. From finding new influencers to finding information about existing users, this app does it all. The app is the best for planning effective outreach campaigns as it enables you to search for new influencers in your niche. This is done by searching Twitter bios with your preset keyword. You can then sort these profiles based on followers, following, the number of tweets, and so on.
That aside, you can also track and sort your followers based on the same criterion. This app enables you to compare yourself with your competitors to know where you stand, taking into consideration their followers and following. FollowerWonk gives you an in-depth analysis of any given Twitter account. You can use this feature to analyze your account or study your competitor's account. In short, FollowerWonk should be your go-to for expanding your brand or business via Twitter.
5. SumAll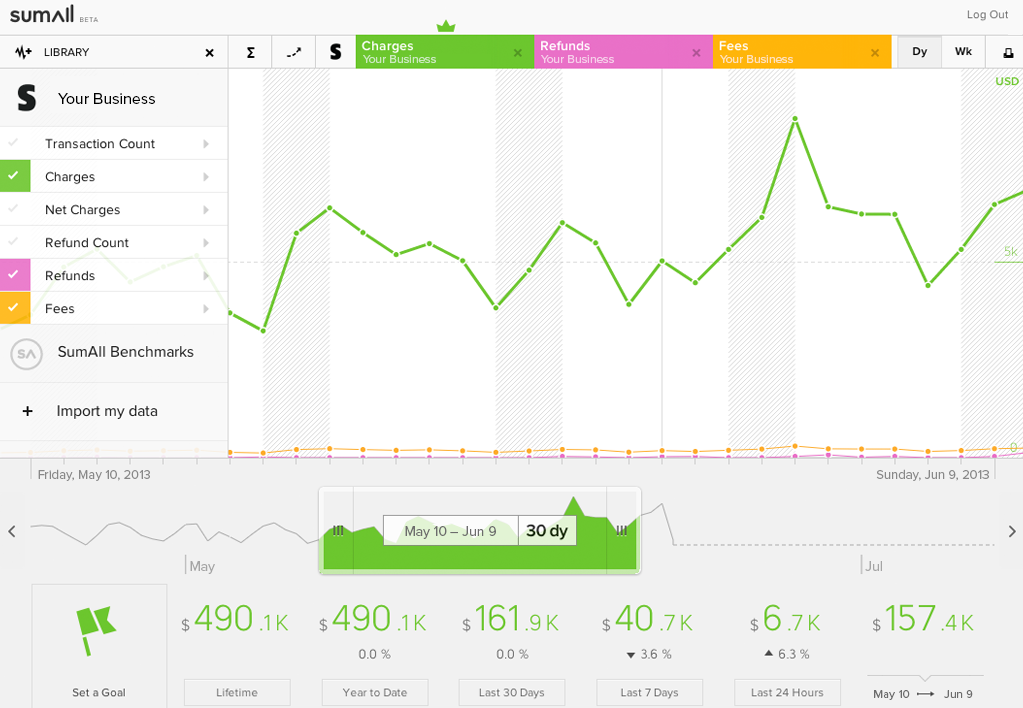 SumAll lets you connect unlimited Facebook, Instagram, Twitter, LinkedIn, YouTube and Google Analytics accounts for you and your clients. You can pull data into reports for the connected accounts. You can also monitor your business presence real-time, study customer data trends and compare sales from different time periods.
What differentiates this tool is the small things. The website speaks little, but the app delivers just about everything that you require for data tracking and analysis. Any report got from SumAll can be braded for your company. You can simply fetch reports and put your name on top.
All data has easy to read graphical views adn insights to go with them, so business decision making becomes as easy process.
Social Media has taken business marketing to a whole new dimension. The opportunities are endless and with these set of tools, you can stay miles ahead of your competition.
Author Bio: Vedh Jagadish is digital and content marketer at AeroLeads. He writes articles about social media, marketing, and sales. I also manage the social media channels of AeroLeads.
Image credit: Pixabay.com